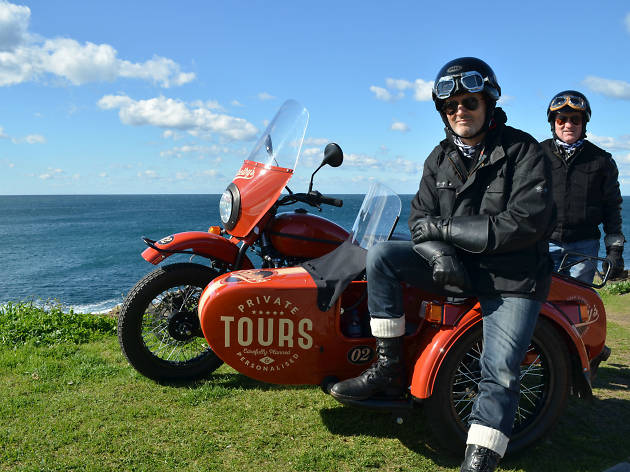 1/3
Photograph: Emma Joyce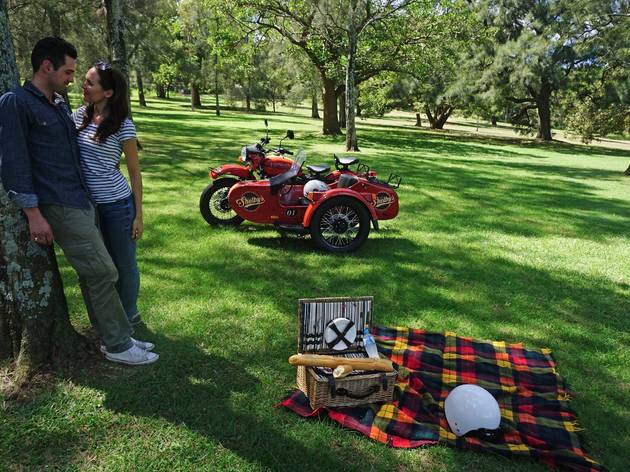 2/3
Photograph: Supplied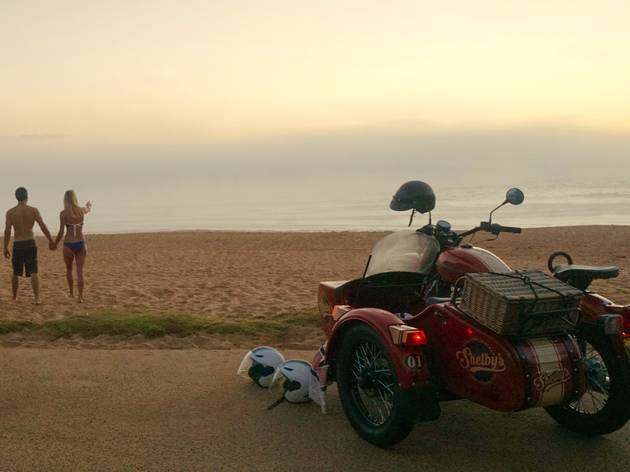 3/3
Photograph: Supplied
Shelby's Sidecar Tours
Ride shotgun in a Soviet-era sidecar as you cruise around Sydney
Nothing puts a smile on a grumpy motorist's face quite like seeing a vintage-style motorbike chugging uphill. We're getting a ride on one of Shelby's Sidecar Tours – a guided adventure from Manly to Dee Why, including a short bush walk at Long Reef Point – and as we cruise around the quieter streets of Sydney's Northern Beaches we get waves, giggles and lots of smiles from passers-by.
The authentic Ural motorcycles clunk and hum at a comfortable pace, putting the ease into 'easy rider'. Managing director Marc Jaackson (seated on the pillion behind rider Dom) leans in to tell us he's taking a 73-year-old grandma on a tour with 12 family members, and he plans to run dog-friendly journeys too.
Shelby's Sidecar Tours were named for Marc's autistic son Shelby, who used to ride on the back of his dad's motorcycle before he started having epileptic seizures at age 15. For Shelby's safety, Jaackson started giving his son rides in an old sidecar – which gave Marc the idea to start a new business for laid-back, comfortable motorcycle tours around Sydney.
He now has a fleet of 12 drivers, and tours range from solo outings around the CBD to family trips to Palm Beach and Narrabeen Lakes. Prices start at $175 for a one-hour city circle ride and extra riders cost from $50-$100, depending on the journey. For the most part it's couples looking for a romantic picnic at the beach, or visitors wanting to explore Sydney's lesser-known suburbs. They offer a fully stocked picnic basket package too at $50 for two people.
Though vintage in style, the motorbikes aren't as old as they look – they're brand new and have modern fittings to create a safe, spacious experience for riders. Each sidecar has wet weather jacket and blankets if you're feeling the cold, authentic goggles and a helmet, but no seatbelt (they're not required by law).
It's surprisingly easy to talk to the rider as we roll along to Queenscliff and over the hills to Curl Curl. Jaackson prides himself and his team on the local knowledge they bring to every journey. He points out the best pie shop on the Northern Beaches, his favourite cafés and as we stop for a walk at Long Reef Point we're given a rundown of the sites we can see and the best spots for early morning surf.
On the whole, it's a pleasant experience plodding along the backstreets and waving at surprised adults and delighted children. The only hell-raising part was when we hopped onto the back of the bike, holding onto a loop on the backseat. There were a few bumps and dusty kickbacks but it was well worth experiencing the ride from a hairier perspective. At the end of the tour, we're rosy-cheeked and a little windswept, but we can't stop smiling. Navigating Sydney's traffic has never been more delightful.
Design a tour around these picnic spots
Head to one of these parks, walks, beaches and lookouts to gaze on the Emerald City in all its glory. The best part is: it's free to enjoy.