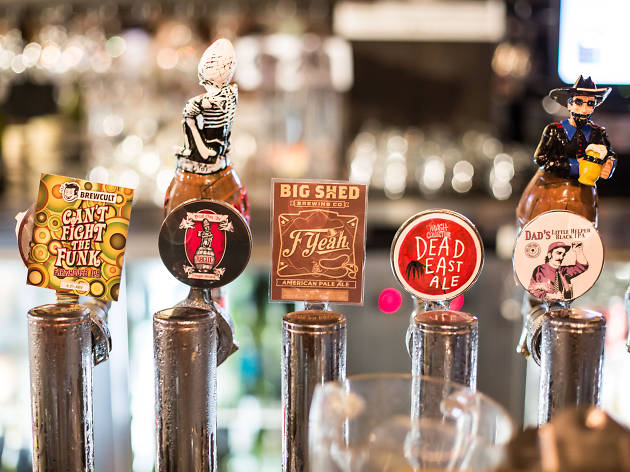 Prepare for all the fermenty fun you can fit into ten days when Sydney Craft Beer Weeks returns in 2016
Forget Christmas: the most festive time of the year for craft beer fans is Sydney Craft Beer Week, and they've just launched their program for 2016.
More than 100 events at 75 venues are planned for October and the fun goes well beyond tastings and master classes.
We're talking axe-throwing competitions, chocolate desserts matched with beers, hangover-curing breakfasts, sausage-making classes, beer awards, golf and more.
There will be two sessions of the Opening Night Gala at Giant Dwarf in Redfern, where a showcase of the week's beers will be available for tasting.
Pint of Origin comes to Sydney Craft Beer Week for the first time courtesy of beer website The Crafty Pint. Six pubs will give their taps over to each of the six Australian states in order to showcase each region's craft beers.
Frankie's Pizza is having a free Beer and Pizza night, and history buffs can take a drinkable journey through time at Beer Through the Ages: A Beer History Experience.
Sydney Craft Beer Week will play Willy Wonka, with a golden ticket lottery for free entry to Beer Cartel's Ultimate Free Beer Tasting of over $1,000 worth of free beer. Just 12 lucky beer lovers will win this tasting treat – you can enter right now.
This year introduces the Sydney Craft Beer Awards, with prizes given out to the local industry's best. The morning after this night of nights will see the Hair of the Dog Breakfast at the Rocks Brewing where six soothing food courses will be paired with six of the best beers.
Last year's Holes 'n' Hops was a big hit – the nine-hole golf tournament with a beer for each ball sunk returns with burgers galore. And flying in the face of all good sense, the Meat, Beer, Axe event returns – the guys from Maniax axe-throwing centre are teaming up with Willie the Boatman and Bovine and Swine for a very safe night of eating, drinking and axe tossing.
There is much, much more than this happening – you can check out the full program of frothy fun now at the Sydney Craft Beer Week website.