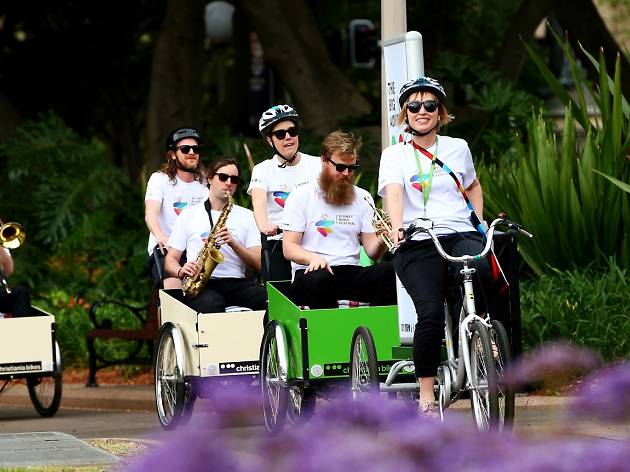 The City of Sydney's cycling celebration returns with more two-wheeled adventures
This bike-riding bonanza will give you that extra push to get back on the pedals, with three weeks of cycling courses, activities and family-friendly food, art and sporting events. The Sydney Rides Festival (Oct 6-27) invites Lycra lovers and cyclists still on their training-wheels to share in their love of pedal-powered transportation.
Among the many adventures planned across Sydney, festival highlights include a free day of family activities at St Peter's Park (Oct 6). Kids and their adults can have a go at mountain boarding, rock-climbing, dancing and yoga, or set up a picnic spot near the food trucks and marvel at BMX riders showing off their best moves.
The Spring Cycle (Oct 14) sees riders take over the Sydney Harbour Bridge on a traffic-free cruise around the Rocks, finishing at Pyrmont's Pirrama Park for post-cycle party. Regular riders can extend the route to 16km and 50km trips, or go all the way to Sydney Olympic Park for the 105km spin.
Cycle under the stars and get spooked on a Halloween-themed ride (Oct 27) and evening of entertainment at Light the City. You can bring your bike or hire one on the night to scoot around the illuminated cycle loop, or just enjoy the gourmet food trucks and entertainment at this free dress-up party. Throughout the whole festival, check out the photographic exhibition featuring Sydney's favourite riding routes and bike adventures at Paddington Reserve Park (open daily 8am-8pm).