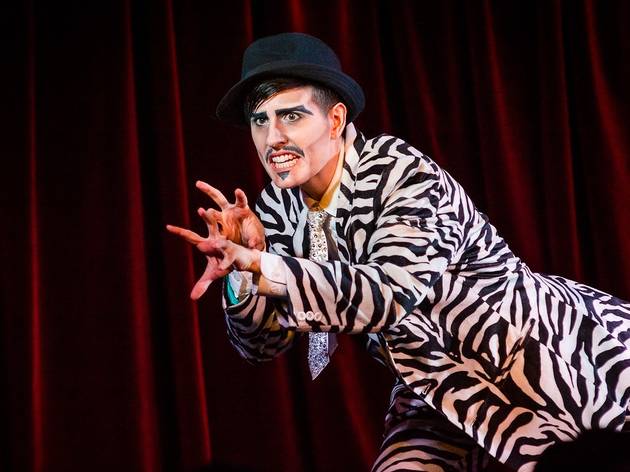 1/4
Photograph: Patrick Boland
King Chad Love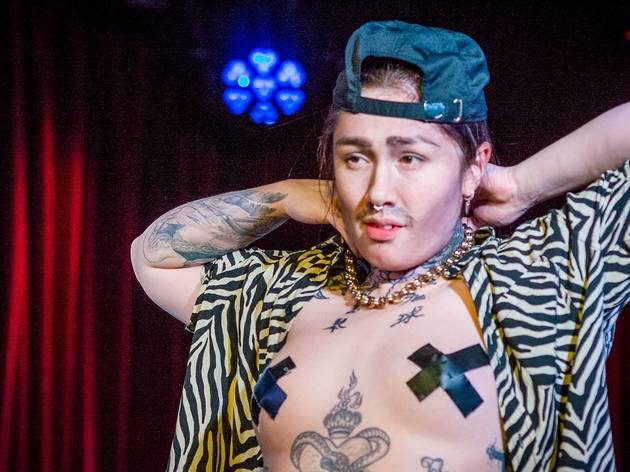 2/4
Photograph: Patrick Boland
Charlie Chapstick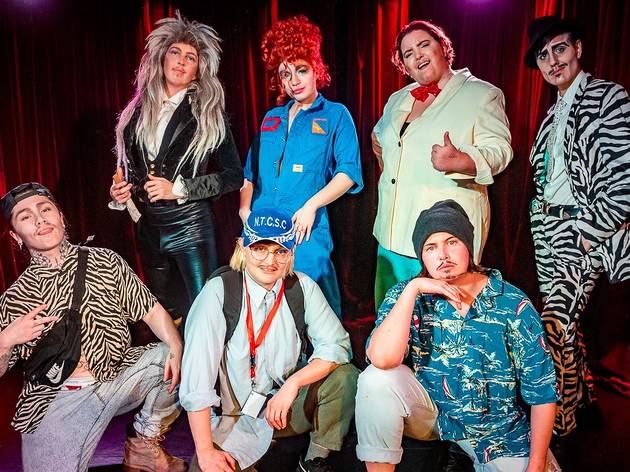 3/4
Photograph: Patrick Boland
'The Kings' August 2020 cast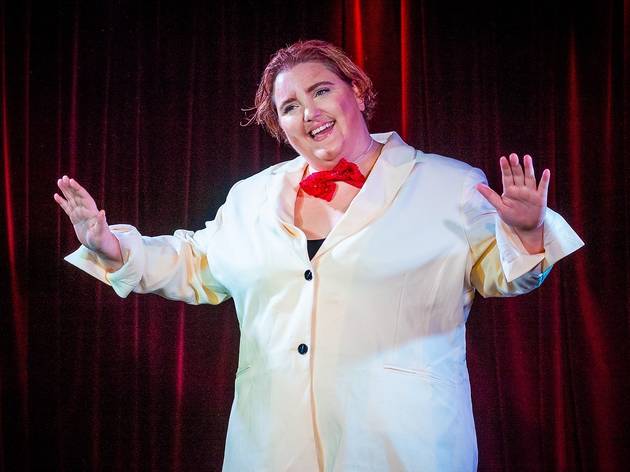 4/4
Photograph: Patrick Boland
Big Rod
Time Out says
A monthly variety showcase puts a different kind of drag royalty in the spotlight
While drag queens have well and truly penetrated the mainstream, there's an entirely different kind of drag royalty that is tucked and loaded with oodles of gender bending artistry. Drag kings are taking centre stage every month at the Giant Dwarf Theatre's new home with a rotating and eclectic gang of disarmingly charming gents strutting their stuff.
Expect a mixed bag of variety acts (performed by a largely female-identifying cast) embodying masculine characters who serve up everything from glam rock-esque David Bowie energy to befuddled IT guys.
"People can expect what they know about drag to be thrown on its head!" show host Rodney (aka 'Big Rod', aka improv comedy performer Laura Hart) told Time Out. "It's a night of variety and entertainment – from lip-syncing to live music, to comedy, storytelling, erotic dancing, and the list goes on. Every show is different, but you're guaranteed a great night out."
Big Rod loves nothing more than inviting you into his man cave for a beer and talking your ear off, and he's fruiter than he'll ever admit. When Rod and his mates take to the stage, you'll come across characters like the seasoned King Chad Love, serving suave pet detective charm in a zebra zoot suit. On the other end of the spectrum, no one is safe from being confusingly aroused by the shameless fuckboi antics and gyrations of Charlie Chapstick and the bumbag across his shirtless chest.
"Drag kings aren't just the opposite of a drag queen. The kings you'll meet at our show are cisgender, transgender and non-binary. Most are AFAB (assigned female at birth), some are not, so it's really about more than pure gender illusion. The Kings explores gender, sexuality, masculinity and status in a way that is quite unique."
After drawing curious crowds to some tentative early post-lockdown shows, The Kings has secured a monthly slot on the Giant Dwarf's roster, which is continuing to diversify in exciting new ways at its new comedy club style home in Surry Hills (we spoke to the trio of women behind the Giant Dwarf's post-lockdown rebirth here).
In addition to Heaps Gay making more regular outings with its own drag king evening, Sydny Kings at the Vanguard in Newtown, The Kings is part of a movement that is seeing drag kings make their mark in Sydney in a way unmatched since the early noughties.
Big Rod hopes the regular slot will help build the local scene, giving established drag kings somewhere to perform and encouraging new performers to whack on a moustache and give it a try: "Creating and nurturing these queer spaces, especially where wom*n, trans, and non binary people have a platform, is really important."
"I just want more people to see drag king shows. Most people have never heard of a drag king, and I think that's pretty sad because we're excellent," says Big Rod. "So I would just really encourage everyone to come and see a show, and help to support The Kings – whether you're queer, straight, or a drag queen yourself, you're welcome in our audience and we'd love to see you there."
The Kings generally suits up for the second Friday of every month for socially distanced sittings, tickets are $25. Livestream tickets are also available, starting at $10, which is filmed with Giant Dwarf's killer livestream set-up, featuring four cameras, crosses and fades. Check out upcoming show details here and follow @thedragkings on Instagram.
Details
Best selling Time Out Offers