13 reasons to visit Bangkok in 2019
Bangkok assaults the senses with majestic sights. We've homed in on the most memorable experiences this exuberant city has to offer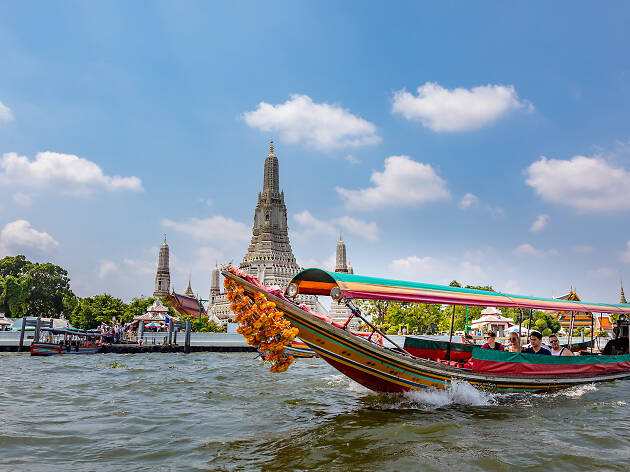 1. Wat Suthat and the Giant Swing
Standing in City Hall square, the Giant Swing (Sao Ching Cha) was originally erected in 1784 as part of the adjacent Devasathan, a Brahmin compound of shrines to Shiva, Ganesha and Vishnu. In the past a ceremony celebrating the god Shiva would require four brave men to swing from this lofty red frame to grab at pouches of coins (the ritual ceased in the 1930s due to fatalities). The poles were erected in 1919 to honour the son of Anna Leonowens, the contentious governess immortalised in The King and I and a teacher in the Siamese court of King Rama IV. In 2006, the rickety timbers were replaced by the structure you see today. Looming behind the Giant Swing, the temple of Wat Suthat houses the awe-inducing, eight-metre, 800-year-old Phra Sri Sakyamuni Buddha. One of the largest surviving Sukhothai-era bronzes, this statue contains the ashes of King Rama VIII at its base. Begun by Rama I in 1807, the temple took three reigns to complete. 268 Dinso Rd, Bangkok. +66 (0)2 222 6951.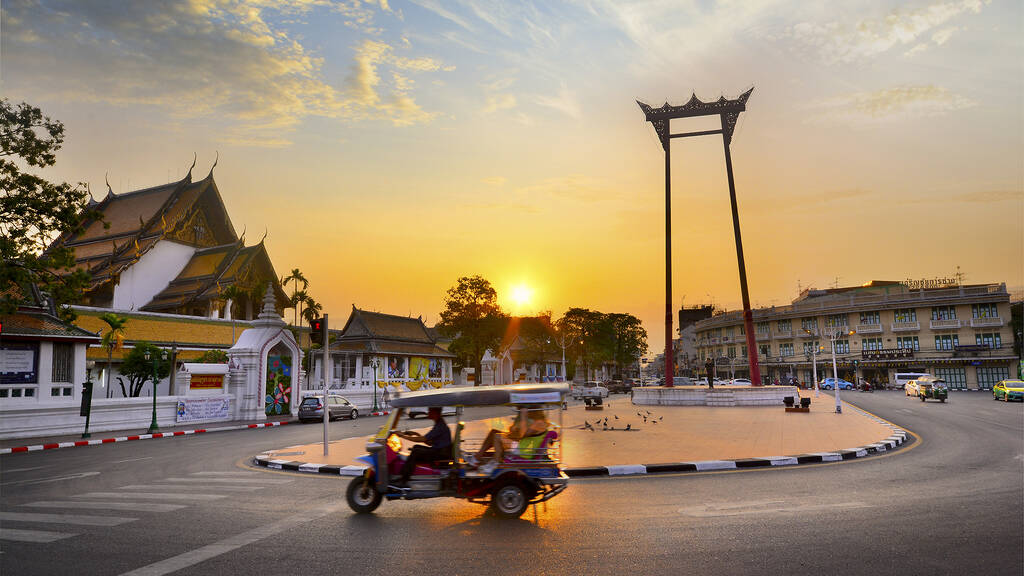 2. The Grand Palace & The Temple of the Emerald Buddha
This complex of buildings in the heart of Bangkok is the city's architectural and spiritual treasure. Nearly two kilometres of walls with lotus-shaped crenellations enclose what was once a self-contained city of throne halls, royal chambers, servants' quarters, ministries and a prison. Allow at least a two-hour visit; sandals, shorts and bare shoulders are forbidden. The Temple of the Emerald Buddha (Wat Phra Kaew) is the country's most important Buddhist temple and houses Phra Kaew Morakot, a Buddha that has been carved from a single block of jade. www.royalgrandpalace.th/en/home.
3. Wat Pho
This vast temple houses the magnificent golden Reclining Buddha. Made from brick and gilded plaster, it measures 46 by 15 metres and depicts the posture of the Buddha while entering nirvana. Wat Pho also has 99 stupas, two of which hold the remains of kings Rama II and III. The temple remains a repository of traditional medicine and nuad paen boran (ancient massage), and you can book a massage for during your visit. 2 Sanamchai Rd, Pra Nakhon, Bangkok. +66 (0)2 226 0335.
4. Wat Arun
Seen on 10-baht coin, this five-spired landmark of around 80 metres in height has been known as the 'Temple of Dawn' ever since the soon-to-be King Taksin landed by the then Wat Magog at sunrise in October 1767. Wat Arun features a pair of yaksa (giant) statues, ceramic gables and 120 Buddha images. Don't rush a visit on a canal tour: instead, access the temple via the public ferry from Tha Tien and wander the temple grounds for as long as you wish. 34 Arun Amarin Rd, Thonburi, Bangkok. +66 (0)2 891 1149.
5. Wat Benchamabophit
Clad in Italian Carrara marble, Wat Benchamabophit is a well proportioned meld of East and West designed by Italian architect Hercules Manfredi. Commissioned in 1899 by Rama V (one room contains his ashes), the temple features stained-glass windows depicting scenes from Thai mythology and a replica of Thailand's much-venerated Buddha image. Cnr Si Ayutthaya & Nakhon Pathom Rds, Dusit, Bangkok. +66 (0)2 281 2501. www.watbencha.com.
6. Erawan Shrine
Thais are able to seamlessly fuse modernity with spiritual beliefs. This ability is encapsulated at the frenetic Hindu shrine to Brahma, erected in 1956 to appease displaced spirits who were blamed for mishaps in the building of the old Erawan Hotel. Pilgrims gather here to make wishes. Ratchaprasong Intersection, Ratchadamri Rd, Bangkok. +66 (0)2 254 1234.
7. Chatuchak Weekend Market
This 14-hectare market hosts an astonishing 8,000 stalls every Friday night and all day Saturday and Sunday. You can find everything from a pair of jeans to a kitten, as well as clothing, ceramics, furniture, food and drink, gardening accessories, books and antiques. Kamphaeng Phet 2 Rd, Chatuchak, Bangkok.
8. Night markets
A key part of any trip to Bangkok is a visit to the night markets. Sift through piles of pre-loved goods and vintage collectibles at one of the Rod Fai markets (a large market is on Srinakarin Soi 51, while a smaller, more accessible market is on Ratchada Road). You can also make the trek to Chang Chui, which features trendy stalls and artisanal products.
9. Bang Kra Jao
This protected wooded peninsula seems like the countryside, yet it's just 15 minutes by road and ferry from the Klong Toey MRT. Explore Bangkok's 'green lung' by bicycle. Frequent boats from Wat Klong Toey Nok Pier stop at a pierside shop that rents them out for B100/hr. Kasemrat Rd, Klong Toey, Bangkok.
10. Jim Thompson's House
Jim Thompson was a US architect who settled in Thailand at the end of World War II and started a company selling luxurious fabrics. In 1959, he adapted six teak houses into a modern living compound. Now a museum, it exhibits Thompson's Asian artefacts and looks much like it did when he mysteriously disappeared into Malaysia's Cameron Highlands in 1967. 6/1 Kasemsan Soi 2, Rama I Rd, Bangkok. +66 (0)2 216 7368. www.jimthompsonhouse.com.
11. Lhong 1919
Lhong 1919 is a sprawling space preserving and promoting ancient Sino-Siamese architecture and culture. Restaurants retain the crumbling walls and murals of the original structures, and craft shops and galleries are also appealing draws. 248 Chiang Mai Rd, Klong San, Bangkok. +66 (0)9 1187 1919. www.lhong1919.com.
12. King Power Mahanakhon Skywalk
Set atop Thailand's tallest building, the Skywalk comprises an observation deck and a rooftop bar that offer 360-degree views of the City of Angels. Put your courage to the test by walking out to a glass floor that looks down over 300 metres. 74/F-78/F, King Power Mahanakhon, 114 Narathiwas Rd, Silom, Bangkok. +66 (0)2 677 8721. kingpowermahanakhon.co.th/skywalk/.
13. Experience local transport
Bangkok offers a plethora of choices for getting around. The iconic Tuk Tuk, a three-wheeled, motor-propelled conveyance, is the tourist's favourite way of travel, but there's also the elevated BTS rapid transit system and the underground MRT, both of which have stops at major points in the city. Bangkok also has a network of klongs (canals), which you can traverse aboard traditional long-tailed boats.
Visiting Thailand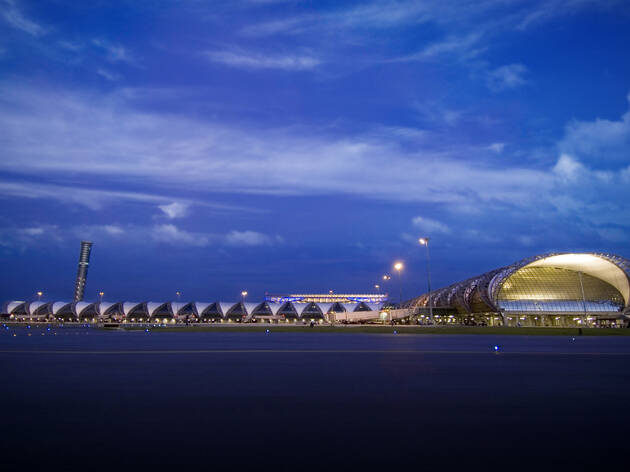 The best time to visit Thailand is between November and February, when the climate is relatively cool and dry (25-32°C). Arriving between March and May will put you right through Thailand's summer, when temperatures can climb above 40°C. The monsoon season (June-September) is usually very wet and humid, and national parks and waterfalls are at their best.
Tourists from many countries, including Australia, New Zealand, the US, UK, Germany, France and Singapore, do not require a visa when entering Thailand and can stay for 30 days. Thai authority requires at least six months validity remaining on the passport. Check the Thai embassy's website.
Suvarnabhumi International Airport in Bangkok is the main air gateway into Thailand. Thai Airways, Qantas and Emirates (till the end of May 2019) operate direct flights from Australia to Bangkok; Jetstar flies to Bangkok from Melbourne and to Phuket from Sydney. Other carriers that provide connections from Australia include Singapore Airlines, Malaysian Airlines, Scoot and AirAsia.
Explore more of Bangkok and Phuket
Make the most of your visit with our handy guide to the best places to see, things to do and food to eat.