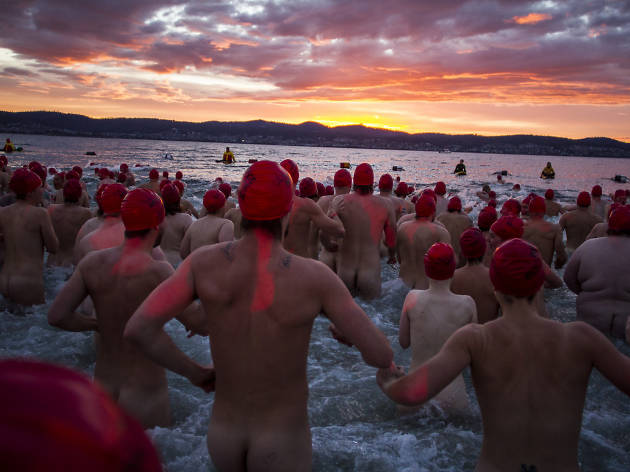 5 reasons your next trip to Hobart should be around Dark Mofo
The hottest festival ticket in Australia, this winter art party takes over this sleepy town to create something truly revolutionary
It's time Hobart got more credit. This oft-forgotten city punches above its weight when it comes to attractions, but it still manages to feel as friendly and welcoming as a smaller city. It's come a long way from its backwater beginnings, with boutique hotels sprouting up and a thriving food and drink scene. There's a lot of talk about the "MONA effect" – that is, the positive social and financial impact of David Walsh's Museum of Old and New Art. Opened in 2011, MONA has brought a new sense of vibrancy and culture to Hobart. Its two adjacent festivals – Mofo in January (now moved to Launceston) and Dark Mofo in June – manage to elevate that vibe, drawing crowds from across Australia and inviting them to celebrate art, music and community spirit.
Like Mona itself, Dark Mofo revels in the wacky and weird. But don't dismiss it as just a festival for the cool kids. The best part of this festival is that it's accessible to everyone, from fortuitous local families to Sydney theatre nerds to art kids from Melbourne's inner north. It's full of sensations and surprises, and it's a perfect way to see the best of what Hobart can offer. So if you're thinking about visiting this corner of the world soon, make it a time when the city's got its prettiest foot forward.
Tasmania wanderlust? Read our in-depth guides to visiting Hobart and Launceston.
Dark Mofo highlights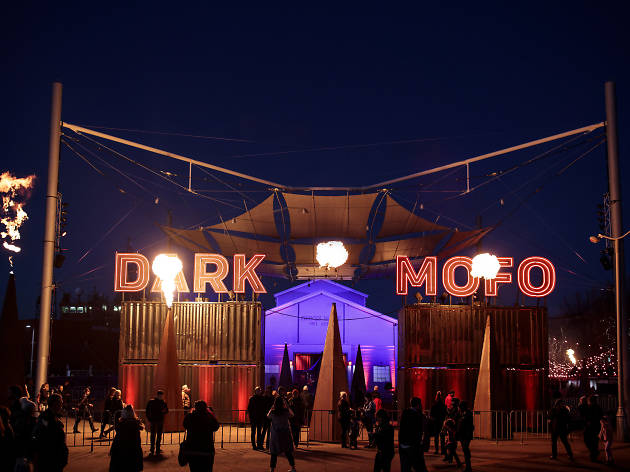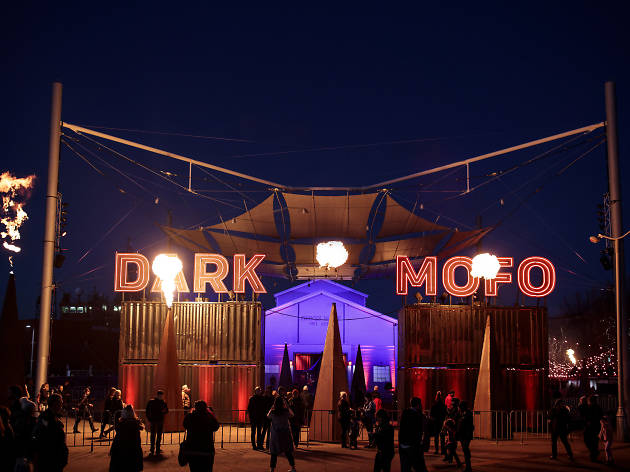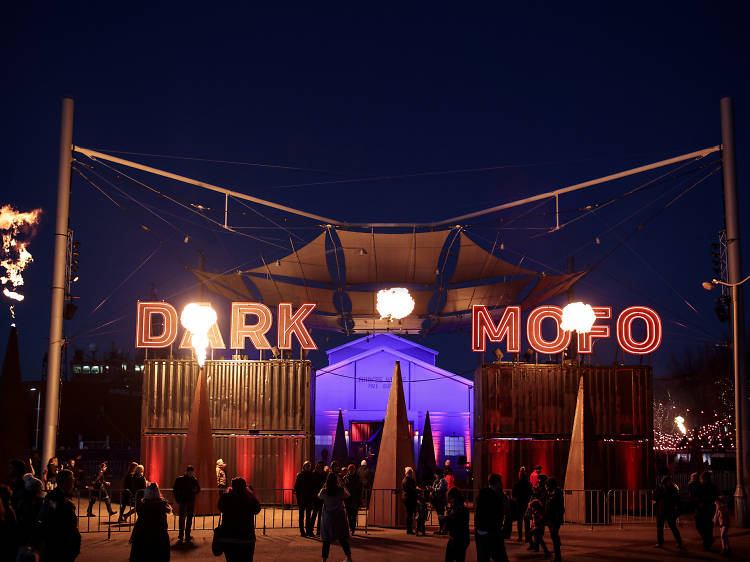 Photograph: Dark Mofo/Rémi Chauvin
1. Get amongst the citywide celebration
As much as Hobart lord mayor Ron Christie would have you believe otherwise, Hobart comes alive during Dark Mofo. International and local musicians and artists perform at historic theatres and venues, a public art playground called Dark Park pops up in a usually dead corner of the city, culinary big wigs bring their foodie best to the annual Winter Feast, and fire takes over the harbour. So very much fire.
It's a hugely successful festival, thanks in large part to the organisers making sure there's enough free and accessible art and performance to create a genuine sense of festivity across the whole city for two weeks. But it's also a winner simply because of how well the city embraces it. Hobart is emblazoned with neon red crosses. Venues all over town are used for dedicated performances, from the Hobart Town Hall to the nearly 100-year-old Odeon Theatre. Local cafés do Dark Mofo specials (one Nude Swim-themed special served a "very small" sausage in a roll), and even CBD civic buildings pop red light bulbs in their desk lamps and let them shine on overnight. Even Hobart airport gets amongst it, with a neon red sign reading "Come Into my Web" welcoming visitors who've travelled across to the state. The city is basically blanketed in red lighting, and it's both unique and inspiring to see a city so excited by a winter festival.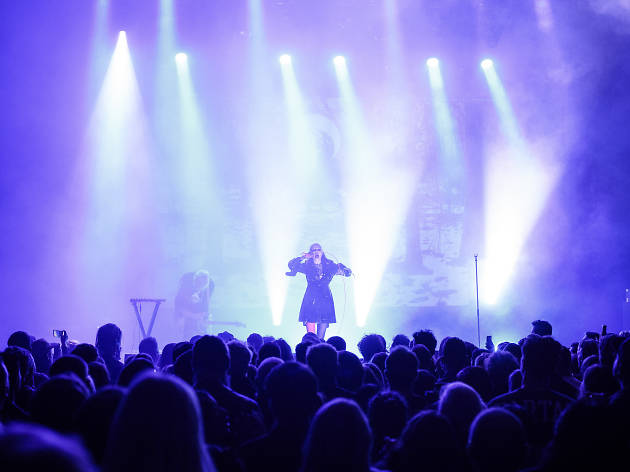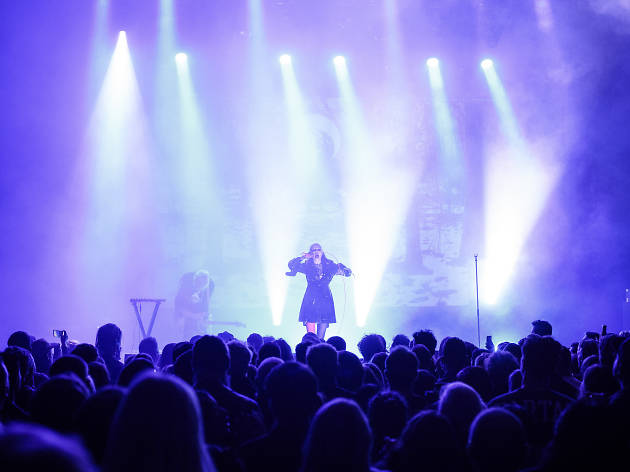 Photograph: Dark Mofo/Rémi Chauvin
2. Surprise yourself with a show
Dark Mofo has a reputation for programming the dark, demented and esoteric. It's primarily themed around centuries-old winter solstice rituals, with many performances delving into themes of mythology, the connections between darkness and light, birth and death, and humans and nature. In saying that, it's not as inscrutable as you might think. Even if you don't recognise anyone on the line-up, there will be something you will enjoy.
For example, 2018's festival line-up included performances from art-pop artist St Vincent, Canadian singer-songwriter and former Crystal Castles frontwoman Alice Glass,David Lynch collaborator and musician Chrysta Bell, the return of German industrial noise collection Einstürzende Neubauten, as well as sets from Marlon Williams, Brutal Measures, Laura Jean, Tiny Ruins and more. Punters could witness a "sound bath" installation created by the late Lou Reed titled Drones; see Canadian Inuk throat singer and activist Tanya Tagaq perform a live score to the 1932 silent film Nanook of the North; or even see the Victorian Opera and the Tasmanian Symphony Orchestra perform Benjamin Britten's The Rape of Lucretia. See our highlights from the first week of the festival here.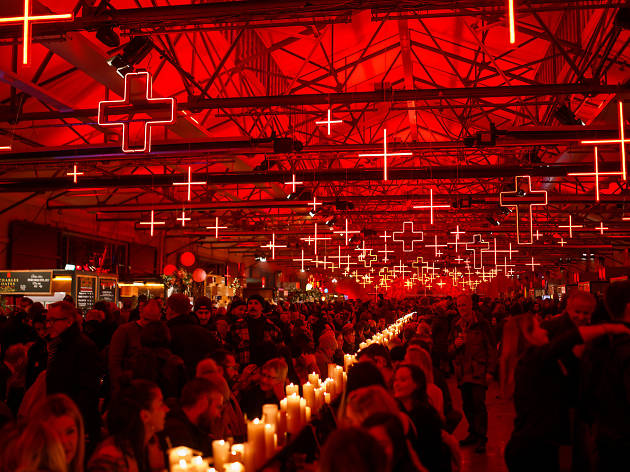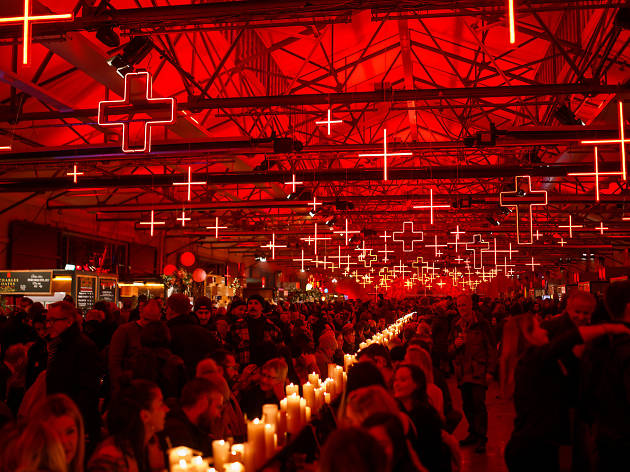 Photograph: Dark Mofo/Jesse Hunniford
3. Eat a truly top-notch meal at the Winter Feast
A stand out for Dark Mofo first-timers will always be the Winter Feast. Set by the river, this epic banquet celebrates both local produce and the simple act of cooking with fire (told you there was fire everywhere). A canopy of red and yellow fairy lights and open fires light up the outdoor space, where thousands upon thousands of revellers wander the stalls for a good feed. Inside, three long tables adorned with candles and lit up by overhanging crosses create an exciting atmosphere as people dig into anything from Ethiopian injera bread to smoked meat plates, hot gin punch to local whiskies and even crêpes, waffles and devilishly sweet baked Alaskas.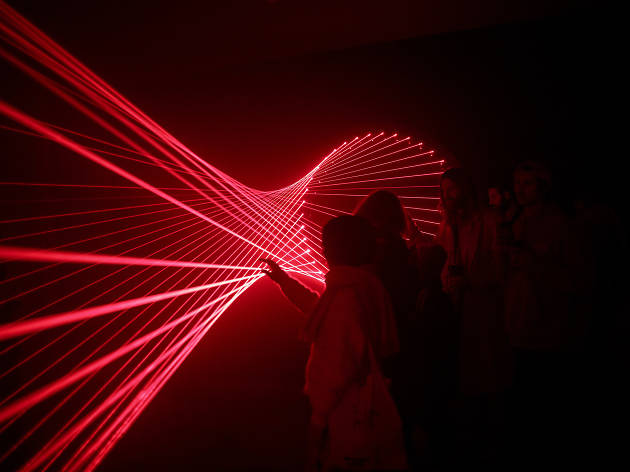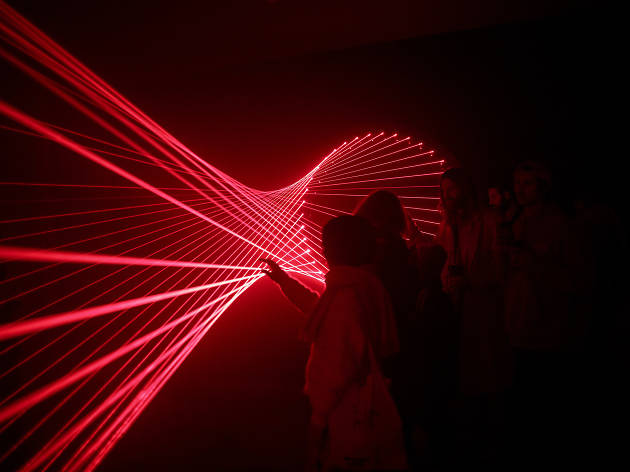 Photograph: Dark Mofo/Rémi Chauvin
4. Let loose at one hell of an after dark party
Spread across five different venues, Night Mass is like the festival's huge late night after party. It's run over two weekends on Friday and Saturday nights, and punters gather at the corner of Murray and Liverpool streets in the CBD from 10pm with few expectations. What converges is a kaleidoscopic blend of part post-apocalyptic film, part Euro rave party and part David Lynch daydream. Fire pits rage in laneways where beers are sold from shopping carts and broken-down vans. Head upstairs to the Grand Poobah and you were treated to club hits and strip shows behind guarded curtains. Across the road at the Odeon, performances ranged from DJ sets to dancing odes to Dame Judi Dench. Speaking of Lynch, the Bang Bang bar (known from Lynch's TV series Twin Peaks) was packed with revellers admiring the Laura Palmer mural, the Red Room zigzag flooring, velvet curtains and bars at almost every corner. Upstairs you entered a woodland forest (were they Douglas firs?) and snuck into abandoned rooms with trippy laser projections. Drop all pretence and lose all sense of reality: this is a bonkers art party you won't forget soon.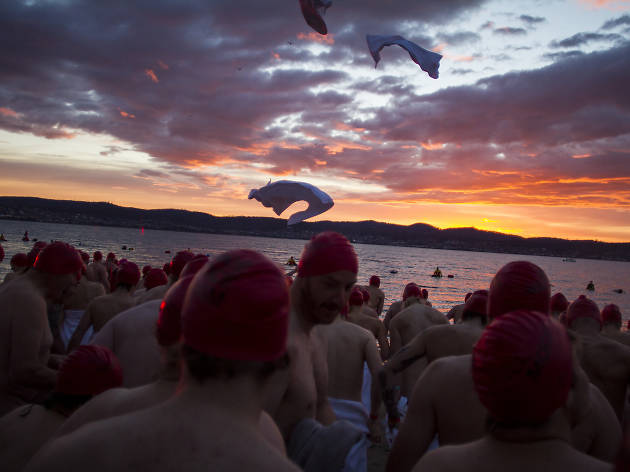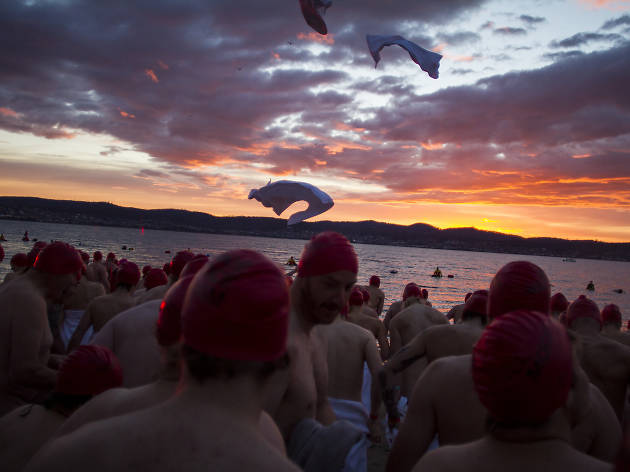 Photograph: Dark Mofo/Rémi Chauvin
5. Take a nude swim to mark the winter solstice
Dark Mofo's nude solstice swim is quite infamous these days. Thousands sprint down towards Hobart's River Derwent at around 7.40am, wearing red swim caps and nothing else. This year, a record number took the plunge (1,537 according to reports), and yes, this journalist was one of them. If you're wondering, it was cold, but not as cold as you'd expect. Stripping bare as the sun peeks over the horizon might seem like an odd thing to do in 7-degree weather, but I immediately lost all sense of embarrassment and nervousness when it came to crunch time. Dropping my towel, I howled along with the crowd, madly galloping towards the water, wading until my body submerged. I dunked my head in for good luck, screamed a bit more, then called it a day (some revellers dared to swim to the buoys; I was not one of them). As I scrambled to pick up a towel (any towel!) left on the beach, I dried off and felt accomplished, invigorated and, frankly, a little mad.
More of our favourite festivals
From art festivals so cool they'll make your hip ache to feasts held on beaches, Australian festivals prove we're a country that's sick for a major event. Not to be outdone, New Zealand festivals also hold their own on the international party circuit. So why not plan a year's worth of trans-Tasman adventure seeking around them?