A weekend in Katoomba
The Blue Mountains are at their crisp, misty best in winter. Do them in style: stay at a place where the views from your room will make your jaw drop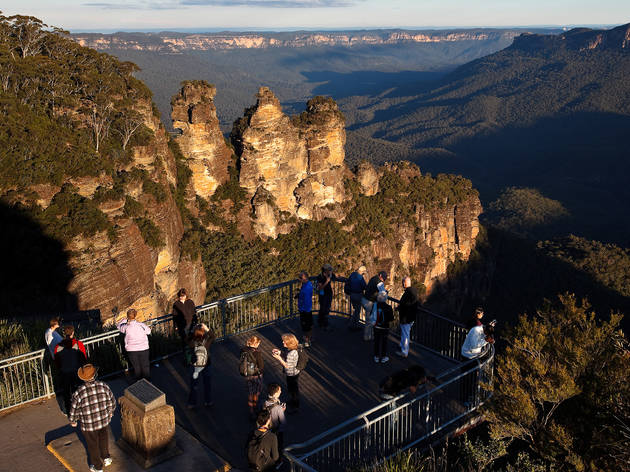 Head to the chief city in the Blue Mountains for heritage-listed restaurants, spa resorts, steep cable car rides and late lunches in Leura.
Drink
You don't go to the Blue Mountains for the bar culture, dare we say it? But we suggest stopping by the Lilianfels lounge bar for a nightcap of Laphroaig's Quarter Cask, en route to the hotel's billiards room.
Read more
Stay
We went to the mountains in search of pure R&R, and stayed as the guests of Lilianfels Blue Mountains Resort & Spa. Owned by the Escarpment Group, who seem to have cornered the market in boutique Blue Mountains accommodation (including the recently overhauled Hydro Majestic), Lilianfels is a one-stop-shop for indulgence in the most picturesque part of Katoomba, just 50 metres from Echo Point and its overlook of the Three Sisters, and with views over the Jamison Valley from the lounge and valley-view rooms. There's a hatted restaurant on site, a day spa, and Scenic World is a short walk away.
While you might go to the Hydro for its freshly restored cliffside grandeur, Lilianfels has more of a "shabby chic" charm: chintz furnishings and wallpaper, and illustrations of birds, stags and hunting hounds. In our room, the musky-pink 19th-century décor (courtesy of previous owner-operators Orient Express, circa 2002, and a tribute to Lilianfels' heyday) makes one think of maiden aunts and lapdogs. But with mod-cons like Wi-Fi, cable, 24-hour room service and Sealy Posturepedic mattresses, you've got the best of both worlds.
Read more
And don't forget...
Love a high tea? Whether or not you're a guest, make an afternoon booking for high tea in the Lillianfels lounge – recommended for the view, the structurally unsound scones with heavy velvety cream, and the shot-glasses of rosewater panna cotta with strawberry salsa.
Time Out stayed and dined as a guest of the Escarpment Group.
Read more