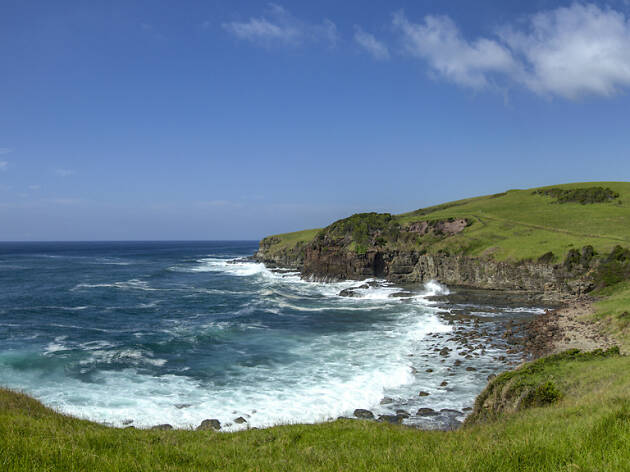 1/6
Photograph: Destination NSW
Kiama Coastal Walk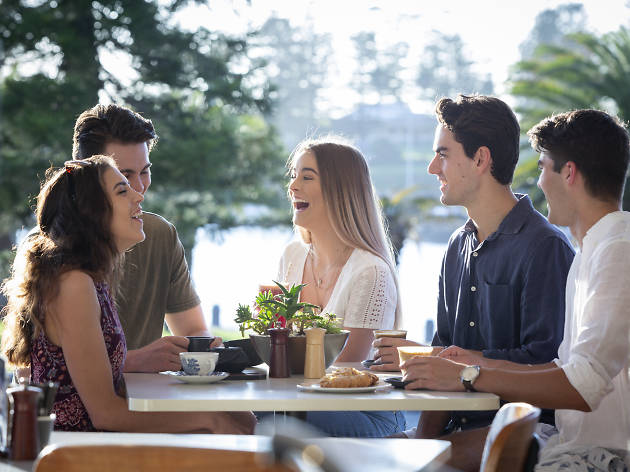 2/6
Photograph: Peter Izzard/Supplied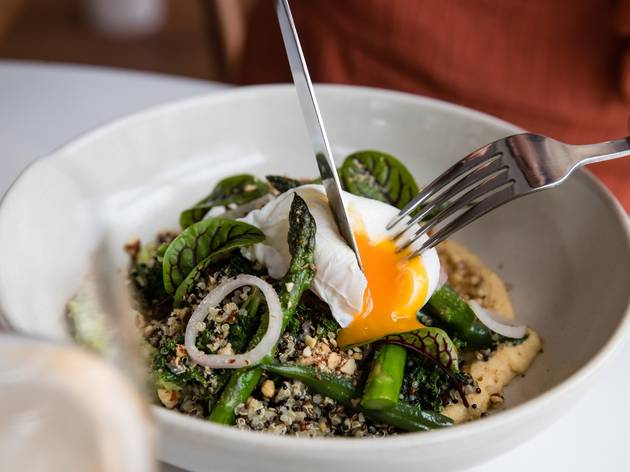 3/6
Photograph: Supplied/Diggies Kiama
Diggies Kiama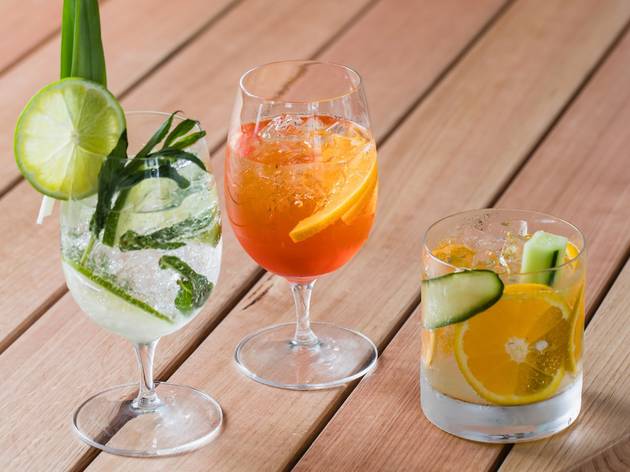 4/6
Photograph: Supplied/Diggies Kiama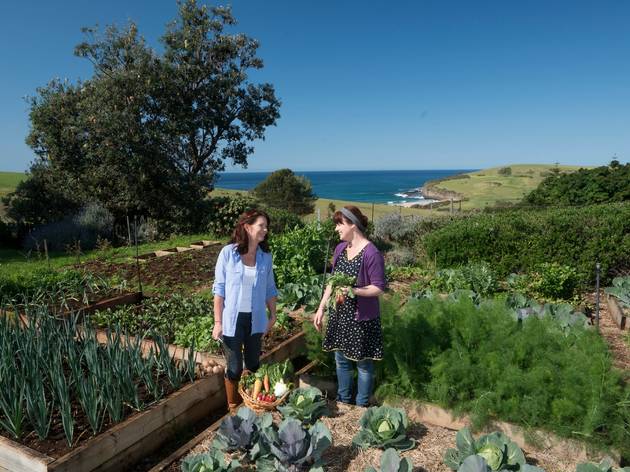 5/6
Photograph: Destination NSW
Buena Vista Farm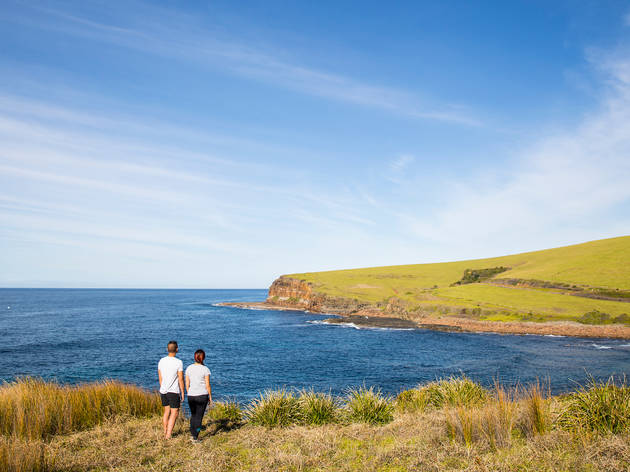 6/6
Photograph: Destination NSW
Kiama Coastal Walk
Budget or blowout: How to spend a lot (or not) on your next South Coast holiday
A guide to living it up or keeping it thrifty on your next local getaway
Sooner than you might have expected after leaving Sydney's scattered urban sprawl, you'll start spotting the rolling hills and coastal peaks of the picture-perfect South Coast. While there are hundreds of kilometres of coastal expanse and tiny towns dotted down the eastern shore of NSW, just an hour out of the city lie the beachside getaway towns of Kiama and the villages of Gerringong and Gerroa. It's an easy, nature-filled option for a local getaway – whether you want to splash the cash, or keep things low-key.
Whether you're tightening the purse this year, or you're looking to stimulate the local travel economy in style, we're giving you our pick of the best places to eat, drink and stay on two different budgets. Sit squarely in the lap of luxury, play it cash-savvy, or mix it up with some suggestions from both ends of the stick.

RECOMMENDED: The best road trips around NSW.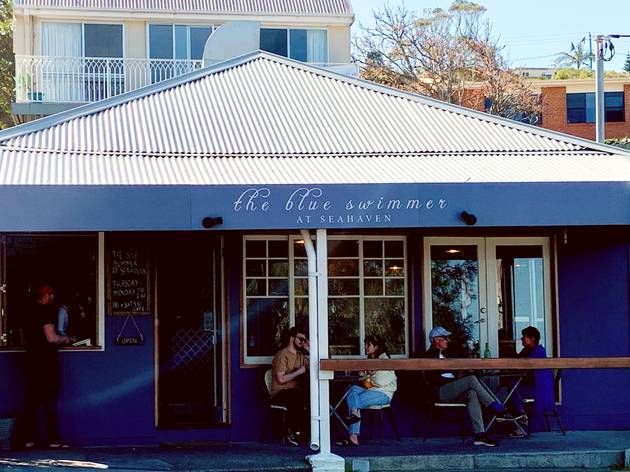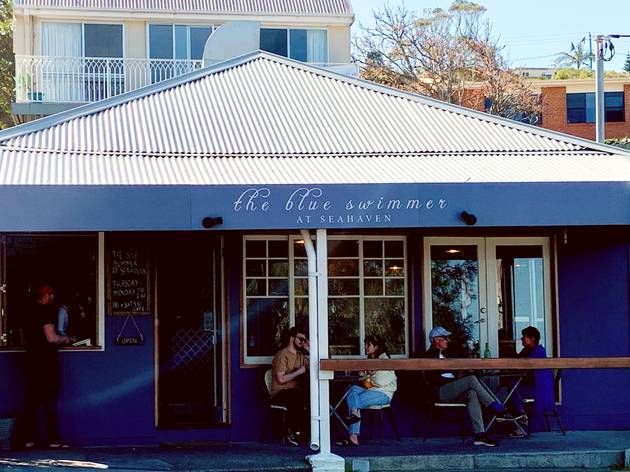 Photograph: Supplied/Blue Swimmer
Start off with breakfast at Kiama's Otis Deli, a cafe by the ex-head chef of Ottolenghi in London's Belgravia – it's not everyday you find those kinds of credentials on a little shopfront on Kiama's main thoroughfare. The shakshuka is a standout, as is the scrambled saffron tofu – and later on in the day, there are warm, roasted vegetable heavy salads and pomegranate and harissa aplenty. Stop in for a farm tour and cooking class in the bucolic surrounds of Buena Vista Farm (classes range from $195 - $250), where Fiona will take you through the property's sustainable agriculture practices. Book in for a sustainable gardening course, a cheesemaking course, or even a biscuit-making course, where a whole hands-on morning involves gathering for morning tea, walking around the farm and picking up rhubarbs, eggs and other necessities, and then baking your gathered ingredients into a tray of home-made bikkies.
When lunchtime rolls around, The Blue Swimmer on nearby Gerroa's foreshore is your next port of call. The bistro's menu is bursting with freshly caught seafood – think oysters in a zesty mignonette, mussels, kingfish ceviche with mandarin and scattered with micro herbs, and a fisherman's stew in the style of a French bouillabaisse with calamari, fish, shellfish, chickpeas. With its pretty waterfront location and rustic interiors, it's the perfect waterfront spot to swish down a glass of Shoalhaven semillon. If you're feeling a little more adventurous, try a picnic suspended on a craggy cliff face with the folks at Outdoor Raw (from $400). Later, head over to Endota Spa for the cap on a luxurious afternoon – choose from massages, spa remedies and facials, for the real high-roller treatment (facials from $100).
Check into your abode for the weekend at the Soul of Gerringong ($500 - $750 per night), a white-washed, sprawling home just minutes from the heart of the town centre and a scenic cliffside viewpoint. Waft around the airy, high-ceilinged rooms and sink into huge, plush sofas and pouffes – its generous proportions will make you feel small, but it's a lovely kind of diminishing. Wake up to Leif products on your bathroom counter, a stock of herbal teas and coffee pods for the perennially switched-on. Heaven. Otherwise, try the phenomenally located Latitude 34 in Gerroa ($1,100 per night), whose glistening, expansive pool makes it the perfect summertime villa, or settle in amongst the Georgian facade and vintage-style bookshelves of Terragong in Jamberoo (from $350 per night).
When it's dinnertime, settle in for the seven course menu at Silica ($99 per person) Kiama's fine dining destination du jour – it'll take you from gingery Sydney Rock oysters through to a glazed duck breast, and finish on a minty dark chocolate brownie with banana cream (with a whole lot more in between).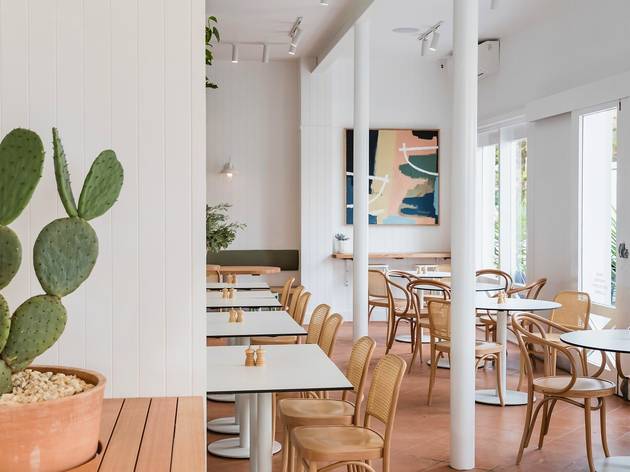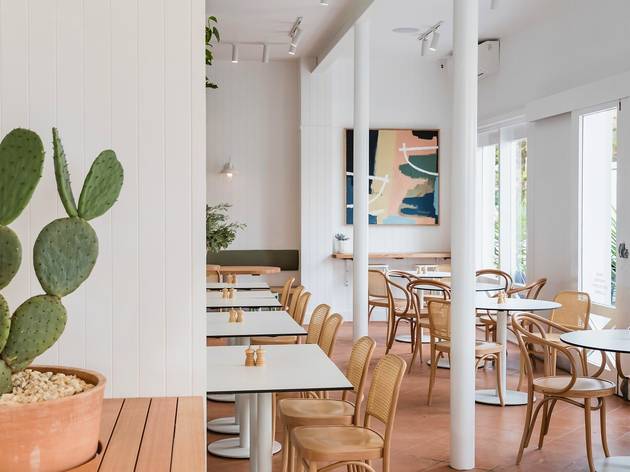 Photograph: Supplied/Diggies Kiama
A town brimming with natural beauty like Kiama isn't hard to enjoy on the cheap. Casual cafes with open decks and glass walls co-opt the scenery outside for their own ends – and most of them sit squarely at the moderately priced end of dining options. Penny Whistlers sits on the edge of town looking out over the harbour – it's got a diverse menu including fresh salads, breakfasts and Mexican bowls. Diggies Kiama is right by the water and a couple of minutes' walk from the town's most famous natural attraction: the Big blowhole. Take your coffee and on Diggies' whitewashed deck which looks out over the sea, or head inside for chic decor, cactuses and minimal, earth toned artwork. It's also ideal for a Sunday session if you're sticking around later.
While you're there, check out the aptly named Kiama Blowhole (free), which sits conveniently just in front of the Kiama Lighthouse. Stand in awe of the 260-million-year-old lava formation, and watch wind and sea create a spout by pushing water through the rock crevices. Head off for a coastal walk from there – either commit to the full 22kms of coastline, or just take on the first six for gorgeous outlooks across seacliffs and mountains. For more natural beauty, head out to see the nearby Cathedral Rocks, a stunning rock formation just three kilometres north of the main town (free).
For an early dinner or an evening vino, the open hall (and preferably, by the crackling fireplace on a cool evening) of Gerringong's the Hill Bar and Kitchen is where you want to be. With a casual, order-at-the-counter set-up, and a menu featuring oysters, hefty burgers, pizzas, house-made tortellini and a fresh, tomato-based prawn linguine, its offerings are far-reaching enough for the whole family – but not so much so that it feels confused. An extensive wine list covers off the basics, while the cocktails are crafted with local ingredients and designed to be drunk with a view – try the Coolcumber (cucumber, gin, lemon, Saint Germain, Brut) for a refresher, or the Serenity Now (floral-infused gin, crème de cacao, rose water, egg white and fairy floss) for a glitzier, sweeter option.

You'd imagine that all the property on the tip of a peninsula that juts out from the main town, surrounded on all edges by sea, would be pricy to match – but that's where you'll find the affordable, seaside Kiama Harbour Cabins (from $160) The two, three and four-bedroom cottages are functional, roomy and most have sea views (and the recyclable coffee pods are a welcome touch).