How to eat your way around the Australian Riverina
Ditch the concrete and commotion for an exploration of this wining, dining and sun shining region of regional NSW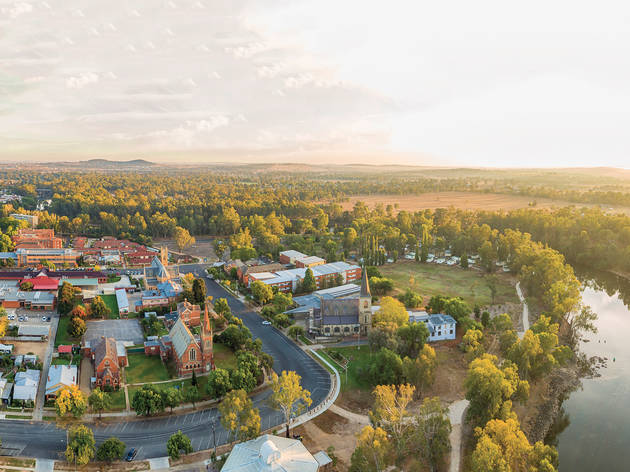 If someone told you to point to the middle of New South Wales, you'd probably end up somewhere close to Griffith. Your parents will tell you stories of Griffith's chequered past – which, let's just say, starts with 'm' and ends in 'afia' – but recently it's been living under a more complimentary banner: the Australian Riverina.
This wholly agricultural region of south-west New South Wales (think Wagga Wagga way) is distinguished by its hot climate, vast saltbush plains and the ample irrigation that comes from both the Murrumbidgee and Murray rivers. This winning combo means the Riverina is prime for growing. The region produces 90 per cent of the state's citrus, 80 per cent of the state's wine grapes and it's also a hive for almonds, fruits, vegetables and a vast majority of the rice that's grown in Australia. It's for this reason they like to call it one of Australia's premier food bowls. If the term 'food bowl' doesn't get your stomach rumbling, the ample edible options certainly will.
Packed with small town charm, this destination region has the appetite of a big city. If you're headed out west, chocolate, cheese, craft beer and authentic Italian await you. Follow our curated Riverina itinerary below to get the most out of your stay.
Looking for more local getaways? Check out our guide to a weekend in Mudgee and our pick of the best glamping sites in New South Wales.
Travel without the exxy price tag
As much as the city has its perks, there's really nothing like ditching the nine to five and hitting the road. Armed with a tank full of petrol (or a topped-up Opal card), you'll be surprised how far your dollar can stretch outside the big city.