A weekend in Mudgee
Wineries, rolling greens and stunning sunsets abound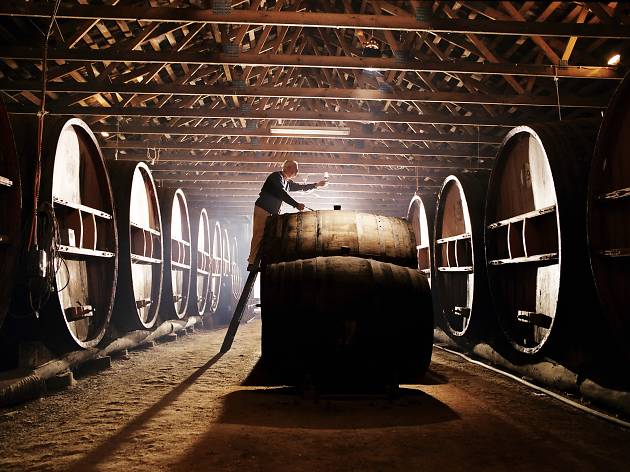 It's an easy jaunt to the 'Nest in the Hills' where you can fill your lungs with clean mountain air, your belly with with pub dinners and peppery shiraz and your shopping basket with all the fruits of this ridiculously productive region.
Eat
Once you find Alby and Esther's café (61 Market St, Mudgee 2850) tucked off the main drag in a courtyard draped in grapevines and festoon lighting, you may never leave. The coffee, food and genial staff are all kicking goals for Mudgee in the AM, and who can resist a slice of fresh lumberjack cake. But first, a serve of tender baked beans laced with smoky ham pieces and fragrant rosemary topped with a poached egg as a pre-winery primer. It doesn't get fresher than the farmhouse fare at Zin House, the beautiful cottage restaurant at the Lowe winery (329 Tinja Ln, Mudgee 2850).
If you love the idea of a seriously local repast, treat yourself to the six-course weekend long lunch with matched wines. Expect comfort and ease at Elton's, the cosy bistro in the centre of town (81 Market St, Mudgee 2850). This is the place to regroup over lamb ragu on house made pappardelle or an envy-inducing scotch fillet, and a generous square of sticky date pudding caps things off nicely. If you're after a super casual dinner spot, the brasserie at the Lawson Park Hotel (1 Church St, Mudgee 2850) is family-friendly, large capacity pub dining room with a reputation for quality counter meals. Shake up your usual rump order and opt for three perfectly seasoned lamb cutlets with your mash, brandy and peppercorn gravy and steamed vegetables – you won't regret it.
Drink
If a weekend's worth of vineyards hasn't dampened your inclination for a nightcap head to Roth's Wine Bar to round out your evening. Secure an armchair by the fireplace, perch up at the bar or fix up in the back shed where the live tunes happen. 30 Market St, Mudgee 2850.
Stay
Doesn't matter what season you travel in, a spa bath in your studio cottage is never a bad idea. The well-appointed garret apartment at Evanslea is one of five self-contained cottages on this picturesque, riverside property, and makes for a cosy love nest for a minibreak. If you prefer to warm yourself by the fireside than in the spa they keep the home fires burning, and in summer there's a pool for cooling your heels. 146 Market St, Mudgee 2850. 0414 874 816.
Play
Of the many good reasons to traverse the mountains hemming in Sydney and head west, drinking all the wine is our number one. Start small with the Short Sheep Micro-Winery (47 Buckaroo Ln, Mudgee 2850), a husband-and-wife operation that is producing some interesting low- intervention wines like their flagship syrah. Further up the road, Jacob Stein is a third-generation winemaker at the family-run Robert Stein Winery and Motorcycle Museum (Pipeclay Ln, Mudgee 2850) and he is producing rieslings worth travelling for. Hit the cellar door for wines and house-made salamis, have a poke around the vintage motorcycles kept in the barn, and have lunch at the Pumphouse Restaurant.
Lowe Wines, is a biodynamic, organic farm also features a cavernous cellar door where you can sample preservative-free, organic and even experimental low-alcohol wines, as well as tour the fruit orchards, vineyard and donkey paddock. On your way back east be sure to drop into Logan Wines (1320 Castlereagh Hwy, Apple Tree Flat 2330). The Modernist-inspired cellar door perched on a hillside is just as happy to furnish you with a bight, peppery shiraz as a short black made with Di Lorenzo beans. You may recognise the ornithological label from restaurants like Cho Cho San.
And don't forget
On your way home take the scenic route to nearby Rylstone. Not only is this tiny town home to the award-winning oils from Rylstone Olive Press, but it is also the surprising location of a yum cha restaurant, 29 nine 99 that is well worth a visit (28-30 Louee St Rylstone 2849. 02 6379 1984). You order the super-fresh dumplings in mixed serves of six, eight, ten and 12 pieces, with a fluffy pork bun on the side and a monster pot of Chinese tea.
Time Out visited as a guest of Mudgee Region Tourism.