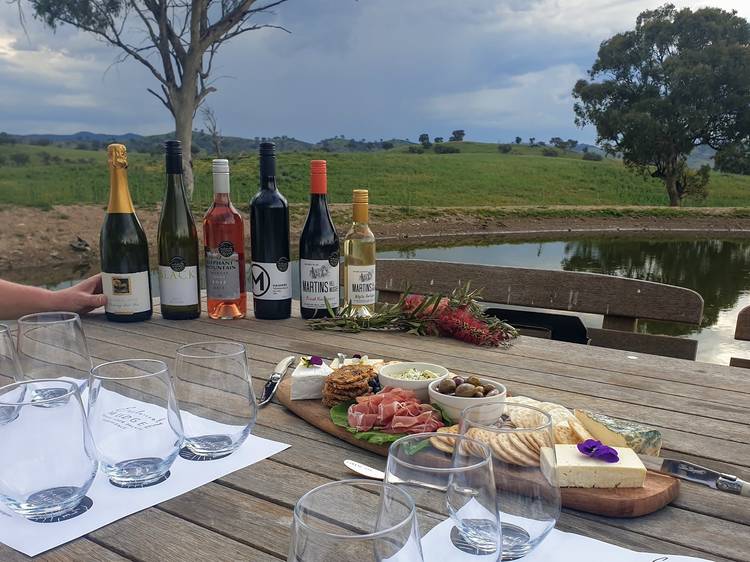 Photograph: Alannah Maher | Exclusively Mudgee
Of course, the wineries are the main drawcard for any self-respecting sipper visiting the Mudgee region – and with more than 35 cellar doors and 44 grape varieties, you're spoilt for choice. If you love a rich red, Huntington Estate has some gorgeous picks. For charming biodynamic bliss, Lowe Family Wine Co will win your heart. For a smaller family feel complete with a sweet staffy pup who will crawl under your table, Burnbrae's cellar door has it. Check out our guide to the best wineries in Mudgee for a full lay of the land.
Not sure where to get started? We recommend booking in a private tasting experience with Exclusively Mudgee. Steph, who has been in the local wine industry for over a decade, will come to your accommodation with six bottles of wine curated to your palate to taste (and keep) along with a locally-sourced cheese platter and top-notch banter. Many of the wines she sources are ones you won't find at a cellar door, they're small-batch labors of love from winemakers who are kept busy growing commercial crops for bigger brands.
If you're a beer drinker, this cool climate vino paradise won't leave you without a frothy one to knock back. Mudgee Brewing Co pours craft brews ranging from the dark and chocolatey Mudgee Mud Imperial Stout to the mild and cloudy Mudgee Wheat. If you prefer your lager no-fuss, Burnbrae Wines turned their winemaking expertise to create the crisp, clean 548 Lager available from its cellar door.