Let your story begin in Korea
Your next adventure sorted: experience Korea's dynamic culture, cities and more
Discover Korea: home to K-Pop, an incredible food culture, stunning UNESCO world heritage sites, great skiing, and world-class shopping experiences. This is a place where you can create unforgettable stories – here are just some of the highlights to look forward to on your Korean adventure.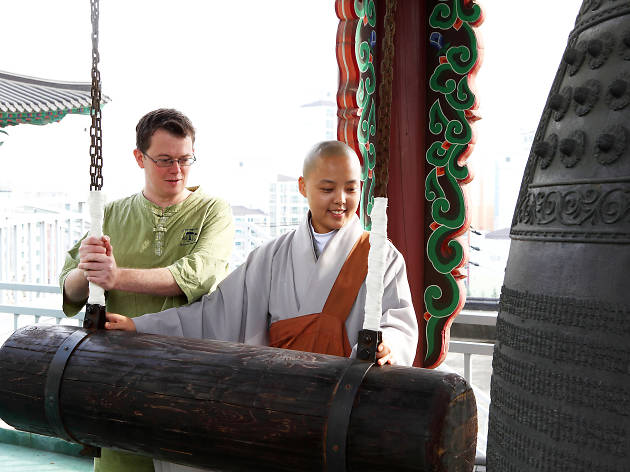 History sits alongside modern city life in Korea. Visit a Buddhist temple and join a Templestay program, where you can learn the art of meditation and experience life as a monk. Make time for a visit to Seoul's Gwangjang Traditional Market to see the hustle and bustle of modern day South Korea that you won't see in the city's grand malls. Here you can sample delicious Korean street foods, try traditional ingredients and check out the textiles section to try on a hanbok (traditional Korean dress) for size.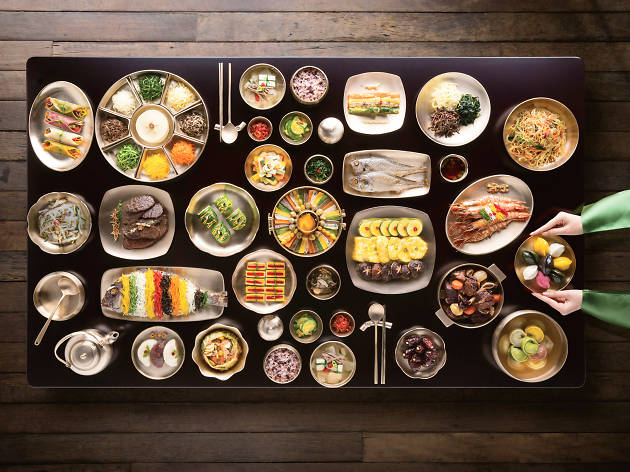 Food is central to Korean culture, and flavours differ in each region so you'd be wise to save stomach space for all that Korea has to offer. Book yourself into a street food tour to interact with locals while you grab a bindaettok (mung bean pancake) with a cheeky shot of rice wine over lunch, sample the many delicious banchan (side dishes) with your Korean barbecue feast, and brace yourself for a spice attack as you devour a stack of dakgangjeong (fried chicken) and tteokbokki (fish and rice cakes) over a few cans of Cass beers.
South Korea is home to stunning UNESCO World Heritage sites. Awe-inspiring wonders include the Jeju volcanic islands and labyrinthine lava caves in the south, and mysterious dolmen (tomb-like structures not unlike Stonehenge), which mark the resting places of Korea's Bronze Age rulers. Experience Korea's ancient history at the ancient kingdom of Gyeongju, a central part of Korea's history.

On the flipside, modern day Korea is abuzz within its cities' cutting edge architecture. Tour the Dongdaemun Design Plaza in Seoul, walk through Myeongdong for some retail therapy (this area is also a must for fans of Korea's burgeoning beauty industry), and check out Samcheongdong's design galleries.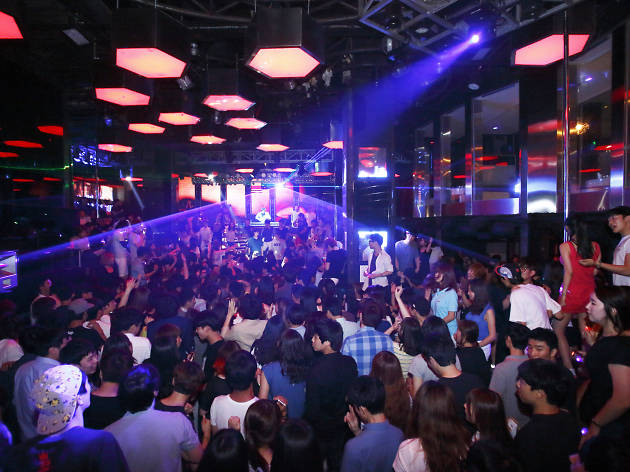 Home to Asia's biggest pop sensations like Girls' Generation, Super Junior, and BigBang, it's little wonder that South Korea also knows how to party. Late-night clubs and karaoke bars draw locals and tourists alike with the latest K-Pop beats in areas like Hongdae, Itaewon and Gangnam. If you feel like a break from the club, Korea's street food culture doesn't sleep in the wee hours, and shops in Dongdaemun's Doota Tower stays open until 5am on weekends, and until midnight on weekdays.
Join the locals to celebrate the biggest festivals in the Korean social calendar. Highlights include the Gwangju Kimchi Festival (a celebration of Korea's famous pickle) and the Jinju Lantern Lighting Festival in October. In the springtime, the Cherry Blossom Festival in April sees everyone venturing out to celebrate the delicate spring blooms. If you visit in summer, get messy at the Boryeong Mud Festival in Boryeong south of Seoul, where you'll join locals as they slap on the mineral-rich mud all over their skin.
Book a winter trip to Korea to make the most of the ski season. Even if you're a novice skier, there's plenty to enjoy near the ski resorts like hot spring spas, Korean barbecue restaurants and other entertainment at the ski lodges. Have a crack at night-skiing at Alpensia Ski Resort in Gangwon-do, which will host the 2018 Winter Olympics. Best part is, a number of ski resorts are located close to Seoul, so visitors can easily hop on a shuttle bus for a day trip to the snow.
Win a trip to Korea
Korea Tourism Organization is giving two lucky people the chance to create their own story in Korea's dynamic cities.

Prize details:
• Two return Asiana Airlines economy airfares from Sydney to Seoul (airport taxes and fuel surcharges included)
• Three nights deluxe hotel accommodation in Seoul
• Two nights deluxe hotel accommodation in Busan
• Two return rail tickets on KTX from Seoul to Busan
To enter, tell us in 25 words or less how you would create your own story in Korea.
Taste Korea at home
Korean food in Sydney has come a long way from fried chicken alone. Because it is so much more than that – from icy cold soups served in the depths of winter, to steamed dumplings stuffed with kimchi and chewy, peanut-crusted tteokbokki that you'll be thinking about long after you've finished eating, here's our list of where to eat Korean in Sydney. (Don't worry, there's fried chicken in here too.)