The best Korean restaurants in Sydney
Sydney's crazy for Korean - get on board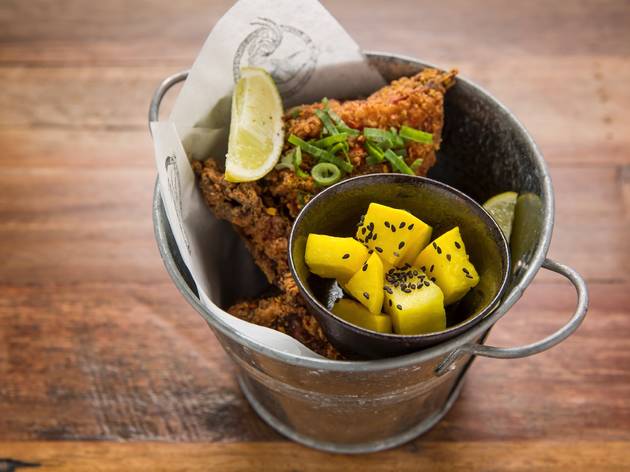 Korean food in Sydney has come a long way from fried chicken alone. Because it is so much more than that – from icy cold soups served in the depths of winter, to steamed dumplings stuffed with kimchi and chewy, peanut-crusted tteokbokki that you'll be thinking about long after you've finished eating, here's our list of where to eat Korean in Sydney. (Don't worry, there's fried chicken in here too.)
Because variety is the spice of life, we've rounded up the best Thai and Japanese restaurants, plus the best places for pizza in Sydney.
Order the cold kimchi soup. It comes in a massive bowl piled high with long, thin, chewy noodles surrounded by neon toned, bright red broth – which is so icy-cold that the texture is verging on slushie territory. There's a half boiled egg, a hefty dollop of spicy gochujang (chilli sauce) and a big heap of housemade kimchi crowning the top. You won't find a more refreshing dish in Sydney.
Forget duck or roast pork. Here the pillowy, steamed buns cuddle crumbed, tender crescents of eggplant dressed in a chilli mayo with slender quick pickles, coriander and black sesame seeds. Score one for the vegos!
It's all about fried chicken at this Haymarket eatery. The coating is crisp and ultra-crunchy, and makes a satisfying shattering sound when you bite into it. Greasiness is not an issue, and the whole thing is seasoned just right and all the way through. Nearly a dozen variations are available, including one with soy and garlic and another one covered in cheese "snow".
Korean food is taking over the world. Well Pitt Street, at least. The fried dumplings with rice vinegar are a must-order but the little sides of pickle, fish cake and tofu will you feeling virtuous from the inside out. Come for the barbecue and stay for the kim chi pancake.
Got a gargantuan hunger? Order a serve of the spicy pork lettuce cups. These are not the delicate ssambap you've eaten at Moon Park or Kim. Lettuce leaf bowls come packed to the breaking point with white rice topped with sticky, spicy pork pieces. Eat it with your hands and God be with you.
For the ultimate Korean barbeque in the CBD, head to 678. Sit down amongst the chaos and enjoy the seemingly endless supply of banchan (side-dishes) like aged kimchi, soft sweet potato and pickled radish. Order the marinated wagyu short rib and pork belly and cook them yourself over the table barbeque, with a bottle of Hite Korean beer at your side.
Cool off with the Korean-style tartare which translates to something akin to a meat popsicle: frozen strips of beef come to the table elaborately dressed with matchsticks of nashi pear and cucumber, a raw egg yolk nests in the middle of the beef, wearing a deft scattering of raw pine nuts and a dressing of soy sauce and sesame oil.
There are mixed platters of straight beef cuts and pork belly, or a beef, pork, chicken and prawn mega combo of land and sea. If you've also been eyeing off a bibimbap in a hot stone dolsot, a serve of chewy dduk-bukgi or the excellent, crisp-skinned, peppery pork dumplings, consider ordering your barbecue meats individually. This here is a lot of food.
Let's talk about the egg soup at this place. This Korean favourite is made by steaming eggs with seasoned stock so the egg puffs up like a mattress. As it rises, the egg soaks up the stock resulting in a kind of soupy soufflé deliciousness with every spoonful. What's even more amazing about the egg soup here? It's free.
The reason to go here is to get involved with the fried chicken. Order up a half or full serve – you can also choose wings, breast, or a mix – and get ready for some finger-licking fun. Go half-and-half and order original and a flavoured number: there's herbs and garlic, sweet and spicy or garlic soy.
Jeongol is what every second table is having at Oseyo. You can put anything in this big pot of simmering broth: meat, seafood, tofu, vegetables, dumplings and even whole cakes of instant noodles. Go hard on the chilli with the spicy beef stew, trawl for squid and mussels in the spicy seafood, or hit up the dumpling stew, resplendent with enoki mushrooms and quivering pillows of tofu.
Traditional dakgalbi isn't exactly abundant in Sydney, but you can get it at PR Korean. Picture a massive chicken stir-fry, mixed with a mountain of cabbage, sweet potato, onions and chewy rice cakes. Staff will look after all the cooking at your table, stopping by every two minutes to stir, toss and flip until it's ready.
Or maybe you fancy this?
Japanese food fits into the Sydney climate like soybeans fit into their little pods. And so it's good that, thanks to all of the incredible Japanese chefs gracing our shores, we know how to do it right. From the sushi roll lunch-run to the full sashimi-laden dego, here's where to do Japanese in Sydney.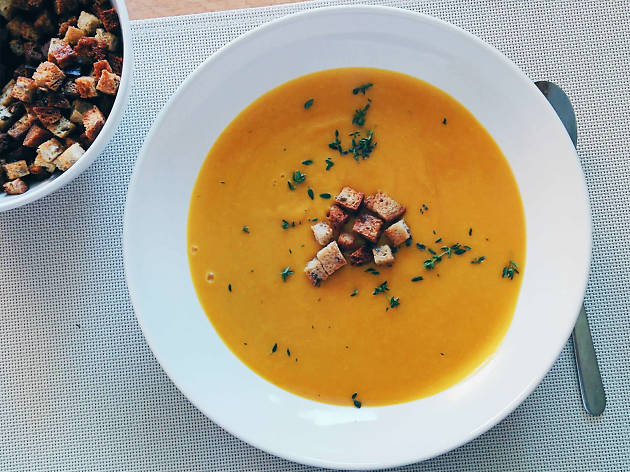 Although during summer soup for lunch might not make much sense, Sydney does get pretty cold come June. And when you're in the midst of the working day, there is nothing more comforting that a bowl of steaming-hot soup to warm your cockles and help you power through the afternoon. Here are our favourite soups in the city right now.