Mini-breaks in brewery towns
Pick holiday-worthy destinations that boast a quality craft brewery and enjoy the best of both worlds – Australia's full of them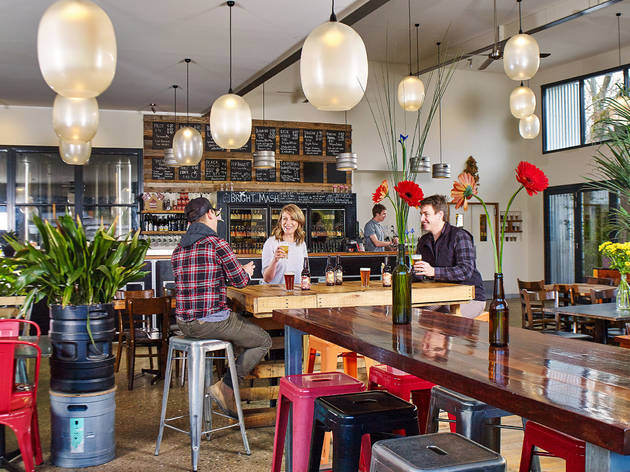 Maybe you like to head out into wilds on a holiday? Or perhaps urban adventurea are more your cup of tea. Either way surely we can all agree on the need for some excellent beverages when you're taking time off, which is why heading to a brewery town is such a good idea when planning a mini-break.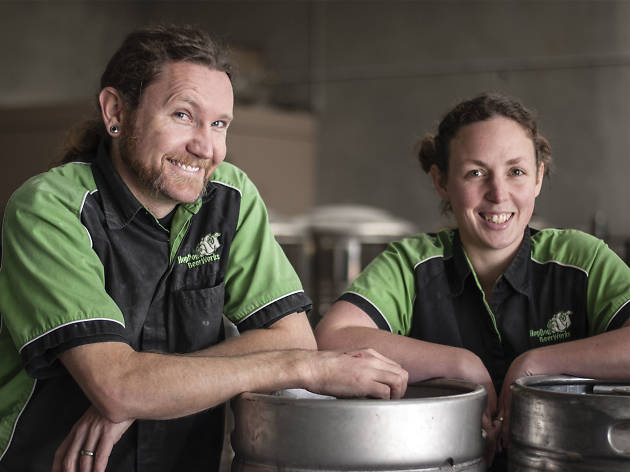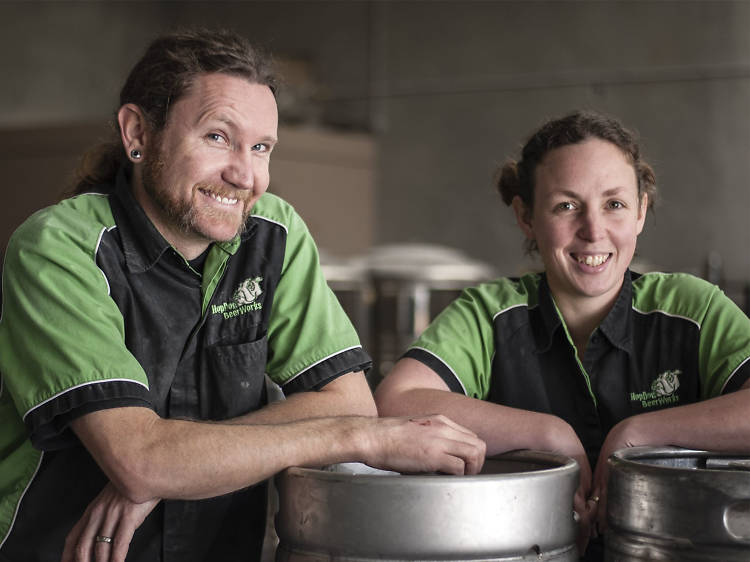 Photograph: Supplied
Berry has been described as being like Mosman with a country twang, and it's only two hours south of Sydney. It's a hamlet in Shoalhaven cleaved by a picture-book high street crowded with colonial buildings that give it the character lacking in similarly sized towns blighted by a strip mall-chic vibe. You'll find Berry is packed with quirky boutiques and good restaurants that quickly give way to the rolling countryside where jushed-up cottages for urban exiles rub up against hedgerows belonging to old farm houses. For the hopheads, beer is also near. HopDog BeerWorks is a few minutes south of town. They're purveyors of wild-fermented ales (no lagers here) brewed daily by husband-and-wife team Tim and Tess. Try experimental brews available only on tap at the brewery door or find their bottled ales on the menu at Berry restaurants. HopDog BeerWorks, Unit 2, Princess Hwy, South Nowra (south of Berry) 2541. 0428 293 132. hopdog.com.au. Tue-Sat 10am-4pm; Fri 6pm-late.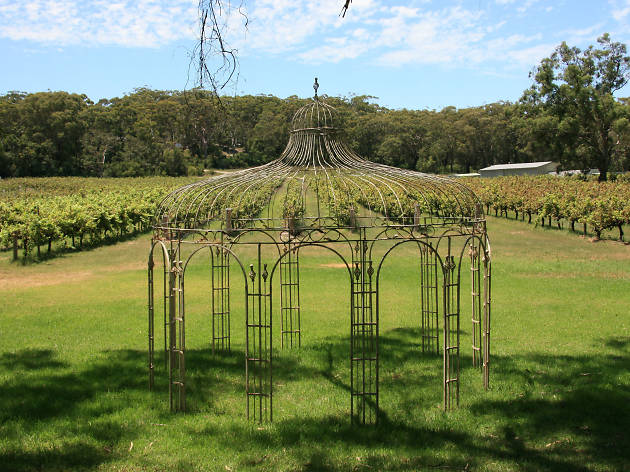 Photograph: Supplied
Head two and a half hours north of Sydney and you'll end up on a thick ribbon of land called Port Stephens, fringed with coastline and wilderness. National parks and sandy beaches – including Stockton, the longest beach (32km) in New South Wales – meet the water where scuba divers will find the state's best coastal diving; surfers commune with a resident pod of dolphins; wildlife enthusiasts whale watch; and adrenaline junkies hit the sand dunes in 4WDs. Take a breather from the action with a few hours at Murray's Brewery (and Port Stephens Winery). It's popular on the weekend, especially if the brewery's hosting a festival. On any given Saturday, there'll be more people at the brewery with a schooner of Murray's Easy IPA in hand than lived in the town where the brewery was born (Taylors Arm, pop. 50). There's also a brewery bus to shuttle tipsy folks to and from the hub of Nelson Bay, so you can ditch the car for your visit. Murray's Brewing Co, 3443 Nelson Bay Rd, Bobs Farm 2316. 02 4982 6411. murraysbrewingco.com.au. Daily 10am-6pm.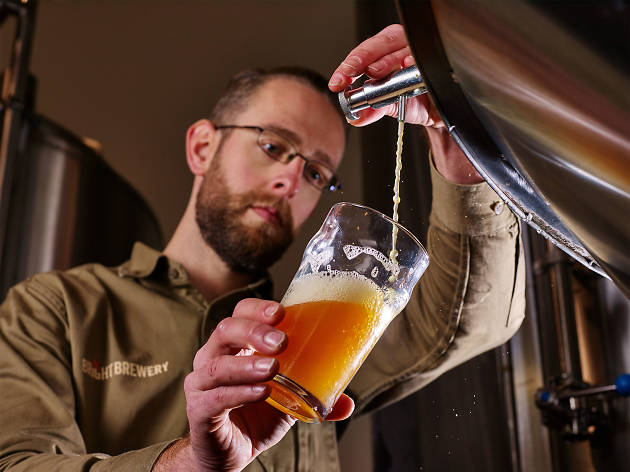 Photograph: Supplied
If you ever find yourself headed for the Snowy Mountains in Victoria, take a day away from the slopes and descend to the foothills for a wander around Bright. Or, better yet, visit when it's not winter and get the most out of this mountain town. It's a high country, adventure-sports dream destination. Mountain bikers, hikers, campers, fishers and climbers all come together in Bright, as do wine and beer lovers. It's also eye-poppingly colourful when the leaves turn in autumn, painting the landscape fiery red, orange and yellow. Local gem Bright Brewery was originally founded in 1876 during the gold rush but closed for nearly a century before being resurrected in 2006 by husband and wife Scott Brandon and Fiona Reddaway. The modern brewery and kitchen sits in the heart of town, overlooking the Ovens River, and it's a top spot for leaf peeping with a pint in hand in autumn. Twenty-four taps feature Bright Brewery's award-winning beers, all brewed with fresh mountain water. On Sundays you can relax with live music, and if you want to learn how your beer transforms from grain to what's in your glass, Bright Brewery's 'Brewer for a Day' program will give you the chance to make a batch of beer from start to finish. Bright Brewery, 121 Great Alpine Rd, Bright 3741. 03 5755 1301. brightbrewery.com. Daily 11am-evening.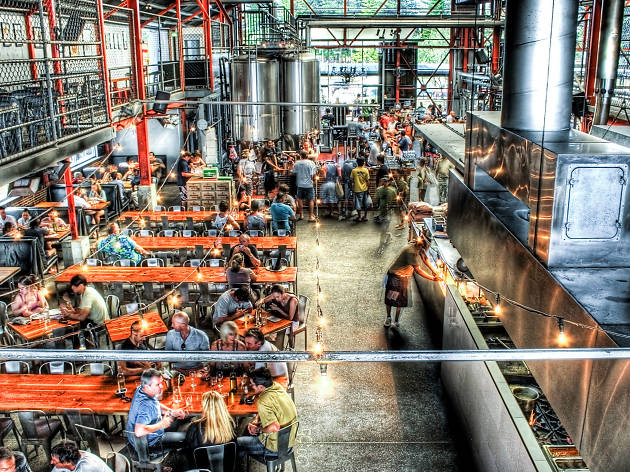 Photograph: Supplied

This freewheeling, laidback artist haven is the west coast's answer to Byron Bay, albeit shot through with some culture to counterbalance the beach life. UNESCO world heritage sites, museums, world-class coffee and architecture all lend a cosmopolitan air to the port city where the Swan River meets the Indian Ocean. Freo offers a warren of walkable streets in the compact city centre and white sand beaches for snorkelling or windsurfing nearby. It was also the birthplace of Australia's craft beer industry, when Matilda Bay Brewing Company started brewing for the local Sail and Anchor hotel in 1984. Fellow industry trailblazer Little Creatures still has a Fremantle brewery on Fishing Boat Harbour. Drop in for a tour, a tasting or a pizza and a pint of their seasonal beer (often only on tap at the brewery) on the dog-friendly deck. You can even grab a loaner bike to explore town before returning to the brewery for a sixer of pale ale to knock back later. Little Creatures, 40 Mews Rd, Fremantle 6160. 08 6215 1000. littlecreatures.com.au. Mon-Fri 10am-late; Sat 9am-late; Sun 9am-11pm.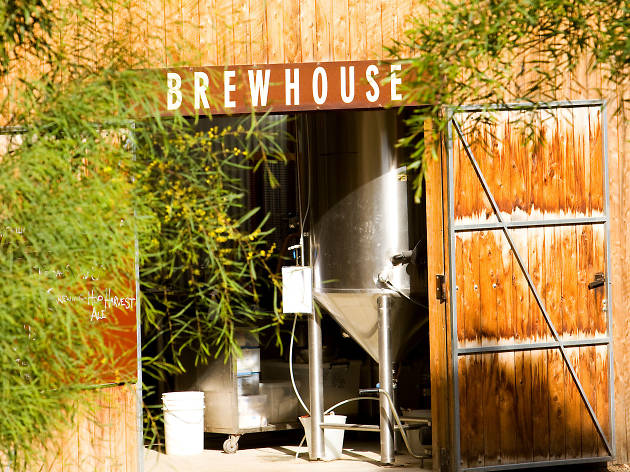 Photograph: Supplied

You'll find Red Hill inland on the Mornington Peninsula and, because of this, it's often overlooked in favour of the seaside villages and their Instagrammable beaches. But if you stop for a visit you'll hit upon the epicentre of the peninsula's boutique burgundy industry, set in a pastoral landscape filled with passionate bon vivants who relish a good drink and a bite to eat. It makes sense that it's also home to Red Hill Brewery. The microbrewery is set back from Shoreham Road, nestled among its own hop fields, and it's where in-the-know locals go to heap trays with brisket and ribs cooked low 'n' slow Southern-style. The barbecue menu pairs perfectly with a schooner of the brewery's imperial stout. There's even an on-site holiday cottage that backs onto the brewery and becomes a particularly appealing option after a Saturday spent sunning and pounding pints on the brewery patio. Red Hill Brewery, 88 Shoreham Rd, Red Hill South 3937. 03 5989 2959. redhillbrewery.com.au. Fri-Sun 11am-6pm.
And if you can only stretch to a night out?
There aren't many dishes that can't find their perfect match in a hoppy ale, a cleansing lager or a malty brew. Don't believe us? Give these beer and food pairings a try.