The best places across the globe to celebrate Pride
Show off your true (rainbow) colours at these out and proud parties, parades and more in the best places in the world to celebrate Pride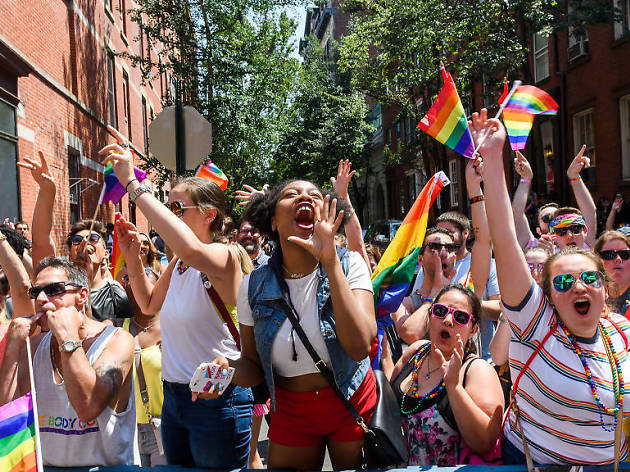 These days, you'll find Pride celebrations all over the world, in cities big and small. Sure, many feel less overtly political than when they began in the '70s, after New York City's Stonewall Riots of 1969 had sparked the modern Gay Rights Movement. But they still serve an important purpose in gathering together the different strands of the LGBTQ+ community (and allies) for a show of solidarity and reminder that there are still prejudices to overcome.
If you're a Pride lover, consider this your bucket list: 12 of the world's biggest and buzziest Pride parties you'll be super-tempted to book a flight for, stat. A note: Most Pride celebrations kick off during the summer; we've listed the cream of the crop in chronological order, just in case you want to go international party hopping.
Where to celebrate Pride across the world
Photograph: Daniel Boud
Though it's held before summer Pride season, Sydney Gay and Lesbian Mardi Gras is one of the world's most famous LGBTQ+ festivals. There are dozens of queer-themed events to choose from, but the dazzling parade through central Sydney remains the main attraction. It's also worth buying a ticket for the annual Mardi Gras Party, a major draw which attracts gay icons like Cher and Kylie Minogue.
March 2, 2018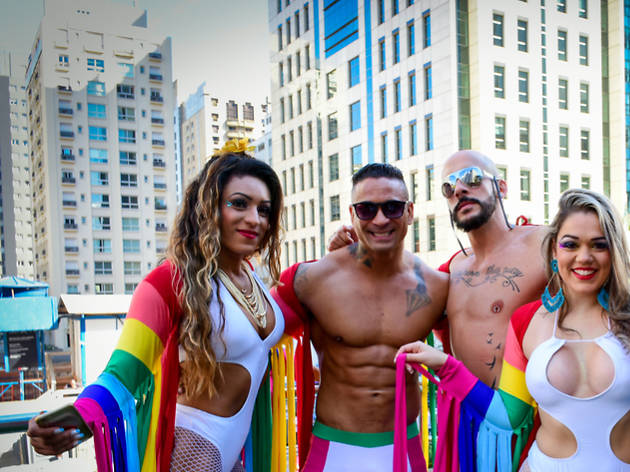 Shutterstock/Luciano Marques
With Brazil still experiencing high levels of homophobic violence, São Paulo Pride feels like an act of defiance. The largest LGBTQ+ event in South America (and according to some figures, the world), it's a powerful mix of politics and partying which draws a diverse crowd to the streets of queer neighbourhoods Frei Caneca and Largo do Arouche. In the days leading up to Sunday's parade, dancing fans should pay a visit to the Week, the city's most iconic gay club.
June 3, 2018
Photograph: Yuli Gorodinski
Since launching in 1998, Tel Aviv Pride has grown to become the biggest LGBTQ+ event in Asia, attracting around 200,000 people every year. Its focal point is a fabulous parade leading to the epic beach party at Charles Clore Beach. Tel Aviv is known for being a very gay-friendly city, so expect a welcome as warm as the 27C (on average) June temperatures.
June 8, 2018
Now known as Pride in London, this month-long LGBTQ+ festival climaxes in a famous parade which attracts around a million visitors. It's the only annual event allowed to shut down London's iconic Oxford Street. Afterwards, there's a free concert in historic Trafalgar Square, but you'll find the best atmosphere in Soho, London's gay village, where revellers pack the streets for drinking and dancing till their feet are sore.
June 9–July 7, 2018
New York City Pride now comprises an eclectic range of events including a two-day culture festival, Pride Island, held on Pier 97 in Hell's Kitchen. But the jewel in its crown is still the Pride March, which passes by the historic Stonewall Inn on Christopher Street, birthplace of the modern Gay Rights Movement. Millions of spectators line the streets from midday onwards to watch the West Village turn into a joyous sea of rainbows; it's quite the occasion.
June 14–24, 2018
Courtesy CC/Flickr/Olivia Chow/Pooyan Tabatabaei
June is Pride Month in Toronto, but the annual Pride festival takes place over a single weekend. Clustered around Church and Wellesley, the city's queer enclave, it's a huge and inclusive affair where you can watch a Dyke March and a Trans March as well as the main Pride Parade, which takes place Sunday. Head here for a glittery but politically-conscious vibe: Canadian PM Justin Trudeau even joined the parade in 2017.
June 22–24, 2018
With around 15 percent of residents identifying as LGB, San Francisco is statistically the gayest place in America. So, it's fitting that its annual Pride weekend basically takes over the city. The official hot spots are the two-day festival in Civic Square, a platform for queer talent and performers, and the ever-popular Saturday afternoon parade. Though you'll spot various queer tribes, including the famous Dykes on Bikes and a fierce gay leather community, San Francisco Pride is definitely a party for everyone.
June 23–24, 2018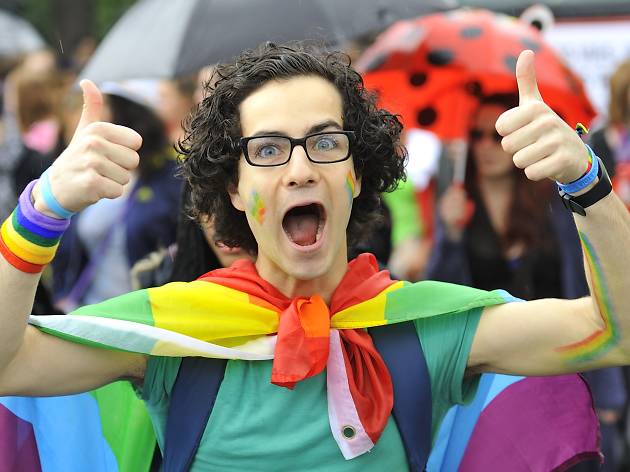 Courtesy CC/Flickr/Rog01
Known as the Marche des Fiertés LGBT, this Pride parade is bright and boisterous–locals reckon you can hear it coming from a kilometre away. Beginning at 2pm, it snakes through central Paris for around four hours before culminating in a concert and rally at the grand Place de la République. If you prefer a more impromptu Pride experience, just head to Le Marais, the city's charming gay village, and join a fabulous street party.
June 30, 2018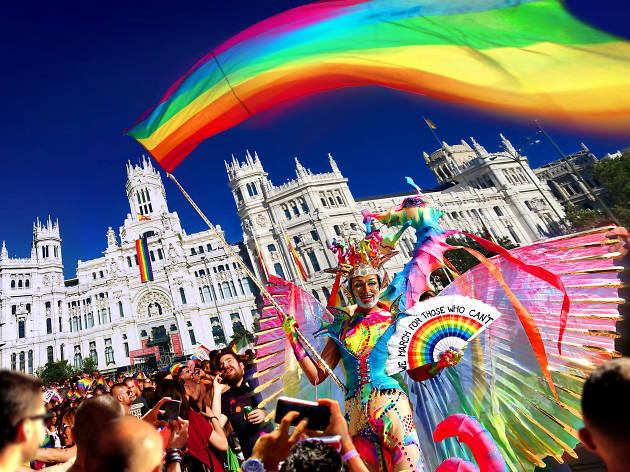 Courtesy CC/Flickr/Ybridex AngeloDemon
Madrid Pride is Europe's biggest LGBTQ+ event, attracting nearly two million visitors to the streets of Chueca, the city's gay quarter. Known in Spanish as the Orgullo Gay de Madrid, or MADO, Pride traditionally begins with a public announcement in Chueca Square on Wednesday afternoon. It runs right through until Sunday evening, with the parade taking place Saturday daytime. Gay clubbers will love WE Pride, a massive dance festival, but there are loads of more low-key Pride parties, too.
July 4–8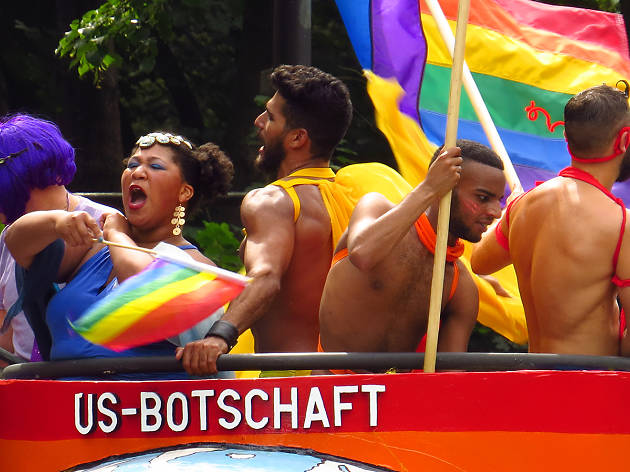 Courtesy CC/Flickr/Jonathan Hull
Berliners call their annual Pride celebration "Christopher Street Day" in honour of the home of the Stonewall Riots. Anchored by the CSD Demo (Pride march) and CSD Finale (final rally), it's a friendly and eclectic occasion where the streets fill with folks from across the LGBTQ+ spectrum. Berlin's nightlife is legendary, varied, and oftentimes pretty intense, so it's certainly worth doing some afterparty research.
July 28, 2018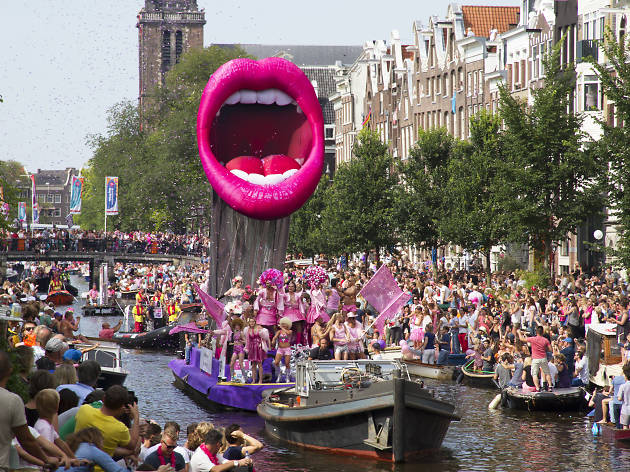 Courtesy CC/Flickr/Kitty Terwolbeck
Because it was launched in 1996 to celebrate freedom and diversity, Amsterdam Pride doesn't have the political roots of many global Pride events which began as equal rights demonstrations. Still, this doesn't mean it's a muted or toothless affair. Every year, a week-long programme of marches, street parties, and queer cultural events climaxes with Canal Pride, the world's only water-borne Pride parade. It's a visual spectacle that's definitely worth seeing.
July 28–August 5, 2018
Just an hour's train ride from London, the cute seaside resort of Brighton is among the UK's most gay-friendly cities. Its annual Pride weekend centres on a super-inclusive parade and two-day pop festival featuring big-name acts: this year, the legendary Miss Britney Spears is performing. You'll have to buy tickets for the festival, but it's completely free to bar-hop around the vibrant city centre.
August 3–5, 2018
More to explore