Tattoo tales
Bangkok-based chefs, mixologists and baristas reveal the stories behind the art that's inked on their bodies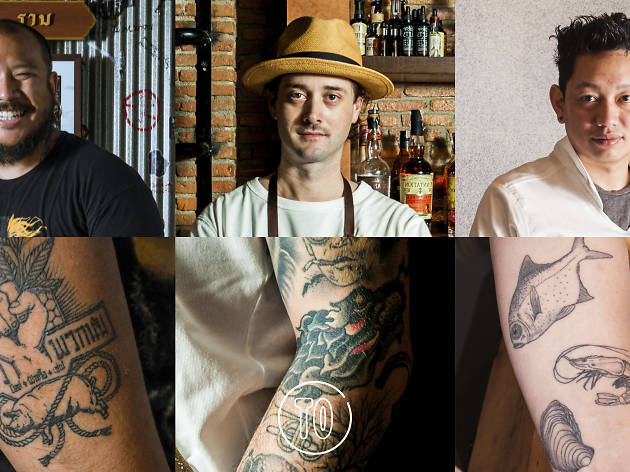 Years ago, strict policies and dress codes adapted by the F&B industry forbade or discouraged chefs, baristas and even bartenders from having highly visible tattoos on their bodies, but the emergence of independent restaurants and neighborhood bars, and the rise of the art of mixology have slowly altered the status quo, having bred a new kind of culinary scene that encourages creativity and expression in all forms. Tattoos are not so taboo these days, and body art on those who prepare your food and mix your drinks have become more commonplace, if not expected. Striking, awe-inspiring, intimidating, these inked expressions of art inspire mixed feelings, not to mention a few questions. You've probably wondered about the stories behind the tattoos of some of your neighborhood baristas, but never had the chance to ask. Time Out Bangkok does the job for you.
Photo: Sereechai Puttes
I think tattoos are an interesting way to remember parts of your life. It's a lifestyle as well, which is why I like it.
When I got my first one at 27, I told myself that those who judge people with tattoos can get out of my life. That's why I got this big one on my left arm.
[My tattoos] are things I like, and I don't regret any of them to be honest. I think people overthink tattoos a lot. My attitude and approach is just to enjoy them.
I had been wanting to get a tattoo for the longest time but it was difficult for me to find exactly what I wanted, and I wanted something that reflected my personality, and a little of my life story.
Sak yant and coffee are the two things I'm passionate about. I just love them. I like the environment. I like the calmness. I feel peace similar to when a Christian goes to church or a Muslim goes tomosque. I get that kind of peace when I go get a yant.
Tattoos for me are like a reminder, a motivation for myself...So my tattoo is a reminder of what I'm doing, who I am. I wanted something that is connected to my job and my life.
I think a tattoo is some kind of expression. That's why chefs have lots of it. We are super busy working each day, and having a tattoo is another way of expressing ourselves.
I think I could be like a gallery and I just put artworks on my body. I'm just a collector of works by tattoo artists.
I'm glad to see people in food and beverage industry have tattoos because that means our society is more open and see strip through the psychical to the brain and ability.