Chang Live Park presents Time Out Love Bangkok Awards 2016: Dessert cafe
Show your love to your favorite sweets utopia in Bangkok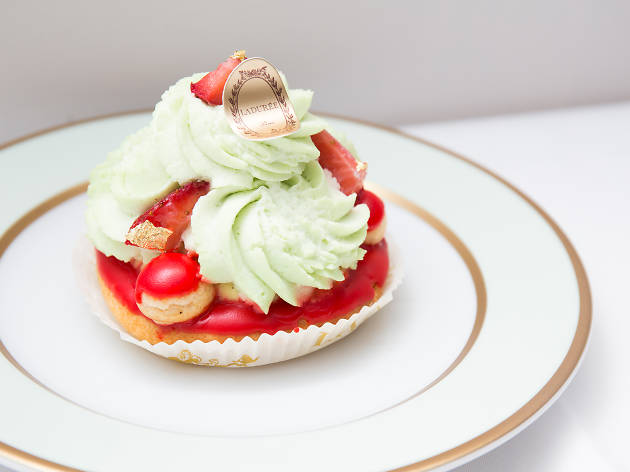 In recent years, we've seen numerous dessert bars, cake shops, tea rooms, and sweets corners mushrooming throughout the capital. Scroll down and give your vote to the one that treats you to the best melt-in-your-mouth experience in Bangkok.
Vote for your favourite dessert
Chef Nontawat Rojanasakchai has designed Brix Dessert Bar as a dessert café where guys can enjoy creative sweets as much as the girls. This might explain why a cocktail bar sits next to the open kitchen. Try the Yellow Pillow, inspired by Hong Kong's famous mango pancakes. This is a crepe filled with mango mousseline cream, topped with mango passion sauce and served with mango, crumble and coconut ice cream.
Read more
If you are craving for some sugar (yes, please), this place is for you. Chikalicious Dessert Bar offers a fine-dining experience but in the form of tantalizingly sweet desserts. Seat yourself at the open kitchen counter to see what the pastry chefs are whipping up. At the time we visited, there were six dessert sets to choose from. Each one starts with an appetizer called Amuse: green apple sorbet (they use Granny Smith apples, fresh from Australia) served with caramel soup.
Read more
With the new venue in Sliom, Chu has proven it's grown from a chocolate and churro café to become an all-day dining bistro. Signature dishes at this branch include the chicken and waffle with cider slaw, which features tender fried chicken topped with Sriracha honey syrup, and the 'pulled pork waffle' made with Joe Sloane's pork, herbs, Jack Daniel's BBQ sauce and Sriracha mayo. 
Read more
Born with the intention of creating a relaxing space for shoppers (and whoever is accompanying them), this romantic vintage café delivers you to a wonderland of adorable picture frames, butterflies and vintage gems scouted by Pheung-Wannakorn Sangweing, the owner of Chuanpisamai, a six-year-old vintage shop in JJ Market. The highlight of this place is its whimsical interior, with each unique piece of furniture – both vintage and custom-made – inviting our photographic attention.
Read more
While half of Bangkok are queuing up for hours to get their first bites of Pablo cheese tart, the premium Belgian chocolate store Godiva has quietly opened the first Bangkok franchise last week on the second floor of Groove, CentralWorld. Featured on the menu is the oh-so-chocolatey Chocolixir drink (B230), coming in forms of decadent hot chocolate and ice-blended smoothies with four flavors to choose from— dark chocolate, dark chocolate raspberry, dark chocolate mint and milk chocolate. Sumptuous chocolate truffles make their appearance in fancy gift boxes. Coffee and tea selections are also on offer to accompany the decadent choco pieces.
Read more
French pastry powerhouse Laduree has finally launched its Salon de Thé outpost in Thailand, pairing its famed macarons with savory Gallic classics. Breakfast sets Le Petit Dejeuner Champs-Elysée (B420) and Le Brunch (B890) are great ways to start of the day, while the vol-au-vent (free range chicken and wild mushroom served in crunchy puff pastry, B750) is great as a midday repast. Lazy afternoons are best spent digging into the Isphan (B350), a soft, rose-flavored macaron biscuit with rose petal cream, raspberries and lychees, and sipping Mékange Spécial Ladurée (B220), the café's  signature black tea that combines loose leaves from China and Sri Lanka.
Read more
An Osaka-born sweet shop specialized in delicious fluffy cheese tart. The signature cheese tart comes with crispy crust and rich oozing center glazed with apricot jam. Other flavors include Uji matcha filled with red bean paste and bitter-sweet chocolate. Mini tart version also makes a big sale, coming in two flavors — cheese and green tea. There's also a fancy version of tart that looks more like a crème brûlée cheese cake. In addition to tarts, the cheese also comes in form of other tasty treats like ice-cream, smoothies and mille-feuille.
Read more
Softree's softcream treat is now only available in one flavor – milk. The shop compensates by offering an extensive list of toppings. The stars of the show are easily the liquid honey, sweet coco, and Wow!Honey Chips (imagine organic honeycomb sticks on top of your ice cream). For coffee lovers, the affogato is well recommended.
Read more
Spend your afternoon with small bites and aromatic tea in the courtyard of a colonial-style building that was built in 1889. Afternoon tea at The Courtyard in The House on Sathorn is a posh affair, serving freshly baked scones, cakes, muffins, tarts and eclairs with TWG tea.
Read more
Inspired by a Scandinavian forest, Thinkin' Outside the Fox opts for a less-is-more, industrial-loft aesthetic complete with an outstanding glass façade. Partly due to its pure-white hue, the two-level cafe is achingly photogenic, with every well-considered corner somehow worth snapping. The menu closely follows the design theme, with Head Chef Lukkana Petchbordee, a cordon bleu graduate, ensuring that all straight-from-the-oven pastries are garnished with Scandinavian touches.
Read more
The homemade ice cream at Tokyo Cream Cafe is so good that you won't need an excuse to have one (or more) a day. This treat is best enjoyed in waffle cones and loaded with any of their toppings – also homemade. Pour coffee into your soft-serve for an instant frappe.
Read more
Vanilla Bake Shop's menu ranges from savory baked dishes to warm baked desserts and desserts in a jar. Favorites look to the Danish toast with smoked ham and apple sauce, and The Ring, a croissant-doughnut that is served with homemade vanilla ice cream. Those strong enough to resist these sugary treats can go for the baked cheese dip with crispy cranberry baguette.
Read more