The best places to watch the Chicago River dyeing
Find the best spots to get a view of the Chicago River dyeing during the city's St. Patrick's Day celebration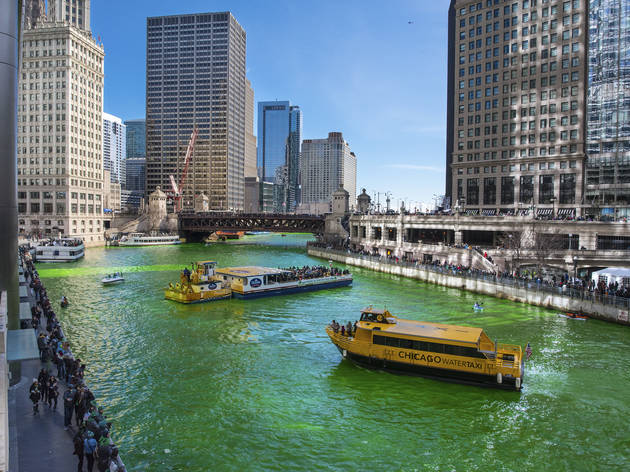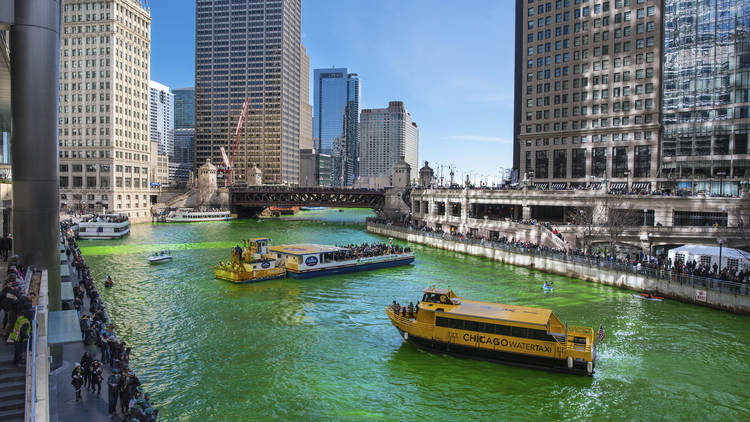 UPDATE: The Chicago St. Patrick's Day parades and river-dyeing ceremony have been cancelled due to coronavirus.
Before the Chicago St. Patrick's Day Parade kicks off in Grant Park this year on March 14, the Chicago Journeymen Plumbers Local Union 130 will pour roughly 50 pounds of powdered dye into a quarter-mile stretch of the river, turning the water a familiar shade of shamrock green. The Saturday before St. Patrick's Day is a famously busy day downtown, but with a bit of planning (and perhaps a little Irish luck) you can observe the process—which starts at 9am and takes about 45 minutes—from a number of choice vantage points along the river. Whether you prefer to make merry amid riverside crowds or catch the spectacle from one of the many nearby Chicago rooftop bars, here are the best places to watch the St. Patrick's Day Chicago River dyeing.
RECOMMENDED: Our complete guide to St. Patrick's Day in Chicago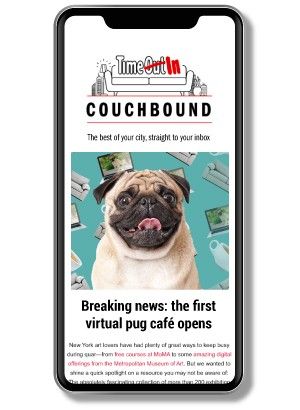 An email you'll actually love
Sign up to our Couchbound newsletter and bring the city to your sofa
Subscribe now
Where to watch the Chicago River dyeing
You'll have to arrive early to get a great spot, but you won't have to shell out any cash for a spectacular view of the river dyeing on the Chicago Riverwalk. For the best views of the festivities, head for the portion of the walkway between Columbus Drive and State Street.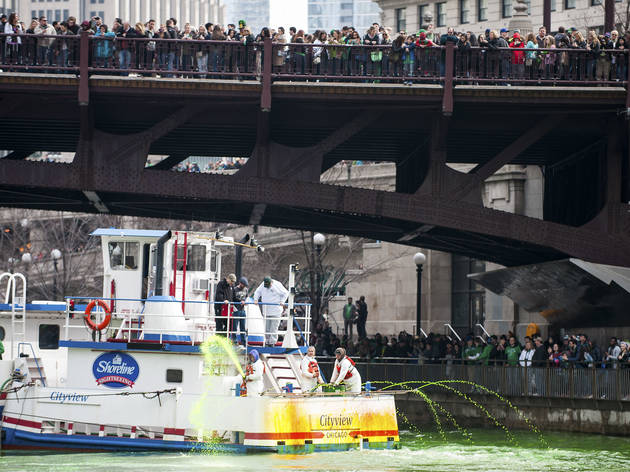 Photograph: Max Herman
Situated in the middle of Columbus Drive and State Street where the river dyeing action takes place, the Michigan Avenue Bridge is one of the most popular spots to get a view of the festivities. People show up to claim a spot on the bridge extra-early on the morning of the parade, so be prepared to stand on your toes if you roll out of bed late and show up at 9am.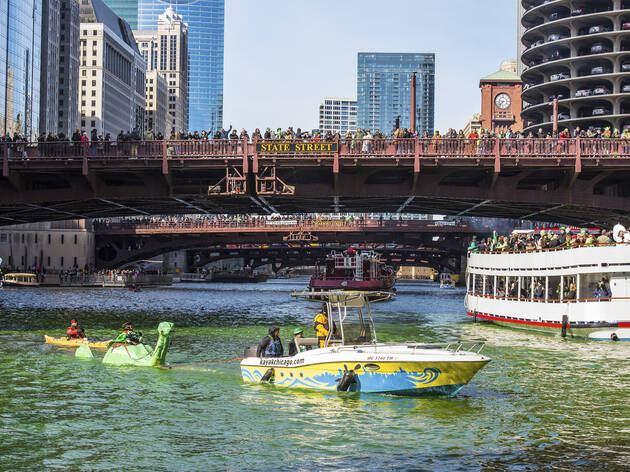 Photograph: Neal O'Bryan
Gaze down on the western end of the Chicago River dyeing from atop the State Street bridge, which is typically lined with folks snapping pictures of the boats pouring out dye below. The views are free, but as with any other public, river-adjacent space, you'll have to claim your spot early if you want an unobstructed view.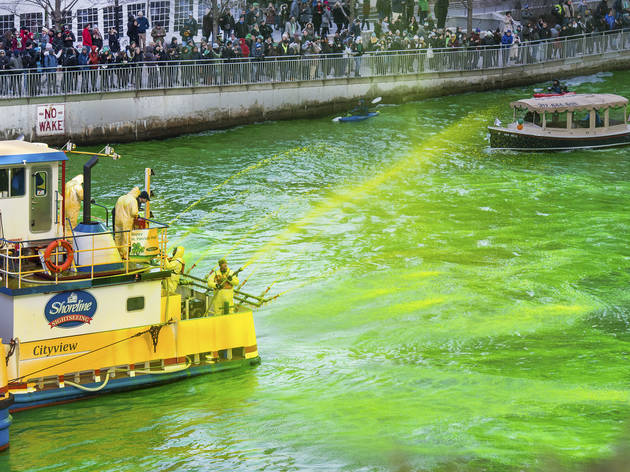 Photograph: Neal O'Bryan
Columbus Drive wins points for its (slight) edge on proximity to the parade route compared to the other nearby river walkways. Once you've had your fill of watching the acid-hued dye flowing into the river, you can sneak out early and simply head south on Columbus Drive to grab a parade-side spot along Balbo Drive in Grant Park.
A four-hour open bar with bottomless green beer and a specatular overhead view of the Chicago River dyeing? That's what the LondonHouse is offering attendees during its early-morning event, which includes two viewing options: the hotel's indoor lounge or its multi-tiered rooftop. You'll also have a chance to stock up on complimentary St. Patrick's Day-themed swag and breakfast bites throughout the morning. A ticket to either event will run you $125, but if you want to lock down a table for you and your friends, be prepared to spend $1,000.
Restaurants, Mediterranean
Get a head start on the morning's festivities starting at 8am in the Langham Hotel's restaurant and bar, Travelle, where you can reserve a table next to floor-to-ceiling windows facing the river. Come ready to load up on bites from the breakfast bar along with a couple of mimosas—there's a $100 minimum per person tab requirement for each table reservation.
This Polynesian-inspired outpost on the Chicago Riverwalk reopens for the season just in time for St. Paddy's Day with its floating tiki bar, a three-hour cruise starting at 8:30am complete with an open bar that will run you $152 per ticket. Prefer to remain shoreside? Claim your spot when the hut opens promptly at 9am with a $25 entry ticket, which includes your first drink.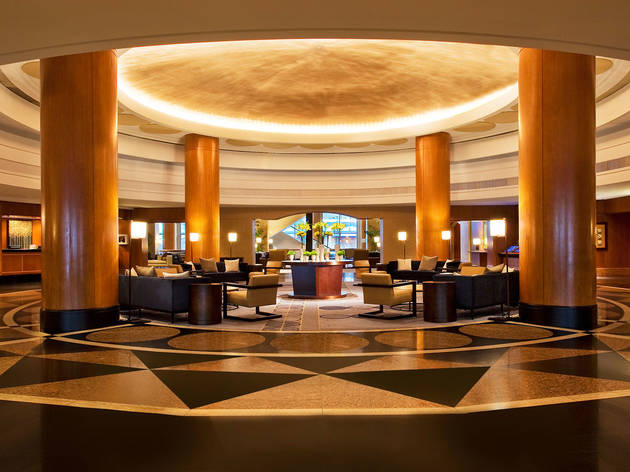 Swing by the hotel's riverside bars beginning at 8am for a full selection of drinks from the Emerald Isle (including Jameson-spiked Irish coffee and Guinness) to sip during the river dyeing. Once you've imbibed enough green Miller Lite to get in the holiday spirit, you'll also have the opportunity to kiss a Blarney Stone for luck.
Restaurants, Contemporary American
Want to get a little closer to the river dyeing action while maintaining a hint of exclusivity? For $50, you can post up in a tent on the Riverwalk in a party hosted by Hoyt's, the restaurant inside the Royal Sonesta Chicago. There, you'll get to drink unlimited green Miller Lite and mimosas while listening to live bagpipe performances and music from a DJ. Irish food options like corned beef and cabbage will also be available for 15 percent off. If three hours doesn't sound like enough time to drink your fill, you can also grab tickets for a five-hour open bar for $90.
A morning pizza might not be the most authentic way to celebrate the holiday, but if you're saving your corned beef and cabbage cravings for later, Pizzeria Portofino will be open from 8am onward with slices, specialty cocktails and great views of the dyeing action. A $45 ticket goes toward admission to the restaurant; once inside, you'll also need to hit a minimum food and beverage tab.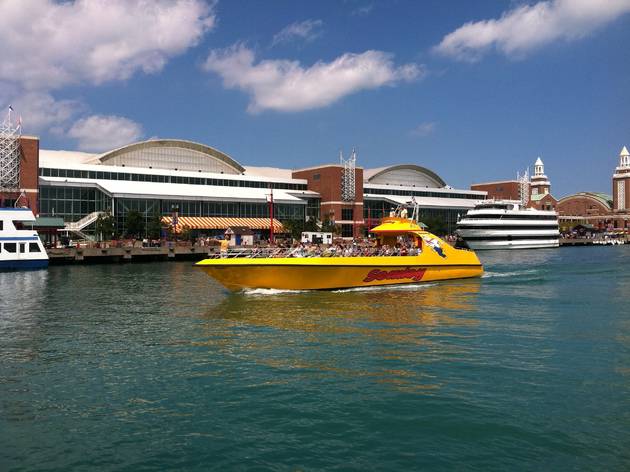 Things to do, Walks and tours
Watching the river dyeing from land is fun, but seeing it happen on the water is an even more immersive way to experience the St. Patrick's Day tradition. Seadog's cruise begins 15 minutes before the dye hits the water, giving passengers plenty of time to watch the transformation. Tickets are $66 and include two green beers.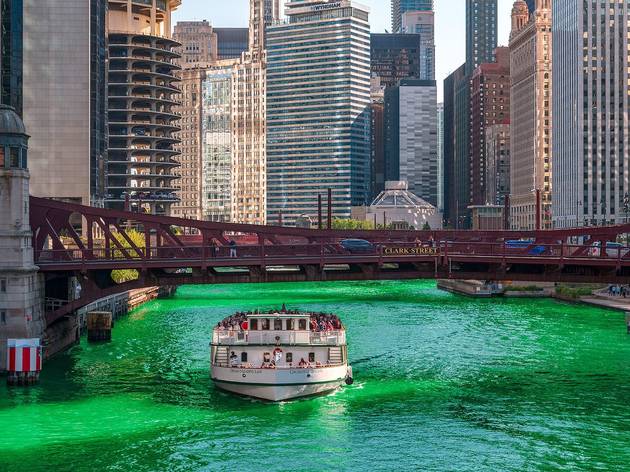 Photograph: Courtesy Chicago's First Lady Cruises
St. Patrick's Day Clover Cruise
New this year, Chicago's First Lady will provide an up-close look at the green river via a series of two-hour St. Paddy's Day-themed Clover Cruises. For $95, you can climb aboard the stately ship and party amid shamrock decor, live bagpipers, Irish-themed cocktails and an open-air deck perfect for peeping the emerald waters below. The 9am cruise is sold out, but you can still catch the remaining departures at 9:30am, noon and 12:30pm.
RPM Events is throwing a four-hour, all-inclusive party—featuring breakfast stations and boozy options like Irish coffee, mimosas and a Bloody Mary bar—at its new riverfront location with views of the dyeing process below. You can grab tickets for $125 a pop, or, if you're feeling especially fancy, reserve a 10-person lounge for $2,000.
The hotel's Grand Ballroom hosts a pricey ($135 for adults, $65 for kids) event complete with a breakfast buffet offering Irish-themed offerings and an open bar. In addition to sweeping views of the Chicago River, guests will also be treated to performances from the Shannon Rovers Irish Pipe Band and the Sheila Tully Academy of Irish Dance Group. The events starts bright and early at 8am, but the Irish coffee bar should help you stay awake.