Restaurants where kids eat free
From Italian restaurants to steakhouses and everything in between, here's where kids eat free in Chicago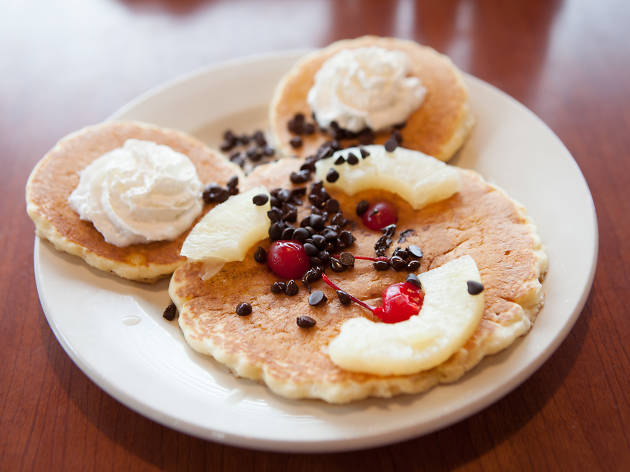 Despite having such tiny stomachs, kids' meals can be expensive. And after a day playing at one of Chicago's best playgrounds, they can get pretty hungry. Although many kids' menus at Chicago restaurants offer reduced prices, sometimes it's nice to dine out knowing that your kids eat free (especially when most of the food ends up on the floor anyway). Here are places in the city and nearby suburbs that offer great choices for adults—and free grub for kids.
Places where kids eat free
The deal Kids eat free Monday–Thursday nights.
There's nothing like getting together for a family barbecue, even if it's at a restaurant. They whole fam can enjoy chicken, ribs and brisket along with homestyle sides like cornbread and the kid-favorite mac and cheese.
Book now
Read more
The deal Kids eat free anytime on Sunday nights.
Sometimes you just want a place where you can have a fancier meal with kids in tow. Benny's gets that and offers a kids' menu full of the typical kiddie menu choices, as well as steak. (This is a steakhouse, after all.) You can still indulge in shrimp cocktail, a rib eye and a martini, of course.
Book now
Read more
The deal Kids eat free every day between 4–6pm.
This uber kid-friendly restaurant in the Southport corridor does everything to make it easier to dine out with kids (stepstools, wide doors for strollers) while also offering amenities parents will love, like a full bar and rotating rotisserie selection.
Read more
The deal Kids eat free every day between 4–6:30pm.
This neighborhood restaurant offers everything from salads to sandwiches, pizza to tacos. If you are okay eating on the earlier side, your kids will eat with no cost to you. That may leave room to finish the meal with a skillet cookie.
Read more
The deal Kids eat free every day from 4-6:30pm.
Pizza, wine, salads and pastas abound here, and kids can join in on the fun daily at no additional cost. There is also a full brunch menu and outdoor seating when the weather allows.
Read more
The deal Kids eat free with purchase of a drink from 2–10pm Monday–Wednesday.
Sometimes you just feel like eating at a greasy spoon where you can get everything from an omelette to meatloaf and mashed potatoes. Its children's menu is expansive, too, with more than a dozen items; it's easy for the pickiest of kids to find something they'll nibble on.
Read more
The deal Kids eat free on Sunday nights with dine-in only purchase of adult meal.
Why shouldn't Sunday nights be pizza night? This spot specializes in brick oven pizza in a variety of specialty pies as well as create-your-own. Salads, sandwiches and a selection of appetizers are available as well. The littles can choose a pasta entrée if they refuse the pie.
Read more
The deal Kids eat free Monday–Thursday 4:30–6pm with purchase of adult meal.
Catch a late-afternoon Bears or Steelers game at this tavern while munching on quesadillas, Bavarian pretzels or sliders. Kids will love rooting for your favorite team, and if you get lucky with a Monday-night or Thursday-night game, they'll eat free.
Read more
The deal Kids under six eat half-price on Monday–Thursday from 5–7pm.
A good ol' neighborhood pub is how this spot describes itself. Whether you are looking for a giant burger or perhaps nachos, they have you covered. And for the kiddos, plenty of choices as well, most served with tater tots and orange slices.
Read more
Show more