Kid-friendly brunches in Chicago
These spots offer especially kid-friendly brunches with pancakes, French toast and other sweet treats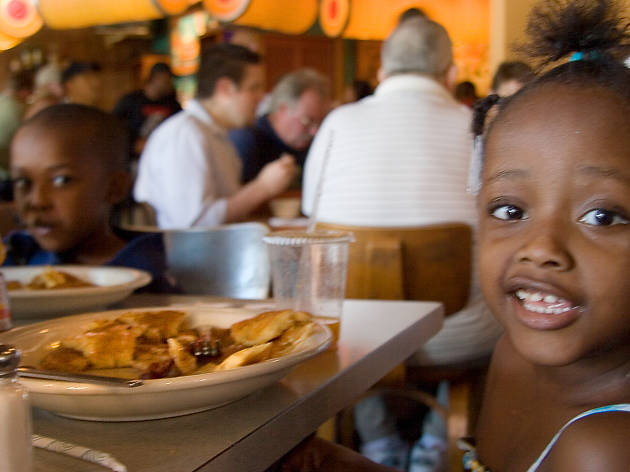 You work all week and want to relax on the weekends. Why drag your kids to a brunch spot that isn't among Chicago's kid-friendly restaurants? We've searched the city—and polled moms—to get the scoop on the best Chicago restaurants for brunch that will not only accommodate your little ones, but offer dishes they'll love. Bonus: Kids eat free at some of these spots.
RECOMMENDED: Full guide to brunch in Chicago

Chicago's top kid-friendly brunches
This colorful and fun Lakeview brunch spot is always crowded, so get there early. (If you have little ones, you're up at 6:44am anyway, so this is a moot point.) The children's brunch options (kid's burrito, pancakes with a whipped-cream smiley face, PB and J, and even a ham sandwich) are all $5 and served with fruit. The kiddos will love the small bakery section filled with Lovely baked goodies.
How kid friendly is this Southport Corridor spot? It has larger-than-usual doors to accommodate strollers and kids eat free every day from 4–6pm, each day. For brunch, there are plenty of choices to make kids happy. Parents will also be happy to know there are step stools in the bathroom to make it easier to wash off sticky hands.
This barbecue haven has a great brunch and plenty to keep your kids occupied. They can work their way through a placemat maze and draw pictures while you peruse the endless choices... Benedict flight, anyone? Kids can order off their own menu, which includes the restaurant's famous mac and cheese and honey butter corn bread, or choose something like pop-in-your-mouth bacon cheddar hush puppies instead.
You may choose to reserve this one for a date night without the kids, but the brunch here is really good (don't miss the whitefish quiche), and it's kid-friendly—win, win. There is one choice for the kiddos but it's a damn good one, with two pancakes, fried chicken and fruit.
This West Coast transplant with larger-than-life portions serves up homestyle cooking or, as they put it: "twisted farm food." The kids' brunch menu is vast, with everything from a little tractor-style option--pancakes with two eggs and choice of meat of potatoes—to a bowl of cereal with milk. Parents will love the last item on the menu, the "IN CASE OF EMERGENCY" Snickers bar that'll cost you... $1.
Stephanie Izard's fun diner is a great place to take the little ones for kicked-up versions of their already favorite foods. Both kids and adults will love the Fat Elvis waffle with peanut butter-butter and banana and gooey cinnamon buns. There is a kids' menu complete with crayons to occupy the impatient smaller set while they wait.
Two words: bliss cakes. These cloud-like pancakes are worth the indulgence and a guaranteed hit with the whole family. Vegetarians will appreciate that the kids' menu boasts things like scrambled tofu and veggie sausage, and parents may just order the brioche French toast sticks so they can finish whatever is left on their kids' plate.
This sunny storefront is always packed with folks who are willing to wait for the scrambled-egg panini and housemade granola with yogurt. But the line moves quickly, and with so much action, nobody will notice when the kids wail about wanting seconds.
This Greek diner is a primo breakfast spot for the whole family. Parents will love the focus on pure ingredients and fresh-squeezed juice; kids will love the housemade jelly flavors (think pineapple-strawberry) and endless choices of pancakes. There is a "little bees" menu if you choose, or plenty of options that can be shared among the entire crew.
You won't be able to pull your kids away from the waffle bar and mounds of maple-smoked bacon at this Sunday buffet—where 12-and-unders eat free with a paying adult—until they get a load of the sweets table, stacked with housemade desserts, lollipops and poufs of cotton candy.
Sunshine permeates this California-inspired restaurant even on the most frigid days. In fact, on super-sunny days, everyone can rock Summer House sunglasses. Kids can dine on their own special plates, nibble on housemade English muffins and sip fresh-squeezed OJ.
If you can peel your little ones off the glass display of cake balls, there is plenty for them to enjoy at the table while you sip your Dark Matter coffee or perhaps a Bloody Mary. If your kids will actually eat their veggies, there is an omelette chock full of the produce grown on the restaurant's roof. If not, perhaps something like a baked-potato waffle or vegan S'mores pancakes may keep them occupied—until they demand cake balls to go, of course.
Not only is the Roscoe Village location incredibly family-friendly, but the restaurant offers menu items like the Frog Toast (French toast with corn flakes) and a fruit pancake. If your little one only will eat quesadillas, no worries: They're on the brunch menu, too, along with many other lunch and dinner items.