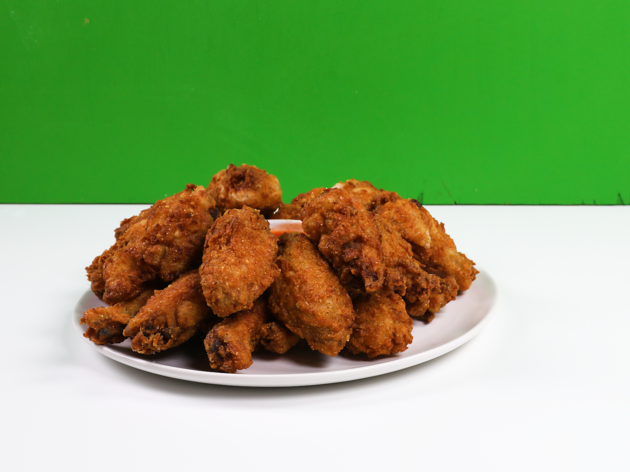 You can order wings created by Snoop Dogg and Shaq on National Wing Day
On July 29, the Wing Showdown promotion will allow you to order celeb-approved chicken via UberEats.
Posted: Tuesday July 28 2020, 6:32pm
If you're a big fan of chicken covered in sauce and spices, you'll probably be pleased to learn that Wednesday, July 29 in National Wing Day. And what better way to celebrate than by ordering the kind of wings that Shaq prefers to eat?
Restaurant discovery app Off The Menu and UberEats have teamed up to present the Wing Showdown, which will allow you to order celebrity-approved wings from restaurants throughout the city. The offerings include Shaq's favorite Nashville-style hot wings, Snoop Dogg's potato chip-encrusted wings as well as sweet and spicy maple-glazed chicken inspired by model Tyra Banks. The limited-edition flavors will only be available to order via UberEats on July 29 and the celebrity whose recipe gets the most orders will have a donation made to the Center for Policing Equity in their name.
Take a look at the complete lineup of wings below, along with where you can order them via UberEats. Don't forget to stock up on napkins!
Shaq's Big Chicken Hot Wings, coated in Nashville-style hot sauce (order from Kimski)
Haylie Duff's Honey Buffalo Wings, Texas-style dry rub tossed in a sweet and spicy buffalo sauce (order from Urban Grill Chicago or Can't Believe It's Not Meat)
Jessie James Decker's 'Just Feed Me' Chicken WingsThe Roost Carolina Kitchen or S2 Express)
Tyler Cameron's Tangy Wings, smoked in a brown sugar dry rub and then tossed in a tangy BBQ sauce (order from Bro-n-Laws-BBQ)
Snoop Dogg's 'Get Tha Chip' Fried Chicken Wings, coated in potato chips and deep fried to crispy perfection (order from Friistyle)
Phil Heath's Mr. Olympia's Cheat Meal Wings, fried and tossed in a honey Sriracha glaze (order from Wing Squad)
Anthony Anderson's Sticky, Garlicky Salt & Pepper Wings, twice fried, doused in a sticky garlic sauce and seasoned with salt and three types of pepper (order from Bronzeville Wingz_
Zac Posen's 'Wingin' It With Zac', cooked in a custom spice mix and topped with a honey, soy sauce (order from Triple Crown Restaurant)
Tyra Bank's 'Smize With Your Wings', fried and tossed in a sweet and spicy maple glaze (order from Dorian's or Surf's Up South Shore)
Jo Koy's Koydobo Wings, a take on his families classic Filipino adobo chicken recipe (order from Kamasa)
Most popular on Time Out
- Wisconsin joins Chicago's emergency travel quarantine order this week
- Chicago's newest pizzeria serves Sicilian-style slices from an alley in Ukrainian Village
- Chicago's beloved Tamale Guy is opening a restaurant
- Lollapalooza's four-night virtual event features sets from Paul McCartney and OutKast
- 15 lakefront Airbnbs to rent for a summer getaway from Chicago
Share the story