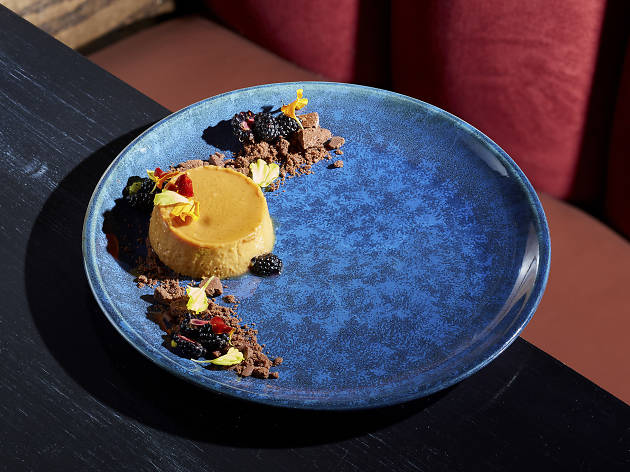 The 100 best dishes in Chicago 2017: Desserts
If you've got a sweet tooth, consider this your checklist to sugar-coated bliss
Call us gluttonous, but we'd never pass on dessert. There's something special about capping off a scrumptious meal with a sweet treat—even when we're nearing food-coma territory. Chicago's best pastry chefs whipped up pies, cakes, brownies and tarts that delighted our senses in 2017. But these are a few of the most decadent bites we got our hands (and mouths) on this year.
RECOMMENDED: 100 best dishes and drinks 2017
It's absurdly simple, but we'd argue this is one of the most daring desserts we devoured this year. Globes of lychee, longan and rambutan are served solo—no ice cream, no chocolate, nada. Just peel back those hard shells and enjoy. $8.
We may or may not have gasped audibly as a server at this Gold Coast gem cascaded citrus-scented caramel over a lacquered banana tart tatin, resulting in tiny golden rivers that mingled with the melting honey ice cream on top. It's an occasion-worthy dessert that will take your breath away. $12.
Dessert snobs will go nuts for this over-the-top creation: Three layers of chocolate cake are enrobed in peanut butter frosting, house-made "Reese's" and edible gold glitter. Wash it all down with a sidecar of ice-cold milk. $13.
Stay for another glass of wine and order chef-owner Darren McGraw's otherworldly dessert platter. It's a sampler of jellies, cookies, chocolates and candies—perfect for the indecisive sweet tooth. $8–$14.
This towering 12-layer confection starts with a sturdy crust made from graham cracker crumbs, pretzels and cereal. From there, alternating layers of decadent German chocolate cake and creamy espresso cheesecake are covered in chocolate buttercream and coated in a sleek chocolate mirror glaze. Each monstrous slice is designed to be shared (only if you want) and to be paired with the brewery's culinary-focused beers (we recommend the Smoked Applewood Gold). $15.
It'd be foolish to skip the apple-based dessert at a restaurant that was named after an apple. This crisp, caramelized tart is topped with oat crumble and a scoop of Prairie Breeze cheddar cheese ice cream. We repeat: cheddar cheese ice cream. We are officially fangirling over everything that pastry chef Mari Katsumura creates. $10.
When's the last time you saw angel food cake on a dessert menu? Better than your mom's version, this throwback confection is served with seasonal fruit (hope for strawberries) and a generous dollop of house-made whipped cream. $10.
This cube of dense, milk-laden cake is showered in strawberries, shards of meringue and bits of caramelized goat's milk. It's reminiscent of the Good Humor strawberry shortcake popsicles of your youth (and just as delicious). $8.
Mindy Segal is the mad scientist behind this stoner-approved treat that's half doughy brownie, half cocoa rice brittle and 100 percent fucking awesome. $3.
Even if you're dropping by this West Loop spot for a quick drink at the bar, you'd be remiss not to peep the dessert menu. The "alfajores" are not what you expect: A disk of creamy dulce de leche flan is garnished with crumbly cocoa shortbread, blackberries and delicate marigold blossoms. $9.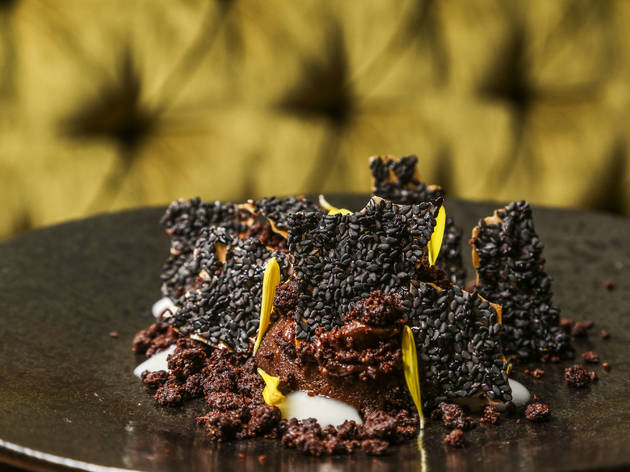 Photograph: Jaclyn Rivas
Chocolate Cremeux at the Press Room
This subterranean wine bar has a few tricks up its sleeve. Take this deceptively simple dessert, in which domes of velvety chocolate pudding are adorned with malt crumble, shards of sesame crisp, dots of buttermilk pudding and marigold petals. Think of it as a very sophisticated dirt pudding—sans gummy worms. It will take every ounce of your self-control not to lick the plate clean. $12.
Let's be honest: We visit this Gold Coast café for the Instagrammable views, gorgeous furniture and straightforward wine program. On your next visit, add a stack of warm, sea-salt–dusted cookies to your order. They're crisp on the outside, gooey on the inside and everything we need to appropriately take in this outrageous space. $9.
With its generously portioned bowls of gnocchi bolognese and plates of oil-dappled fried calamari, you'll have to make an effort to save room for dessert at this River North eatery. But trust us: It's worth showing some restraint for a slice of butterscotch pie, which boasts an addictively sweet and slightly smoky center topped with a cloud of house-made whipped cream. It's the kind of dessert you'll keep eating long after declaring, "This is my last bite." $6.95.
There's something inherently playful about coconut cake; perhaps it's the fact that each slice looks like a cloud plucked from the sky. The version at this East Coast–inspired spot tastes like a beach vacation, sunshine and all. $8.95.
Best selling Time Out Offers