Cheap eats in Wicker Park and Bucktown
Whether you want tacos, bagels or sandwiches, you can eat well—and very cheaply—in Wicker Park and Bucktown.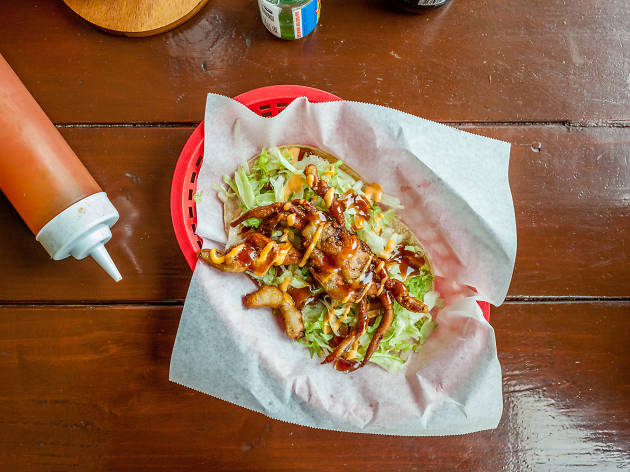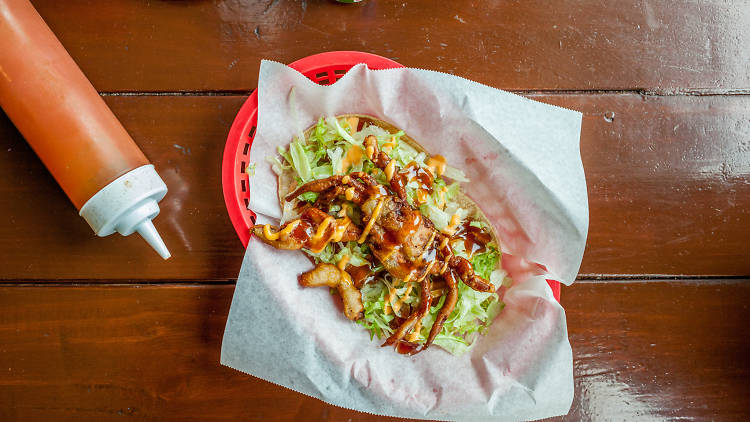 Cheap eats in Wicker Park and Bucktown
1
Big Star is first and foremost a bar with whiskey shots, cheap beer and quick cocktails. Of course, if you can just drink and not partake in Paul Kahan's tacos al pastor…or his fish tacos…or his housemade salsas…or his sonoran hot dog (wrapped in bacon)…or his queso fundido…you have more restraint than we do.
Read more
2
Sultan's is a good metaphor for Wicker Park's gentrification. What was once a mom-and-pop Middle Eastern grocery with a lunch counter in the back has exploded into a jam-packed eatery in the last 15 years or so. But don't let the charming digs or the cute boys behind the counter distract you: You're here for the fresh salad bar, the zatter fattia (two spice-rubbed slabs of bread filled with feta cheese and hummus or baba ghanoush) and, of course, the falafel sandwich.
Read more
3
Never tried Costa Rican food? This spot is simple, authentic, cheap, supercasual and friendly—just what the doctor ordered. Start with the hearts of palm salad. Make it a meal by adding the steak-and-beans "pepito" sandwich and sweet plantains. Bring a bottle of malbec to match, and end the meal with an oatmeal shake (sounds strange, tastes great).
Read more
4
The taco-slinging chain's third location is a seamless addition to Wicker Park with a menu of hard- and soft-shell offering, burritos, burgers, po' boys, fried seafood, wraps and sandwiches. You name it, they most likely have it—and you can bet it's going to be damn good and outrageously fresh.
Read more
5
First of all, this taco shop (from husband-and-wife team Rick and Ashley Ortiz) is as good as Big Star. But it's not a replacement for that social epicenter, exactly. Antique Taco is as cute as a button and better for quieter, chiller nights. Crispy fish tacos with smoky cabbage and carnitas tacos sporting spicy adobo rub are winners, and the corn salad is probably the only mayo salad you'd call sophisticated. Margaritas are solid, but the sheer adorableness of this place is enough to give you a buzz.
Read more
6
Chicago may not be known for its bagels, but Brobagel is another solid spot to find them in city limits. Located in a tiny space next to Piece Brewery & Pizzeria, Brobagel offers about a dozen kinds of bagels, 10 spreads, and a menu of breakfast and lunch sandwiches. For breakfast, slather a garlic bagel with spicy-sweet sriracha cream cheese or try the lox sandwich. At lunch, try the turkey special, which layers turkey with bacon, fennel, manchego and caramelized onion spread for a hearty sandwich.
Read more
7
Korean tacos are old news, but they feel fresh again at this delightful Korean-fusion spot, where Indian-style parathas replace masa tortillas to unexpectedly magical effect. There is more to En Hakkore, however, than these instantly famous bulgogi tacos: Bowls of bibimbap; cups of milky, nutty Job's-tears tea; and a selection of packaged sweets, such as Pocky.
Read more
8
Six months after opening Roxie's by the Slice, restaurateur Brendan Sodikoff shuttered the pizza joint and reopened it as Small Cheval. As the name implies, it's an offshoot of Au Cheval, and the menu is inspired by the restaurant's most famous item—the cheeseburger. This isn't the exact same burger, but enumerating the differences feels like splitting hairs. It's a little smaller and $1 cheaper. You can add bacon (it's thinner than at Au Cheval), and lettuce and tomato, though the burger doesn't need them.
Read more
10
From the folks behind nearby Winchester comes this sweet all-day café that's bursting with personality. Stop in for coffee, breakfast delights and hand-made pastries by day, then circle back around when the sun goes down for slices of pizza, fantastic cocktails and live music. Plus, the backyard patio looks like a secret garden, making this a perfect summer hang.
Read more
11
Low-key Greek goodies land in Wicker Park with menu options like veggie studded salads, charred haloumi, zucchini chips, avocado hummus, braised lamb pita and beef short ribs kabobs. The best part? It's all priced for a budget-friendly lunch or dinner, with most menu items clocking in at under $10.
Read more
12
The multiple bike racks out back are packed with every kind of two-wheeler imaginable, no matter the time of year at this biker bar (and by biker, we mean bicycler). Eco-minded folks chat over tasty vegan fare (the barbecue seitan is great), check out each other's rides and sample from the ample list of diverse drafts.
Read more
13
We have to admit we were skeptical that a stylish spot in Wicker Park could deliver memorable barbecue, but we ate our words with bite after bite of impressively smoky, truly tender, low-and-slow meats. Ease into the night with a moonshine-spiked Arnold Palmer or a pick from the impressive beer list and apps like fried pickles, boiled peanuts and pimento cheese. Stellar Southern classics continue with fried green tomatoes and shrimp over insanely creamy grits.
Book now
Read more
14
This California import opened its first Chicago location in Wicker Park, and burger fanatics go nuts for the "umami"-focused menu, which encapsulates the savory fifth sense. The signature burger tops a patty with mushrooms, Parmesan, tomatoes and caramelized onions, while a Chicago-specific burger dresses a sausage patty with truffle cheese, aioli and giardiniera.
Read more
15
Meatless Mexican? Yes, please! Traditional taqueria fare can be had with all manner of mock meat: carnitas, al pastor, even chicharron. But the stars here are the vegetables, like cactus and pepper, while a made-to-order juice to keeps things nice and light.
Read more