The best boutiques and shopping in Logan Square
Young, hip and gritty Logan Square has shopping to match, from funky record stores to high-end boutiques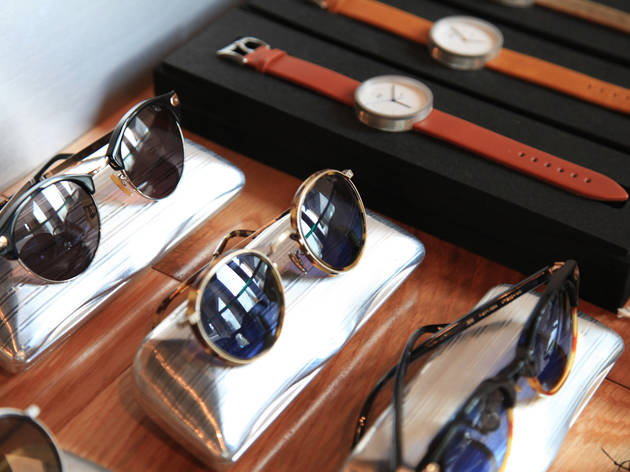 Logan Square isn't a shopping mecca, but if you know where to look, there are plenty of hidden gems to be found. The neighborhood is dotted with shops fit for last-minute gifters, flower enthusiasts, vinyl collectors and fashionable folks. The best part? There are plenty of restaurants and bars to break up your retail adventure.
RECOMMENDED: Our complete Logan Square guide
Logan Square's best shops
Owner Ann Kienzle first cornered the kids' market in Logan Square with her sweet toy shop, Play. Then she expanded her repertoire, opening up this gift shop for grown-ups that features an eclectic (and extremely charming) selection of everything from coffee table books to cocktail accoutrements, home goods to greeting cards.
Read more
Owner Kelly Marie Thompson stocks her cozy Logan Square boutique with fresh seasonal blooms in both exotic varieties and contemporary styles. Order arrangements for special occasions, weddings, or just because. You'll also discover a curated selection of fine cards, gifts for babies, bridesmaids and more displayed throughout the store.
Book now
Read more
Artist Shayna Norwood started Steel Petal Press in Chicago after more than a decade of letterpress printing. Her printing and letterpress operation in the heart of Logan Square is also home to a bevy of great gift ideas, from quirky books to the perfect greeting cards. With custom letterpress work available, the adorable shop can also help clients tell their stories on wedding invitations, stationery, business cards or whatever they need.
Read more
As a self proclaimed "used bookstore, event space and writer's haven" in Logan Square, this laid-back bookshop is chock-full of used books, from newly released literature to nonfiction favorites. Give yourself ample time to dig, then rest your feet by taking a seat at the table and chairs. Shop owner Tanner McSwain hosts occassional author events, and Ramona, the shop dog, is an added bonus.
Read more
Toy de Jour is a trip back to the 1980s, with vintage toys, clothing, knickknacks and art from the era. Pick up your nostalgia here with figurines from classic franchises like Teenage Mutant Ninja Turtles, He-Man, Star Wars and My Little Pony, or get your fill of it from its selection of equally nostalgic home decor and apparel.
Read more
Stepping into Bric-A-Brac's brightly colored storefront is like entering the bedroom of every '80s kid's dreams. The yellow walls are covered with shelves of toys, from Teenage Mutant Ninja Turtles to vintage Transformers. It's one of the only stores in town where you can pick up a Clash cassette, a VHS copy of Blade Runner and some E.T. earrings in one fell swoop. All of this supplements a highly curated selection of punk and garage rock records, including a healthy number of releases from local bands. Stop in to bask in the overwhelming sense of nostalgia and don't forget to say hi to Dandelo, the store's resident corgi.
Read more
Head to Logan Square to discover an assortment of great used bikes made by Bianchi, KHS, Redline, Soma, Torker (for kids), as well as Burley and BOB trailers and Xtracycle cargo equipment. Or bring in your bike for a quick and easy tune-up. Check the shop's website for what's available before you go.
Read more
The streetwear scene in Chicago is pretty big (thanks to spots like RSVP Gallery, Leaders1354 and others), and now there's this store in Logan Square. Opened by the folks behind labels Vita-Morte and DopeBoyMagic, Fat Tiger Workshop carries those brands as well as new hard-to-find items that'll make their debuts once a week. The weekend-only shop has strong ties to the hip-hop community, so keep an eye on its social media for announcements about last-minute performances in the store as well.
Read more
In spite of its name, you won't find saws and power drills at this Logan Square shop, though you might be able to pick up the latest albums from Tool or Nine Inch Nails. Retaining the name of its former location (which now houses the Logan Arcade), Logan Hardware stocks new and used records in addition to refurbished turntables and stereo receivers. Make a purchase and your receipt will include a code that unlocks a nondescript door at the back of the store, giving you access to a room filled with vintage pinball machines and arcade cabinets, all set to free play.
Read more
You might think this is just a chocolate shop, where ingenious flavor combinations (passionfruit-ginger–white chocolate, goat-cheese-walnut) take shape as decadent truffles. One sip of owner Katherine Duncan's hot chocolate, however, and you'll know that this is really a test of will. Whether in traditional varieties (milk or bittersweet) or variants (salted caramel, hazelnut), the hot chocolate here is the thickest, richest, most insanely wondrous kind imaginable, topped with oversize, handmade marshmallows in flavors like Earl Grey and lemon-ginger. If you finish a full cup of this stuff, please give us a virtual high-five.
Read more
Between the mishmash of clothing and accessories by more than 150 local designers (Squasht by Les, Siren Betty, Megan Lee, to name a few), you might need more than a moment to take in everything this Logan Square store offers. From vintage-inspired pencil sharpeners to floral A-line skirts, there's more than enough material to rummage for hours. Feeling inspired? Sign up for a one-day craft workshop on knitting or bookbinding on your way out.
Read more