Best restaurants in Logan Square
Logan Square's best restaurants range from a cute little pie shop to a groundbreaking Macanese spot. Here's where to eat.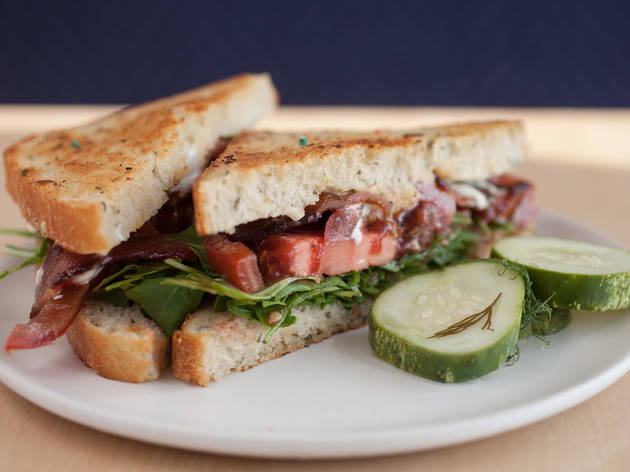 There's no shortage of great restaurants in Logan Square, and the openings just keep coming. Right now, our favorites include a yakitori restaurant from a Charlie Trotter alum, a rustic inn that focuses on whiskey and the kind of food you want to eat while drinking, and a popular brunch spot that serves up a delicious custard French toast.
RECOMMENDED: Our complete Logan Square guide
Best Logan Square restaurants
This sibling location of Clybourn Avenue's popular Cuban carryout joint is nearly a spitting image of the original—same toasted Cuban sandwiches, same flaky empanadas, same garlicky yuca chips, same potent café con leche. But even if the tiny interior, with its newspaper-covered walls, elicits the same claustrophobia, the big draws here are the spacious front and back patios, tropical ambience and mixers to turn BYO liquor into mojitos.
Read more
You could say this place is a coffee shop: It roasts its own beans to create bold, serious cups of hot and iced coffee. Besides, back when this business was a food truck, it was called Bang Bang Pie and Coffee. But now, the coffee has been lopped off, and it's mainly a pie shop. There's a particular charm to that—a place where you can just meet someone for a slice of pie. Also: Eat the biscuits. They are, in a word, necessary.
Read more
The restaurant may be bare bones in terms of décor, but it's serving some of the best bread in Chicago. Tony Bezsylko, Ethan Pikas and Justin Behlke, former coworkers at the Dill Pickle Food Co-op, change their menu frequently, so you never know quite what you'll find. Crusty, slightly tangy bread forms the base for tartines, while at the counter, there's a little case of pastries, like a perfect canele, its spongy center encased with a crunchy, caramelized exterior. You can buy pastries and bread to go, as well, and it's not a bad idea to take a loaf home for dinner.
Read more
Let's knock this out right away: You're getting the arroz gordo. It's a spectacle to behold, a paella-like thicket in which sausage, pork, clams and prawns are piled on a bed of rice—a dish worthy of sharing its name (which translates to fat rice) with the restaurant itself. There's something about big, conglomerate dishes like this that makes them immensely pleasurable to eat. They're the opposite of faddish: They're dishes with long histories, things you don't have to think about to enjoy. This sense of history and of place is what makes Fat Rice's approach so successful.
Read more
The soups (a homey vegetable chili on one visit) are poured tableside over intricate garnishes; meanwhile, what would otherwise be a basic kale salad is elevated by savory bread pudding croutons. Blue Plate specials read like diner staples, except the meatloaf is really a thick slice of meatloaf sausage, and the stroganoff is paired with pink slices of tender venison (and tossed with an addictive venison ragù). For dessert, there's pie (tart apples, flaky crust, maple whipped cream). But since this is Jam, there's also breakfast, and German chocolate pancakes slathered with coconut caramel and topped with a torched marshmallow are probably better at the end of the day than the beginning anyway.
Read more
At Longman & Eagle, there are old fashioneds, stirred slowly and carefully behind a dark, gorgeous bar. There are dozens of whiskeys for three bucks; the house favorite, Cabin Still, is mellow and gentle. And there are flannel shirts, and mustaches, and Grandma sweaters. Truth is, the folks working here are some of the friendliest and most professional hipsters you'll ever meet, and their graciousness isn't lost on the neighborhood. Yet, however welcoming and well-informed my server was, T.G.I. Friday's this is not, and it was hard not to notice that those groups were ordering their fair share of burgers. To do this restaurant right, you've got to allow yourself organ meats.
Read more
There are a million steaks in this world, and not one quite like Lula's. Slices of flat-iron pattern a plate, semolina gnocchi tucked here and there. It is not steakhouse food. This is a steak strewn with kimchi whose heat and crunch is compulsive. Specks of fried sardine pop with brininess, riffing on the fermented cabbage's funk. It sounds strange, doesn't it? It's anything but. Aesthetically, it's striking. Technically, it's accomplished. And it's not just the steak. On recent visits to Lula, dish after dish pushed the envelope from interesting to exciting. If food can be genius, that flavor combination—it was the accompaniment to roasted pork loin, by the way—is Stephen Hawking.
Read more
Regional Piedmontese cuisine is Osteria Langhe's focus, and that means ingredients like truffles, cream and eggy pastas appear on this streamlined menu. The plin, miniature agnolotti filled with cheese, are beautiful and light; the beef tartare is impeccably seasoned; and a rotating selection of salads are fresh and well-dressed. Osteria Langhe has quietly elevated Logan Square's Italian restaurant scene.
Book now
Read more
A regal-looking English coat of arms hanging over the entrance to Owen & Engine bears the motto "Sapiens qui vigilat." It means "He is wise who watches," and it's the Fowler family crest, formed by the Anglo-Saxons and dating back to at least the 17th century. Bo Fowler, the brains behind Owen & Engine, might have married into the name (her husband, Arden, is her business partner), but she's owning it, showing that she has in fact been watching, paying careful attention to not just Chicago's undying love affair with gastropubs, but how to stand out from the crowd of suitors. If there's a Chicago pub whose design is more carefully curated to trigger the Dickens-public-house-gastro-comfort receptor our American brains have come to understand, I haven't seen it.
Read more
If you miss Flipside Café, the winter pop-up in the Miko's Italian Ice Bucktown space from 2010-2013, you're in luck—owners Will von Hartz and Dennis Waldvogel are back with a new spot, Same Day Café. Some dishes, like the grilled cheese, carried over, while new dishes include grilled ham and cheese, with housemade dill mustard and thick rosemary bread; a petite, flavor-packed chicken pot pie; and an arugula salad, tossed with pickled shallots and shaved Parmesan. Daily specials and baked goods round out the food menu. For drinks, there's Ipsento coffee, and the soda fountain is making sodas, like a spicy ginger and a tart Michigan cherry, egg creams, phosphates and lactarts.
Read more
Yusho wants you to drink cocktails. You will have no problem with this. The vibrancy of the room, with its vintage furniture, mishmash of light fixtures and Pendletonesque fabrics, puts one in the upbeat mood for a drink. Just one thing: Don't go for anything other than the cocktail on draft, a bubbly, lemony shochu drink that is a riff on the Japanese cocktail chu hai. And you want to eat at Yusho. The eating here is much better than the drinking.
Book now
Read more