Best gyms in Chicago
These gyms in Chicago will help you get in shape, whether you work out on a budget or at the most upscale fitness spot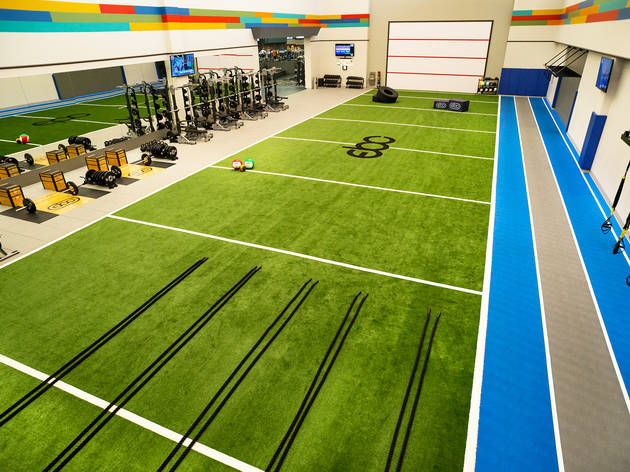 Gyms in Chicago run the gamut, so if you're looking to get a workout in, there are a ton of ways to do it that aren't running along the Lakefront Trail or hitting the 606. Whether you're a junkie for fitness classes, prefer personal training or just want to do your strength training in an old-school weight room, you can find the gym to melt away those pounds on our list. Then, perhaps after a tough workout, you can treat yourself at one of Chicago's best spas.
Best Chicago gyms
1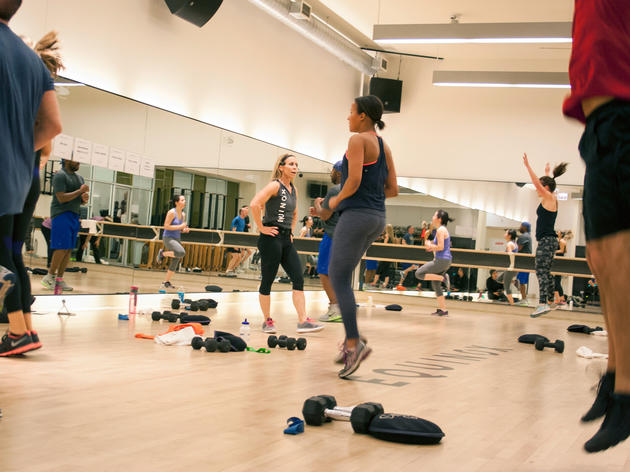 Upscale fitness buffs will appreciate the four Equinox locations in Lincoln Park, Gold Coast, the Loop and Highland Park for their high-end feel, trendy classes, pristine locker rooms and amenities galore. You'll also find full-service spas and retail boutiques.
Sports and fitness, Gyms and fitness centers
Inside this mammoth 450,000-square-foot space (spread over two city blocks), you'll find a running track, four pools, an indoor driving range and seven tennis courts—not to mention the largest cardio fitness room in the city, which boasts a whopping 400 pieces of equipment. Besides the exercise facilities, members also have access to a spa, car wash, restaurants and more.
3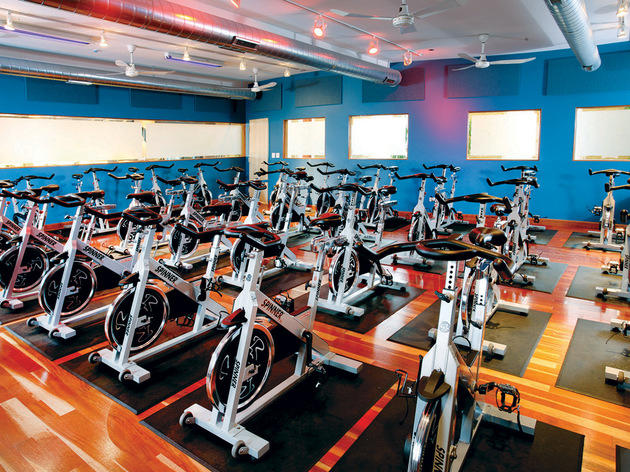 With eight locations (Lakeview, Lincoln Park, Wicker Park, Bucktown, Lincoln Square, Evanston, West Loop, Webster Place), chances are good there is a Chicago Athletic Club in your 'hood. While the offerings differ slightly from location to location, varied classes taught by experienced instructors, lots of well-equipped machines and comfortable locker rooms are universal. There's also a handy app that allows you to check schedules and book classes.
4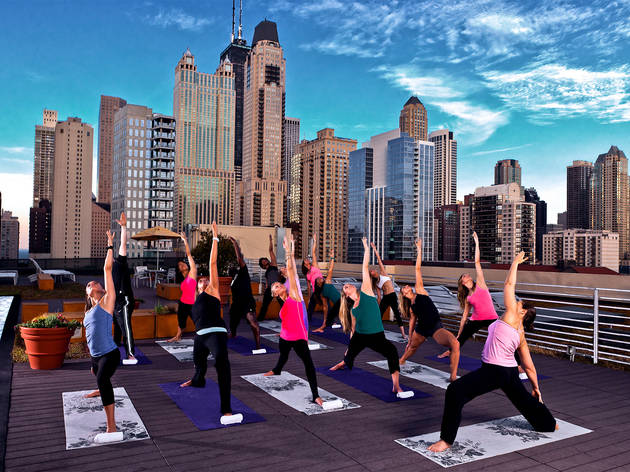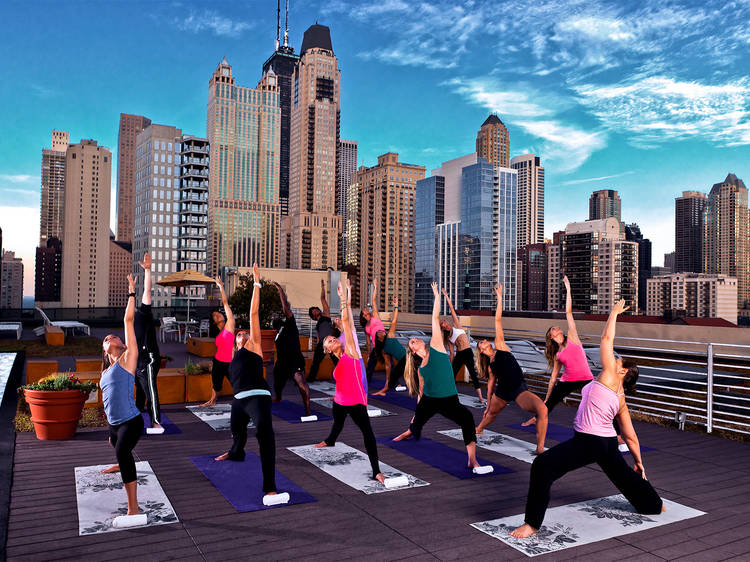 Photograph: Jorge Gera
Not sure if you can get in shape? The nine FFC clubs in the city (East Lakeview, Gold Coast, Halsted Street, Oak Park, Old Town, South Loop, Union Station, West Loop) offer a "results guaranteed promise"—try the gym for a month and get a full refund if you don't see results. You can also train for a triathlon (it's one of the only certified training centers in the Midwest), rock climb or take a Pilates reformer class.
Sports and fitness, Gyms and fitness centers
Class junkies will love this trendy River North spot, which offers two floors dedicated solely to classes, like B.L.T. (butt, legs and thighs) and SWAT (a boot camp/CrossFit-esque workout). The gym is also open for individual use when classes aren't in session, typically during the day. A cashless system at the front desk makes it easy to purchase water, snacks and other retail items.
Sports and fitness, Gyms and fitness centers
The New York–based cycling studio chain set up its first Chicago location in Old Town and has since spread to the Loop and Southport. The 45-minute classes take riders through an intense workout, with lots of push-ups on the handlebars while pedaling to hip-hop and pop hits. Many call the classes an enlightening experience. We just call it a great workout.
Sports and fitness, Gyms and fitness centers
The Old Town outpost of this national cycling studio is the only Chicago location that also features FlyBarre, a barre-style class that focuses on small movements and light resistance. Expect a friendly staff, experienced instructors, plus spacious and spotless facilities, along with complimentary cycling shoes, water, towels and fruit.
Sports and fitness, Gyms and fitness centers
Yes, you can find lots of barre classes in Chicago, but the Barre Code offers more than just your standard options. Choose from classes like Brawl (cardio kickboxing-esque) to Burn (a barre workout in a heated room) at one of the five locations within the city. Accommodating staff, an extensive schedule and spacious studios are added perks.
Sports and fitness, Yoga & Pilates
CorePower Yoga is a fitness studio where you can become a member or purchase class packs. The classes are a combination of yoga, a high intensity workout and strength training. There are a range of classes for varying levels of expertise. Classes aren't just limited to yoga, though. There are classes that involve HIIT training and free weights, too. There are a ton of locations around Chicago so you'll never be too far from a class.
Sports and fitness, Gyms and fitness centers
This Pilsen staple is priced like a budget gym, but offers many of the same features as its pricier counterparts, such as free parking, wifi and a juice bar. The vibe is old-school and the class schedule limited, but the affordable prices can't be beat.
Sports and fitness, Gyms and fitness centers
This Lincoln Park space is no stranger to fitness equipment. The address used to belong to a Crunch gym. Before that, it was Gorilla Sports, and in the late 1980s, it was Jamnastics. i.d. focuses on group classes (ranging from boxing to boot camp), but it also has the requisite strength and cardio machines. You can also do CrossFit, take kettlebell classes with one of the best kettlebell trainers in the city, or try Fly Yoga, a unique form of aerial yoga.
12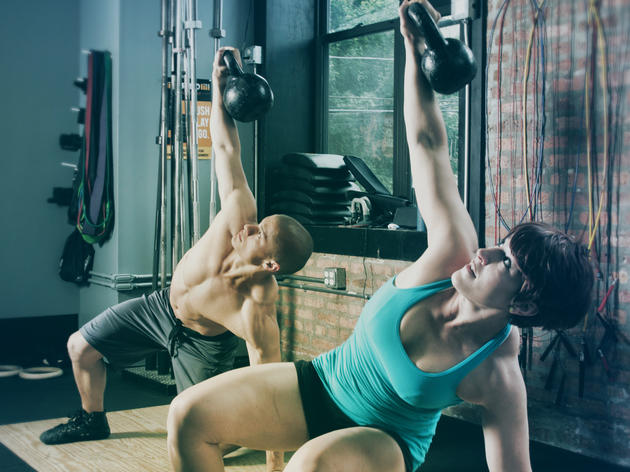 With locations in Andersonville, Edgewater, Bucktown and Logan Square, these gyms feature an array of creative classes like OldSkool (a cardio dance class set to old-school jams) and AlphaBootCamp (workout moves based on the letters of the alphabet), along with a wide range of equipment (the Bucktown location also offers CrossFit). Membership gets you community discounts at local businesses, and there's complimentary coffee served daily until 10am.
Sports and fitness, Gyms and fitness centers
With a Zen, spa-like feel, this boutique location takes an à la carte approach to its services, including personal training, open gym memberships, a variety of classes, and massage and acupuncture. There's also a unique yoga class that caters to the needs of the physically disabled.
14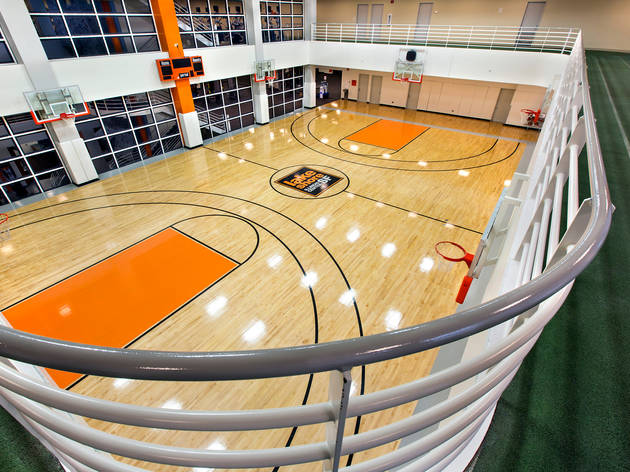 Photograph: Michael J. Kardas
Lakeshore Sport and Fitness
Between the Lincoln Park and Illinois Center locations of Lakeshore Fitness, you'll find everything from a climbing wall (the highest indoor wall in the country) to a golf simulator to multiple pools for aquatic group classes. There are also facilities for racquetball, paddleball and basketball. Post-workout, visit the rooftop restaurant for dinner and a view.
Sports and fitness, Gyms and fitness centers
If there's truth to the adage "an apple a day keeps the doctor away," members of Wicker Park Fitness—where complimentary apples (and coffee in the morning) are a daily perk—will be in tip-top condition. Modeling the 6,000-square-foot, industrial-style space (aluminum-covered walls, exposed brick and piping) after their first neighborhood gym in New York, the owners offer a range of classes—kickboxing, boot camp, Pilates and yoga, to name a few—all included in the $33/month membership.
Sports and fitness, Gyms and fitness centers
Inside a no-frills studio, bodybuilder Barry Schulist works clients through a completely customizable workout. His technique—high intensity intervals, weight machines—is simple yet effective, and you can also train with a friend or a significant other.
Sports and fitness, Gyms and fitness centers
Owner and instructor Tracy Zindell offers intimate classes in her loft-like studio, housed in an old Schwinn bicycle factory. Her hybrid style of Pilates is done on a Reformer, yet with more intensity than standard methods, guaranteed to leave your muscles shaking. And with a maximum of only nine people per class, you're guaranteed personalized attention.
Sports and fitness, Gyms and fitness centers
Dan Hicks offers a hybrid of personal training and small group classes at his Lakeview studio, where he works with up to four clients at a time. The hour-long sessions consist of constantly changing exercises using a variety of techniques, machines and equipment. Ample parking, free bottled water and complimentary towels are nice bonuses.
Sports and fitness, Gyms and fitness centers
The pulsing energy at the five Shred415 locations is palpable, thanks to both enthusiastic instructors and devoted clients. The hour-long, total body workout is split between intervals on a treadmill and exercises done on the floor using light weights. A variety of class packages is available, including special ones for brides and new moms.
Chicago is a city of neighborhoods, full of great things to do