Restaurants on Korčula island
Feast your eyes on the best restaurants on Korčula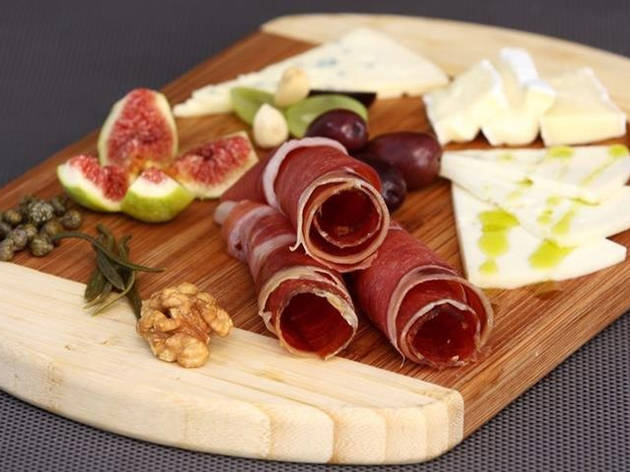 As Korčula sizzles this summer, check out some of the coolest places to dine, drink and relax, with a range of traditional Croatian options, seafood, and mediterranean fare. Read on for our insider's guide.
Where to eat out in Korčula
Befitting its historic, five-star hotel surroundings, the panoramic terrace of the Lešić-Dimitri has significantly raised the bar when it comes to fine dining in Korčula town. The menu, delivered by talented young chef Toni Erceg, celebrates local, seasonal produce and reproduces traditional dishes in a healthy and contemporary manner. The menu changes daily  but breakfast features fresh smoothies, home-made granolas or classic cooked meals. For lunch and dinner example dishes include prawns with couscous, platters of Ston oysters, or squid in black ink topped with mashed potato; fillets of tuna, poached white fish, braised beef cheeks and roast lamb. Desserts include a seductively smooth chocolate cake. Informed staff will guide you through an extensive wine list that specialises in indigenous Croatian grape varieties, including some of the island's best Grk and Pošip – which can be tried by the glass. This carefully conceived approach has ensured LD, for the fifth year running, has been awarded one of Croatia's most "Wine Friendly" restaurants. LD also offers olive oil (some of the local oils are deservedly award-winning) and wine tasting menus, Chef's Table dining and take-away wines for boat guests to stock-up. With it's sea and island views this is an idyllic spot to enjoy some of Dalmatia's finest cuisine.  
Read more
A bit of an institution, Adio Mare is Korčula town's oldest-family run restaurant and little has changed since it opened in 1974. It's a friendly, buzzy, hearty Dalmatian restaurant showcasing tradition rather than innovation. Book a table on the shaded terrace upstairs and enjoy the brodet fish stew with polenta, the grilled meats or the pasta with beans. There's a decent enough selection of local wines. Baby-seats are available if needed.
Read more
This ranch-style restaurant, run by the family Marelić, is up in the hills 8km from Korčula town. It's the place to eat peka, lamb or goat slow-cooked under smouldering charcoal, ordered in advance. Turning up on spec, try a grilled dish. Pretty much everything they serve is local, including the succulent home-cured pršut. Home-made grappas provide an aperitif. Seating is in a spacious garden planted with herbs and figs. It's a cosy retreat in winter with wood-burning fire – call ahead first to see if they're open.
Read more
Known to Korčula regulars by its original name of U Maje i Tonke, this kooky and creative restaurant was re-launched as Aterina in summer 2014. The recipe for success remains the same: inventive use of local ingredients, married to modern, bistro-style presentation. The only potential drawback is its popularity – come here in August and you might have to wait for a table. The konoba built its reputation on cooking up Mediterranean main courses and nibble-food ('Dalmatian tapas' is the way they describe it) with anything that can be locally grown, caught or picked. Soups of the day, marinated fish, aubergines with goat's cheese, pasta dishes with home-made pesto and creative cakes are among the treats in store. There's a fantastic outdoor terrace with views of the swaying palm tops along the harbour.  
Read more
This arresting blue-and-white striped pavilion stands beside the roadside midway between Račišće and Kneža, right next to a beautiful pebble-fringed bay. As well as serving local wines and spirits they also have a full menu of food, much of which is cooked on an open grill.
Read more
Surrounded by olive groves and pine trees, this is the most alluring dining spot in the area. Reliably delicious specialities include octopus and baked meat (peka), as well as a range of dishes made from ingredients grown in their own farm.
Read more
Occupying a lovely spot, just behind the small-boat piers that run along the seafront in Kneža, a village 8km west of Korčula, Stane serves up freshly-caught local seafood in a cosy stone house with an open fireplace. There's wooden-bench seating on the outdoor terrace, and the adjacent children's playground is a handy way of entertaining the kids.
Read more
Small, maritime-themed restaurant that does a good line in Italian and Croatian. A year-round haunt for locals, it also attracts tourists in summer with fresh local ingredients and a reasonably priced bill.
Read more
Having moved from its old position in an Old-Town alleyway to a new site on the battlement-hugging promenade, Komin ('The Hearth') now features a small sea-facing terrace. The grilled meat and fish at this traditional Dalmatian konoba are hearty and fresh – this is also a great haven out of season.
Read more
Show more