Vis restaurant guide
Vis restaurant culture is thriving: read our insider's guide on the best places to eat on the island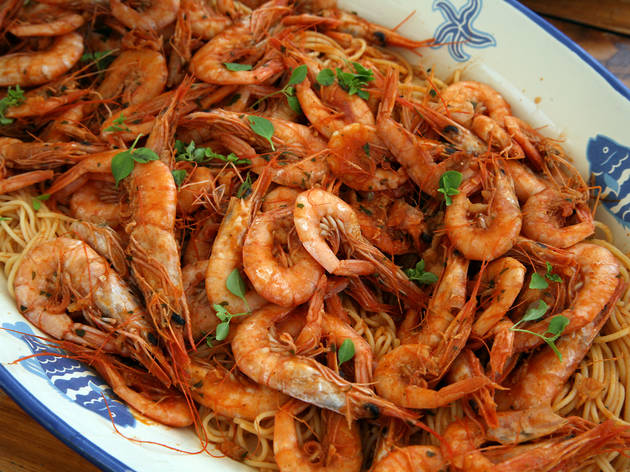 Vis restaurants benefit from a bounty of natural ingredients and a love of good cuisine, which help create a keener culture of quality restaurants, bistros and konobas than should be expected from such a small island. The landmark restaurant in Vis town's is Kut Pojoda. In Komiža, a gastro enclave by Pol Kalafotovo beach contains the Konobas Bako and Jastožera.
Where to eat in Vis...
Restaurants, Mediterranean
Offering an inland dining experience on a working vineyard, in an open courtyard next to Vis cricket ground (formerly the World War II airstrip), Roki's is high on any must-visit list. Book by calling or dropping into their wine shop near the Bejbi bar – they will arrange transport here (free for four or more, otherwise 60kn return per car) – if you just turn up, you may well be turned away. Dishes, from peka preparations to fresh fish, are served amid olive groves and vineyards, accompanied by Roki's own Plavac or Vugava wines.
Expect a fabulous setting, outstanding cuisine and fair prices at the best restaurant in Vis. The food is prepared to perfection: Dalmation standards plus standout dishes such as prawn and barley risotto and lentil and squid brodet. Tempting appetisers include octopus salad and seafood cocktail. The service is genuinely friendly and very efficient.
On a terrace just above the sea, the friendly beachside Bako provides some of the fancier meals in Komiža while exuding a relaxed atmosphere. There is gorgeous beachside seating, with tables intermingled with pine trees and tall lamps. Inside, sit amid ancient Greek and Roman artefacts recovered from the deep by the restaurant's founder, Tonko Borčić Bako, who dove here for decades. A simple menu includes fresh langouste lobsters, grilled, broiled or served in brodet Dalmatian stew.
Restaurants, Mediterranean
At this old lobster pot-house hoisted above the sea, dining tables are placed on a floor of planks, under which yachters can pole their tenders into the restaurant and rope off next to the cage from where dinners are plucked. Waiters happily discuss the ingredients, merits and history of every item on the menu – in particular the several tantalising versions of lobster: langouste lobster with spaghetti au gratin; cream soup with lobster, and grilled lobster with four sauces. As well as lobster, there are crabs, clams and fabulous octopus salad appetisers. Also, there are grills, steaks and an extensive selection of domestic wines. Celebs love it – note the pictures of John Malkovich and other notable Croatophiles to have visited. Not cheap, but worth the price. Book well ahead.
Restaurants, Mediterranean
Deservedly popular, this local favourite in Kut sits under a vine-covered terrace on the waterfront, behind which is a cosy stone-and-wood interior tastefully filled with bric-a-brac. Black cuttlefish risotto, lobster, langoustines and pasta vongole are the specialities, with a daily-changing fresh-fish menu. The portions are more than generous, the steak cooked to perfection, and the atmosphere convivial. The friendly Vatrica family are happy to open for you in winter as well, should demand require.
Restaurants, Mediterranean
This is Croatia as it should be: a sandy bay, somebody's house overlooking it, the only one of ten there. A few tables are placed randomly outside, perhaps five paces from the sea. At them are sat regulars necking drinks and awaiting a plate of the usual: grilled sardines which have been skewered, ungutted, then sizzled on an open grill. Other dishes are available, all from the canon of Dalmatian favourites. Incongruously, a gaggle of jolly yachters may interrupt this timeless Adriatic tableau with demands for 'pints of beer' in plummy accents before sitting back to enjoy the experience as much as anyone.
Restaurants, Mediterranean
Where the yachting crowd comes to splash out – aided by a new anchorage out in front. You'll pay a 400kn per head all-in to enjoy the shade of the palm trees, bamboo and statues in this enclosed garden between Kut and Luka, attached to the 16th-century mansion of Milanese nobleman Francesco Garibaldi – but the location and the food are memorably worth it. The cuisine is Dalmatian and Goran Pečarević strives to use local ingredients – his menu changes according to what's fresh that day.
Restaurants, Mediterranean
Chef-owner Senko Karuza, a Robinson Crusoe character and well-known Croatian writer, puts on a culinary performance for his fortunate few guests, who are treated to an interactive meal that can last several hours and includes discussions of the natural ingredients of Vis. Take a taxi or a boat to the remote picturesque cove of Mala Travna on the southern part of the island. You will receive food made of local and organic ingredients: freshly caught fish; home-made wine, olive oil and produce grown nearby. The menu, based on daily supplies, features the traditional dishes of Vis: smoke-cured fish soup brodettos, home-cured fish, bean stew with pasta, and fish grilled over olive-wood and vine embers. Given the unique character of the place, it is advisable to book ahead.
Restaurants, Mediterranean
A new kid on the block and the house restaurant of the Hotel San Giorgio directly opposite across a narrow alley, Boccadoro completes the four-star atmosphere. Open to the general public, this à la carte eaterie is a fusion of international and traditional. The Italian chef cooks up top-standard fish, a risotto with rosemary and cheese from Pag, and wonderful desserts made from carob flour (of which there is an abundance on the island). There is also a selection of excellent local reds and whites. As well, this is an ideal – and public – place to take breakfast, when home-made breads and speciality coffees help holiday-goers get ready for another day in paradise.