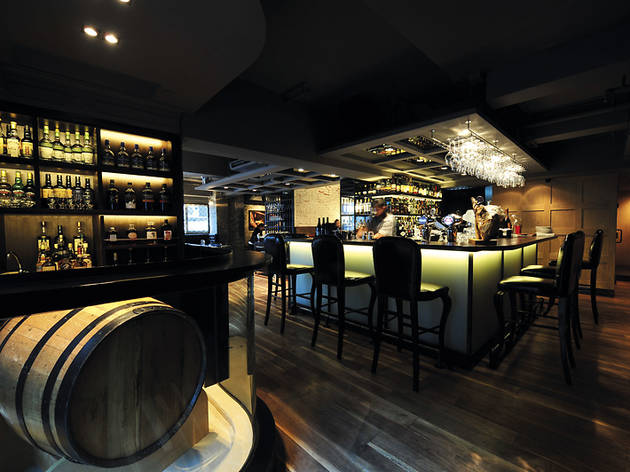 A paradise for whiskey-inclined tongues
I have a hangover. And Angel's Share is to blame. Don't get me wrong – I'm not complaining. If my head's still spinning a little, it's only because I drank some ultra-premium 'water of life' last night, like a 20-year-old Macallan drawn and served straight from an oak barrel. It's worth the headache.

Angel's Share (a term used to describe the evaporation of whisky through their barrels during ageing) is a newborn venue from the founders of Tastings wine bar. Unlike its sister, which channels a quirky space age vibe with sleek Euro-designer chairs and Enomatic wine machines, Angel's Share hones a more rustic, speakeasy feel. The former Homebase space (yes, you know you've been here before) is painted in cement greys and fitted with banquette seats that wrap around dining tables. The atmosphere becomes loungier towards the back with leather armchairs and wooden tables.
But the biggest difference between Tastings and Angel's Share lies in their choice of poison. Angel's Share has a serious whisky bent. The shelves hoard what seems like a collector's stockpile of small-batch whiskies and rare vintages. The 100-plus medley includes a discontinued 15-year-old Bowmore Mariner ($130/glass) and a 1977 Glenlivet ($280/glass) sourced from specialty importers and auctions. For the indecisive, Angel's Share offers whisky flights that combine tasting portions of four different scotches served in nosing glasses. The Glenmorangie flight ($360) starts on a gentle note with the distillery's ten-year-old Original. Compared to the grassiness of The Original, the Lasanta's sherry-tinged sweetness becomes more apparent. This continues with the Nectar d'Or – a smooth and syrupy 12-year scotch – and finally the Glenmorangie 18-year, which is the harshest of the four with smoky, peaty notes.

Aside from the strong pedigree of scotches, Angel's Share is also amped up with one of the city's most impressive collections of Japanese whiskies. Suntory and Nikka dominate the selection, but the most noteworthy sips come from Japan's now-defunct Hanyu distillery. For instance, the 15-year-old Ichiro's Malt Folks Bottling ($268/glass) has a particularly intricate profile with an initial astringency that mellows out into rounder, woodier notes with a few pipette drops of water and a quick swirl.

Wines, beers and cocktails are also on standby for those who aren't particularly inclined towards the single malts and straight-up spirits. A handful of reds and whites are offered by the glass (starting at $68), followed by an extensive by-the-bottle selection ranging from a 2009 Aussie sauvignon blanc for $320, to an $8,900 Château Lafite. Mixed drinks stick close to the classics – the Angel's Sour (their version of the whisky sour, $88) is made with a balanced prescription of house bitters and sours that don't detract from the base liquor.

Going beyond the drinks, Angel's Share boasts a sizeable gastropub menu that goes well beyond your typical bar bites standards. Battered fish and fat chips ($68) are personalised with homespun tomato-whisky sauce. Hiroshima oysters ($78) are close to sublime, wrapped in a fat rasher of bacon and baked with a cut of cheddar.

Angel's Share is the whisky connoisseur's new playground. And with a drinks list comprising some of the rarest bottles in the world you're bound to unearth some real liquid gold. Dorothy So
Venue name:
Angel's Share (Closed)
Contact:
Address:
2/F, Amber Lodge,
23 Hollywood Road, Central
Hong Kong


Do you own this business?