Hong Kong Bars
Your guide to the best Hong Kong bars to visit – all reviewed anonymously and impartially by our experts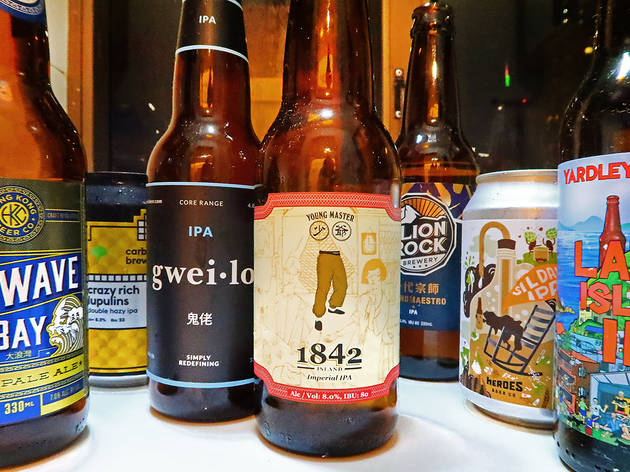 11 of the best local breweries in Hong Kong
There's no shortage of spots to get a delicious cold beer in Hong Kong, and the same goes for locally crafted brews. Currently, the city is host to more than 30 local breweries, and new beer products get released in the market regularly. Whether you're looking to taste refreshing IPA's, lagers, stouts, ales, or unique flavoured brews, here's a list of the best local craft beers to try in Hong Kong. RECOMMENDED: Get these beers delivered to your door with the help of these alcohol delivery services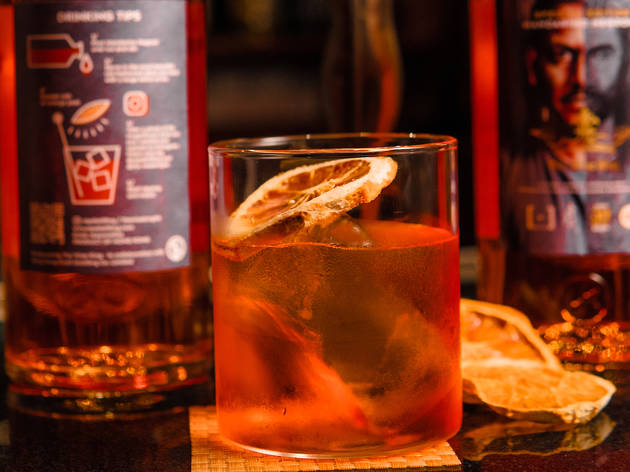 Drink this: Mandarino Negroni
The Negroni is one of those cocktails that mixologists love to experiment with. Using bitters, vermouth, and gin, the ingredients to this classic aperitif can be recreated using alternative spirits and crafted in many different twists. With creativity and the right balance, Negroni riffs can taste even better than the old-time classic. In Hong Kong, Spanish bar The Wise King is known to offer various renditions of this bitter cocktail and have always presented new and seasonal Negroni twists in their menu.  The bar recently launched their #Revived2 cocktail menu early part of the year, and it included two Negroni twists called R&R Negroni (made with rhubarb and raspberry gin, vermouth bianco, amontillado vinaigrette, bitters, and amaro) and the claypot aged Olla De Barro Dos ($128) (made with vermouth bianco, Rinomato Americano, brandy, and brined gherkin (dill pickles). Back in April when the bars were ordered to shut down, The Wise King started to bottle their cocktails and Hongkongers got the taste of their signature King's Negroni and Washed Negroni in the comfort of their homes. This time around, they collaborated with local gin distillery N.I.P Distilling for a special bottling of Mandarino Negroni combining the local gin with Mancino Vermouth, Mandarinetto Isolabella, and Rinomato Americano Bianco.                                      The Wise King's owner and head mixologist Sandeep Kumar "Every quarter, we work on a Negroni at The Wise King. In the past, we have had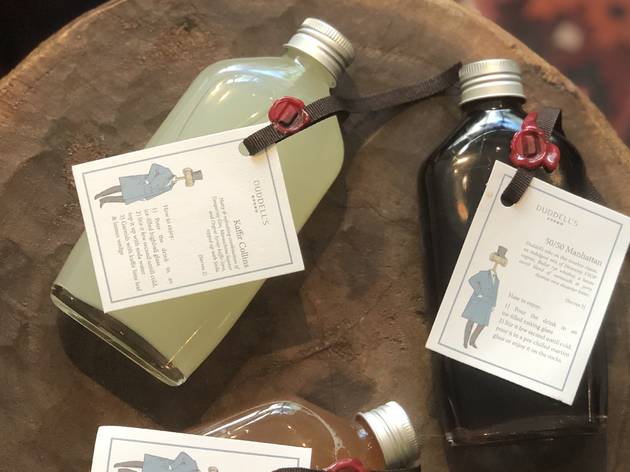 Hong Kong bars now offering cocktail takeaway and delivery
While we wait for bars to reopen, our regular cocktail hour has temporarily moved from the bar to our homes. If you're still having a hard time crafting that perfect tipple, set your bartending dreams aside for now because our favourite neighbourhood bars are ensuring you don't go thirsty during this dry season. Also, by ordering from them during these trying times, you'll be able to support their businesses and their staff who are working hard to keep their bars afloat. So, whether you're after wine, sake, beer, or cocktails, here's a list of all the bars and pubs in Hong Kong that are mixing up drink takeaways and delivering bottled cocktails to customers. RECOMMENDED: If you're looking for other liquor delivery options to stock up on your supply, check out our roundup of the best alcohol delivery services in Hong Kong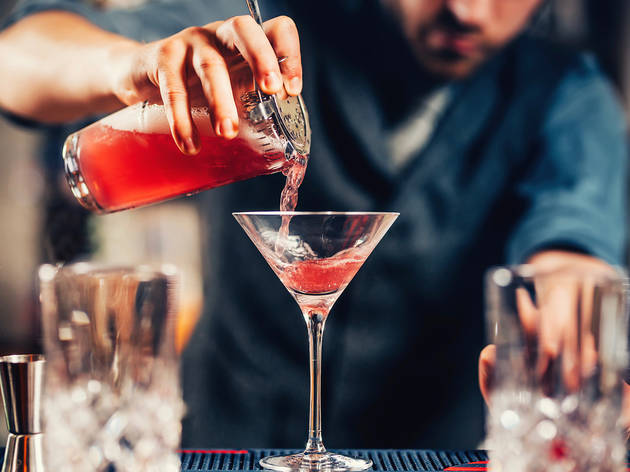 Drink this: cocktail recipes to make at home
Drinking this summer is a bit different this year as temporary closures of bars and pubs in the city has been extended until July 28. A lot of your favourite bars have started to offer takeaway or delivery during this dry season so hit them up if you'd like to get perfectly balanced tipples to enjoy at home. But, if you're looking to spice up at your home bar and tap into your inner bartender, we've rounded up a few cocktail recipes from some of the best mixologists in Hong Kong so you can get the ball rolling.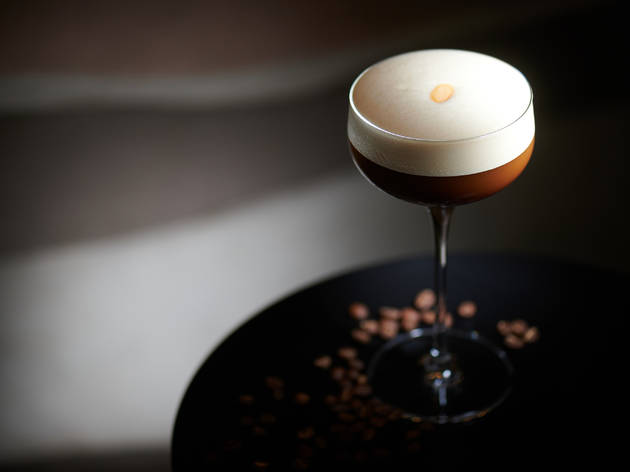 Drink This: Spent Martini
Earlier this year, specialty coffee roastery, Cupping Room quietly opened a brand new concept store, Doubleshot by Cupping Room. Located in the centre of Hollywood Road, the place makes specialty brews and offers a full dining service during daytime and transforms into an elegant cocktail bar at night. By Ann Chiu Translated by Elaine Soh   Bar consultant Chanel Adams – formerly from New York speakeasy Please Don't Tell (PDT) – specially designed Doubleshot's signature cocktails, while the current menu is maintained by head bartender Jade Lau. According to Adams, it is very common for most coffee shops to be a coffeehouse by day and a cocktail bar by night, so she wanted to bring this hybrid concept into Hong Kong. The curated cocktail offerings draw inspiration from coffee flavours and brewing techniques.  One of the must-try drinks on the menu is their signature Spent Martini ($118), a twist to the modern classic, Espresso Martini designed with sustainable mixology practices. To help minimise food waste, the shop utilises used coffee grounds for alcohol infusion and the sweetener from unsold almond croissants. They named the cocktail 'Spent Martini' because of the 'spent' ingredients repurposed for the drink. The result is an aromatic concoction with earthy notes, and smooth coffee and nutty finish.  "Some bars use espresso coffee capsules when making cocktails, but here at Doubleshot, we make our espresso using single-origin coffee beans, which gives our cocktail depth in
See more bar features
Latest Hong Kong bar reviews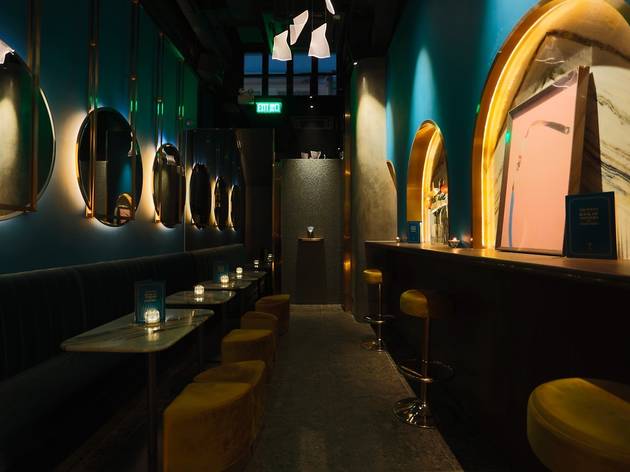 The Poet
Recently there appeared a curious-looking door on Staunton Street with a small window that betrays only darkness behind it. Put an ear to the door, and nothing can be heard. There's an innocuous chrome light switch to the right that upon first glance may be taken as a stylised doorbell – flick this and prepare to enter Central's newest speakeasy. The opening of this place was almost as mysterious as the venue itself, the news spreading predominantly via word of mouth. Despite this, we know that the bar is new and that, for now, making an appointment by phone or the bar's Facebook page is the only way to enjoy the experience. The interior has the look and feel of a classic cocktail bar with backlit mirrors on cerulean walls, marble tables, gold finishes and cosy corners. A narrow space flanked by seats opens up to the bar counter. Behind the bar stands shelf after shelf packed with various bottles of spirits rising toward the tall ceiling. Old-timey jazz and rock 'n' roll numbers play softly in the background, providing an atmosphere conducive to thoughtful conversation. The menu is extensive, with selections of whiskies and gins (averaging around $118 per serving), champagne, red and whites – mostly by the bottle. The cocktail menu is a great introduction to what the bar is all about as it offers classics and house signature classic twists. The It Girl ($128) is a tasty and creative lead-in to the menu. Made with lime infused bourbon, Campari, and rouge vermouth, this Bouleva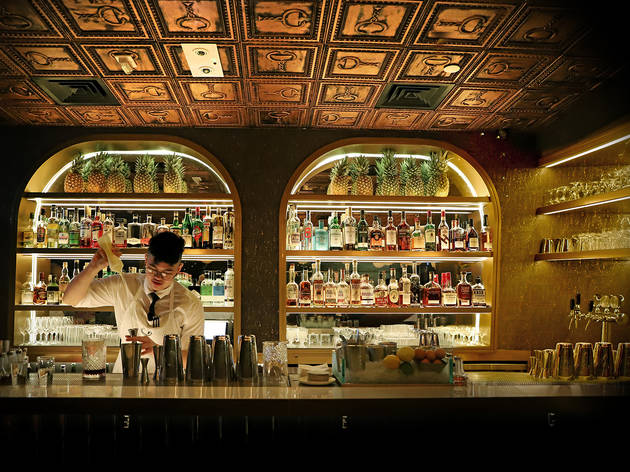 The Diplomat
The Diplomat is the brainchild of award-winning mixologist John Nugent (formerly of Lily & Bloom) who is known for his innovative twists on old classics. True to the nature of a diplomat, you'll see Nugent being friendly to his customers, helping them decide on orders, and chatting with them at every opportunity.  At first glance, the exterior of the bar looks stiff and corporate with a suited bouncer greeting customers at the door. This all changes as you enter the premises and become immersed in the bar's light and welcoming atmosphere. The interior is replete with leather seats and brass finishings, and while taking these in, it's easy to miss the intricately detailed ceiling tiles that bear the bar's logo. Should your inner diplomat have important business to attend to, a lavish hallway with shades of pink and copper will lead you to the washroom.  The bar's menu is easy to navigate and reasonably priced compared to neighbouring bars. We started with the signature Diplo Daiquiri; house rum blend, pineapple, anise, and salt ($95) followed by Pearl, made with vodka, Campari, French herbs, Mr. Black Coffee Amaro, pineapple, and almonds ($95). The two drinks are okay to whet your appetite, made for easy drinking, but aren't standouts. To gain a better appreciation of the signature menu, ask the staff about the famous diplomats who inspired the drinks.  What seem to be the real crowd pleasers are the reimagined classics. "Oh, I should have gotten the same drink as yours!" "
XX
Head through the grand double doors, up the elevators and down a dim corridor somewhere within the walls of the newly-opened Rosewood hotel, and you will find an inconspicuous knob. Flip the panel up, enter the password, and with a resounding whoosh, the wall will open inwards, leading you into Hong Kong's first ladies-only speakeasy – XX. Named after the chromosomal combination only females possess, the sultry cocktail bar is a haven for girls. Sorry, gents, it's no man's land from here! Much like the hotel, XX is furnished luxuriously without an ounce of pretentiousness or contrivance. With the birds-and-bees patterned wallpaper, plush, emerald green couches, and sensual lighting from ornate chandeliers, the hidden bar is an ethereal oasis specifically tailored to ladies' likings. Among their signature cocktails, we were feeling Sexy. A champagne-based cocktail, the Sexy ($160) is an intoxicating concoction of jasmine, bergamot orange, fizz and London No. 3 Gin. Citrusy and sweet and velvety smooth when it hits the tongue, the fruity bergamot proves a perfect foil for the sharpness of the gin and the effervescence of the champagne. Topped off with a dainty jasmine flower in its tall, slender glass, Sexy is the quintessence of femininity. The BFF ($130), in contrast, is a refreshing, light, easy-on-the-throat highball that pairs Fair vodka with cucumber juice, pine needles, and yuzu vinegar. Combined with a decorative, rolled-up slice of cucumber containing pine needles an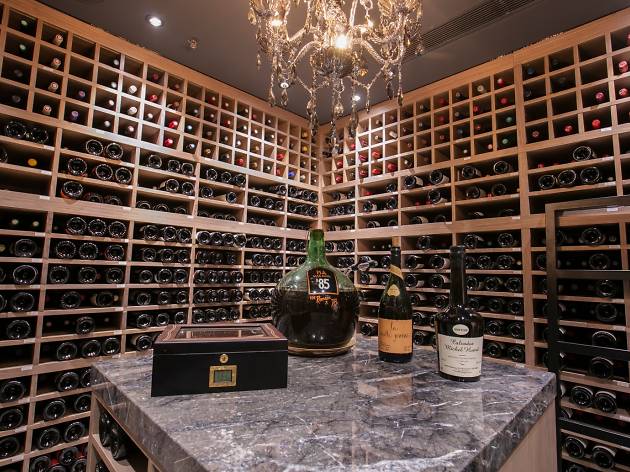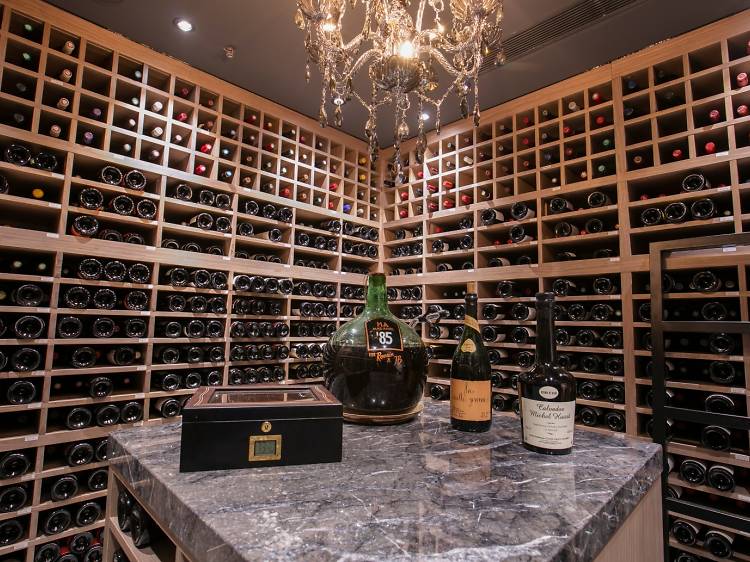 Think Wine
Opening its doors this autumn in LL Tower just off Hollywood Road, Think Wine is the labour of love of renowned French sommeliers Romain Loriot and Jean-Beniot 'JB' Issele. The two are no strangers to Hong Kong's food and beverage scene, previously holding head sommelier positions at Le Comptoir (the group behind popular restaurants Ecrtiure and Bibo) and Michelin starred Belon respectively. This new venture sees these two forces of the wine world come together in an intensely personal venture that reflects the pair's extensive knowledge, impressive attention to detail, and passion for vino. The bar boasts almost 600 wines from across the globe, with particular emphasis – at least 250 varieties – from the Burgundy and Languedoc-Roussilon regions of France. All well and good for the amateur oenologists amongst us, however such a varied menu is potentially grape-ly bewildering for the average customer. To ease the picking process there are friendly and knowledgeable staff on hand to educate in an un-patronising way about the tipples, and guide the appropriate drink to even the most winey of philistines. In terms of volume, wines are offered here by the bottle and by glass, with prices ranging from as low as $60 per glass to as high as $15,000 per bottle. A good place to begin is at the cheap end of the spectrum, but for those looking to really explore Romain and JB's collection, a cool glass of the Italian Maso Cantanghel ($120) proves a nice white to start on, with light, tr
Order delivery
See more bar reviews