Heads up! We're working hard to be accurate – but these are unusual times, so please always check before heading out.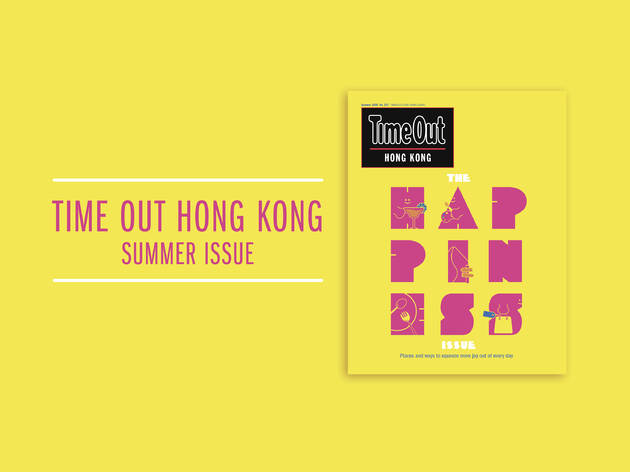 Where to find Time Out Hong Kong magazine
Pick up a free copy of Time Out Hong Kong magazine, your regular guide to what's on in Hong Kong
Since 2008, Time Out Hong Kong magazine has been providing readers with the very best Hong Kong has to offer. From the absolute best restaurants and fantastic bars to the city's best art galleries and best things to do, our magazine covers all the hottest and latest happenings so you're always in the know.

If you want to get your hands on our quarterly magazine, the great news is that it's completely free and you'll find it at hundreds of spots across Hong Kong, including at restaurants, cafés, bars, and more. Check out below for the exact details on where to find our Summmer 2020 issue.
Want to be a Time Out Hong Kong stockist? Email us at info.hk@timeout.com for more details.
Where to find Time Out Hong Kong magazine
• Agave, Wan Chai
• Amigo, Happy Valley
• AMBER, Central
• An Nam
• Bistecca Italian Steakhouse
• Bound by Hillywood, Sham Shui Po
• Brotzeit German, Tsim Sha Tsui
• Café Habitu, Quarry Bay
• Café Habitu, Tsim Sha Tsui
• Caprice, Central
• Ciao Chow
• Classified, Sheung Wan
• Classified, Happy Valley
• Coffee Plus, Happy Valley
• Colette's, Central
• Common Ground
• Corner Kitchen Cafe
• Cova, Alexandra House, Central
• Cova, Festival Walk, Kowloon Tong
• Cova, Pacific Place, Admiralty
• Cova, World Trade Centre, Causeway Bay
• Cova, Lee Gardens, Causeway Bay
• Cova, Ocean Centre, Causeway Bay
• Coyote Bar & Grill, Wan Chai
• Delaneys, Tsim Sha Tsui
• Devils Advocate, Wan Chai
• DotCod Seafood Restaurant & Oyster Bar, Prince's Building
• E Molto Buono, Causeway Bay
• Elephant Grounds, Causeway Bay
• Elephant Grounds, Tsim Sha Tsui
• Elite Concepts
• Espuma
• Glasshouse, Central
• Gonpachi, Causeway Bay
• Green Waffle Diner, Central
• Greyhound Café, Central
• Greyhound Café, Tsim Sha Tsui
• Greyhound Café, Kowloon Tong
• Greyhound Café, Quarry Bay
• Greyhound Café, Hung Hom
• Greyhound Café, Causeway Bay
• Greyhound Café, West Kowloon
• Greyhound Café, Tseung Kwan O
• Havana Bar
• Holly Brown, Lai Chi Kok
• Holly Brown, Central
• Isola, Central
• Jimmy's Kitchen, Central
• King Ludwig Beerhall, TST
• Kyoto Joe
• La Cabane Bistro, Central
• La Viola
• LAB Eat Restaurant & Bar
• L'Atelier de Joël Robuchon, Central
• Le Pain Quotidien, Elements
• Le Pain Quotidien, Pacific Place
• Le Pain Quotidien, Lee Tung Avenue
• La Rotisserie, Sai Ying Pun
• La Rotisserie, Sheung Wan
• La Rotisserie, Quarry Bay
• Le Salon de Thé de Joël Robuchon, Central
• Lex Coffee, Kennedy Town
• Liberty Exchange Kitchen & Bar, Central
• LKF Office
• Mango Tree, West Kowloon
• Metta
• Mirch Masala, Causeway Bay
• Naha Okinawa, Tai Koo
• OVO Cafe
• Pacific Coffee
• Pickled Pelican, Stanley
• Porterhouse, Central
• Pret a Manger, Central
• Pret a Manger, Kowloon Bay
• Pret a Manger, Admiralty
• Pret a Manger, Wan Chai
• The Coffee Academics, Wan Chai
• The Coffee Academics, Causeway Bay
• The Coffee Academics, Central
• The Flying Pan
• The French Window
• The Pawn
• The Peak Lookout
• Urban Bakery Works, Central
• Van Gogh Kitchen, Causeway Bay
• Van Gogh Senses, Tsim Sha Tsui
• South Horizons
• Shan Wan Towers
• The Cyberport I, II
• The Cyberport IV
• Winway Court
• Wun Sha Tower
• Fuk Hing Court
• Intelligent Court
• Hing Lee Building
• Gallant Place
• Villa Crestview
• Winfield Building
• Rose Court
• Elegance Court
• Broadwood Twelve
• Villa Lotto
• Broad View Villa
• Leighton Hill
• Vantage Park
• Scenic Heights
• Lyttelton Garden
• Bon-point
• Yue Yan Mansions
• Scenic Villas
• Greenery Garden
• St Louis Mansions
• Park Mansions
• Hillsborough Court
• The Belcher's
• Yee On Building
• Lockhart House
• Elizabeth House
• Dynasty View
• Shiu Fai Terrace
• Village Garden
• Bellevue Court
• Victoria Heights
• Evergreen Villa
• Ventris Terrace
• San Francisco Towers
• Miramar Villa
• The Altitude
• Fortuna Court
• Morengo Court
• 339 TAI HANG ROAD
• Scenic Lodge
• Park Garden
• Serenade
• Cavendish Heights
• The Colonnade
• Avalon
• Yukon Heights
• Grand Deco Tower
• Carnation Court
• Royal Court
• Sunrise Court
• Viking Villas
• Sky Horizon
• Dragon Pride
• Kingsford Gardends
• Hong Kong Garden
• Pacific Palisades
• Tempo Court
• Vilshire Towers
• Comfort Heights
• Hanking Court
• Veverley Heights
• Shing Loong Court
• Dragon Court
• Belgravia
• South Bay Palace
• No 7 South Bay Close
• Faber Court
• 37 Repulse Bay Road
• 127 Repulse Bay Road
• 32 Repulse Bay Road
• Ming Wai Gardens
• 56 Repulse Bay Road
• The Morrison
• No 1 Star Street
• Moonstar Court
• Gold Harbour Mansion
• York Place
• The Zenith
• One Wanchai
• Hoover Court
• Valiant Park
• Rowen Court
• The Babington
• Alpine Court
• Ying Piu Mansion
• 2 Park Road
• The Bonham Mansion
• Grandview Tower
• May Court
• 31 Robinson Road
• Mantex Villa
• Park View Court
• South Mansion
• Club Des Paillons
• Pacific Place Apartments
• The Bauhinia Serviced Apartments
• Cling Serviced Apartment
• Shama Central
• Mojo Nomad Central
• Atria Boutique Studios & Green Residences
• The Mood @ LKF
• Shama Hollywood
• Treasure View Sheung Wan
• The Platinum. Hollywood
• Yin Serviced Apartments
• The Henry
• Treasure View SOHO
• home²home - 111 High Street
• Sherwood Court
• Floral Tower
• 2 Macdonnell Road
• Ka Yee Court
• The Elgin
• The Mood @ Soho
• ACTS Rednaxela
• Hanlun Habitats - Orchid
• Largos Residences
• home²home - 222 Hollywood Road
• Manhattan Heights Serviced Apartment
• S-Residence
• Causeway Corner
• COMO COMO
• V Causeway Bay Serviced Apartments
• V Wanchai Serviced Apartments
• Metro Metro Serviced Apartments
• Homey Serviced Apartment
• Eaton House
• 88 Hotels & Serviced Apartments
• The Ventris
• Treasure View Happy Valley
• Acts Happy Valley
• Eaton House
• V Happy Valley Serviced Apartments
• Regent Heights Serviced Apartments
• V Causeway Bay2 Serviced Apartments
• Shama Fortress Hill
• Twenty One Whitfield
• Equinox Mercury
• Kornhill Apartments
• The Lily
• Stanley Oriental Hotel
• Apartment Kapok
• De Fenwick
• Mingle With The Star
• Mingle By The Park
• FC Residence
• Eaton House
• The Johnston Suites Hong Kong Serviced Apartment
• 151 and 163 Serviced Apartments
• 218 Apartment
• Ovolo Southside
• AFHK Jordan Center
• AFHK Wan Chai Center
• AFHK Shatin Center
• ATLA Space
• Campfire
• Campfire
• Campfire
• Campfire
• Central Spa
• Compass Offices - Marketing
• Cyberport Spa
• Dining Concepts
• H&M
• Hong Kong Tourism Board
• Hung On-To Memorial Library
• JW Marriott Hotel Hong Kong
• Kubrick
• Naked Hub New street
• On the List
• Repulse Bay Spa
• Royal One Co-working Space
• Soho House & Co
• The Hive Sai Kung
• The Hive Sheung Wan
• The Hive Spring
• The Hive Wanchai
• Tseung Kwan O Spa
• Tung Chung Visionnaire Club
• Vocational Training Council
• Vocational Training Council
• 序言書室
• TOWNPLACE SOHO
• TOWNPLACE Kennedy Tow