Where to find Time Out Hong Kong magazine
Pick up a free copy of Time Out Hong Kong magazine, your regular guide to what's on in Hong Kong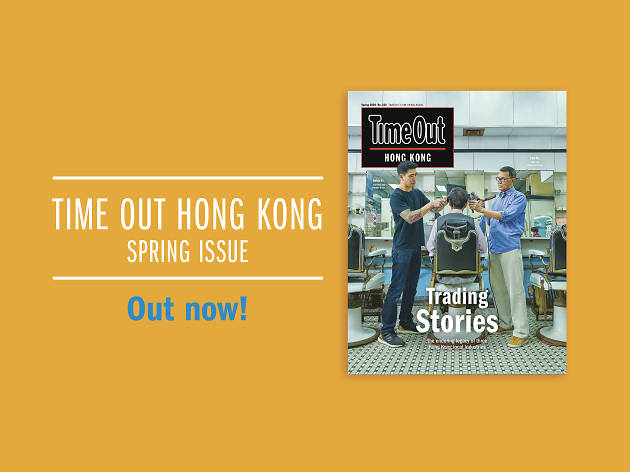 Since 2008, Time Out Hong Kong magazine has been providing readers with the very best Hong Kong has to offer. From the absolute best restaurants and fantastic bars to the city's best art galleries and best things to do, our magazine covers all the hottest and latest happenings so you're always in the know.

If you want to get your hands on our quarterly magazine, the great news is that it's completely free and you'll find it at hundreds of spots across Hong Kong, including at restaurants, cafés, hotels and co-working spaces. Check out below for the exact details on where to find our Spring 2020 issue.
Want to be a Time Out Hong Kong stockist? Email us at info.hk@timeout.com for more details.
Editor's Note: In light of the evolving situation on COVID-19 outbreak, numerous Hong Kong events are being cancelled one by one, and some updates may not have made it to our print issue. Click here for the latest updates on major city events cancellations. You will also find some travel recommendations in our spring issue; please be reminded that COVID-19 cases have escalated in some countries and travel restrictions have been issued.
Where to find Time Out Hong Kong magazine
• Agave, Wan Chai
• Amigo, Happy Valley
• AMBER, Central
• An Nam
• Bistecca Italian Steakhouse
• Bound by Hillywood, Sham Shui Po
• Brotzeit German, Tsim Sha Tsui
• Café Habitu, Quarry Bay
• Café Habitu, Tsim Sha Tsui
• Caprice, Central
• Ciao Chow
• Classified, Sheung Wan
• Classified, Stanley
• Classified, Happy Valley
• Coffee Plus, Happy Valley
• Colette's, Central
• Common Ground
• Corner Kitchen Cafe
• Cova, Alexandra House, Central
• Cova, Festival Walk, Kowloon Tong
• Cova, Pacific Place, Admiralty
• Cova, World Trade Centre, Causeway Bay
• Cova, Lee Gardens, Causeway Bay
• Cova, Ocean Centre, Causeway Bay
• Crafty Cow
• Corner Kitchen Café
• Coyote Bar & Grill, Wan Chai
• Delaneys, Tsim Sha Tsui
• Devils Advocate, Wan Chai
• DotCod Seafood Restaurant & Oyster Bar, Prince's Building
• E Molto Buono, Causeway Bay
• Elephant Grounds, Causeway Bay
• Epicurean – HQ
• Espuma
• Glasshouse, Central
• Gonpachi, Causeway Bay
• Green Waffle Diner, Central
• Greyhound Café, Central
• Greyhound Café, Tsim Sha Tsui
• Greyhound Café, Kowloon Tong
• Greyhound Café, Quarry Bay
• Greyhound Café, Hung Hom
• Greyhound Café, Causeway Bay
• Greyhound Café, West Kowloon
• Greyhound Café, Tseung Kwan O
• Havana Bar
• Holly Brown, Lai Chi Kok
• Holly Brown, Central
• Isola, Central
• Jimmy's Kitchen, Central
• Jinjuu, Central
• King Ludwig Beerhall, Stanley
• Kyoto Joe
• La Cabane Bistro, Central
• La Creperie, Causeway Bay
• La Viola
• LAB Eat Restaurant & Bar
• L'Atelier de Joël Robuchon, Central
• Le Pain Quotidien, Elements
• Le Pain Quotidien, Pacific Place
• Le Pain Quotidien, Lee Tung Avenue
• La Rotisserie, Sai Ying Pun
• La Rotisserie, Sheung Wan
• La Rotisserie, Tai Koo
• La Rotisserie, Wan Chai
• Le Salon de Thé de Joël Robuchon, Central
• Lex Coffee, Kennedy Town
• Liberty Exchange Kitchen & Bar, Central
• Mango Tree, West Kowloon
• Metta
• Mirch Masala, Causeway Bay
• MO Bar, The Landmark Mandarin Oriental, Central
• Naha Okinawa, Tai Koo
• Oolaa, Central
• Pickled Pelican, Stanley
• Porterhouse, Central
• Posto Pubblico, Centra
• Sevva, Central
• Shine, Tsim Sha Tsui
• Simplylife Bakery Café, Admiralty
• Simplylife Bakery Café, Causeway Bay
• Simply Life Bakery Café, Central
• Simplylife Bakery Café, Quarry Bay
• The Coffee Academics
• The Flying Pan
• The French Window
• The Pawn
• The Peak Lookout
• Townhouse
• Urban Bakery Works, Central
• Van Gogh Kitchen, Causeway Bay
• Van Gogh Senses, Tsim Sha Tsui
• B.P. International House
• Best Western Hotel Harbour View
• Bishop Lei International House
• Brighton Hotel Hong Kong
• Butterfly on Waterfront
• Butterfly on Wellington
• Charterhouse Hotel
• City Garden Hotel
• Countryard by Mariott
• Court by Marriott Hong Kong
• Crowne Plaza Hotel
• Dorsett Mongkok Hong Kong
• Eaton Hotel
• Four Seasons Hotel Hong Kong
• GARDENEast
• Grand Hyatt Hong Kong
• Harbour Grand Hong Kong
• Harbour Grand Kowloon
• Harbour Plaza 8 Degrees
• Harbour Plaza Metropolis
• Harbour Plaza North Point
• Harbour View International House
• HK Gold Coast Hotel
• Holiday Inn Golden Mile Hotel
• Hong Kong Kings Hotel
• Hotel Bonaparte by Rhombus
• Hotel COZi Harbour View
• Hotel COZi Wetland
• Hotel Icon
• Hotel Panorama by Rhombus
• Hotel Pennington by Rhombus
• Hotel The Park Lane Hong Kong a Pullman Hotel
• Hyatt Regency Hong Kong, Shatin
• Ibis Hong Kong Central and Sheung Wan
• iClub Fortress Hill Hotel
• iClub Wanchai Hotel
• Intercontinental Hong Kong
• Intercontinental Grand Stanford HK
• Island Pacific Hotel
• Island Shangri-la Hong Kong
• J Plus Hotel by Yoo
• Kerry Hotel Hong Kong
• Kimberley Hotel
• Kowloon Hotel
• Kowloon Panda Hotel
• Langham Hotel
• Lanson Place Hotel
• Le Meridian Cyberport
• Le Prabelle Hotel
• L'Hotel Causeway Bay Harbour View
• L'hotel elan
• L'hotel Island South
• L'Hotel Nina et Convention Centre
• Lodgewood Hotels and Apartments
• Madera Hollywood
• Madera Hong Kong Hotel
• Madera Hong Kong Hotel, Central
• Madera Hong Kong Hotel, Jorden
• Mandarin Oriental Hotel
• Metropark Hotel Kowloon
• Metropark Hotel Wanchai
• Minimal Hotel
• Mira Moon Hotel
• New World Millennium Hong Kong Hotel
• Novotel Century Hong Kong
• Novotel Citygate HK
• Novotel Nathan Hotel
• Prince Hong Kong
• Prudential Hotel
• Regal Airport Hotel
• Regal Hong Kong Hotel
• Regal Kowloon Hotel
• Regal Riverside Hotel
• Renaissance Harbour View Hotel
• Rosewood Hong Kong Victoria Dockside
• Royal Garden Hotel
• Royal Pacific Hotel & Towers
• Royal Plaza Hotel
• Shangri-la Hotel Kowloon
• Sheraton Hong Kong Hotel
• Silka West Kowloon Hotel
• Sohotel
• South Pacific Hotel
• St Regis Hotel
• The Bauhinia Hotel
• The Harbour View Place
• The Johnston Suites Hong Kong
• The Landmark Mandarin Oriental
• The Luxe Manor
• The Marco Polo Gateway
• The Marco Polo HK Hotel
• The Murray
• The Olympian Hong Kong Hotel
• The Pottinger Hong Kong
• The Ritz-Carlton Hotel
• The Sky City Marriott Hotel
• YMCA of Hong Kong
• YWCA Garden View International House
• One-Eight-One Hotel & Serviced Residences
Hong Kong Airport Lounges
• CNAC Lounge
• Hong Kong Airline Lounge
• Plaza Premium Lounge
• The Traveller's Lounge East
• Sky Team Lounge
• The Grandiose
• Fu Lai Garden
• Corinthia by The Sea
• La Cite Noble
• The Metro City Phase II
• The Metro City Phase I
• The Metro City Phase III
• The Metropolis
• Lohas Park Le Prime
• Lohas Park The Capitol
• Lohas Park La Prestige
• Lohas Park La Splendeur
• East Point City
• Ocean Shores
• The Cyberport I, II
• The Cyberport IV
• South Horizons
• Shan Wan Towers
• Harbour Green
• Park Summit
• The Hermitage
• The Hampton
• York Place
• Serenade
• Shing Loong Court
• Kowloon Chamber of Commerce Building
• Elizabeth House
• Lyttelton Garden
• Southorn Mansion
• Wai Lun Mansion
• Welcome Gardens
• Dragon Pride<
• Sunrise Court
• Duchy Heights
• Chevalier House
• Hoi An Terrace
• Leon Court
• Newman House
• Lee Wing Building
• Port Centre
• Billion Court
• Comfort Heights
• 1 Ho Man Tin Hill Road
• 9 Ho Man Tin Hill Road
• Grand Court
• No 1 Star Street
• Centre Place
• The Opulence
• Celestial Heights
• No 7 South Bay Close
• South Bay Palace
• South Mansion
• Nam Hung Mansion
• Parc Oasis
• 47A Stubbs Road
• Wellgan Villa
• The Masterpiece
• Carmel On The Hill
• Luso Apartments
• The Wharf
• Kadoorie Hill Garden
• Grand Excelsior
• Ka On Building
• Ka Fu Building
• Carbo Mansion
• The Colonnade
• Caravan Court
• Grandview Garden
• J Residence
• K Y Mansion
• The Montebello
• Alpine Court
• Gallant Place
• Cavendish Heights
• Kellet Court
• Kelly House
• Caineway Mansion
• Kennedy Apartments
• Kin Yuen Mansion
• One Wanchai
• The Dahfuldy
• Tempo Court
• The Wings Phase I
• The Wings Phase II
• Asjoe Mansion
• Prince Garden
• Peace Mansion
• Park Summit
• Good View Court
• Good Hope Building
• Victoria Heights
• Viking Villas
• On Ning Garden
• On Hong Commercial Building
• Scenic Heights
• Full Jade Mansion
• Fortress Heights
• Pokfulam Terrace
• Regalia Bay
• Veverley Heights
• Full Wealth Gardens
• Ning Yeung Terrace
• Po Tak Building
• Po Chi Court
• The Belcher's
• Po Wah Court
• Pacific Palisades
• The Zenith
• CentrePoint
• The Beaumount Phase I
• The Beaumount Phase II
• Grand Deco Tower
• Majestic Park
• Onward Building
• Carlton Court
• Hong Wah Mansion
• Carnation Court
• Tak Bo Garden
• Dynasty View
• Baker Residences
• Dragon View
• Yee On Building
• Mount Davis
• Scenic Lodge
• Greenery Garden
• Hanley House
• Diamond Building
• Hanking Court
• Park View Court
• Marina Habitat
• Grandview Tower
• Village Garden
• Wai Wah Court
• Valiant Court
• Vantage Park
• Brilliant Court
• Vilshire Towers
• La Place de Victoria
• Ying Piu Mansion
• Genius Court
• Star Court
• Mantin Court
• Manson House
• Sunway Gardens
• Sunderland Estate
• Sun Sing Centre
• New Spring Garden Mansion
• Sun Luen Building
• San Po Kong Plaza
• Morengo Court
• Sunlight Garden
• Ming Wai Gardens
• Moonstar Court
• Starlight Garden
• Moon Beam Terrace
• Spring Garden Mansion
• Dawn Garden
• King Sing House
• Kingsfield Tower
• Hillsborough Court
• East Asia Mansion
• Baker View
• Tung Shing Terrace
• Evergreen Villa
• Park Garden
• 2 Park Road
• Broadwood Twelve
• Lok Ku House
• Broad View Villa
• Lok Moon Mansion
• Rowen Court
• Villa Lotto
• Yan King Court
• Fortuna Court
• Winway Court
• Wun Sha Tower
• Hoi Kwong Court
• Sky Horizon
• Bayshore Apartment
• Maritime Bay
• Hoi Court
• Ocean View Court
• Harbour Place Blk 1-7
• Harbour Place Club House
• Intelligent Court
• 37 Repulse Bay Road
• 127 Repulse Bay Road
• 32 Repulse Bay Road
• 56 Repulse Bay Road
• Yukon Heights
• Duke Garden
• The Regalia
• Villa Rosa
• Jumbo Court
• Villa Crestview
• Kingsford Gardends
• Tin Wan Court
• Magnolia Villas
• Park Mansions
• Prince Apartments Stage II
• Fortune Court
• One Pacific Heights
• Belgravia
• Beverley Heights
• Bellevue Court
• Fortune Building
• Fook Yee Garden
• Fook Moon Building
• Fuk Hing Court
• The Babington
• Leighton Hill
• Shaukeiwan Centre
• The Altitude
• 31 Robinson Road
• Scenic Villas
• Mei Wah Mansion
• Midland Court
• Miramar Villa
• May Court
• Jade Garden
• St George's Building
• Shiu Fai Terrace
• Hing Lee Building
• Wah Lee Building
• Wah Fai House
• Harmony Cour/
• Wilton Place
• Residence Oasis
• Nicholson Tower
• The Met Sublime
• Coastal Skyline Club House
• Coastal Skyline Phase I Blk 1
• Coastal Skyline Phase I Blk 2
• Coastal Skyline Phase I Blk 3
• Coastal Skyline Phase I Blk 5
• Coastal Skyline Phase I Blk 6
• La Rossa Coastal Skyline Phase III Blk A
• La Rossa Coastal Skyline Phase III Blk B
• Le Bleu Deux Coastal Skyline Phase 4
• Island Resort
• Yue Yan Mansions
• Evora Building
• I UniQ
• Fung Yip Building
• Hong Kong Garden
• Hoover Court
• Nelson Court
• Lai Yan Lau
• Hennessy Apartments
• Faber Court
• 18 Farm Road
• a`Fung Yuen Building
• The Floridian
• Les Saisons
• Rose Court
• Metro Loft
• The Bonham Mansion
• Kingston Mansion
• Kingswell Commercial Tower
• San Francisco Towers
• Gold Harbour Mansion
• Canbury Court
• Golden Valley Mansion
• Kam Fung Commercial Building
• Dragon Court
• Galaxy Plaza
• Kenyon Court
• Edward Mansion
• Ashley Mansion
• Elegance Court
• Eastbourne Court
• Avalon
• Mantex Villa
• Elite Court
• Alice Court
• Paxton
• Bon-point
• Grandview Garden
• St Louis Mansions
• Winfield Building
• Ventris Terrace
• Pinnacle Building
• Le Prestige
• The Capitol
• Lockhart House
• Valiant Park
• The Morrison
• Royal Court
• Manhattan Heights
• Koosing Building
• Lei King Wan
• Phoenix Court
• Regent Height
• Pearl Court
• Crystal Court
• Regal Court
• Lascar Court
• Macpherson Place
• Beacon Hill Court
• Lung Cheung Villa
• The Grandeur
• The Papillons
• 151 and 163 Serviced Apartments
• 2 Macdonnell Road
• 218 Apartment
• 88 Hotels & Serviced Apartments
• Acts Happy Valley
• ACTS Rednaxela
• Apartment Kapok
• Atria Boutique Studios & Green Residences
• Bishop Lei International House
• Causeway Corner
• Cling Serviced Apartment
• COMO COMO, Causeway Bay
• COMO COMO Hollywood, Central
• Conrad International Hong Kong
• Dash Suites, Tsim Sha Tsui
• Dash Suites, Causeway Bay
• Dash Suites, Wan Chai
• De Fenwick
• Eaton House, Happy Valley
• Eaton House, Wan Chai
• Equinox Mercury
• Equinox Mercury Serviced Apartments
• FC Residence
• Floral Tower
• Forthright Investment Limited
• Gateway Apartments
• Hanlun Habitats - Orchid
• Harbour Grand Hong Kong Serviced Suite
• Harbour Grand Kowloon
• Harbour Plaza 8 Degrees
• Harbour Plaza North Point
• Hillwood Vista
• home²home - 111 High Street
• home²home - 222 Hollywood Road
• Homey Serviced Apartment
• Hong Kong Gold Coast Residences
• Hyatt Regency Hong Kong, Sha Tin
• Ka Yee Court
• Kornhill Apartments
• Largos Residences
• Lodgewood by L'hotel
• Madera Group
• Manhattan Heights Serviced Apartment
• Metro Metro Serviced Apartments
• Mingle At The Eden
• Mingle By The Park
• Mingle With The Star
• Mojo Nomad Central
• Ovolo Southside
• Ovolo West Kowloon
• Pacific Place Apartments
• Regal Riverside Hotel
• Regent Heights Serviced Apartments
• Regent Heights Serviced Apartments
• Rent-a-Room, Hong Kong
• Shama Central
• Shama Fortress Hill
• Shama Hollywood
• S-Residence
• Stanley Oriental Hotel
• The Bauhinia Serviced Apartments
• The Elgin
• he HarbourView Place @ ICC megalopolis
• The Henry
• The Johnston Suites Hong Kong Serviced Apartment
• The Lily
• The Lodge Serviced Apartments
• The Mood @ LKF
• The Mood @ Soho
• The Nest
• The Platinum. Hollywood
• The Ventris
• Treasure View Happy Valley
• Treasure View Sheung Wan
• Treasure View SOHO
• Twenty One Whitfield
• V Causeway Bay Serviced Apartments
• V Causeway Bay2 Serviced Apartments
• V Happy Valley Serviced Apartments
• V Wanchai Serviced Apartments
• Vega Suites
• Yesinspace
• Yi Serviced Apartments
• Yin Serviced Apartments
• AFHK Jordan Center
• AFHK Sha Tin Center
• AFHK Wan Chai Center
• Atla Space, Tsim Sha Tsui
• American Club, Central
• American Club, Tai Tam
• American Women's Association
• Capelli Hair Salon
• Campfire, 1067 King's Rd Quarry Bay
• Campfire, Kennedy Town
• Campfire, 971 King's Rd, Quarry Bay
• Campfire, Wong Chuk Hang
• Cellarmaster Wines Club
• Central Kiosks – Queen's Road Central (across Peddar Street, and across D'Aguilar Street)
• Central Spa
• Chinese Recreation Club
• Clearwater Bay G&C Marina Club
• Craigengower Cricket Club
• China Tang Hong Kong
• Compass Offices
• Cyberport Spa
• Dining Concepts
• Eslite Bookstore, Causeway Bay
• Fringe Club
• Gold Coast Yacht Club
• H&M, Tsim Sha Tsui
• Hebe Have Yacht Club
• HK Cricket Club
• HK Golf Club
• HK Cricket Club
• HK Golf Club
• Hong Kong Country Club
• Hong Kong Chinese Civil Servants' Association
• Hong Kong Reader Bookstore
• Hung On-To Memorial Building
• The Hive Spring, Aberdeen
• The Hive, Central
• The Hive, Wanchai
• The Hive, Kennedy Town
• The Hive, Sai Kung
• The Hive, Sheung Wan
• Kowloon Cricket Club
• Kr Space
• Kubrick
• Ladies' Recreation Club
• Mission Hills Golf Club
• Naked Hub, Sai Ying Pun
• Oasis Club
• On The List, Central
• Soho House
• Pacific Club
• Pure Fitness, Lan Kwai Fong
• Royal HK Golf Club
• Royal One Co-working Space
• Repulse Bay Spa
• Sai Kung Spa
• Shek O Golf Club
• South China Athletic Association
• Tseung Kwan O Spa
• Tung Chung Visionnaire Club
• The China Club
• The Foreign Correspondents' Club
• The Aberdeen Mariners Club
• The Repulse Bay Club
• Trip Advisor, West Kowloon Station
• Vocational Training Council, Lai Chi Kok Rd
• Vocational Training Council, Billion Plaza Centre
• World Trade Centre Club
• RELAY, Hong Kong International Airport Arrival Hall