ON Dining Kitchen & Lounge (Closed)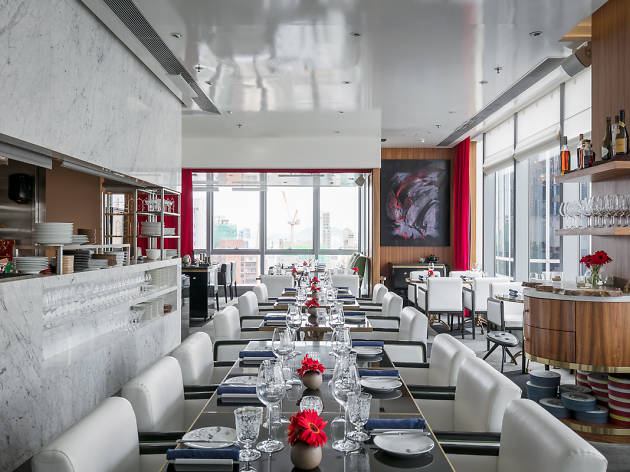 Hot on the heels of earning a Michelin star barely a year into the opening of his first solo project, Upper Modern Bistro, chef Philippe Orrico has teamed up with three long-time mates to open a more ambitious project in the heart of Central. Perched on the top floors of a snazzy new building on 18 On Lan Street, On boasts quite the star lineup. The general manager is Jeremy Evrard, former director of restaurants at the Four Seasons, and the sommelier and operations manager is Nicolas Deneux of Grand Hyatt and Alain Ducasse fame. At the helm in the bar is head barman Giancarlo Mancino who consulted for Il Milione and the three Michelin-starred Otto e Mezzo Bombana.
This congregation of greats seems a sure-fire recipe for success and as the elevator winches us up ahead of our meal on the 29th floor we have high hopes, to say the least. We enter on to a plush lounge area with velvet blue chairs and a small terrace for outdoor dining. Downstairs is the main dining room where an open kitchen bounded by white marble walls emits a classy 50s feel, alongside accents of red curtaining opposite.
The formal menu features starters, mains and desserts – and, following the success of the cheese room at Caprice in the Four Seasons, we are pleased to learn that On is also equipped with a cheese bar and a comprehensive complementing list of dessert wines. We launch into our meal with a spicy beef and tuna tartare ($168). Though we've seen something familiar on chef Orrico's menu before, the spicy gochujang-like flavours of the sauce take it to another level. Even though the tuna is not very discernible, the faint saltwater finfish essence does serve its purpose, lightening up the heaviness normally associated with a full beef tartare. Next to arrive is the quail and lobster pie ($428). Pies are no strangers to chef Orrico's lineup, and with this one he successfully marries the surf and sky combination seamlessly. Paired with the rich bisque, this truly is a high-end pie experience that even supersedes the top quail and foie gras combination at Upper Modern.
By the end, we're extremely tempted to go for the cheese selection, but we are way too full to take on something that heavy, instead opting for the fresh mandarin and citrus sorbet ($138). It's a perfect close to the meal, with the tart mandarin and sorbet combo balanced by a light tuile biscuit, which is just enough to abate the salivary glands before your next spoonful of sorbet.
We're chuffed with chef Orrico and friends' latest project, and even though we've seen some of the items before, the chef has managed to breathe new life into them. The jazzy surrounds, the cuisine, the cheese bar and the top-notch lounge make this a new premium location diners can look forward to. Lisa Cam

On Dining Kitchen & Lounge 28 & 29/F, 18 On Lan St, Central, 2174 8100; ontop.hk. Dinner for two: $1,600.
Venue name:
ON Dining Kitchen & Lounge (Closed)
Address:
28 & 29/F, 18 On Lan St, Central
Hong Kong


Do you own this business?