The best places for Japanese coffee in KL
Where to go for a good cup of jō (geddit?)
X coffee is very Japanese – not just because they're a multi-roaster coffee bar featuring beans from Fuglen, Glitch and Maruyama. Even the design of the space has a Zen-like aesthetic. The coffee stand's secluded location, hidden on the 12th floor of the Q Sentral office tower, is super minimal; a clean, white bar without flourishes. There's also the limited seating: only two tables, to be exact.

But the coffee is good. While they do offer espresso-based coffee, you should go for the filter coffee, where you choose your preferred bean and choice of filter. The paper filter tends to cut out the sediments so you'll get a cleaner tasting coffee with bright acidity, while the metal filter produces coffee with more robust flavours. Our recommendation? Go for the Fuglen beans: True to Nordic-style beans, they're roasted just enough to enhance their natural flavours without adding any dark, toasty notes.
Run by husband-and-wife team Kato-san and Yuko-san, this down-to-earth café has been keeping Japanese expats in Subang Jaya well caffeinated since 2008. You'll see him brewing potent cups of coffee from a siphon brewer behind the wide bar counter (ask for their signature iced coffee). From beans roasted over charcoal to organic breads (the honey toast by Yuko-san is a game changer) baked in the tiny kitchen, this Japanese café definitely merits a trip to Subang Jaya.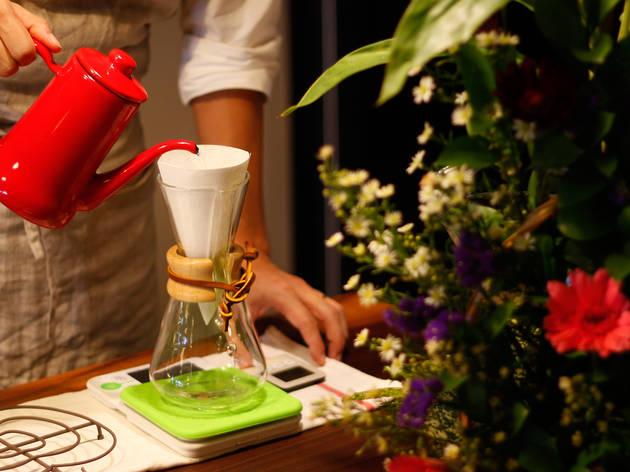 There are two things that stand out at Exhibit Café: chairs and coffee. Owners See Hin Loo and Rie Mizoguchi have managed to decorate the space with beautiful mid-century modern furniture while keeping it cool and relaxed. It reminds us of the Scandinavian-styled Fuglen café in Tokyo – and that's not surprising, given that Exhibit uses beans imported directly from some of Japan's cult roasters, namely Maruyama, Glitch and Fuglen.

Exhibit is a proponent of the slow coffee movement, and that's only wise considering the specialty beans they use. Coffee is brewed using the time-consuming pour-over method to best extract the nuanced flavours.
Visit KL's best coffee shops
KL's coffee culture is an expanding landscape of imported beans, state-of-the-art machines, hip baristas, and silky smooth pours. Here are the best coffee shops in KL that call the shots.