Heads up! We're working hard to be accurate – but these are unusual times, so please always check before heading out.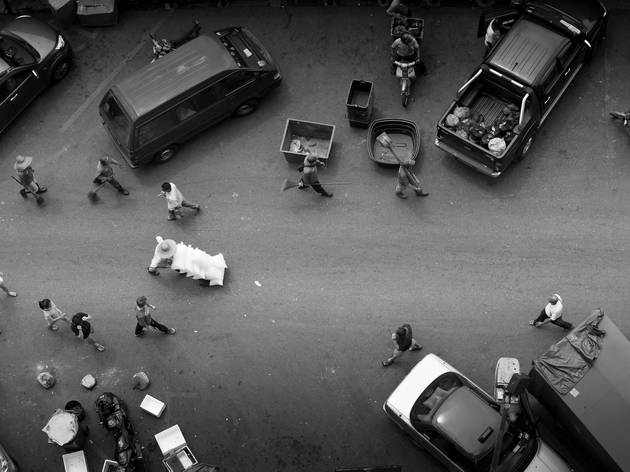 1/10
Photo: Mahen Bala
The wet market is busiest at about 6am, though some traders are already at work as early as 2am.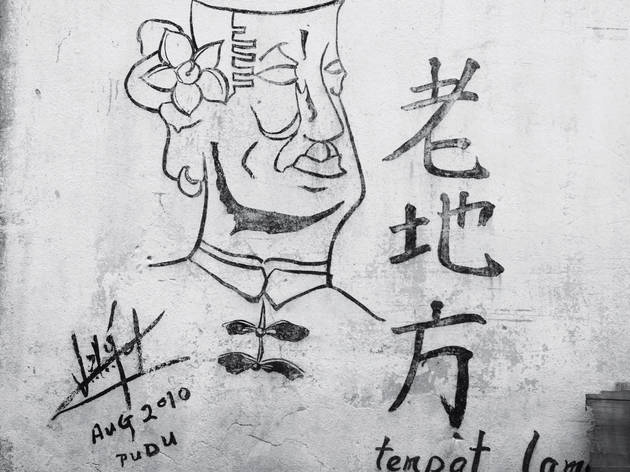 2/10
Photo: Mahen Bala
Graffiti in a back alley of Pudu which says 'tempat lama', meaning 'a place of nostalgia'. The artwork has since been painted over.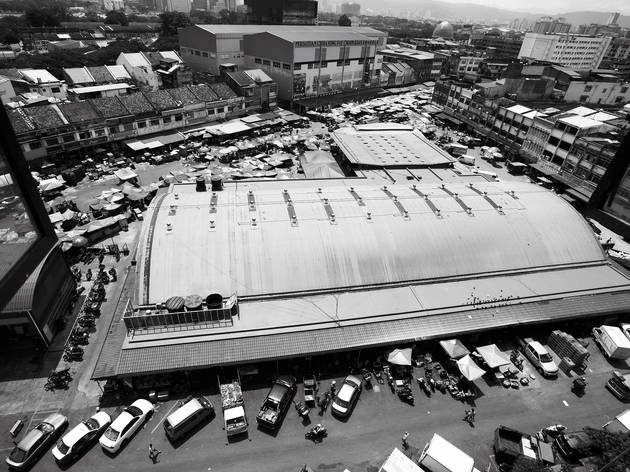 3/10
Photo: Mahen Bala
An aerial view of the Pudu wet market from Hotel Richmoore along Jalan Pasar Baru.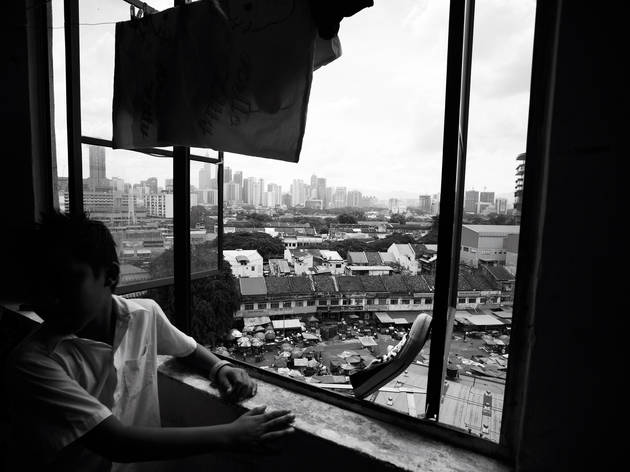 4/10
Photo: Mahen Bala
A young Chin refugee stands by the only window of his home.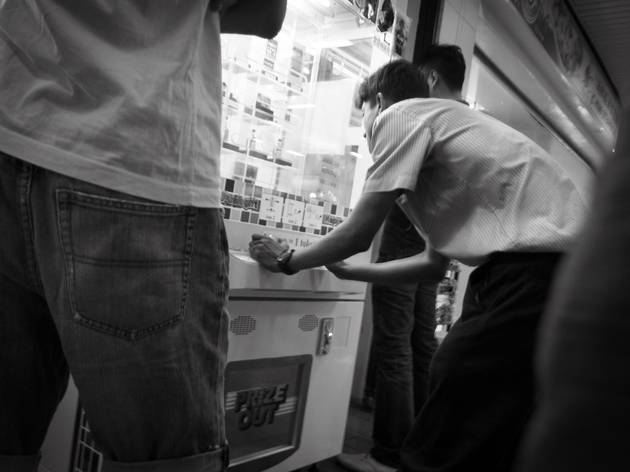 5/10
Photo: Mahen Bala
A young man tries his best to strike the jackpot (a smartphone) at a slot machine in Pudu Plaza.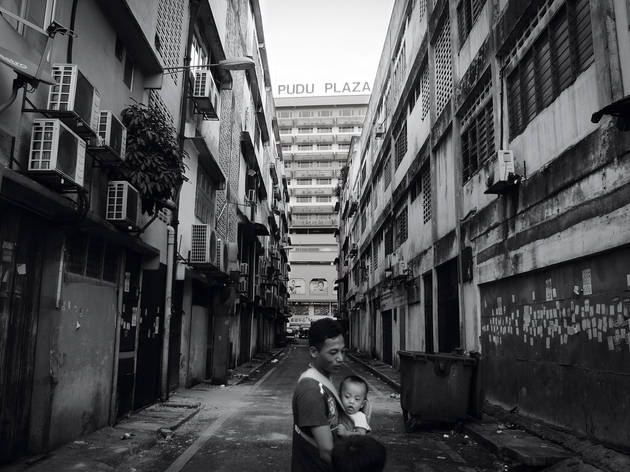 6/10
Photo: Mahen Bala
Behind the Pudu façade, there lives a diverse community of people.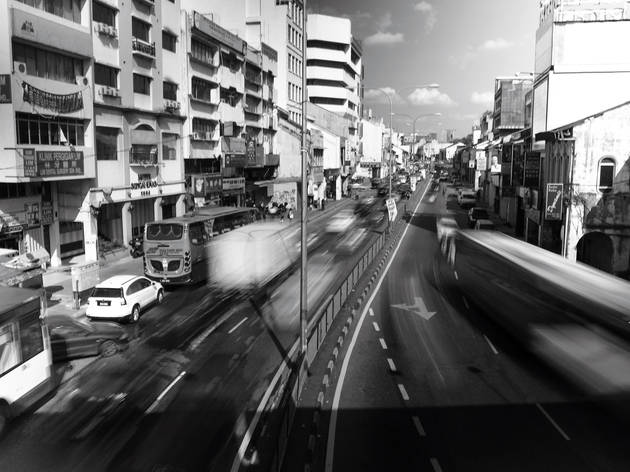 7/10
Photo: Mahen Bala
One of the busiest roads in KL, Jalan Pudu.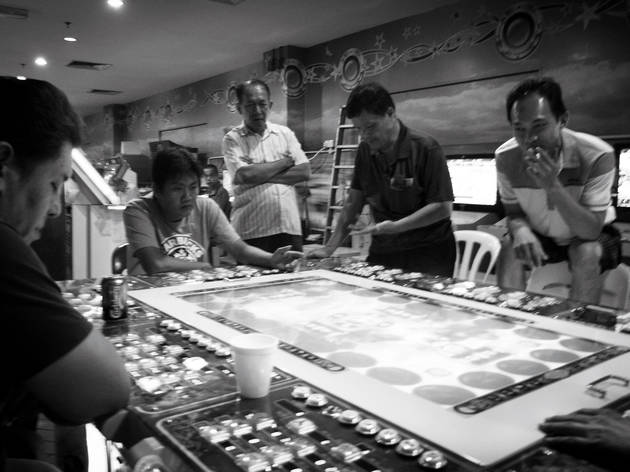 8/10
Photo: Mahen Bala
Punters try their luck at gambling machines in the lower level of Pudu plaza.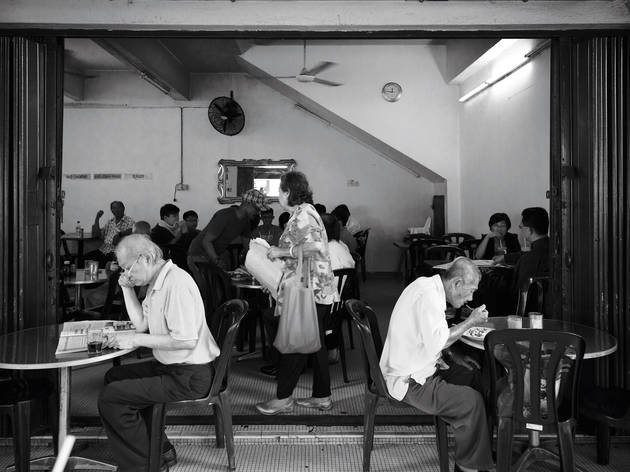 9/10
Photo: Mahen Bala
A daily scene at the Kedai Kopi 3dua.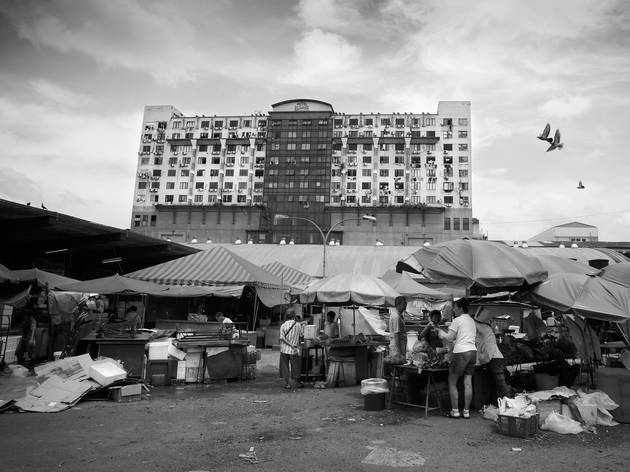 10/10
Photo: Mahen Bala
The cramped Hotel Richmoore looms over the wet market as it winds down late in the afternoon. Most of the rooms are occupied by immigrants, foreign workers and prostitutes.
Pudu: Behind the scenes
Pudoh, 'Half Jungle', or 'the other side of Bukit Bintang' – Pudu has had many different names. Mahen Bala examines this historic neighbourhood through the lives, the memories and the stories of its past and current residents
'I remember our neighbours. There were two boys who made appam, so we just called them small appam and big appam. The same with another family who ran a restaurant selling dim sum, both children were called small pau and big pau. It wasn't really important to remember their names. But we knew each other really well.'

Ricky is all smiles as he brings us on a tour of his Pudu, recollecting memories of the streets from the '60s.

'I had the freedom to run about and do whatever I wanted, but I still remembered to come home and listen to my mum. That was very important. She was very fierce and everybody knew her. I used to come home from school, drop my bag at home and quickly go wandering around the area. When it was dinner time, my mum would just shout "Ah Leong ah, sek fan ah!" Even if I didn't hear it, friends would pass the message around the block.'

We walk up the steps of the e-Mart Complex, which used to be a cinema. 'We used to come here for the movies. Once in a blue moon. I would come here for Wong Fei Hung. Back then it was all black and white.

'What I did in those days was... I liked movies, but I couldn't afford them. So I would just lean against the wall, listen to the soundtrack of the film and use my imagination to figure out what was going on. Tickets were cheap. Right at the front it was 40 cents, in the middle 60 cents and the reserve seats upstairs, I might be wrong, but I think it was RM1.25.'

We cross the road and trace a path along Jalan Pasar before turning right into a back alley that leads us straight into the famed Pudu wet market, a disorganised universe of chaos and charm. He remembers some of the old shops, which are still operational today. Some have had their owners changed and some, a generational change of guard.

'Look at this. It's so disorganised and disgusting.' He finds a moment to shake his head before declaring, 'But it has its character, you know. Its own flavour. This is Pudu.

'I remember I was in Standard 3. Real-life action. You don't get to see a bus being burned every day! The gangsters smashed one of the Sri Jaya buses and pushed it into a drain. Just over there,' he says, pointing at one of the shops along Jalan Pasar, 'that was where they burned it.

'This was during May 13. Once in a while, you get the army or FRU people coming through. Some of the guys here would just be hanging around here talking. There was a curfew but they didn't really care. Once they heard the sirens, if they were fast enough they would run back into the shop. There was one guy who couldn't run fast enough so he jumped into the coffin. For a ten-year-old boy it was quite exciting. But for the elderly it was mayhem. And all I knew about the curfew was that there was no school – which was great!'

A short walk later we stand in front of the main gate of Sekolah Kebangsaan (L) Jalan Pasar, formerly known as Pasar Road School. Ricky, who spent his childhood in Pudu, holds firmly onto the metal gate and nods to himself. 'Yep, this is it. That was the canteen. I can't really see the padang from here.'

'Did you enjoy your time here?' I ask.'Oh yes. I had fun. Lots of fun.' He tries his best to hold back the tears welling up in his eyes. 'There were so many good teachers. I remember them so well. I'm quite surprised the school is still here. Very few families still live here, let alone send their children to study here.

'Even my parents didn't want me to stay here. There was something very wrong with this place and they didn't want me to be influenced badly. In hindsight, I'm really glad they took me out early. I really can't say how I would've turned out if I had stayed.

'This is still very much a Chinese area. Everybody is just trying to make a living. In those days, if you make it, you do it the proper way, and if you don't, then you do it the illegal way.'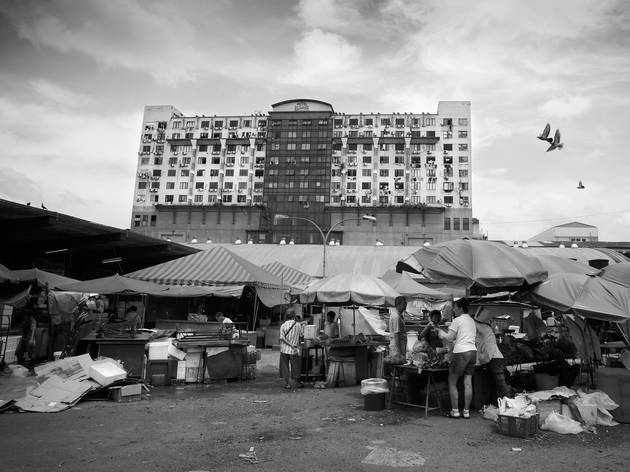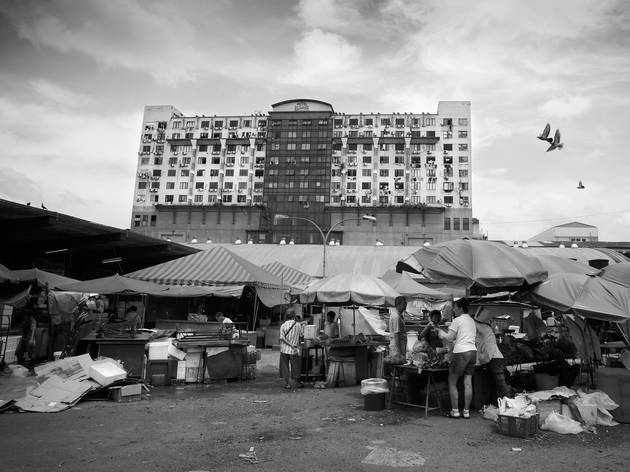 Photo: Mahen Bala
In a corner of Pudu lies the main entrance to a huge apartment complex. The walkway is littered with body-and-foot massage stations furnished with nothing more than a few sheets of paper and a plastic stool. At the lobby, a pair of escalators ascend into darkness. To the right, service lifts quietly swallow uneasy pairings of simple clothed men with women in tight miniskirts. This is no ordinary building.

The stagnant, greasy air is broken with a sharp warning from a man with a walkie-talkie: 'No, no, no. Itu tak boleh.' He points at the camera in my hand.

The short ride up was shared with a woman dressed in a black skirt, a pink top and thick make-up. The lift opens – the number of the floor is simply scribbled on the wall with a pencil. She leads her customer by the hand, a young lad barely 20 years of age, into one of the units down a desolate corridor lined with red stains from the steady stream of betel nut spit. All the units are secured with padlocked metal grilles.

We arrive at the end of the corridor. The unit is shared between two refugee families – mothers look after the children while the men toil away at work, some scraping away dried cement under the scorching sun at the construction site of a luxury apartment while others try their best to memorise the words of the menu at a food court. We see them around us all the time, but we don't usually remember or think about them.

'It's harder for the men. They have to leave the house to work. Anything can happen to them. We just sit at home and take care of the children. We don't dare go outside.'

The house is bare without any furniture or electronics. A single square window affords them a view of the chaotic Pudu wet market. The Petronas Twin Towers and the KL Tower in the distance fit perfectly between my thumb and index finger.

The Chins are the largest group of refugees from Myanmar in Kuala Lumpur, running away from persecution and hardship. The majority of them, housed in cramped apartments in areas like Pudu, Cheras and Bukit Bintang, arrive in Kuala Lumpur with dreams of being resettled and literally beg their way into menial jobs. Without legal recognition as refugees, the lucky ones get registered at the UNHCR; the even luckier ones struggle to earn a decent living while they wait, many of them for years, to be resettled in the United States, Canada or Australia.

Tracing our way through the corridor and back to the lift, I walk past another woman leading an old man into one of the units. Back on the ground floor, I shift to the side as the man with the walkie talkie ushers a long queue of eager customers into the lift.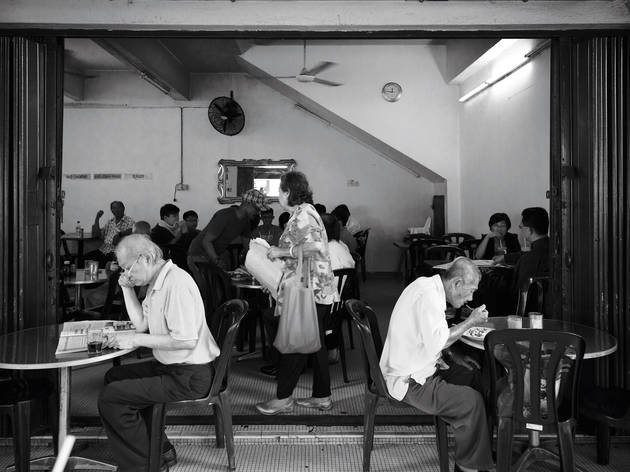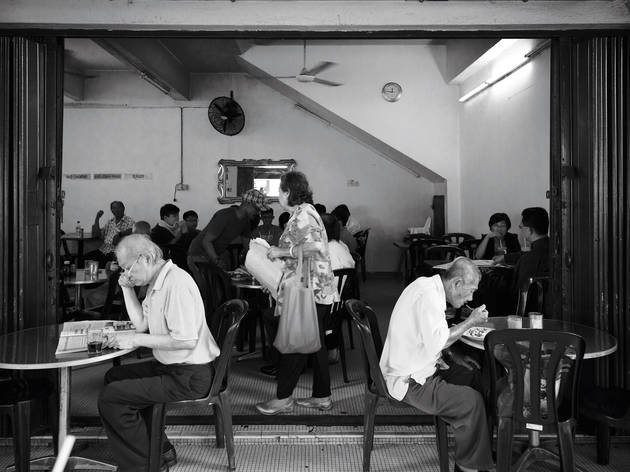 Photo: Mahen Bala
Kedai Kopi 3dua on Jalan Kancil is a regular haunt for the locals of Pudu, each with their own favourite table and routine. I walk in and the owner greets me from afar with a loud, 'Hello brother!' Here, everyone is either a brother, a sister, an aunty or an uncle. 'I've been running this place for 32 years now, brother. 32 is actually my house number where I used to live.'

The owner of the place is a slender, youthful man with a thick moustache who looks more like he belongs to a motorcycle club, destined to ride around the world on his trusty motorcycle with nothing more than a waist-pack and a bandana.

'The people here are like my family. The men are all my fathers and the women are my mothers. I welcome everyone here.' The seats are filled with various exhibits. At one table, an old man sits idly with his name written on a piece of paper pasted over his shirt; a name tag in case he goes missing. Another table hosts a small group of DBKL officers, taking a short break from their rounds.

Moving across the space, taking orders and returning change from table to table, the owner offers a brief sermon: 'Whatever you want to do, do it today. Not tomorrow, not next week. Just do it. While you're still young you must do what you truly believe in.'

I ask him what he thinks of Pudu. 'Here, nobody cares about you or what you do. Everybody is here to make a living and that's what we do. This isn't a kampung where we mind everybody's business and spend time chit chatting. You can be whoever you want to be.

'Back then, there was nothing much around here. That place wasn't here as well [pointing at Pudu Plaza]. Before this there was a pool where the young boys used to swim. Even the mango tree wasn't there before. I planted it 20 years ago.'

He walks into a little store room and returns with a plastic bag with four plump, green mangoes, carefully wrapped in old newspaper. 'This is for you. Enjoy!'

With each visit to Pudu, there is a hello and a goodbye to be exchanged here, a familiar place where one can be at ease, even if I never asked him for his name. In fact, I don't think I ever will. Coincidentally, Kedai Kopi 3dua celebrates its namesake anniversary this year.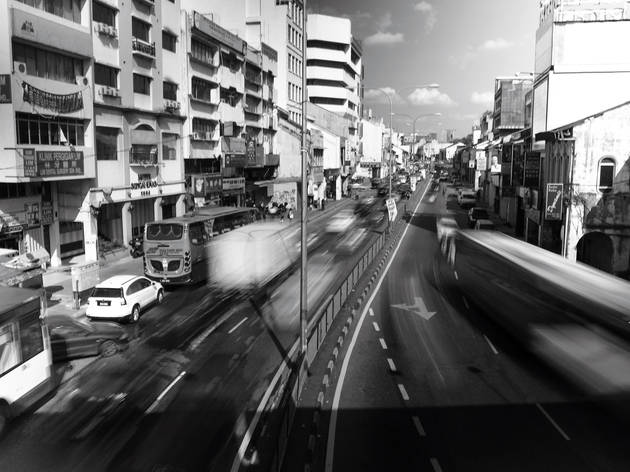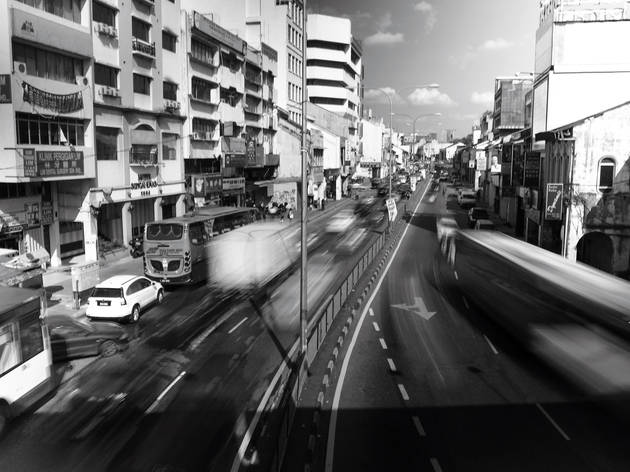 Photo: Mahen Bala
Officially, there are no physical boundaries for Pudu, only imaginary ones. According to the Department of Survey and Mapping, Kuala Lumpur is divided into sections and, smaller still, into lots. A map of Kuala Lumpur from 1895 places Pudu (or Pudoh, as it was back then) in a vast swampy area far from the administrative capital where Bangunan Sultan Abdul Samad still stands. Jalan Pudu runs from the Puduraya Bus Station all the way up to Jalan Cheras.

Pudu still retains many of its iconic landmarks. Everybody knows about Sek Yuen, one of the oldest restaurants in KL. Or the hawker stall on Jalan Changkat Thambi Dollah selling exotic meat broths. Or even the quaint Typica café, hidden away at the back of Shaw Parade. Or the rows of printing shops along Jalan Brunei and the electronics mecca along Jalan Pasar. Camera enthusiasts clutch their bags tightly as they head straight to Pudu Plaza and the foodies zoom in on eateries listed on haloed food blogs. Tea connoisseurs can be found gawking at ancient teapots in Shaw Parade while heritage enthusiasts point at the empty land where the infamous Pudu Jail once stood.

The often-ignored older brother of Bukit Bintang, Pudu is a self-sustaining fortress where the citizens live, eat, work and trade according to their rule of law, bounded by an invisible wall. The core of Pudu – an intricate maze of curious back alleys and dense open spaces filled with hawkers, iceboxes, speeding motorcycles, delicious roast pork, garbage dumps, plump pigeons, old medicine men, hot curry noodles, idle buses, rogue traders and all the odd, wonderful bits and pieces KL has to offer – gives us a glimpse into the shadowy past of Kuala Lumpur.

We will all have our own idea of Pudu, constructed by sights of familiar places and curious tales of mirth and tragedy from nameless faces, just like a canvas is stained and rubbed with streaks of charcoal to form a portrait.
Watch the video