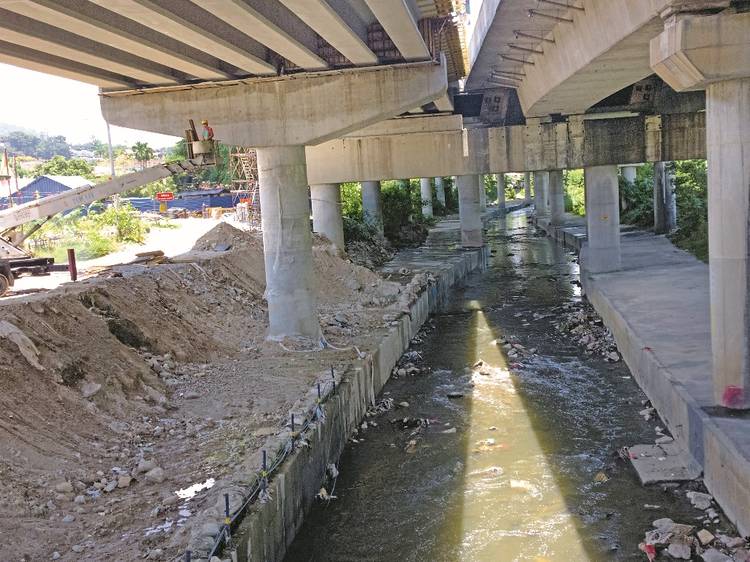 Photo: Mahen Bala
The large body of water held back by a sliver of concrete wall glistens like polished opal in the first light of the day. This is the Klang Gates Dam, which marks the source of the 120km-long Klang river before it courses down through the city, pouring out into the Straits of Malacca. The 1,288-square-kilometre Klang river basin serves as the main water catchment area for Selangor and is also home to the world's largest quartz ridge, knuckling up Bukit Tabur.

Further downstream, at Kuala Ampang, the mighty Sungai Klang absorbs Sungai Ampang and topographically transitions from a river with grassy banks into a monsoon drain. Pollutant traps are in place to stop floating garbage and the concrete banks are spacious enough for a few cars.

For the next few kilometres, the river is hidden. The Ampang-Kuala Lumpur Elevated Highway (AKLEH) hovers above it, a carbon copy of the river, designed to transport the overflow of vehicles funnelling into and out of the city. Out of sight and out of mind, and yet the river still runs its course in the shadows. That's where I meet Ah Pak.

With an old bicycle, a thin singlet on his back and a fishing rod, he reminds me of Hemingway's Santiago. An 80-year-old tome of living history from China, he grew up witnessing the Japanese Occupation, the communist insurgency and the nation's independence.

'I'm just here to kill time. Fishing gives me a bit of excitement. The water here is too dirty, fish can't be consumed. I just feed it to my cat. But some people eat it.'

On a good day, he catches one or two, sometimes none. As we're speaking, he bags his fifth catch of the day. He smiles at the river and casts his rod again. I look into the river and see clothes, rotting food, plastic bottles, a football, a motorcycle helmet, a shopping cart. Just above, the elevated highway roars with the rumble of a hungry engine at full throttle.