Heads up! We're working hard to be accurate – but these are unusual times, so please always check before heading out.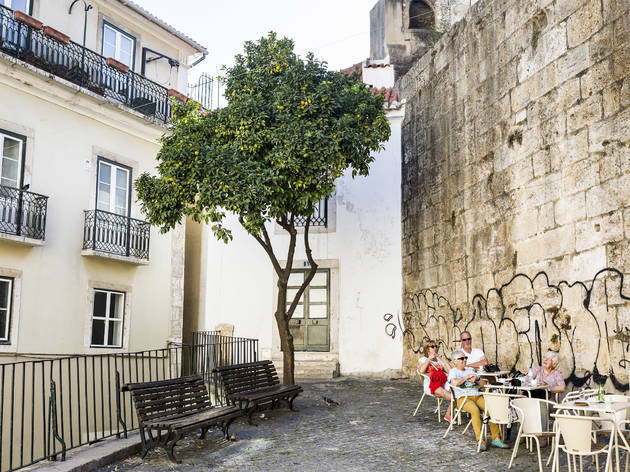 Top 10 Things to do in Alfama
Dive into the heart of the old city. Here are the top 10 Things to do in Alfama.
Top 10 Things to do in Alfama
Tejo Bar is an alternative, informal place with a handful of tables with low seats and shelves loaded with books and board games. Its Brazilian owner, nicknamed Mané do Café, is an amateur artist, novelist and poet, and presides over daily readings. Anyone may strum the house guitar (but don't clap: patrons instead rub their hands together to show their appreciation, thus minimising noise). The bar has many regulars – who help themselves to drinks, noting down what they've taken – but it's also a magnet for students and musicians. Mané is incapable of throwing people out, so the place sometimes closes after 5am.
A UNESCO Intangible Cultural Heritage, fado became a bit more tangible in 1998, when the Fado Museum opened its doors in the heart of Alfama. Get to know the collections donated by hundreds of singers, lyricists, musicians, composers, instrument makers, researchers and aficionados who converged here to share a bit of their story.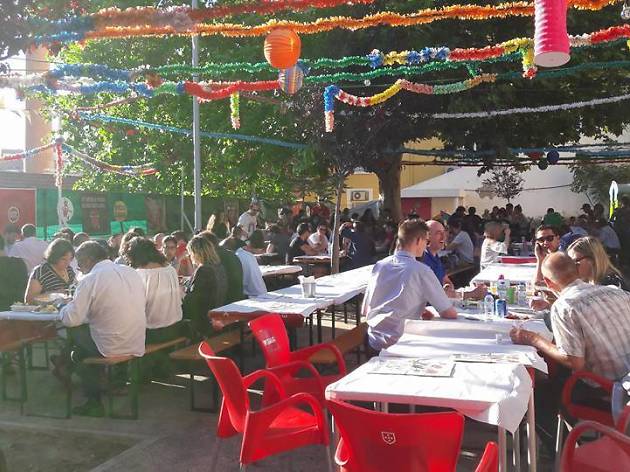 ©DR
Don't miss the Santos Populares festivity
June is the best month to visit the city, especially if you like music everywhere and grilled sardines. Alfama is the epicentre of the whole party - and of the whole mess, of course - but to help you survive it, we've prepared a dedicated guide in this publication. Largo de São Miguel is the most crowded, so if you want to get a table at one of the improvised restaurants there, arrive early. The night of June 12 is the most chaotic.
Mesa de Frades, the azulejo-lined former chapel of the Quinta da Dona Rosa, a palace built by Dom João V for one of his lovers, is owned by guitarra player Pedro de Castro. It has a reputation of being the fadistas' canteen and you never know who might roll up in the wee hours and do an impromptu performance. The food is Portuguese, prettified – bacalhau com natas with parmesan and the like – but really not up to the quality of the fado. Booking is a must for dinner. If you drop in later (and can squeeze in) there's no minimum spend.
It's not a rule, but it should be, that you always begin with cod cakes. The right place to overdose on codfish – or to impress tourists – A Casa do Bacalhau ("the cod house") was born to worship Portugal's favourite fish, and it delivers: the menu has around 25 recipes featuring cod, originating from all corners of Portugal. The usual suspects are all there, such as cod à la Zé do Pipo, Gomes de Sá or Brás, but there are some uncommon versions a well, such as cod curry or cod carpaccio.
This venue used to be a butcher's shop, and the old fridges are still there. In the middle of quaint Alfama, Boi Cavalo is a restaurant where no fado is heard – you might even hear some indie rock – and neither fish nor meat is grilled, unless chef Hugo Brito feels like adding it to the week's menu. Boi-Cavalo is sort of the wild child that stands out from so many similar neighbourhood kids. It is a lab for experiments with unusual Portuguese products, for Asian and other international influences, all devised by a former design student that luckily found his true calling in the kitchen.
Walk around Lisbon blindfolded
Discovering Alfama blindfolded is an idea suggested by Lisbon Walker, in collaboration with ACAPO – The Portuguese association for the blind and visually impaired. The tour
is called Lisboa Sensorial (sensory Lisbon), and he objective is to sense the smells, noises and flavours of Lisbon's most typical neighbourhood, with your eyes covered – and a guide. It lasts an hour and a half, has to be booked in advance (they need 10 people minimum), and is "completely safe", according to the organisers. Book on www.lisbonwalker.com
The red swimming pool is a trademark of Memmo Alfama, one of the hotels with the best views in the city, right on top of the Moorish walls. It's a real oasis in the middle of so many tourists and tuk-tuks, where you can quietly sip on a cocktail. The only thing is, you can swim in the pool, which is reserved for hotel guests. But the panoramic view of Alfama alone is worth a visit.
From floor to ceiling, everything is a piece of art at Palácio Azurara. That's where the Museum of Portuguese Decorative Arts is (part of the Ricardo Espírito Santo Foundation), which features incredible tiles, but also furniture, carpets, goldsmithery, china and drawings telling the detailed story of a beauty, from the 15th to the 19th century.
Miradouro de Santa Luzia has a privileged view over Alfama, and an even better one over the Tagus river, where you can see the cruise ships docking at the city's new terminal. The azulejo murals are resisting the passage of time – and of thieves. One of them represents Terreiro do Paço before the 1755 earthquake. Another, the Christian attack on São Jorge Castle, very close to the lookout. It's open 24 hours a day, so try to avoid the hottest – and most crowded times.
Things to do in Lisbon
With its world-class restaurants, excelling in seafood, its reputation for style and long pedigree in art and culture, Portugal's first city remains high on every discerning weekend-breaker's hit-list. Want to know what to do in Lisbon?
Are you planning your trip and you still haven't decided what to visit because there are plenty of things to do in Lisbon? You've heard about lots of cool neighborhoods but you don't have time to visit all of them? Or are you already here, determined to visit Mouraria, but you don't know with what to start with?
Play detective and search for little villas, eat fresh fish and have a toast with sparkling sangria, you'll fit right in. Afterwards, walk around the neibourghood and visit one of the most famous Lisbon Castle and take it all in - this is as typically Portuguese as it gets. Don't get lost and make sure you cover the list with all the top 10 things to do around Graça and Castelo.