Heads up! We're working hard to be accurate – but these are unusual times, so please always check before heading out.
Your favourite London art experiences
Time Out readers share their favourite ways to fill a day with art
North, south, east, west…
Time Out art fans
have got London covered. Whether it's tracking down the
best new art
or keeping up with the latest
london art exhibitions
, six readers suggest their favourite locations for a fab fix of culture.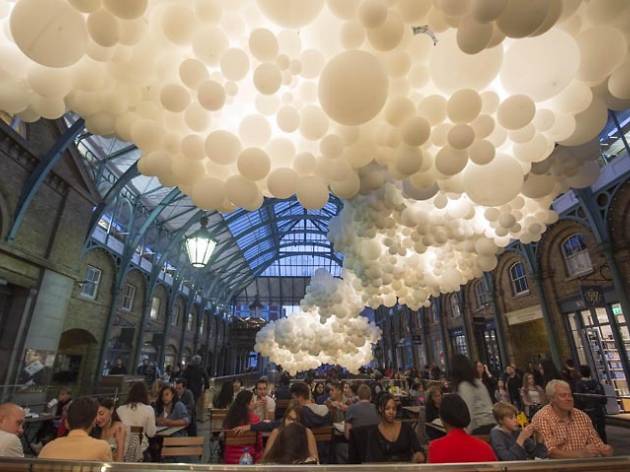 Paul Grover
Filled with history, architecture and some proper London charm, Covent Garden is my guilty pleasure. When I moved to London it was my first port of call (before I realised that London existed beyond Liverpool Street). Nevertheless, it's the atmosphere that pulled me in and it's what keeps me coming back – those street entertainers sure know how to work it! The area is looking particularly wonderful at the moment due to an influx of creative pop-ups and collaborations as part of London Design Festival. Currently floating around the piazza until the September 27 is a sculptural piece by French artist Charles Pétillon entitled 'Heartbeat'. It consists of 100,000 balloons filling the marketplace and covering London's buskers with an ethereal canopy of white. A pulsating light runs through the balloons to symbolise the energy of a beating heart and it's making for some pretty snazzy Instagram shots. Alongside the installation there's also a pop-up gallery, showcasing Pétillon's series of 'Invasions' photographs, which focus on some of his previous balloon escapades. Fancy making an afternoon of it? Frolic around the Neals Yard area and find a selection of independent stores and some darn good pizza from Homeslice. If the colourful vibes still aren't quite enough of an art fix, head to Neal Street before October 14 to catch a glimpse of the 'Clarks: Rebooted' pop-up, where 14 leading British artists and designers including Bob & Roberta Smith and Marc Quinn have re-imagined the classic Clarks desert boot.
Emma Jane Palin, 24, blogger and writer, Leyton. Emma was selected to write this article for our reader takeover issue, hitting the stands September 22 2015.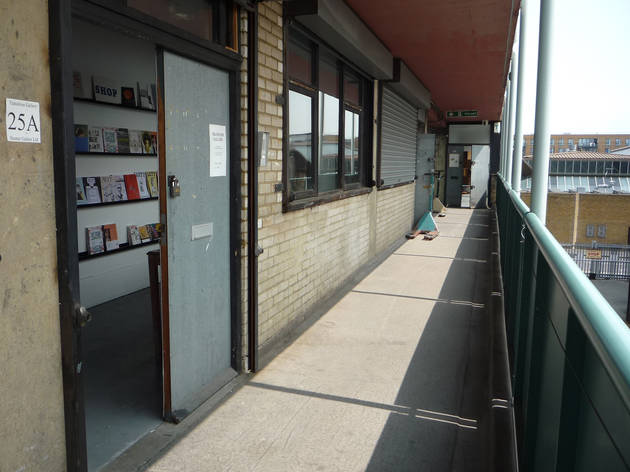 © Transition Gallery
Overshadowed by fancier neighbours Shoreditch and Hackney, Cambridge Heath might not be the most glamorous hangout – but don't overlook it. Wander around and you'll find plenty of arty gems. First, there's the street art. Take a walk from Broadway Market to Bethnal Green and you'll spot dozens of intriguing murals by graffiti heavyweights including KEF! (Ada Street, E8 4QU) and Zabou (Cambridge Heath Road at Nant Street, E2 9NN). For those who prefer their art indoors, the Transition Gallery (Regent Studios, 8 Andrews Road, E8 4QN) might be tricky to find, but it's worth the effort – its current show of films and paintings 'Greetings from Earth' (until October 11) is typical of one of the liveliest independent venues in the area. Another spot to look out for is The Viktor Wynd Museum of Curiosities (11 Mare St, E8 4RP), which is also home to a cocktail bar and café.Get past the taxidermy rats, skeletons and foetuses in jars, and you'll discover installations by contemporary artists: expect all things dark, morbid and surreal. Doom and gloom or the future of the east London art scene? Just opposite, on Vyner Street, a couple of small galleries have recently closed, soon to be replaced by – you guessed it – luxury flats. If you want to catch some Cambridge Heath art, do it quick while you still can!
Anastazja Oppenheim, 21, student union officer, Finsbury Park. Anastazja was selected to write this article for our reader takeover issue, hitting the stands September 22 2015.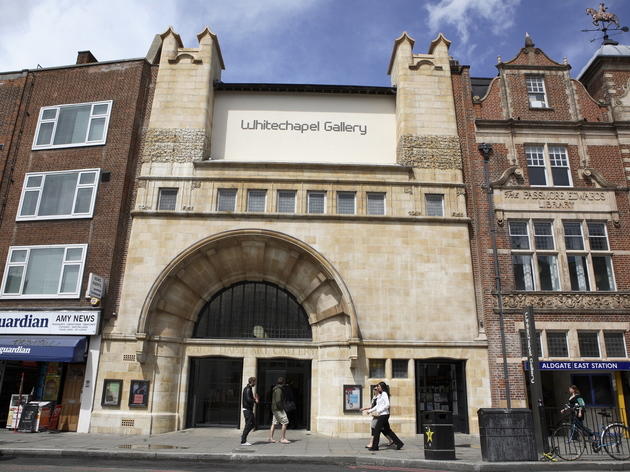 Michelle Grant / Time Out
If, as they say, London is a simmering cauldron of ideas, creativity and innovation, then the East End must be the fire that keeps it bubbling. With its many hangouts, markets and hidden gems, all seasoned with a generous dash of quirky charm (very much alive despite rampant gentrification), the East End won me over when I first set foot in the hood five years ago. And much of the credit goes to one of its most celebrated and imposing landmarks, the Whitechapel Gallery (77-82 Whitechapel High Street, E1 7QX). The gallery has whetted my appetite for art, boasting some of the finest shows ever held in the capital. From Brit stars including Sarah Lucas, Gillian Wearing and Richard Wentworth, to rising European stars such as Wilhelm Sasnal and twentieth-century masters such as Hannah Höch, the Whitechapel's programme of exhibitions is nothing less than uplifting and stimulating. Next up are films by Palestinian artist Emily Jacir, opening September 30. Needless to say, the Whitechapel Gallery isn't the only art venue in the neighbourhood; within walking distance is the beautiful Raven Row (56 Artillery Lane, E1 7LS), which is housed in two elegant Huguenot houses. Opening Thursday September 24 are films and watercolours by playful Belgian conceptualist duo Jos de Gruyter and Harald Thys. When you want to stop for a bite or a pint, you're also spoilt for choice: from Beigel Bake (159 Brick Lane, E1 6SB) to the legendary George Tavern (373 Commercial Road, E1 0LA), a must-go for all artsy souls. What more can you ask for?

Jacopo Nuvolari, 32, editor, Stoke Newington. Jacopo was selected to write this article for our reader takeover issue, hitting the stands September 22 2015.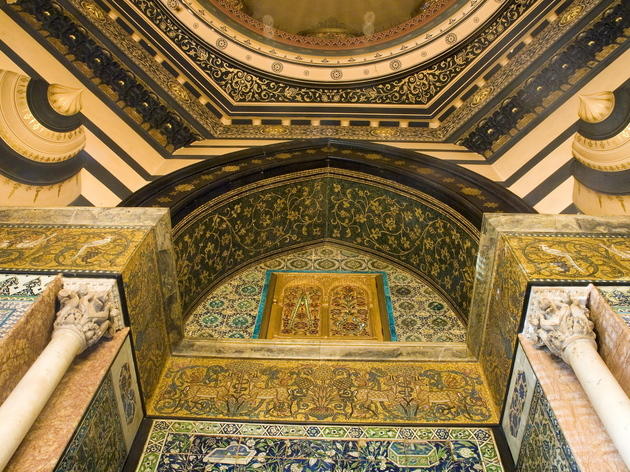 Ben Rowe / Time Out
Holland Park isn't the first place that springs to mind when hunting for art – but in the nineteenth century a group of artists including George Frederick Watts formed here. They followed the celebrated Victorian painter Frederic, Lord Leighton, whose former house, now Leighton House Museum (12 Holland Park Road, W14 8LZ), is a gem -- its plain façade hiding a dreamy fantasy palace. Leighton (1830-96) built the house in 1865, in what was then open woodland. The first floor housed Leighton's huge painting studio; this space was one of London's most fashionable spots at the time – even Queen Victoria visited. But most magnificent is the ground floor, packed with treasures from Leighton's travels. As prolific a collector as an artist, Leighton brought back craft, textiles and pottery with which he decorated the so-called Arab Hall, complete with fountain and cupola, a taxidermy peacock, a mosaic gold frieze and thousands of colourful Arabian and Persian tiles. This ornate haven – a world away from rapidly industrialising Victorian England which Leighton, along with his Pre-Raphaelite contemporaries, regarded as ugly and raw -- was and remains a perfect escape from contemporary life. After this enchanting experience, take a gentle step back into reality – and head round the corner to Holland Park (Ilchester Place, W8 6LU). Grab yourself a coffee from Holland Park Cafe and go for a wander; you can even see peacocks – alive this time – in the captivating Japanese Kyoto Garden.
Julia Lenz, 38, art historian, Hampstead. Julia was selected to write this article for our reader takeover issue, hitting the stands September 22 2015.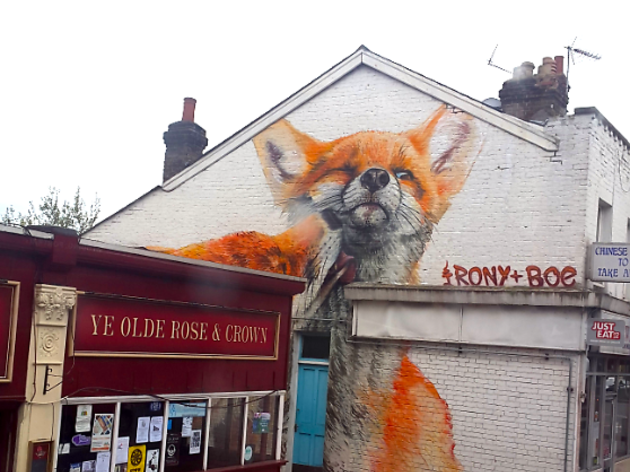 © Lauren Cadogan
Walthamstow is having something of a cultural moment. Often forgotten when discussing east London's art scene, it's increasingly known for its quality graffiti. Victoria Road (E17 4JU) features a retro mural by street art duo We Like Static. Titled 'Game On', it was created for E17's Wood Street Walls Project (which collaborates with artists to create authorised street art), and is the duo's largest mural. Irony & Boe, who are well-known for their large urban-dwelling animal murals, have decorated a plain white wall next to the Ye Olde Rose & Crown pub (Hoe Street, E17 4SA). It features two foxes, one kissing the other on the neck. Not only is the piece striking, it also represents the wildlife of the area – which is home to several forests. Heading north, even Chingford Hatch has its own wildlife-based mural, designed by children from Longshaw Primary School, which certainly brightens up an otherwise dull line of shops (Hatch Lane, corner of Ashwood Road, E4 6LG). It's incredibly exciting for street art fans that the area is attracting well-known artists, along with a progressive local council who are actively trying to encourage local engagement with public art. Forget Shoreditch, Walthamstow could become the new home for street art in London!
Lauren Cadogan, 22, restaurant supervisor and writer, Chingford. Lauren was selected to write this article for our reader takeover issue, hitting the stands September 22 2015.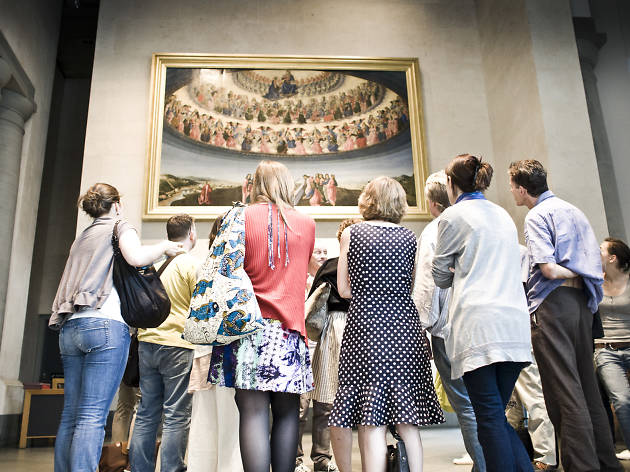 © The National Gallery Photographic Department
As an art lover constantly on the lookout for new exhibitions, I strongly recommend the 'Friday Lates' taster tour of the National Gallery as the perfect start to the weekend. The tour format works well for busy Londoners seeking a quick dose of culture at a time when the tourist crowds are less in evidence than usual. Starting at 7pm each Friday, the free 60-minute tours offer an opportunity to take a closer look at up to six artworks, delving in to the origins, techniques and artists behind these masterpieces. On a recent visit, our guide familiarised us with the amazing stories behind works such as the 'Incredulity of Saint Thomas' (1502) by Giovanni Battista Cima da Conegliano, a renaissance altarpiece which was painstakingly restored by the National Gallery after years of sitting under Venetian flood waters. Each tour is unique as each guide selects the works to be viewed, so there's always a good excuse to go back.
Duygu Hardman, 28, retail analyst and culture enthusiast, Mile End. Duygu was selected to write this article for our reader takeover issue, hitting the stands September 22 2015.