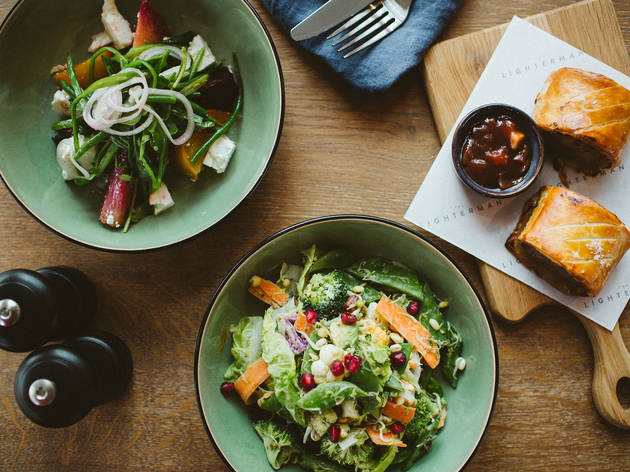 1/9
2/9
3/9
4/9
5/9
6/9
7/9
8/9
9/9
Time Out says
A gastro-style bar and restaurant in King's Cross.
Situated in a brand-new three-floor building in the redeveloped plaza behind King's Cross station, The Lighterman has that feeling of being fresh out of the box. It's doing the gastropub thing to a fault: chips come in tiny metal buckets; plates are never used where a chopping board will do. Everything you see on the menu, you've seen before.
Of course, if the food's good, that needn't be a problem. Cured trout came with a fiery mayonnaise; mushroom on brioche was silky and topped with a runny-yolked egg. Mains were a bit more shaky: the ribeye steak was generous and tender, but the lamb chop was too charred around the edges. Also, the béarnaise sauce I ordered alongside it was impossible to extricate from its tiny jug. (Still, I imagine the sight of me frantically shaking it over my plate provided entertainment for those sat nearby.) Desserts ended the meal on a high: moist, sumptuous sticky toffee pudding and a hit of sweetness and salt in the form of a peanut butter parfait.
Don't go to The Lighterman for surprises. Do go for swish surroundings and attentive staff – they were only too happy to re-seat us out in the sunshine on the terrace, overlooking the fountains of Granary Square. In an area that's seen quite a facelift, this could easily become one of its top spots.
Details
Average User Rating
3.9 / 5
Rating Breakdown
5 star:

4

4 star:

12

3 star:

7

2 star:

0

1 star:

0
The Lighterman is stunning. The glass structure looms over Granary Sq majestically, drawing people in. If you get a table on the top floor the light is great, the space is really airy and bright. The lower floors less so, but sitting outside in front of the canal is a great spot too.
They have a good selection of London-price drinks. I'm close to saying a bit overpriced, but then it's Kings Cross so you'll be hard done by to find a reasonably priced bar! The food is good, I'd heartily recommend going for brunch - the avocado on toast is well done and good value.
I've only been for drinks, but it's a great find tucked away behind King's Cross / St Pancras station in Granary Square. In the summer months they have an outdoor area downstairs, and a lovely terrace that gives you a great view of the fountains in the square and Regent's Canal. It seems to have gained a lot of popularity in the recent heatwave so booking would be your best bet, otherwise you may be faced with long waits (even on weekday evenings!)
it feels like only yesterday that King's Cross was a wasteland of restaurants, all chains and Prets. Fast forward a few years and you're practically spoilt with Dishoom even making an appearance now. The Lighterman is a solid addition to the area, it may be nothing new but what it does it does very well. An imaginative cocktail list (I had a thyme and kumquat sipsmiths drink which was incredible) combined with excellent food - the swordfish was a real highlight, though do order sides. The service was friendly and unobtrusive, and it's all set in a gorgeous building overlooking the canal. It may not be groundbreaking but it's a solid choice which always delivers with high quality.
Love this place. Beautiful setting, delicious food - what more could you want!?
Great location for an evening drink in the summer. Good drinks selection, though a little pricey
Hello! Kept driving past this bustling place next to the canal by kingscross so booked a table with friends through open table. They rang me to confirm my booking 1 or 2 days before and advised me to ring up on the morning of the booking to confirm a terrace table. Beautiful setting for summer with elegant tantalising cocktails which were mid range in price. I had the conductors flute (amaretto & prosecco) which did not disappoint. We all ate from the grill having fish & steak which were all perfectly cooked. I also highly recommend the sweet potato fries which by far the best I have eaten recently. After cocktails and 2.5 courses each it came to about £45 each so I feel well worth the visit considering the setting & the standard of food/drinks. The only downside was the service was a little slow.
As a regular of Percy & Founders, it wasn't long before I found myself in The Lighterman, their new sister restaurant that has recently opened in Granary Square.
The biggest 'draw' of The Lighterman is its stunning location. Set across three floors, it has an impressive glass front that overlooks the river. It also has an outdoor terrace, so it is is the perfect venue for a weekend brunch or spot of lunch in the sunshine.
I went for brunch and booked in advance so I could sit on the first floor as I thought this would have a better view. Note that the first floor doesn't accept reservations until 12pm though.
The food was lovely- basically the same menu as Percy & Founders which I am a big fan of. Good quality ingredients, nicely presented and good service. It was a Sunday when I went, so I couldn't help but eye up delicious looking roasts that were being delivered to others tables. From what I could see, it would definitely be worth returning for those.
If you're looking for a relaxed brunch with a good view, then The Lighterman is...er... your man.