Finish off the first week of January with a trip to Moominland, a slap-up meal at a fresh new restaurant, and a jaunt to Hackney to pick up vintage gold. Treat yourself to a stonkin' good time with our suggestions below!
Things to do
Farewell to Christmas, Geffrye Museum, TODAY, free. Wave goodbye to Christmas at this traditional celebration on Twelfth Night which takes place in the Geffrye Museum's pretty gardens.
Hackney Flea Market, Abney Hall, Sat-Sun, free. Over 30 traders, offering an eclectic selection of vintage clothes and furniture, handmade jewellery, comics, records and antiques.
Gods Own Junkyard: Always Look on the Bright Side of Life, Lights of Soho, all weekend, free. This annual exhibition showcases the glorious neon works of the late Chris Bracey who created God's Own Junkyard in Walthamstow.
London Boat Show, ExCeL Centre, all weekend, £10 adv. If it floats you'll find it at The London Boat Show, a ten-day tribute to all forms of waterborne transport.
Bowie By Duffy, Proud Chelsea, all weekend, free. Bowie portraits by Brian Duffy. Covering 1972-80 it spans Bowie's Aladdin Sane era and includes lots of Bowie's glam looks, candids, and the contact sheet for the Aladdin Sane cover.
Adventures in Moominland, Spirit Level, all weekend, £16.50 (£13.50 midweek). A major new immersive, interactive exhibition presents new insights into author Tove Jansson's life and influences with rare archive objects and illustrations built into the experience.
…or check out more events happening in London this weekend.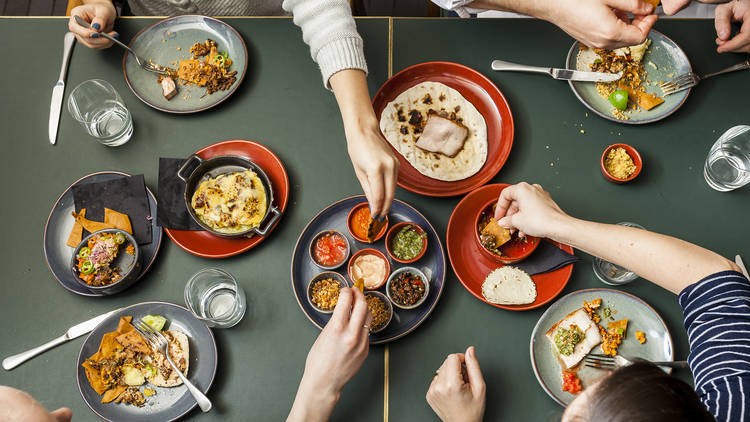 Eating and drinking
Temper, Soho. Imagine smoked meat and fish served over tacos and flatbreads, with pow-pow Asian and Latin spices.
The Laughing Heart, Hackney Road. Trendy late-night wine bar with intriguing small plates.
Boondocks, City Road. A hip dining hall serving American-style comfort food.
…or check out the latest restaurant reviews.
Live music and nightlife
Heidi Vogel, Vortex, TONIGHT, £13. Elegant and compelling vocal jazz from singer Vogel. The Cinematic Orchestra vocalist has also played with Eska and the Brand New Heavies and the late Isaac Hayes.
Pharoahe Monch, Jazz Cafe, TONIGHT, £20. He's still standing, Queens's 'Dragnet'-sampling hip hop lyricist Mr Monch (née Troy Donald Jamerson) and one half of the seminal New York early '90s rap outfit Organized Konfusion (along with Prince Poetry) returns with some fresh material.
Absolute Bowie - Ziggy Stardust Special, Half Moon Putney, TONIGHT, £16, adv £14. Theatrical tribute to David Bowie, featuring many of his hit songs and famous costume changes.
Dysfunctional: Beginning Of Year Party, Fire, Sat, £8-£10. Underground house and tech as the annual party celebrates its fourth year, with an extensive line-up including German Brigante, My Cat Snoop, Sculpture, Don Major and James Damian.
The South London Soul Train, CLF Art Cafe (Block A, Bussey Building), Sat, various releases £7 & £10. This monthly Peckham party promises 'no bass wobbles, only love, funk and soul'. Amen to that, we say.
…or take a look at all the live music events in London this weekend.
Film
Silence ★★★★★ Martin Scorsese has hit a career high with this searing, thoughtful literary adaptation about two Jesuit priests venturing into seventeenth-century Japan.
Endless Poetry (Poesia Sin Fin) ★★★★☆ Groundbreaking filmmaker Alejandro Jodorowsky looks back at his formative years in this powerful drama.

…or see all of the latest releases.

Theatre
Mary Stuart, Almeida Theatre, Fri-Sat, £10-£38. Juliet Stevenson and Lia Williams toss for the roles of Mary and Elizabeth in Robert Icke's genius Schiller update.
Saint Joan, Donmar Warehouse, Fri-Sat, £10-£40. Gemma Arterton shines as Joan of Arc.
Love, National Theatre, Fri-Sat, £15-£40. Strangers share cramped temporary housing in this searing festive show.
…or see our theatre critics' choices.
Art
Robert Rauschenberg, Tate Modern, all weekend, £16.50. Pop, abstract expressionism, conceptualism, performance art, installations: it's all right here, and Rauschenberg played a part in all of it.
Flaming June: The Making Of An Icon, Leighton House Museum, all weekend, £12, £10 concs. The obvious star of this exhibition is 'Flaming June'. It's such an oddly shaped work, its perspective folded towards you: it looks like it should extend forever but it's all scrunched up in the foreground.
Gavin Turk: Who What When Where How & Why, Newport Street Gallery, all weekend, free. Fellow YBA and shtick master Damien Hirst has been collecting Turk's work for years, and this mini-retrospective is pulled entirely from his own collection and shown in his natty Vauxhall gallery space.

…or see all London art reviews.

And finally
Grab... tickets to Time Out presents: I'm Coming Out
Book… these gigs while you still can
Best of the blog
Read Mark Hamill's moving tribute to Carrie Fisher
Art icon John Berger has died aged 90
Sadiq Khan has scrapped the new Routemaster buses