Magical pop-ups, crisp park walks and juicy roast dinners: clued-up London bloggers give us their suggestions for winter.
Wintry walks on Hampstead Heath
Dan Calladine: 'On a cold, crisp, clear morning there's little better than heading up to Hampstead Heath. Get off at either Hampstead or Kentish Town tube and walk across the heath, aiming for Parliament Hill. You get spectacular views and when it's snowy lots of sledging. If you finish in Hampstead, reward yourself with lunch in The Flask, and if you finish in Kentish Town head to The Rose & Crown, where Wingman are currently in residence serving wings, burgers and more.' Follow London Popups on Twitter @LondonPopups.
Sipping and shopping
Paula Holmes: 'In winter I love to go for walks in Highbury Fields, and then keep warm by drinking plenty of hot chocolate. My favourite is from Vivo in Islington, and they have a beautiful selection of patisserie too - I highly recommend the Kinder cake with Nutella. Afterwards, the market on Camden Passage is great for picking up a few festive presents (or a treat for myself).' theldndiaries.com. Follow Paula on Twitter @TheLDNDiaries.
Seasonal snacking
Catherine and Gavin Hanly: 'We can't wait for the festive specials hitting London's menus - everything from the Pret Christmas sarnie to the Hawksmoor Christmas burger gets us excited. A new addition this year will be the braised short rib and truffle-roasted buns coming to West End hotspot the Chiltern Firehouse after Thanksgiving. They're chef Nuno Mendes' seasonal version of his crab doughnuts and at £3 each, even non-A-listers like ourselves can enjoy them.' hot-dinners.com. Follow Hot Dinners on Twitter @HotDinners.
Having a mulled wine, then another
Danielle De Wolfe: 'Nothing epitomises winter merriness quite like the aromatic scents of a mulled wine pub crawl through Wimbledon. After a fruity glass at The Alexandra, Wimbledon Village's Dog & Fox serves up a hearty cinnamon-flavoured offering alongside roaring open fires, live music and a mouthwatering roast. Pop across the road to The Rose & Crown for a cheeky tipple, and then lull yourself out of the booze coma by taking a ramble across the common (assuming you're still standing) to enjoy the quaint delights of The Crooked Billet. Cheers to that!' onestoprecordshop.co.uk. Follow Danielle on Twitter @1stoprecordshop.
Taking the air
Natalie De Luca: 'I love summer, but a crisp, blue-skied winter's day in London is hard to beat. I like to wrap up warm and take a walk in one of London's frosty parks. The riverside Battersea Park is a favourite, and Streatham Common, with its landscaped Rookery, is a peaceful retreat. A post-walk glass of red wine in nearby Pratts & Payne is a must (and their Sunday roasts are darn good too).' southlondonblog.co.uk. Follow Natalie on Twitter @S_London_Blog.
Seeking illumination
Samantha Baines: 'Winter for me is all about light - we need to compensate for the lack of it outside. I love to go to the ice rink outside the Natural History Museum in Kensington. I don't go to skate (are you kidding? I need my wrists and ankles intact), but it's a lovely setting for a meander; the buildings are lit very theatrically and the fairy lights in the trees will leave you starry-eyed.' samanthabaines.com. Follow Samantha on Twitter @SamanthaBaines.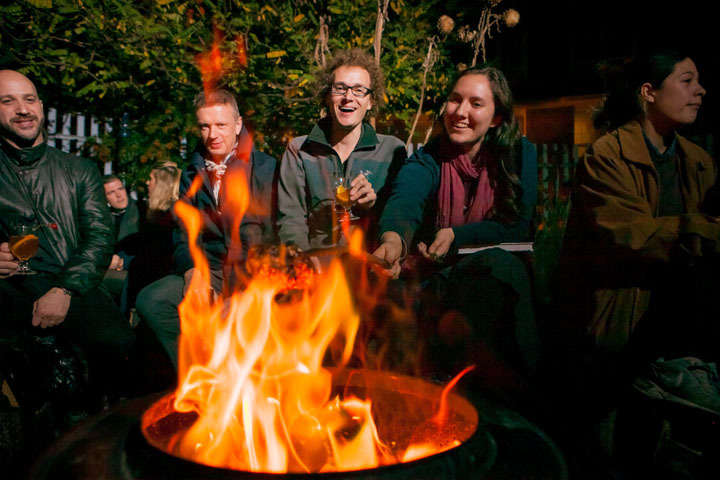 Jack Latimer
Popping into a panto
G: 'One of my favourite winter catch-up spots is the sixth floor of Tate Modern, for surprisingly good mulled wine and an amazing view. Afterwards, I might head to a pantomime. I never miss the productions at Above the Stag Theatre ('Tinderbella', Nov 26 to Jan 16) and performances by the brilliant Gay Men's Chorus ('The Big Gay Swing', Dec 11 to 12). Winter is the time to be merry and gay, after all.' G, themagnificentsomething.com.
Supper club socialising
Jean Smith: 'It can be lovely to bed down at home during winter, but it's also fun to go places once you've become tired of your own four walls. One thing that gets me out of the house is an evening of short lectures and delicious food at The Feast of Reason, a supper club which takes place in chef Olivia's cosy Brixton home. Besides dinner, each feast includes two speakers giving short talks on a variety of interesting topics. It's a great way to beat the cold and meet new people - the crowd is always lovely.' flirtology.co.uk. Follow Jean on Twitter @flirtology.
Touring the London lights
Jude Brosnan: 'When I was a kid, it was a winter tradition for my family to pile into a car and "go see the lights". We'd drive along Regent Street, look at the Christmas lights and the sparkling shop windows, and then drive home along the Thames and see the bridges all lit up. I love doing anything that involves being outdoors, so I still go and see the lights by bike when all the shops have closed and the streets are a bit less hectic. Stanfords have a Victorian horse-drawn omnibus doing tours of London's Christmas lights. I'm going to wrap up warm, get a seat on the top deck and enjoy not being squished between my siblings.' ispeakbike.blogspot.co.uk. Follow Jude on Twitter @JudeBrosnan.
Peter Kindersley
Exploring the Barbican
Kristabel Plummer: 'It's important for me to still get a cultural fix even when it's dark and chilly. The Barbican's brutalist architecture is Instagram-friendly at any time of year, but it looks particularly spectacular in winter. I've only recently discovered its lush conservatory filled with all kinds of greenery, open on Sundays. And at the moment there's a comprehensive show about designers Charles and Ray Eames in the exhibition halls - and some seriously covetable furniture in the shop.' iwantyoutoknow.co.uk. Follow Kristabel on Twitter @iamkristabel.
Bingeing in Battersea
Matt Hickman: 'In the winter months, I like to stay close to home in Battersea. I'll start off at the small but perfectly formed cafe La Moka and take my coffee on a walk through Battersea Flower Station, what feels like London's longest garden centre. This leads to Park Road Kitchen rotisserie and deli where I'll pick up some Ottolenghi-level salads. I'll eat as I wander through Battersea Park before settling down for board games and beers in The Lighthouse.' mattthelist.com. Follow Matt on Twitter @mattthelist.
A foodie tour of Borough Market
Pete and Leo Williamson: 'Our favourite London haunt is Borough Market, where the atmosphere is never better than at this time of year. Wander around enjoying the bustle of people and traders, the clanking of trains on overhead viaducts and the Victorian architecture. Ogle and munch your way through every feasible culinary treat - then fill as many shopping bags as your arms and purse will allow. If you've still got an appetite after that, you're just by the newly opened Museum of Food, too.' whatdadcooked.com. Follow What Dad Cooked on Twitter @WhatDadCooked.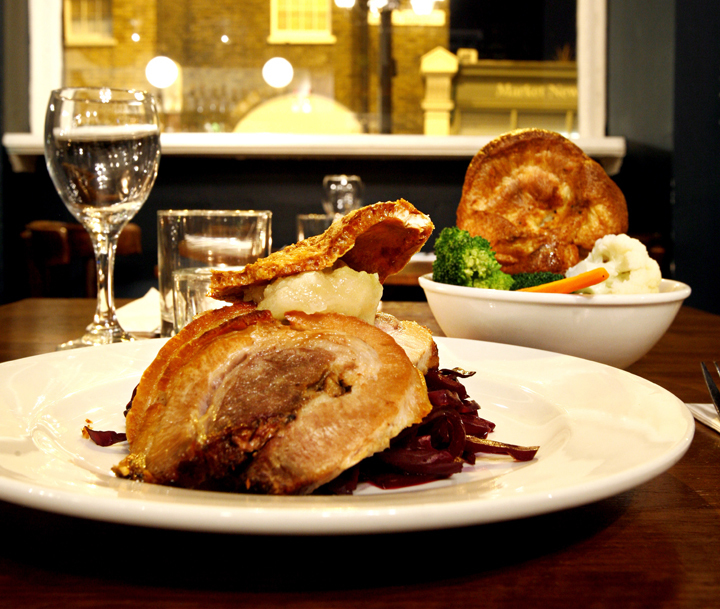 Perfect pub lunches
Lucy McGuire: 'Winter Sundays are for bracing afternoon walks where the end goal is finding a cosy pub for lunch. One of my south London faves is The Sun of Camberwell which dishes up the tastiest roast beef and crispiest Yorkshire puds. After dessert (I'd go for the sticky toffee pudding), take a glass of red into the parlour room and delve into their retro board games. They even have Buckaroo!' ohsolondon.com. Follow Lucy on Twitter @OhSo_London.
Snuggling up at the cinema
Manolis Zografakis: 'My personal tip for a toasty winter's night is the Electric Cinema in Notting Hill. It's one of London's oldest, dating back to the beginning of last century. The moment you walk through the door you feel like you've time-travelled to another era. What makes the cinema unique is its beautiful neo-baroque style and the fact that you can watch a film from a double bed or a super comfy leather Chesterfield-style armchair.' brokeinlondon.com. Follow Broke in London on Twitter @BrokeinLondon1.
Giving something back
Chris Osburn: 'This winter, my girlfriend and I are going to volunteer at the Crisis East London Day Centre in Hackney to assist with their annual year-end festivities. This will be my first time with the charity, and I'm really looking forward to celebrating the season without focusing as much of my Yuletide energy on being a consumer. Every year thousands of volunteers help Crisis to share some Christmas spirit with just as many homeless guests. Thereís still time to register - see you there?' tikichris.com. Follow Chris on Twitter @TikiChris. Volunteer for Crisis at Christmas at crisis.org.uk/volunteer.
The joy of a julmarknad
Faya Nilsson: 'Being half-Swedish I love going to the wonderful julmarknad, or Swedish Christmas Market, which takes place every November in Marylebone. You can spend an age looking at the handmade Christmas decorations (candles, textiles, sweets), sipping glögg (mulled wine with raisins and almonds) and sampling traditional foods. To burn all that off, go for a long walk around the beautiful parklands surrounding Primrose Hill. The view from the top is exquisite on a clear day.' fitnessontoast.com. Follow Faya on Twitter @FitnessOnToast.
Having space to explore
Kerstin Rodgers: 'As a Londoner, what I really love in winter is when all the non-Londoners that litter up the place during the rest of the year finally bugger off home for the Christmas hols. Suddenly this big, dirty ol' town is empty, peaceful and with virtually no traffic. It's a great time to walk around looking at street art in the East End, something I did recently on a fascinating tour with Touriocity. Look out for works by my long-time friend Stik.' msmarmitelover.com. Follow Kerstin on Twitter @MsMarmiteLover. Tickets for Kerstin's New Year's Eve supper club are on sale now for £75 from her website.
Wintry wining and dining
Robert Lordan: 'When winter arrives I love to get cosy and indulge in some hearty food and drink. For a snug setting, the flickering, candlelit vaults in Gordon's Wine Bar do the trick. Then there's nothing better to do than to wrap up warm and take a stroll across the Golden Jubilee Bridge - ideally as twilight sets in - to the food market at Royal Festival Hall. Here I'll tuck into a piping hot dish of bigos: a delicious Polish stew guaranteed to warm the cockles.' Robert Lordan, View From the Mirror.
Eating your way around east London
Meg and Issy: 'One thing's a given come winter; if it serves alcohol and is less than a 20 minute walk from our homes in east London, we'll be there with bells on. On Saturdays, we fill our boots with free samples from Broadway Market. Without fail, we can be found chomping sweet treats from Violet Bakery's stall – usually something giant and loaded with cream. Failing that, we wander to Spitalfields Market to peruse antique treasures. If we're feeling especially whimsical, we spend money we don't have on a big bunches of fragrant flowers from Columbia Road Market on Sundays, before refueling with a strong espresso at Climpson & Sons.' Follow The Curious Pear on Twitter @TheCuriousPear
Tucking into a roast
Jules Pearson: 'In winter there's nothing better than a huge roast dinner. I take mine at The Truscott Arms. The pork is my favourite – it comes three ways on a board with mountains of crackling, rich gravy and homemade Yorkshire puds. Afterwards, I'll walk along Regent's Canal right down to Camden where I'll pop into the York & Albany, which has a yearly winter cabin pop-up, to drink hot chocolate cocktails among the fake snow whilst toasting homemade marshmallows on the table. Nothing better on a cold Sunday!' Follow London on the Inside on Twitter @LondONtheinside.
Feasting in the streets
Rosie Llewellyn: 'For me, winter is all about snuggling up, eating lots of delicious food and spending time with friends. This winter I'm going to be doing that at Little Feast in west London, which is bringing some of the east London street food vibe to Shepherd's Bush. I'll be eating a lot of slow cooked spicy meats from street food vendors Sticky Beak and wood-fired pizzas from Tomattos, and drinking mulled cider from the Cabin Bar. I can't wait to shop for breads, cheese and smoked fish and meat at their Deli Shed at the weekends, as well as listening to the live music they're putting on, and I'll definitely be picking up a Christmas tree for my flat too.' alittlelusciousness.com. Follow Rosie on Twitter @alusciousness.
Grazing on gourmet veggie fare
Andreas Kambanis: 'Manna at Primrose Hill is my favourite spot for a mid-week catch up with friends and a chance to release my inner vegetarian. The nachos especiales with homemade cashew cheese and guacamole are unrivalled in London. Just make sure you book in advance. From Manna, it's a 30 minute walk to the original Everyman Cinema in Hampstead via Belsize Park. Allow some extra time to glance at some of the beautiful homes that line these streets. At Everyman sit back on the comfy sofas, order a slice of carrot cake and hot cup of tea. Perfect for a cold winters day.' londoncyclist.co.uk. Follow Andreas on Twitter @LondonCyclist.
Compiled by Flo Wales Bonner.
Can't wait for Christmas? Here are five festive activities to get you excited about Christmas in November.