For the last 13 years, Frieze London has been the biggest contemporary carnival in London's art calendar. It's the place to see and be seen, taking in all that the international art word has to offer under one roof. Then four years ago it was joined by its sister fair, Frieze Masters that bridged the gap between ancient and mid-century, making the Frieze Fair phenomenon a force to be reckoned with. So with thousands of artworks to see, where do you start? Here are just a few of the exhibits that you don't want to miss.
Get down like Beyoncé to Frieze Masters

Frieze Masters 2014: Helly NahmadPhoto: Stephen Wells, Courtesy Stephen Wells/Frieze.
Last year, the stand-out booth of Frieze Masters came from Helly Nahmad who worked with a set designer to create a spectacular installation of a fictional collector's home. Ol' Beyoncé Instagramed her heart away at this exhibit and the gallery has promised something truly outstanding again this year, but what else can you expect? Lisson Gallery (E7) has dedicated their entire stand to the Cuban-born, New York-based artist Carmen Herrera in celebration of her 100th birthday. Richard Green (E2) will be bringing the Cornish coastline to the capital on his stand showing Barbara Hepworth and Ben Nicholson together. And LA-based David Kordansky (C6) is going all colourful with a solo display of twentieth century American artist Sam Gilliam.
Keep it contemporary at Frieze London

Left: Mira Dancy at Night Gallery. Right: © Frieze London
Each year Frieze London wows audiences with bright, diverse, glitzy, unexpected and Instagrammable presentations of contemporary art. With 164 galleries under one roof, where do you start? Whether you like to strategically follow the grid layout or are more inclined towards an unorthodox approach, make sure you catch Los Angeles-based Night Gallery (G27), a new addition to the fair, with their solo display of Mira Dancy. If unconventional is your thing then seek out Jeremy Herbert's underground chamber as part of Frieze Projects – there be stairs to we don't know where! And why not get involved at some of this year's live events that include a processional piece by Tunga at Galeria Franco Noero and Luhring Augustine (L6). At Arcadia Missa (L3) security guards will be asking for your mobile phones before you can encounter Amalia Ulman's performance and Ken Kagami will be creating free portraits at Misako & Rosen (G19).
Catch your breath with some free outdoor art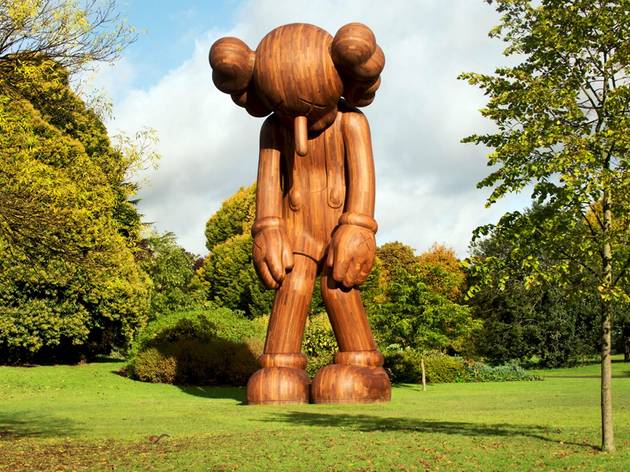 Frieze Sculpture Park 2014: KAWS Galerie Perrotin. Photo: Linda Nylind. Courtesy of Linda Nylind/Frieze.
After you've had enough of traipsing up and down the aisles of the fairs, you can take the free Frieze Sculpture Park set within Regents Park's English Garden. It's the perfect outdoor autumnal respite, and Claire Lilley of Yorkshire Sculpture Park has once again selected an impressive line-up of new and historical works. There'll be a major installation by Richard Serra who does monumental like no-one else and Anri Sala presents his 'Holey Wall' around which live performances have been programmed.
Read our guide to Frieze London and Frieze Masters.