Bicep interview
What started as a blog has become full-blown DJ stardom for Bicep. We talk to the duo about hacking, snacking and jacking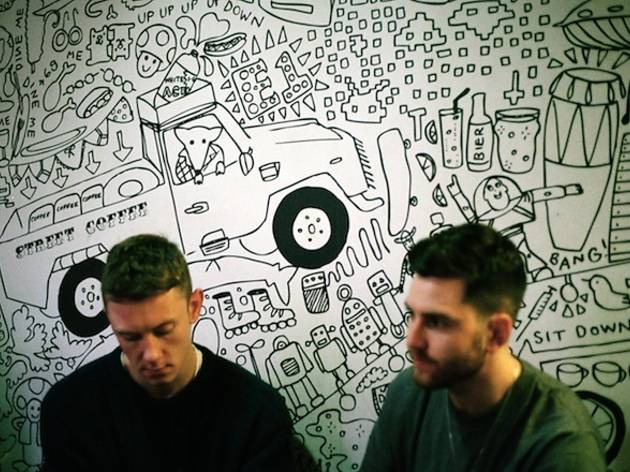 As it turns out, the Belfast-born duo of Matt McBriar, 25, and Andy Ferguson, 24, owe their friendship to rugged physical exertion, as the latter explains: 'We met playing rugby when we were eight-years-old. It's always been part of the culture amongst our friends – some of them played rugby for Ireland. Once we discovered partying, though, rugby got booted out of the window.'
Bicep are one of the hottest names in the world right now. Their irresistibly jacking productions are burning up dancefloors, while they've hosted rooms at Fabric, Space in Ibiza and Manchester's huge Warehouse Project as DJs. After touring America and Australia, they'll be
throwing a party at Oval Space
alongside two of the most revered names in the business – eclectic hedonists
Optimo
and a rare London show from modern disco heroes
Metro Area
(who play their first live show in a decade). Bicep have also been at the forefront of the revival of deep house music, but more on that later.
It's remarkable that they only decided to make a career from DJing two years ago – after Ferguson and McBriar abandoned successful jobs in advertising and design respectively. 'We gave ourselves a year,' says Ferguson, 'and if we couldn't comfortably pay rent after that, we'd have gone back to our normal jobs.' Equally remarkable is that it all started with an online distraction – their excellent music blog
Feel My Bicep
. Distinguished by imagery of vein-bursting muscle men ('over-the-top '80s bullies' in their words) Feel My Bicep has been a trove of ancient and rare disco, house, garage and techno – much of which was culled from their own vinyl collection and uploaded to the net for the first time.
Despite hosting thousands of tracks since 2008, they've only ever had one complaint. More common are messages of pleasant surprise from the original artists: 'We get emailed by guys from the late-'80s saying "Thank you for posting. It's great to see people still listening".'
Their prodigious knowledge of obscure disco means promoters often expect something different. 'I thought you were going to be an Italian in your forties with a Charles Bronson moustache' is a common greeting, according to McBriar.
Despite recent glitches – like the blog getting cruelly hacked and riddled with malware – Feel My Bicep's success has inadvertently played a part in the '90s house revival that's currently fuelling clubland, and increasingly, the charts. They may have been ahead of the curve, but they feel like it's time to focus on their own studio work before the bubble bursts: 'We've tried to shy away from the '90s stuff recently.' says Ferguson. 'It's bad news when every demo you get is just a three-chord VST version of a deep house track.'
Having spent the last five years uploading vinyl for the masses, it's surprising that their own studio work, (like the excellent 'Vision of Love' EP) could only be bought as limited-edition vinyls. For artists like Bicep, it's a harsh reality: 'If you want to sell vinyl nowadays, you have to make that choice.' Ferguson explains. 'Chances are, if you're selling your music digitally and on vinyl, people will only buy the digital release'.
It may be ironic that a pair of bloggers have to restrict their own music online, but when it comes to fitness, they're thankfully irony-free: 'It's easy for a belly to creep in,' says Ferguson, 'when you're getting two hours sleep and eating airport food. When we're back home, we try and go on nice long runs. I wouldn't say we were built though. If you met us, we're still the skinny nerds you expected.'
Want more? Read more clubbing interviews
Snap up exclusive discounts in London
Time Out's handpicked deals — hurry, they won't be around for long...