Nile Rodgers interview
Discover why the legendary guitarist is the ultimate disco host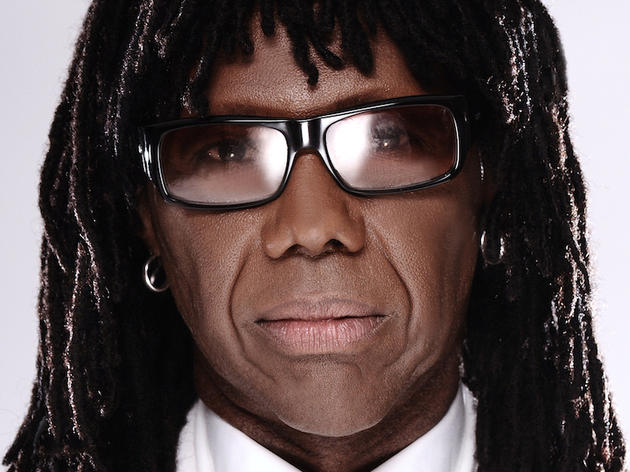 He knows how to make an entrance...
'We always do "Everybody Dance" as our first song. It's not a request – it's a demand! And clap those hands too. Entrance songs are a big deal. I remember when I wrote "I'm Coming Out" for Diana Ross – even though it was obviously paying homage to her gay following, I had to lie to her and say that it was written as her entrance song.'
He's a night owl…
'I only sleep about three hours a night, four hours tops. Five hours and I feel like Rip Van Winkle. I've been like this since I was a child – they thought something was wrong with me. After a series of tests, a doctor finally asked me how I felt. I said: "Great". He said: "Okay, get outta here." It means I have this inexhaustible supply of energy to devote to music.'
He wants people dancing all night...
'There used to be these contests during the Great Depression called "dance marathons". That's what this party's going to be like! There'll be DJs from Chicago and Detroit like Seth Troxler and Derrick Carter, who took what Chic did and gave it a new life, plus Nicky Siano who was the DJ at Studio 54. Nightclubs have always inspired me – hearing music that never stopped for the first time was a revelation. Now, I'm sort of like a DJ, reading the crowd and picking songs from our setlist. If people aren't dancing, we're not doing our job right.'
He's always been loyal to the disco cause...
'My life changed when we started playing disco, but it changed even more when we became demonised. When the "disco sucks" movement started in America, people burnt our records and we were wiped off the map. But a year to the day after Chic's last hit ['Good Times'], the Number One record was "Another One Bites the Dust" by Queen – which sounded a hell of a lot like "Good Times".'
Disco, in fact, is his life...
'This is spiritual music for me. A couple of years ago, doctors told me I had cancer and that I should hope for the best. The only way I knew to make myself feel better was to play as many shows as I could. I thought to myself: The only thing I can do is play disco music, and play it aggressively.'
While he draws from everything he's ever worked on, don't expect to hear Daft Punk's 'Get Lucky'...
'I just don't have enough time to play it! Do you realise how many songs I've worked on? I only play one song by Bowie, one song by Madonna – and we cut them short. It feels blasphemous to me – I don't want to compete with the artist. After I worked on "Like a Virgin", I didn't perform it live because it wasn't a classic yet. If the crowd starts singing '
Get Lucky
', will I play along? Maybe...'
Want more? Read more clubbing interviews
We asked seven DJs how they picked five tracks to play at a huge twentieth birthday party for Bugged Out
Read more
The dubstep pioneer-turned-disco don will be spending 13 whole weeks as the resident DJ at the Shoreditch club
Read more
Ahead of an upcoming club night paying tribute to NYC nightspot Paradise Garage, we ask the DJs involved why the club still matters over 30 years later
Read more
Fancy being blindfolded, bundled on to a bus and led to a mystery location for a party? Now's your chance...
Read more