Heads up! We're working hard to be accurate – but these are unusual times, so please always check before heading out.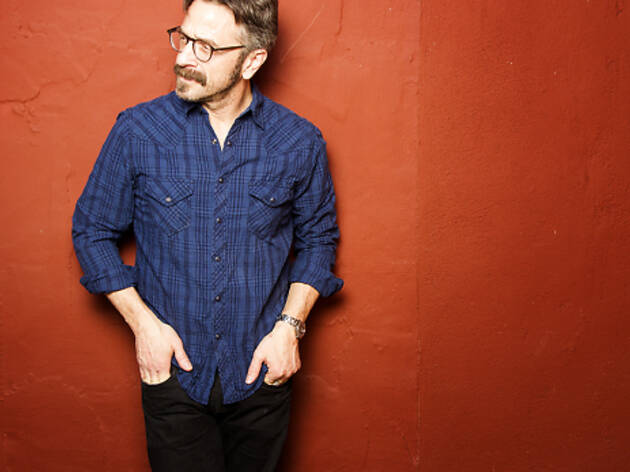 Marc Maron: eight steps to becoming a podcast king
LA grouch Marc Maron's comedy podcast – the frank, bi-weekly 'WTF' – is so popular even President Obama asked to be a guest. But how did he make it a hit? The acerbic comic gives us his guide to becoming a podcast king
Use your phone… if you want it to sound rubbish
'You can record on whatever you want if you want to put out a shitty thing that sounds like you recorded it on your phone. Knock yourself out. But would anyone listen to it? I dunno. Maybe that would be the coolest thing in the world to some people: who the fuck knows?'
Learn to be alone
'That was an important milestone in my life, to be able to sit alone, talk and not be self-conscious. I don't think I ever hated my voice, but to actually speak freely into a microphone when there's nobody there took a few months before it became second nature.'
Be prepared to record, no matter what!
'If you want to build an audience, the podcast has got to be there regularly. One time I was stranded in the snow in upstate New York and I didn't have my equipment with me. I freaked out and went over to the local college to talk these students into letting me record "WTF" in their radio station so I could get it out the next day. That was a pretty wild day.'
Persuade guests to come to your DIY studio
'If anybody has a problem with coming to my garage, I tell them, "Look, the president of the United States was able to make it, I think you can make it over."'
Bag the big man
'They approached me! They thought my audience would be good because I attract a very intelligent, sensitive, slightly disgruntled bunch of people. There were snipers on my neighbour's roof and 12 or 15 secret service men. Obama had his own food cart too and left his cup. So I now have this take-out cup and cocktail napkin with the presidential seal on under a glass dome.'
Don't be afraid to ask awkward questions
'I'm curious about personal, psychological and emotional struggle and growth. That's what I like to talk about, so it just happens. But I think because the garage is a cluttered environment and there are no cameras, it's easy to get lost in conversation without being self conscious or aware that you're even recording something.'
Put in the hours
'If I have to do four or five interviews in a week that's at least seven hours of talking, but doing the intros and outros takes me a long time too. I always end up wandering around, fidgeting with things in my garage and cleaning dishes while thinking, "I've gotta record, I've gotta record… Why cant I just do this!?" You never know how long that's gonna go on.'
Get stuck in
'I needed to do "WTF" because I wasn't working a lot and I had to do something so I wouldn't fall into darkness, but there was no plan for it to become this big. There's no system, you have to get out there and get a presence. When I started out I wasn't very savvy about social networking, but no one's gonna do it for you. It's down to you to promote yourself any way possible and hope for the best because who the hell knows why anything becomes popular.'
Listen to 'WTF with Marc Maron' at www.wtfpod.com.
See Marc Maron in London
Use your phone… if you want it to sound rubbish 'You can record on whatever you want if you want to put out a shitty thing that sounds like you recorded it on your phone. Knock yourself out. But would anyone listen to it? I dunno. Maybe that would be the coolest thing in the world to some people: who the fuck knows?' Learn to be alone 'That was an important milestone in my life, to be able to sit alone, talk and not be self-conscious. I don't think I ever hated my voice, but to actually speak freely into a microphone when there's nobody there took a few months before it became second nature.' Be prepared to record, no matter what! 'If you want to build an audience, the podcast has got to be there regularly. One time I was stranded in the snow in upstate New York and I didn't have my equipment with me. I freaked out and went over to the local college to talk these students into letting me record "WTF" in their radio station so I could get it out the next day. That was a pretty wild day.' Persuade guests to come to your DIY studio 'If anybody has a problem with coming to my garage, I tell them, "Look, the president of the United States was able to make it, I think you can make it over."' Bag the big man 'They approached me! They thought my audience would be good because I attract a very intelligent, sensitive, slightly disgruntled bunch of people. There were snipers on my neighbour's roof and 12 or 15 secret service men. Obama had his own food cart too and left his cup. So I no
Show more
More comedy features
'They want to extend the Northern line, but I think this is Morden adequate.'


The twee comedian and 'Harry Potter' star draws Time Out a few London-themed drawings
See more comedy features