Vic Reeves and Bob Mortimer on 'House of Fools', future tours and their influence on Ant and Dec
It's Vic and Bob's silver jubilee! We meet the absurdist comedy heroes to talk about their 25 years on our screens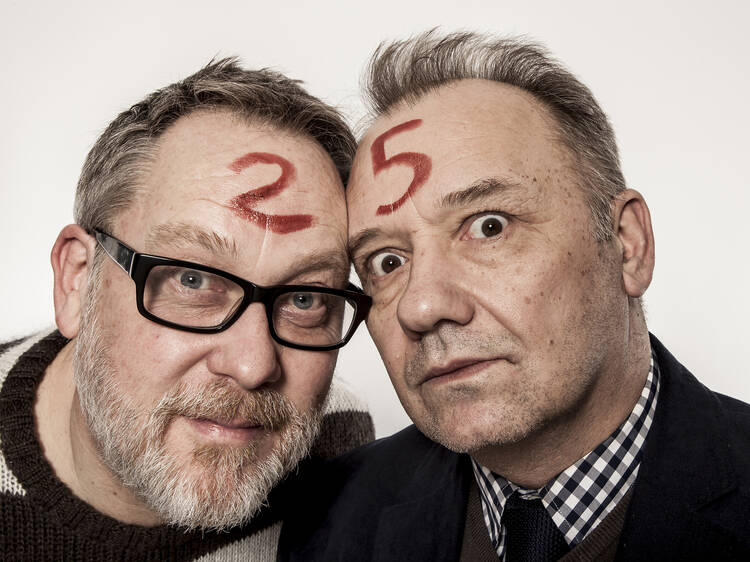 © Rob Greig Time Out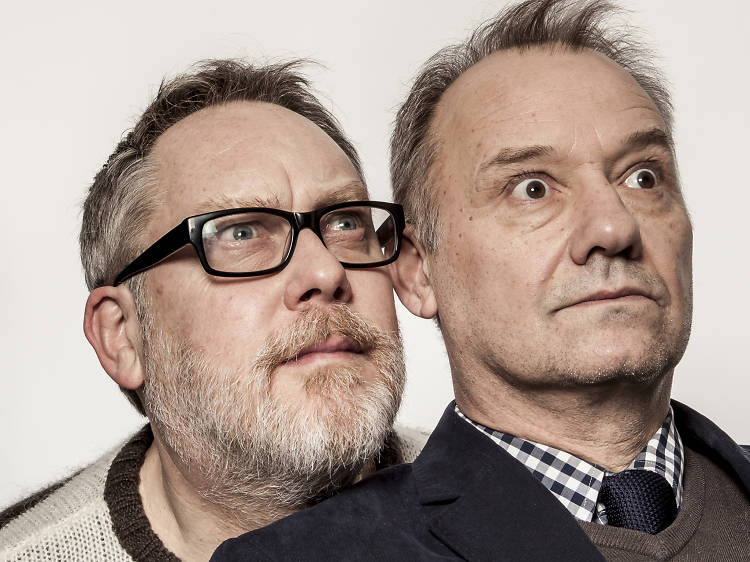 © Rob Greig Time Out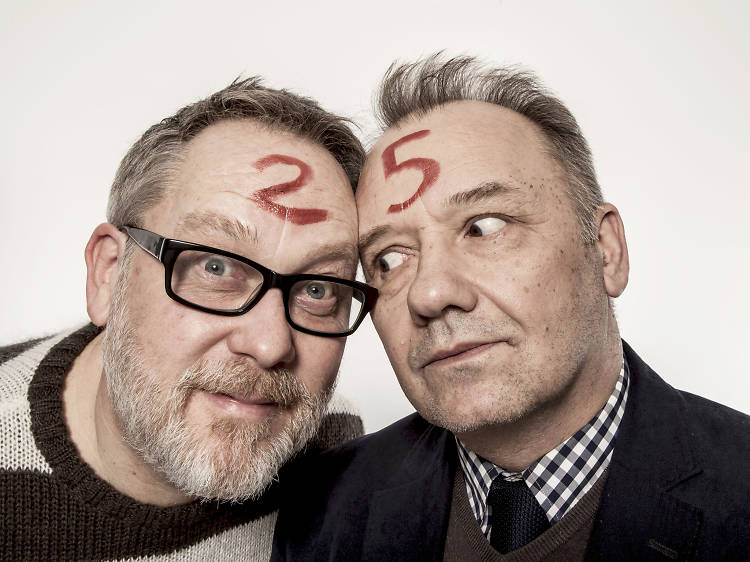 © Rob Greig Time Out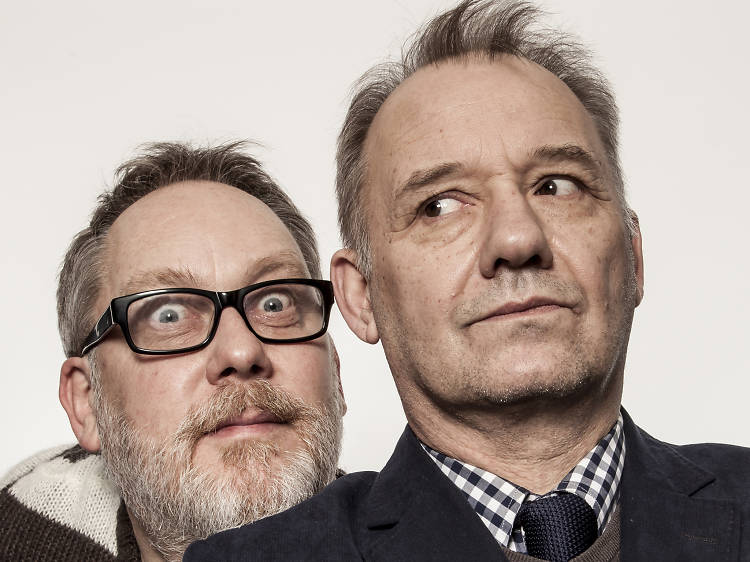 © Rob Greig Time Out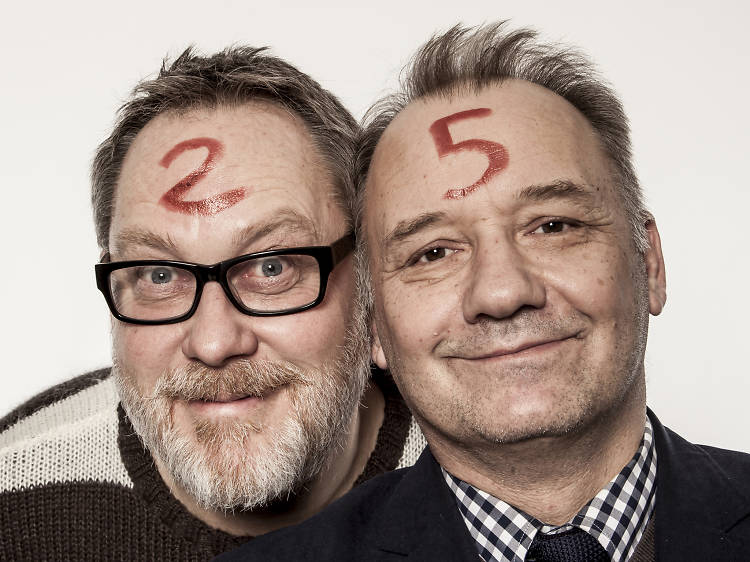 © Rob Greig Time Out
'Fuck off, is that true?' says Bob Mortimer. He can't quite believe it when I tell him Reeves and Mortimer are 25 years old. But then he's also asked for a whopping four sugars in his tea and then complained that I didn't add enough milk. I've given up trying to decipher when he's being genuine and when he's just messing.

They first worked together on the London comedy circuit in 1986, but this year marks a quarter century since Vic and Bob's ground-breaking TV debut, 'Vic Reeves Big Night Out', which introduced the pair's chaotic surrealism, frying pan-based slapstick and catchphrase 'What's on the end of the stick, Vic?' to an unsuspecting public. Twenty-five years later, their influence looms over the comedy world, and as their latest project – stupid studio sitcom 'House of Fools' – proves, they're still as gleefully daft as ever. As series two starts on BBC Two, I spoke to Vic Reeves (real name Jim Moir) and Bob Mortimer about their quarter century on our screens.

Do you see your influence in other comics' work?
Bob 'Oh yeah. Everywhere. Especially with the panel show stuff.'
Vic '"Shooting Stars" has seeped into "8 Out of 10 Cats" and those sort of things, and now you see it all over.'
Bob 'Talking about it seems slightly bitter, but it's a good thing when you see it done. You see a "Celebrity Juice" and you go, "Oh fuck, it's the thing we did!" Even a show like "QI" – which is so far away from "Shooting Stars" in many ways – you see them with wacky noises and silly buzzers. "Shooting Stars" changed panel shows a bit for ever, I think.'

Have you spotted any other obvious Vic and Bob-esque moments on TV?
Bob 'Oh, tons.'
Vic 'Yeah, loads. There was even one from "House of Fools" that Ant and Dec did. Bob was sad, and there was a tiny violinist there, so he put a cup over him and put him down the sink. And on their "Saturday Kitch…" What's it called?'
Bob '"Saturday Night Kitchen."'
Vic '"Saturday Night Takeaway" they had the same thing. One of them was sad, and they had a violinist – even playing the same tune! You see things like that all the time.'
Bob 'But I suppose it's bound to happen. As you say, it's been 25 years.'

'Shooting Stars' ended in 2011, when the BBC decided to have fewer panel shows on BBC Two. Could it ever return?
Bob 'I've got a feeling, yeah. There wasn't any ill will – they had these massive cuts. I always think it could come back.'
Vic 'They were really good fun. We'd rehearse long, long hours because there were loads of pre-records, which you don't get in any other panel show.'
Bob 'It's expensive, which doesn't help in the pecking order. But the last series was great. It's good fun meeting celebrities, seeing what they're like and that.'

Who were your favourite guests?
Vic 'I did enjoy dancing with the Pussycat Doll. What's her name? Kimberly Wyatt?'
Bob 'The blonde one?'
Vic 'Yeah. When my trousers fell down and I was naked [laughs].'

Were there any difficult celebs?
Vic 'Jordan was…'
Bob '…Jordan was Jordan. She was just a bit aloof.'
Vic '"Don't mention me tits," she said. "Don't you dare mention me tits." So the gag was that I gave her a pair of blue tits and a pair of knockers – but I never mentioned them.'
Bob 'I think people that came on quite fancied coming on. They couldn't plug a book or sell anything.'
Vic 'Well, Robin Gibb said, "I'll only go on if I can play my new song." So we had to go, "We'll have a pause now and listen to your new record." It really didn't sit well.'
Bob 'Everyone just sat there. And then we went, "That's really nice, Robin. Right, the next round is…" But most people wanted to be there, I reckon.'

Series two of 'House of Fools' starts this week. Did you find this one easier to write than the first series?
Bob 'They don't take us very long to write. If we've written one and we read it through and it doesn't sit, we just write another one.'
Vic 'This one has a lot more in it. We've gone more in-depth in the stories, there are subplots.'

The second episode is about a danceathon, and you both show off your moves. Who's the better dancer?
Bob 'We're both fucking good, excellent dancers.'
Vic 'For thrill factor, I don't think we can be touched.'

Are you hoping the producers of 'Strictly' will watch that episode?
Vic 'No. I've been asked plenty of times, there's no way I'd go and do that. I just end up laughing at it, especially with those costumes. Bob, would you go on it?'
Bob 'No fucking chance. It looks like real hard work to me.'
Vic 'I guess people do "Strictly" and things like that so they can be more well known to flog something. We've never really done that. We're kind of like an indie band that carried on for a long time.'

There's a new cast member this series, Ellie White. You've often given new comedy talent TV breaks. How have you discovered them?
Bob 'I saw Daniel [Simonsen, Erik in "House of Fools"] doing a live thing in Edinburgh. With Matt Lucas, he did an open spot underneath a pub – he got on stage and just swore his head off.'
Vic 'The "Fast Show" guys used to do stuff with us on "Big Night Out". I knew Paul and Charlie and that from knocking about in Norwich years ago, and they went, "We want to get Equity cards, can we do something on your show?" "Yep, come on!"'

Do you see a lot, comedy-wise?
Vic 'Do we go to sea a lot?'
Bob 'Do we perform on the sea?'

No no, do you go to see a lot of comedy?
Bob 'I go up to Edinburgh every year. I chance across a venue and I stay there for the whole day. That's where I saw Ellie White.'

Fluffed lines and gaffes make it in to the final edit. Does that add to the show's charm?
Vic 'We don't encourage it, because you can't manufacture it, but it's been rehearsed over and over, so you still try to look for moments of reality.'
Bob 'We try to make it a bit theatrical – we come out and sing to camera. I'm not sure we get it right, but it's our way of trying to make it feel like you're having the same experience at home as the studio audience.'
Vic 'But if you can get a good bit of corpsing in, that's the best thing you can manage.'
Bob 'And when Matt Berry [who plays Beef] comes out, however many times I've seen it, I just start laughing.'

I've read that you used to grade your lunacy to keep it in check. Do you still ration it?
Bob 'You're certainly aware that if you've had, say, a "category three" bit of lunacy you then need to settle down to a period of "ones". It's not a science, but three-three-three-three-three would just get tiresome.'

Are you tempted to just write 'threes'?
Bob 'We have in the past. They were always the things we looked forward to. Something like "Talc and Turnips" is just "threes."'

Have you ever been asked to tone down the weirdness, or had to compromise?
Vic 'We've never kowtowed. We've been lucky, we've had the luxury of being able to do what we want to do. When we first started we didn't even bother sending scripts. But it was a lot easier then. It's very different now.'

Do you think your early programmes would be commissioned today?
Bob 'Their equivalents? Fuck, I mean, they certainly wouldn't be on a TV channel, I think it would be digital. That's our experience of producing: if it's different it's forced into the digital arena. But maybe that's a good thing. When we started, Channel 4 felt a bit like that. It doesn't now, but it felt like a natural home for something completely out of the blue back then.'

In 2011 you announced that you were planning a few live shows in Leeds. Did they ever happen?
Vic 'No, we couldn't afford it. It ended up costing too much.'
Bob 'And you can't charge… Well, I don't know how much you charge for a comedy ticket these days, 20 quid or something?'

Well, Jerry Seinfeld charged £100.
Bob 'Fuck! Really? God, you'd feel that you would have to be fucking funny, wouldn't you? It was a little venue, and before we knew it it was costing too much. But we'll probably do a tour this year, won't we, Jim? I think we'll dip our feet in the water, and see if people are still interested.'
Vic 'We don't know what it's going to be yet.'
Bob 'If we wanted to do a show where we've got desks and Greg Mitchell Labradors and Judge Nutmeg Chariots and all that stuff, it's expensive. So we're wondering whether people might like to just see us two – we dunno! It'd be nice to do "House of Fools" in the West End. That'd be fun.'
Vic 'Oh, I'd like to do that.'

After this long working together, do you get on each other's nerves?
Bob 'I don't think we do at all.'
Vic 'Not at all.'

Have you ever locked horns, or disagreed?
Vic 'No, never.'
Bob 'It's just not our way, is it, Jim? We don't really lock horns with anyone. I'd say I've seen you – not exactly lose your rag – but do that once.'
Vic 'What, with that costume woman?'
Bob 'Yeah.'
Vic 'But that was just because she couldn't be bothered! And she scuppered us because we didn't have any costumes, and she said, "that doesn't matter, just wear that."'
Bob '[Laughs] But, no, I just don't think it's in our nature, it's not in our mix.'

Are you planning any celebrations for your twenty-fifth anniversary?
Vic 'I don't think so. I ignore my birthdays.'
Bob 'We've got a new band, where we sing very high-pitched songs and smoke at the same time. We're thinking of taking that to Glastonbury, to celebrate.'

Headlining the pyramid stage, perhaps?
Bob 'Yeah, we should! But just for five minutes, and then say, "Oh, I do apologise, here's Aerosmith." or whatever.'
Vic 'Who's "Hairy Smith"?'

Series two of Vic and Bob's 'House of Fools' starts Mon Feb 16, 10pm, BBC Two. Series one is released on DVD on Feb 23.
Show more
The 'Vicar of Dibley' star on her first solo show, kissing cats' bums and why she didn't talk to Time Out for years
As part of the Time Out takeover, the comedy egghead invited reader Zahid Fayyaz into his 'Mock the Week' dressing room for a wide-ranging chat
Support Time Out
We see you're using an ad-blocker. Ad revenue is Time Out's main source of income. The content you're reading is made by independent, expert local journalists.
Support Time Out directly today and help us champion the people and places which make the city tick. Cheers!
Donate now
Discover Time Out original video