Cheap eats in Clapham
There are bars aplenty on Clapham's main drags, but where can you get a good bite to eat that won't break the bank?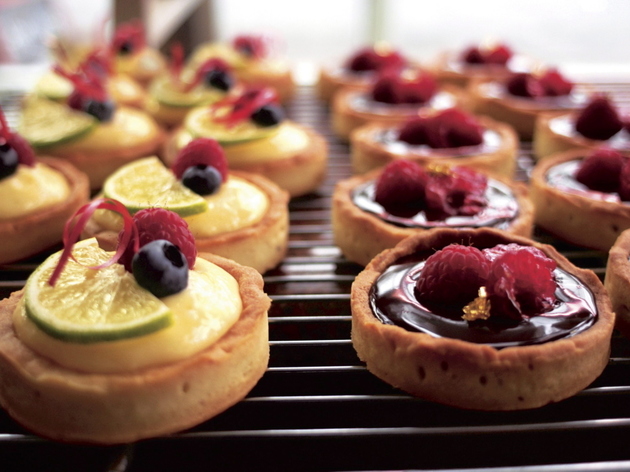 This bakery-cum-café has been going strong for the past decade, and come noon every weekend, there's a queue of up to half an hour, out the door and on to Clapham High Street, for a table. So what's the attraction? What the Danes call hygge, the Germans call Gemütlichkeit; a relaxed cosiness, created by smiling staff and toasters on the table. An enormous basket of freshly baked sourdough loaves sits on a counter-top in the middle of the room: white or wholemeal, rye or seeds, and all still wonderful despite the change of baker.
Read more
This Kiwi-style coffee bar in Clapham opened in the late summer of 2013, and has proved popular because of its handy location on a transport hub and its appealing back garden. The dishes (sandwiches, cakes) are simple, the coffees are good quality (Caravan roasts). The early closing at 6pm means that it's primarily used as a meeting place for brunches and light lunches by local residents.
Read more
This pub is beer-spotters' heaven, the brews carefully curated by enthusiastic staff who treat the establishment as if it's their own, despite it being the fourth in a small London chain (there's a fifth in Brighton too). Beer alone doesn't make a good pub. There's no sport on TV, because there are no TV screens. Instead there are board games, including Scrabble. The food menu is prosaic, but the execution excellent. Burgers may be ubiquitous in every new London bar, but the version here by residents Forty Burgers gives many dedicated burger joints a run for their money with delicately glazed brioche buns, moist medium-well done patty and good details – we can particularly recommend the 'bacon dust' chips.
Read more
Though your waistband might complain, your conscience need not as all the fish at this great little London chippy are sustainably sourced, with coley topping the bill. And that ethical alternative to haddock and cod is popular for good reason: it more than passed muster, with flaky and tender flesh beneath a perfect honey-coloured batter. The twice-fried chips were good too: chunky yet crisp. Perhaps the chilli and garlic sauce on our whole bream was a little overpowering, but only because the fish beneath was delicately fresh, and in no need of adornment.
Read more
If you can imagine a girly burger joint, Haché would be it. Named after the Gallic term for 'minced' (go to Paris and ask for a steak 'haché' and you'll be served a good-quality patty), the restaurant is full of feminine French touches: from pretty vintage chandeliers to the creamy walls with ornate, oversized mirrors. In the open kitchen at the back, classic 'man food' is prettied up wherever possible. On our visit, thick-cut slices of onions were encased in huge balloons of batter, while the frites were proper french fries – thin-cut, seasoned and skinny.
Read more
The gentrification of Abbeville Road continues apace with the opening of this branch of a fast-expanding and upmarket fish and chip shop chain in the summer of 2014. Past the takeaway hatch, wood-panelled booths and industrial lighting give it a knowingly retro look, back to the days when the seas were ours to plunder and fish suppers were a staple of the working classes. But K&M have moved with the times, and offer sustainable coley among their options: a good, meaty fish, particularly appealing in the matzo meal option (the white fish can also be battered or grilled for traditionalists).
Read more
This no-bookings, cash-only Chinese café is an offshoot, a second branch of the original in Brixton Village Market. It's typical of a new wave of restaurant entrepreneurs who have moved from running a supper club to setting up premises with little experience or capital, spread the word by social media, and built up a loyal following. The experience gained at the first branch has paid off. On our three visits the service in Clapham was smooth, the kitchen consistent.
Read more
On a prime spot at the fashionable end of Clapham Common, Madeleine is one of several cafés with a handful of outside tables serving the constant traffic of Commoners heading from Clapham Old Town to the tube. Rustic breads are displayed on countertops, while excellent French pâtisserie, from citron tarts to vibrantly coloured macaroons, are kept behind glass. Savoury snacks – such as filled baguettes, croque-monsieurs, quiches – are the preferred choice of those eating in. The coffee can be variable, depending on who is making it; coffee connoisseurs had best look elsewhere. But for location and ambience, Madeleine (est. 2006) still has no peers in this neighbourhood.
Read more
For the uninitiated, this backstreet restaurant in Clapham's Old Town may set alarm bells ringing. First, there's the 'red light district' glow (caused by a host of Chinese lanterns), but more unnervingly, the kitchen specialises in hotpot (sometimes known as 'Chinese fondue', a dish with its roots in Mongolia) and Korean barbecue (where food is cooked at an on-table grill). There's an enormous help-yourself buffet of fish, meat and vegetables – all raw. However, food hygiene is scrupulously maintained, with the steel containers frequently replenished by fresh items, and individual tongs used.
Read more
This small, simply decorated ice cream parlour is handily located on the northern perimeter of Clapham Common. It's a low-key, traditionally Italian affair, with a score or so of the more traditional flavours made by Lorenzo Nardulli and his small team. We've found the ice creams here smooth-textured and clean-flavoured – just like a proper Italian gelato should be.
Read more
Homesick Trinidadians come to Clapham's Roti Joupa for a culinary pick-me-up, whether it's curried goat (with rice or roti), macaroni pie (served hot or cold) or doubles (roti filled with chickpea curry – the ultimate street snack). Choose a roti filling (goat, lamb, chicken, veg or pumpkin) and then the level of chilli heat (mild, medium or hot). There's also buss-up shot (a sort of beaten-up roti) and pholourie (fried dough balls, here served with tamarind sauce). There are a few stools for perching, but this is mainly a takeaway operation, with a small open kitchen (pictured) and a friendly team cooking up a storm. It's all delicious, and prices are keen, with doubles costing just £1.50 and curried goat roti £5.50.
Read more
Sponsored listing
Burger & Lobster Knightsbridge
This Knightsbridge branch of Burger & Lobster can be found on the fifth floor of Harvey Nichols flagship department store. Born from the minds of four schoolmates on a rooftop in London, this restaurant chain grew from a pop-up in a Mayfair boozer to ten branches London-wide, and more to boot around the the world. In case the name isn't enough of a hint, these guys specialise in lobsters and burgers. It might come across gimmicky, but ignore that initial impression because if you're after good lobster, you'd be hard pressed to find it at better value for money than here. You can get a lobster (boiled, grilled or in a brioche roll with mayo) with a substantial salad and french fries for £23-£31, depending on how you have it and which branch you're in. For a smaller budget, the beef burgers will set you back £16.
Venue says: "Simply the best burger and lobster in town. See our Facebook page for the latest news and updates."