Cheap eats in Islington
The best restaurants and cafés in Islington for good meals at good prices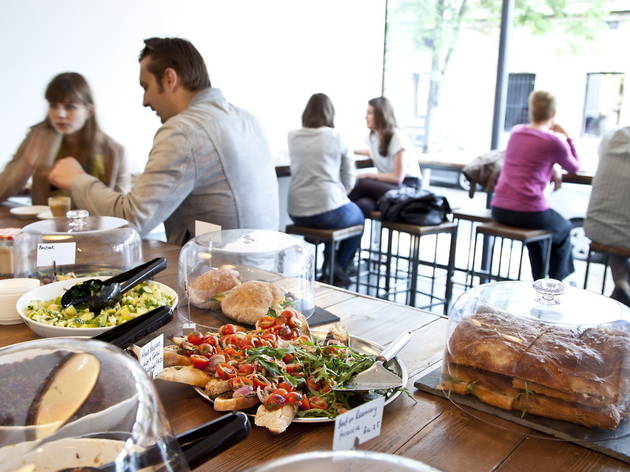 There's no shortage of options when it comes to eating out in Islington, but with a central stretch that's nicknamed 'Supper Street', it's tricky to find a meal that is cheap as well as tasty. The entries on this list should have you fed for less. Know a great place we've missed? Let us know in the comments or send us a tweet.
Find more great food in London
Feast your eyes on the top restaurants in London, from the new gastronomic game-changers to the seasoned heavyweights who give this city its culinary chops Even for people as gastronomically experienced as Time Out's Eating & Drinking team, whittling down the very best places to eat in London to just a handful of absolutely essential culinary stars was no simple task. Setting the criteria for our list of the 100 best restaurants in London was the easy bit. Anywhere we felt compelled to revisit again and again was instantly in, as were the places doing bold things with simple ingredients. The city's latest culinary trends had to be acknowledged, of course, but only those at the top of their game could be considered for inclusion. We fretted, we sweated, we chewed on toothpicks while dramatically shortening shortlists with a big red marker. Until, at last, we had London's best restaurants. So in the list below – surely the ultimate guide to eating out in London – you'll find it all: zeitgeist-defining celebrity haunts, simple but stunning food from some of the world's most exciting chefs, places with starched linen napkins and places where you'll have to eat with your fingers. What they all have in common is that they serve uncommonly good food, at fair prices, with service befitting the setting. In short, if you're looking for a great meal, you've come to the right place. You can browse the best restaurants in London by area or focus on a specific cuisine – if you're looking f
Read more
Great food and good-value restaurants and cafés in the capital The full list of London's best cheap eats Don't let tight budgets mean tight belts. You can eat your fill at any of these places without a thought for the financial consequences, and you'll love every mouthful. Browse the full list of London's best cheap eats and make some dates with some dinners. We all love great food, but the pleasure of eating out is always lessened when it threatens to shove you into overdraft territory. But that doesn't mean you're stuck with supermarket sandwiches on street corners; London is home to endless local gems and affordable eateries which will leave your pocket as full as your belly. The Time Out food and drink team has gathered together London's best cheap eats; never again will the bill feel like the damage.Check out London's best cheap eats in central, north, south, east and west London. We've also picked the best new eating-out-on-a-budget options for breakfast, lunch and dinner and you can even explore the full list of all our recommended budget restaurants. Do you agree with the choices? Use the comments box below or tweet your suggestions. Explore London's best cheap eats In central London In north London In south London In east London The full list Cheap breakfasts Cheap lunches Cheap dinners Popular food features London's top 50 restaurants The top 50 restaurants in London for all occasions. Find London's top restaurants Best restauran
Read more
Been on your hols? Catch up with the reviews you may have missed. Updated weekly, this is our archive of 'recent reviews'. For the bang-up-to-date 'current reviews' (updated daily), check out the pages for either restaurants or bars. London restaurant offers Looking to dine out on a budget? Sample some of the city's best food at a fraction of the cost with our exclusive reader offers London's best restaurants for... Pizzas Discover where to eat the best pizzas in London Sunday lunches Our guide to the best Sunday lunches in LondonRead best Sunday lunches reviews Steak Discover where to eat the best steak in LondonRead best steak reviews Hot dogs Discover the hottest dogs in townRead best hot dog reviews Foraging groups Discover London's best foraging groupsRead best foraging groups Cafés and coffee shops Discover where to find London's finest cafés and coffee shopsRead best Cafés and coffee shops... British British cuisine has never been so widely lauded - and here's why. Dates Looking to impress on a first date? We round up some of the capital's most striking restaurants. Ember Yard A modern take on the tapas bar in Soho Andina Peruvian bistro in Shoreditch Jackson & Rye All-day US-style diner in Soho Hixter Bar and grill in the City from Mark Hix Ergon Greek cuisine right next to Selfridges Blanchette Delightful little French place in Soho Keeper's House A touch of glamour and interesting dishes hidden in The Royal Academy of Arts Rex Whistle
Read more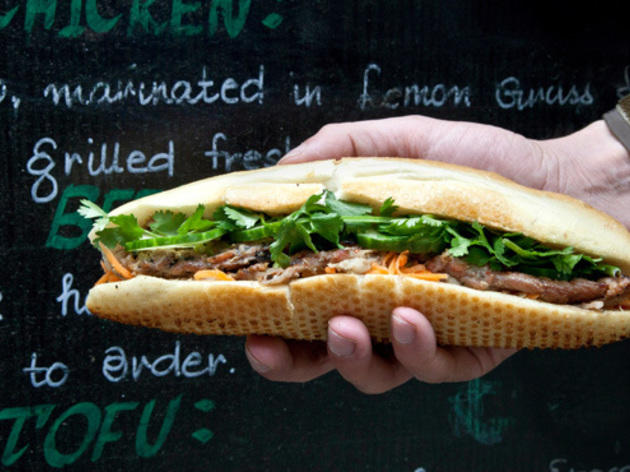 London's best street food
London's best markets There's no more colourful way to shop in London than by sampling its many markets Berwick Street Market Berwick Street Market, between Broadwick Street & Peter Street, W1. Oxford Circus. Mon-Fri; stall times vary, but arrive noon-2pm for lunch. Historic Berwick Street Market, situated in the heart of Soho, only has a handful of food stalls operating on weekdays (Monday can be pretty quiet, so visit from Tuesday for a wider choice of food). But we include it here for the central West End location, and the fact you should be able to pick up lunch for around a fiver. If it's a nice day, head to Soho Square to sit on the grass. The selection changes daily, but the following stalls are often present. In addition to the delicious baguettes, pho soups and noodle salads from Vietnamese favourite Banhmi11 (www.banhmi11.com), expect to find the Pizza Pilgrims (www.pizzapilgrims.co.uk), aka brothers James and Thom Elliott, who operate from the back of a tiny Piaggio Ape three-wheeler van – yes, there really is a pizza oven in there. For real meaty goodness, the burgers from the Tongue 'n Cheek (www.tonguencheek.info) van deliver a choice of prime cuts of beef with cheddar, or pork belly with gorgonzola. Other options may include falafel wraps from the suitably named Jerusalem Falafel, beef tagine from Moroccan Box, Mexican burritos from Freebird Burritos (www.freebirdburritos.com), Indian fare including curries, samosas and paneer wraps from Tandoor, and pork pie
Sponsored listing
Crepeaffaire Spitalfields
An international chain of creperies that has seven locations in London. This branch in Spitalfields Market, near Liverpool Street station, provides indoor and outdoor seating, as well as takeaways and local deliveries. The decor follows the brand's prominent black and yellow theme. Unsurprisingly, the highlight here is crepes. You can get them sweet (with cinnamon, strawberries and cream or apple crumble), savoury (with pesto mozzarella, Mexican chicken or hoisin duck), and for breakfast (eggs Benedict, full English or smoke salmon). Alternatives to the crepe menu include waffles, porridge, coffee, tea, hot chocolate, milkshakes, smoothies, softies, beer, wine and cider.
Venue says: "New: buckwheat galette, gluten free and delicious!"