Cheap eats in Tooting
Our favourite restaurants for a great meal at a great price in Tooting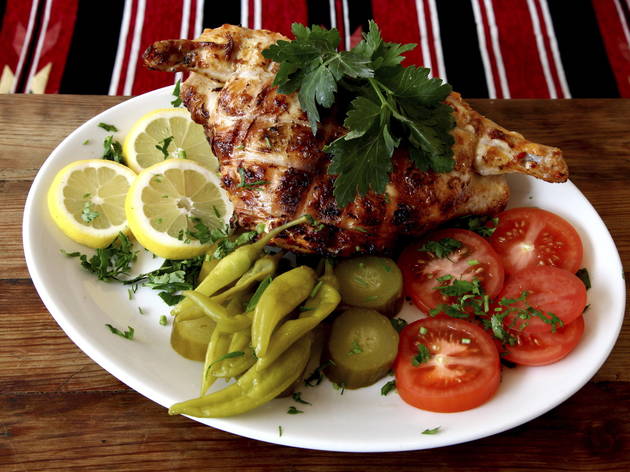 As if in recognition of the trek from the nearest tube station, Apollo Banana Leaf greets diners with a vision of paradise: soaring mountains and a sparkling waterfall, printed in vivid technicolour over the walls. If that assault on the senses isn't enough, the high-backed dining chairs are upholstered in crushed red velvet, while disco lights twinkle around the door. But devotees don't come here for design tips, they come for the food – an authentic rendering of South Indian and Sri Lankan cuisine – and for great value.
Read more
It's 8.30pm on a cold Tuesday evening, and there's a queue of customers waiting to be seated at Chicken Shop. The beau monde of Tooting are out in force, perching on bar stools, cradling glasses of wine and texting friends excitedly. Tooting's not seen the like before. The dining area's in two parts: the rotisserie grill at the front, and a hidden room through the back. It's all very beautifully styled, like a Cath Kidston garden shed. The lighting is low and flattering. The chicken is succulent, the fries crisp, the creamy coleslaw well worth the £4 charged.
Read more
Rarely have we seen such a perfect dosai: crisp on the outside, moist and rice-fragrant on the inside, a perfect oval bent over in the shape of a curling leaf. The accompanying sambar (spicy lentil dip) is rich and sweet, in the Chennai style, the coconut chutneys fresh (though only in two variants: red or green). Most of these meals cost under £3. It's true that this South Indian and Sri Lankan café might not have the most alluring of interiors – it is lit like a Tamil truck-stop, with furniture the colour of Sunny Delight – but at least you get to see movies on the flatscreen TV by way of diversion.
Read more
Tooting now has a proper Aussie-style brunch café, staffed by proper Aussies. They've given it the contemporary look of stripped-back brick, copper piping and filament bulbs that distracts little from the small open kitchen and display counter of baked goods. Breakfast or bunch is served until 3pm (snacks thereafter), and dishes from the short menu tend to be variations on a few ingredients such as avocado, bacon, pancakes, and good sourdough bread from the Blackbird Bakery. Table service, cash only, pay at the counter.
Read more
Since opening in 2012,this multi-purpose bar, brasserie, bakery and grill has established itself at the centre of a Tooting scene. Owned by bar chain Antic, who also own the adjacent Antelope gastropub and Tooting Tram & Social, Graveney & Meadow extends Antic's interest in SW17 with more of a family focus and a popular all-day breakfast menu.
Read more
Honest Burgers has gone the way of Byron, opening the umpteenth branch of their fine burger operation in a matter of mere months; McDonald's, look out. When a chain expands this fast their initial fan base can ebb away, but in this case, there's still a great deal to be happy about. The service was as chipper as ever on our visit, and the burgers and chips seasoned with rosemary salt were perfectly up to the standard of their other branches.
Read more
Tooting Bec tube station; minicab office; launderette; kebab shop. Hang on, though, this kebab shop is crammed with tables and chairs, and some very pleased-with-themselves diners clinking glasses. A tiny Lebanese licensed restaurant, Meza has a kitchen smaller than a Beirut takeaway stall, but manages to turn out a sizeable menu of meze and grilled dishes freshly made to order. The chefs never put a fuul wrong, from the perfectly crisp-shelled falafels to the aubergine dips seared with the whiff of the charcoal grill. Highlights? Everything.
Book now
Read more
Venue says: "Radha Krishna Bhavan has a new look and feel but we still have our awesome authentic food with a few new exciting additions to the menu!"
The walls of this established Keralite restaurant are covered with photographic wallpaper depicting coconut-fronded beaches and sunsets; a full kathakali dance costume sits imposingly in one corner; and statues of Krishna and his girlfriend Radha adorn the counter. Food-wise, we recommend sticking to specialities such as avial (vegetable stew), vellappams (large, frisbee-shaped crumpets) and thorans (vegetable stir-fries that include diced beetroot and grated cabbage).
Buy tickets
Read more
Established in 1973, Sree Krishna was the first South Indian restaurant in Tooting and it remains one of the finest to this day. The interior might be reminiscent of a hotel lobby in Ootacamund circa 1965, and the service can be oddly somnambulant, but the kitchen was still on fine form on our visit. Give the bhunas, vindaloos and kormas a swerve and choose instead the 'vegetarian starters', the 'dry vegetables' and the 'chef's specials', all of which are distinctively South Indian. We can especially recommend the appam and meat curry – giant, saucer-like crumpets with spicy lamb – and the beetroot thoran, a stir-fry of diced and spiced purple tubers. The huge, crisp dosas are also standout.
Read more