Heads up! We're working hard to be accurate – but these are unusual times, so please always check before heading out.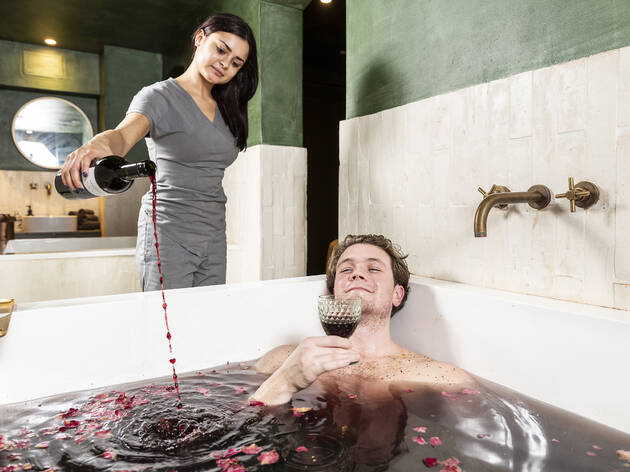 Five writers try out London's most unusual wellness treatments
Forget spa days and early nights, Londoners are seeking out ever more unusual ways to feel their best. Five writers try some out for size
Sure, spa days are great, but sweating it out in a sauna isn't the only way to feel good. From bathing in wine to being blasted with liquid nitrogen, we test out some of London's most unusual ways to feel good.
RECOMMENDED: The best spa breaks near London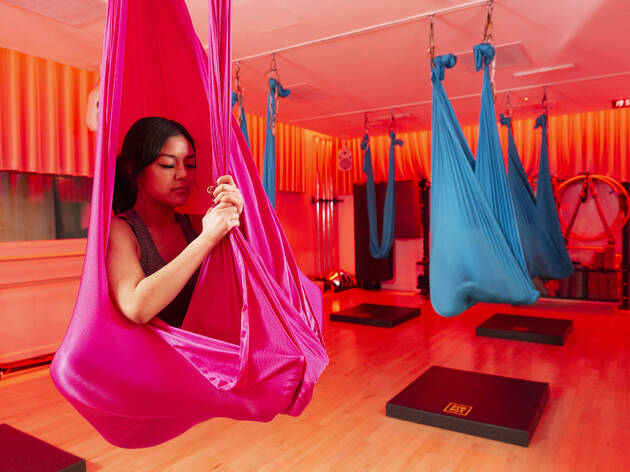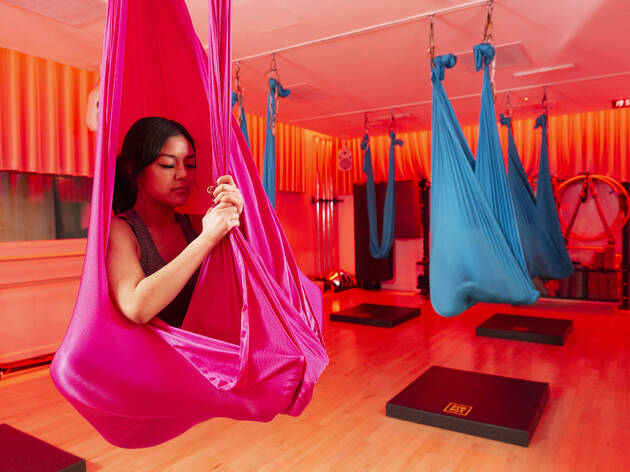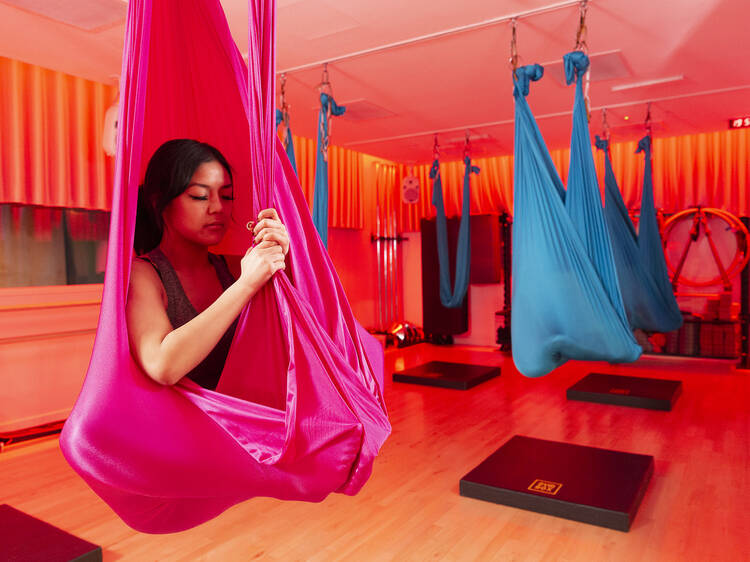 Scott Chasserot
The one where you... meditate in a cocoon
They say start the year as you mean to go on, so I'm off to hide inside a giant fabric cocoon while I recover from a hangover. No, really. It's the morning after a big night out and I'm at a guided cocoon meditation class at Gymbox in Stratford. It combines traditional yoga nidra (a meditation technique where you're in a state of consciousness that's somewhere between waking and sleeping) and sound therapy while you're suspended in soft fabric hammocks. It's meant to invoke a safe, womb-like feeling while alleviating stress, but it kind of sounds like I'm just going to hang from the ceiling wrapped in a giant piece of fabric like a floating burrito.
In a softly lit multicoloured studio where gentle panpipes play in the background, we start the class with a few simple stretches to warm up – then it's time to get into the cocoon. After struggling for five minutes trying to figure out how to sit on the draping piece of fabric in front of me and flailing my limbs about, the instructor gives me a hand and I'm finally in.
'Imagine a ball of healing light starting from your toes, following up to your stomach and into your chest,' the instructor says softly whilst gently rocking my cocoon. 'Feel this warm glow heating you all over and melting away any stress.'
A warm glow sounds great, but I'm grappling with the hangover sweats and a wave of nausea. Yet once I ignore the motion sickness and stop worrying that I might vom in the cocoon, I start to get into it. In fact, I actually doze off at one point.
It's essentially just lots of lying down with your eyes closed, so it's not the most strenuous workout. But if your New Year's resolution was to spend more time in the gym, cocoon meditation might just be the way to stick to it.
Verdict: I went in feeling like the very hungry caterpillar and left feeling like a butterfly.
Angela Hui
Cocoon is at Gymbox Stratford. Tube: Stratford. Membership from £63 per month, £20 day pass.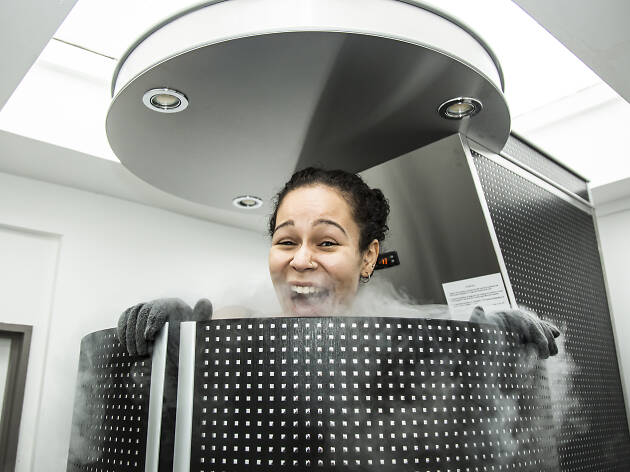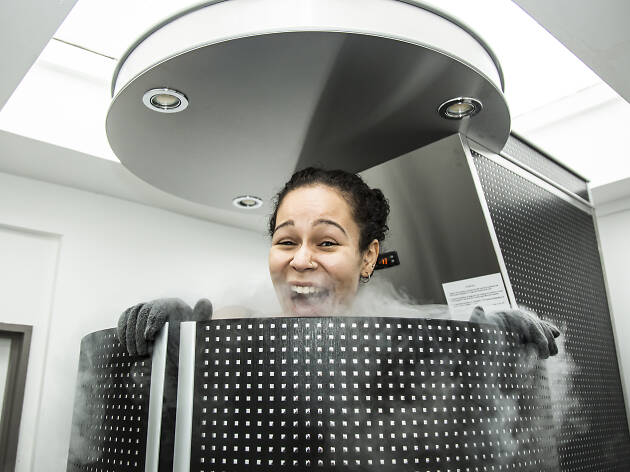 Rob Greig
The one where you're... frozen with liquid nitrogen
Braving a Siberian snowstorm in hotpants: that's what I'm envisioning as I arrive at SaiSei Cryo Studio in Stoke Newington for cold therapy. I'm greeted by studio founder and local 'iceman' Nyambe Ikasaya, who gives me a breakdown of what's to come.
On the right hand side of the room is a steely grey contraption that looks a bit like an upright sunbed – this futuristic-looking machine is the cryosauna. It will blast my body with liquid nitrogen vapour at -140°C. The aim is to stimulate the flow of nutrients in my blood, reboot my nervous system and reduce internal stresses in my body. Basically, it's going to be freezing AF, but it'll all be over in two and a half minutes.
I'm ushered into another room where I don a white robe, heavy-duty socks and a pair of winter gloves for extra protection. I ditch my robe and step inside the cryosauna with a mixture of trepidation and excitement. A furious flurry of icy air shoots into my arms, stomach, bum and thighs, increasing in intensity as the temperature plummets. The word 'cold' takes on a whole new meaning as my nerves tingle, my muscles pulsate and my extremities become numb.
Thankfully, the treatment is over before I know it. I step out of the cryosauna and hop around awkwardly in an attempt to get warm. From the boobs down I'm pretty much frozen but I've got to admit my body and mind feel awakened and the tightness in my neck and shoulders has dissolved. The cold blast leaves me feeling reinvigorated, like I've just come out of a deep sleep. I'm ready to face the day, but I might need to warm up with a cuppa first.
Verdict: I was super-chilled afterwards, and not just because I couldn't feel the lower half of my body.
Bex Shorunke
SaiSei Cryo Studio. Stoke Newington Overground. Whole body treatment £89. Block bookings also available.
I've become disillusioned with yoga classes lately. They feel more like places for Sweaty Betty-clad yummy mummies to whisper bastardised 'namastes' than examples of an ancient Indian practice meant for all people. So I arrive at ChromaYoga in Shoreditch hoping it might be the place to restore my faith in London's stretching scene.
I'm here to try the studio's Pink: Jiriki class run by Marie Yagami, whose father Yu Yagami created this Japanese movement therapy more than 30 years ago. It mixes meditation, shiatsu massage, acupressure and yoga for an all-round body MOT. The idea is to realign your body and release muscle tension through stretching and massaging your acupressure points using a loop of fabric.
The 'pink' part refers to the lighting: all of ChromaYoga's classes are set to different colours and pink classes are all about relaxation. It's a real multisensory experience. The lighting makes me feel like I'm in an '80s music video, the air smells like the inside of a holistic health shop and there's calming music playing.
We're each given a piece of fabric and Yagami guides us on how to use it to give ourselves a good stretch and self-massage to target our pressure points. At first, I feel the poses we're asked to do (use my knee to massage the inside of my elbow – really?) should be left to contortionists. Then I'm pleasantly surprised by what my body can do.
Yes, it's a little like playing a game of Twister with myself, but my body definitely starts to feel way more limber and a lot less tense.
I leave feeling so relaxed that I get to the end of the road before realising I have left my coat in the studio and am wearing someone else's. If that's not a sign of being truly Zen, I don't know what is.
Verdict: I'm already thinking about how I can recreate the class at home, though I'm not sure contorting my body using an old tea towel will have the same effect.
Niellah Arboine
Pink: Jiriki is at ChromaYoga. Tube: Old St. £15.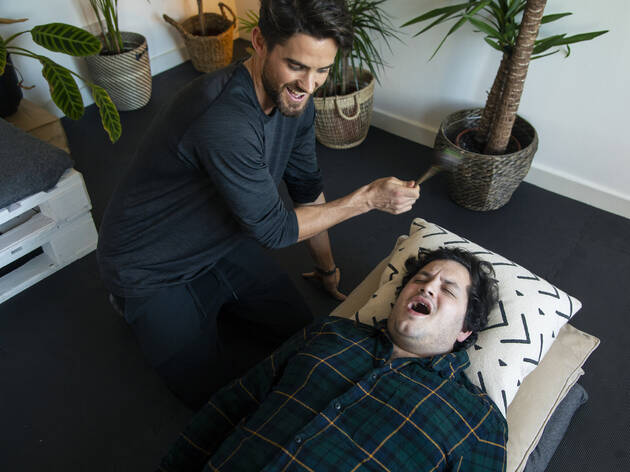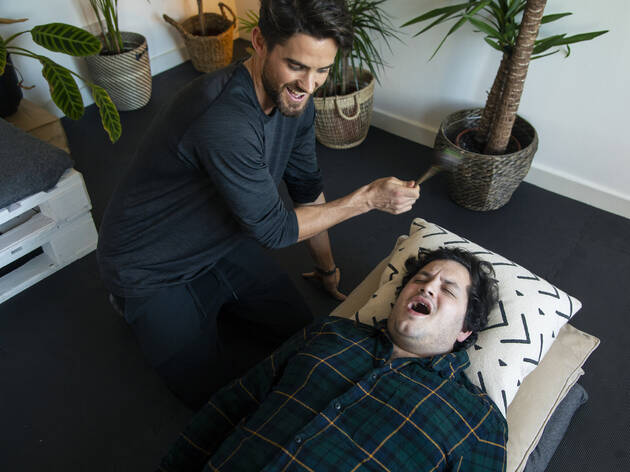 Andy Parsons
The one that... just involves breathing
For me, 'wellness' is so tied to #aspirational Instagram pictures and Goop's pseudo-medicine that I've always had reservations about it. So I'm a little unsure when I arrive at a studio in Shoreditch for a one-to-one breathing workshop that's allegedly going to aid my emotional and physical wellbeing.
As someone who's managed 28 years of being alive without any major disasters, surely I don't need help breathing? But maybe I'm wrong. Apparently, many people suffer from 'dysfunctional breathing', meaning their breaths are shallow and constricted. By learning to open up and connect our breath through 'conscious' breathing techniques, we should be able to release repressed trauma and negative energy, leading to a happier and healthier life. It's basically like an exorcism but without the projectile vomiting (I hope).
Showing me the ropes is Stuart Sandeman, who starts off by getting me to lie down on some cushions and close my eyes. So far, so good: much to my relief there's no talk of jade vaginal eggs or coffee enemas. He then instructs me to breathe through my mouth with purposeful and connected breaths – in and out; in and out – as I stamp my feet and shake my body. While I do this, Sandeman places pressure on parts of my body and shakes a rattle while telling me that I am loved. I feel like a giant baby lingering between sleep and a tantrum. I'm half-expecting a bottle of warm milk next.
Then something changes: my body begins to feel like it's floating, as if I'm only attached to the ground by small weights. My mind is invaded by a burning white light. Soon I have tears streaming down my cheeks. I can only describe it as a form of mental and physical freedom – my demon has been released. Once the session is over, I can't pinpoint any specific trauma to explain my strong reaction. Perhaps it was just aligning myself with such a fundamental aspect of being human: breathing. But I do feel a blanket of contentment and I'd happily do it again. Turns out that taking some deep breaths really can make you feel good. I think I might be a wellness convert? Or maybe I just like feeling like a baby.
Verdict: I felt like a newborn baby – and not just because of the rattle thing.
Alim Kheraj
Stuart Sandeman hosts one-to-one workshops and group classes at various locations. www.breathpod.me/events. Classes from £14.
It's not even lunchtime on a Wednesday and I'm laying in a pool of wine. Despite what that sounds like, I'm not on a midweek bender – I'm at the Ella Di Rocco spa in Chelsea. Here, wine is used as a secret weapon against all manner of ills, thanks to its antioxidant properties. The polyphenol in the grapes is supposed to stimulate circulation and detoxify city-dwelling skin. If I'm a little sceptical, it doesn't last long. As soon as I'm in a dressing gown with a glass of Sangiovese in one hand and a breadstick in the other, for some reason I'm a lot more relaxed.
The spa has an atmosphere of Mediterranean luxury, all dark green tiles and dim lighting, with only a few bottles on shelves hinting at the place's true purpose – that is, apart from the cavernous wine bath, above which is a sign urging you not to drink its contents. I'm given a full-body scrub in white wine oil and vine leaves and then it's into the tub, which is filled with a piping hot mix of volcanic ash, grape extract and wine. After fifteen minutes of mulling, I'm positively blissful – if a little lightheaded. I'm told they usually limit guests to a single glass of vino, in case the combination of heat and alcohol gets too much and they have to be rolled out of the door. I'm starting to see why.
After a full-body massage in more wine oil, my skin feels fantastic, although it is flecked with burgundy sediment that I'll spend the rest of the day picking out of my belly button (it's better to leave it on as long as possible, apparently). Is it better than your average spa treatment? From how euphorically chilled out I feel, I'd say yes. But maybe that's just the wine talking.
Verdict: I felt like I'd never had a red wine hangover in my life.
Bobby Palmer
Ella Di Rocco. Tube: Gloucester Rd. Treatments from £90.
Support Time Out
We see you're using an ad-blocker. Ad revenue is Time Out's main source of income. The content you're reading is made by independent, expert local journalists.
Support Time Out directly today and help us champion the people and places which make the city tick. Cheers!
Donate now