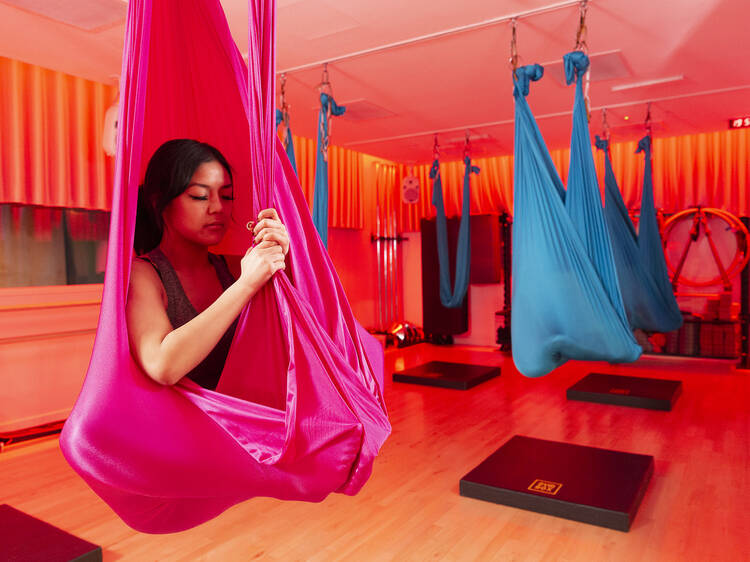 Scott Chasserot
The one where you... meditate in a cocoon
They say start the year as you mean to go on, so I'm off to hide inside a giant fabric cocoon while I recover from a hangover. No, really. It's the morning after a big night out and I'm at a guided cocoon meditation class at Gymbox in Stratford. It combines traditional yoga nidra (a meditation technique where you're in a state of consciousness that's somewhere between waking and sleeping) and sound therapy while you're suspended in soft fabric hammocks. It's meant to invoke a safe, womb-like feeling while alleviating stress, but it kind of sounds like I'm just going to hang from the ceiling wrapped in a giant piece of fabric like a floating burrito.
In a softly lit multicoloured studio where gentle panpipes play in the background, we start the class with a few simple stretches to warm up – then it's time to get into the cocoon. After struggling for five minutes trying to figure out how to sit on the draping piece of fabric in front of me and flailing my limbs about, the instructor gives me a hand and I'm finally in.
'Imagine a ball of healing light starting from your toes, following up to your stomach and into your chest,' the instructor says softly whilst gently rocking my cocoon. 'Feel this warm glow heating you all over and melting away any stress.'
A warm glow sounds great, but I'm grappling with the hangover sweats and a wave of nausea. Yet once I ignore the motion sickness and stop worrying that I might vom in the cocoon, I start to get into it. In fact, I actually doze off at one point.
It's essentially just lots of lying down with your eyes closed, so it's not the most strenuous workout. But if your New Year's resolution was to spend more time in the gym, cocoon meditation might just be the way to stick to it.
Verdict: I went in feeling like the very hungry caterpillar and left feeling like a butterfly.
Angela Hui
Cocoon is at Gymbox Stratford. Tube: Stratford. Membership from £63 per month, £20 day pass.