The best spa breaks near London
Relax and unwind with a pampering getaway at the best spa breaks near London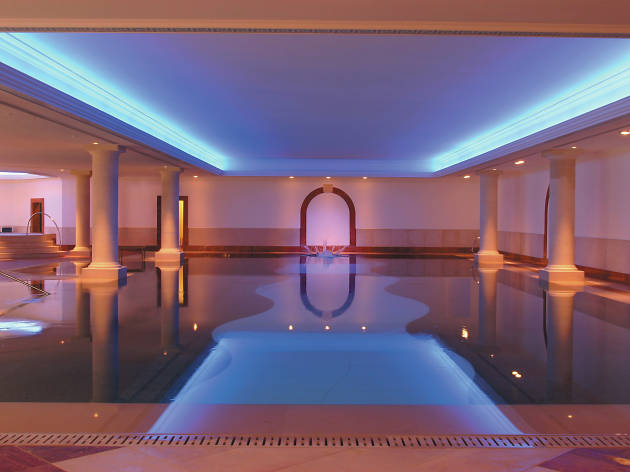 Need to get away from it all? We feel you. Sure, there are some awesome day spas right here in London, but sometimes you just need to get out of town. If you want to feel truly zen, unwind at the best beauty breaks and spa resorts located only around an hour or less from the capital.
RECOMMENDED: The best saunas in London
The best spas just outside of London
About a ten-minute drive from Watford Junction, The Grove is probably best known among the swinging community – with its 7,000-yard course, many visit specifically with golfing in mind. But more blissful activities await at the Sequoia spa. Staff emphatically direct you towards a pool whose black tiling gives the water an ominous inky look, but the vitality pool is its best-kept secret – a bubbling bath with pounding jets – while a women's relaxation room is kitted out with a hypnotic fish tank just in case you still feel the need for screen time. Treatments include London brand Oskia's innovative candle oil massage, which leaves skin slick and supple after a deep-pressure pummelling. While the hotel itself can feel like a series of confusing corridors, they have been decorated with quirky artwork to keep you entertained while you get your bearings. And you can retreat from the manor to The Stables, a relaxed brasserie on campus whose steak and chips prove a hit with those golf nuts. Definitely take a chauffeured buggy back to your bed after dessert: it's called self-care. Laura Richards
Watford, Hertfordshire. 25 minutes by train from London Euston.
Ever wandered around a National Trust property thinking you'd quite like to hop into one of those four-poster beds and stay the night? Turns out you can. Hartwell House, the Grade I-listed hotel and spa that's part-Jacobean mansion and part-Georgian house, is one of only three National Trust-owned historic house hotels. It's rich in history – in fact, it was once home to French King Louis XVIII, who was exiled there in the nineteenth century (alright for some, eh?). These days, it's the ideal antidote to city life. The hotel rooms are huge and with ceilings so high you could probably squeeze the entire contents of your poky flat in there. The lord/lady of the manor vibes continue at the spa, which is housed in what was once the orangery – it's lovely and light, and feels incredibly grand. There's a pool, a jacuzzi, a steam room and separate saunas for men and women in the changing rooms. It's not the most high-tech spa (you won't find any plunge pools or jazzy massaging foot baths), but that's kind of the point – it's just a lovely spot to unwind in. If you want to feel even more chilled, book yourself in for an aromatherapy sesh, which starts with you choosing the essential oil that most appeals and ends with you feeling totally blissed out. If you're staying in the hotel, the food in the main restaurant is delicious too. If there were a chance to get exiled here, I'd take it. Isabelle Aron
Aylesbury, Buckinghamshire. One hour by train from London Marylebone to Aylesbury.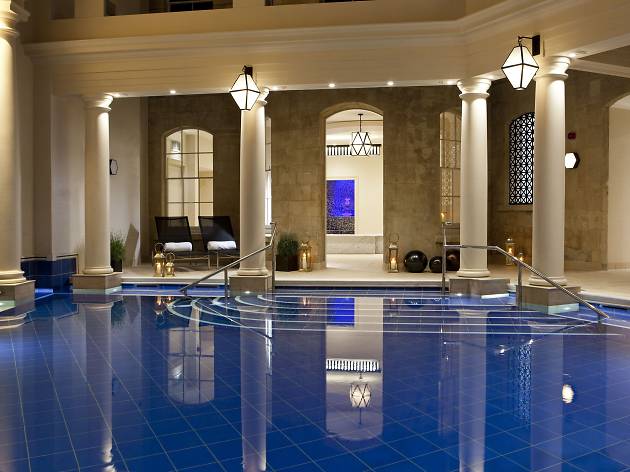 If an hour or two spent wallowing in warm water is what you're in need of, Bath is the place to head. The honey-coloured city has been *the* place to 'take the waters' since Roman times - and The Gainsborough is in the amazing and unique position of having Bath's natural, thermal waters trickle right into its spa. The hotel itself is as plush as they come, with thick carpets, soft bedding and heavy curtains that frame stunning views of the city centre rooftops. The bar is dreamy, with staff ready to create cocktails tailored to your tastes (your mood, your demanding requests) while the restaurant serves up incredibly fancy, beautifully presented fare. But the spa is really the reason to book a room. At the heart of two adjoining Grade II-listed buildings, sit the gently steaming and world-famous waters. Book a totally relaxing spa treatment (it's worth noting as a hotel guest you can only use the spa in the early morning or evening, unless you also book a spa treatment), or set off on a traditional cycle around the spa (like circuits, but way more soothing), moving from warm water to hot, from an infra red sauna to a pool of ice chips. The best bit? The historically-accurate (and delicious) cups of hot chocolate you can sip while you spa. Ellie Walker-Arnott
Bath, Somerset. One hour 30 minutes by train from London Paddington.
Next to the bleak-but-beautiful Climping Beach and set in 30 acres of parkland, romantic Bailiffscourt Hotel is a world away from the bustle of London. You could be forgiven for thinking you are stepping back in time into a sort of well-groomed, fragrant medieval village, as the hotel's 39 rooms are spread over a cluster of thatched cottages and honey-stone buildings. (Despite appearances the main house was built in 1927 as a whimsical, aristocratic holiday home.) There's nothing medieval about the spa: six contemporary treatment rooms complete with warm floatation beds, steam rooms, sauna and a small gym. It's purpose-built and styled on a traditional Sussex barn. Light floods through oak timbers and glass into the pool area, where it's tempting to just lie back and watch gulls twisting in an expansive sky. Heaving yourself from your lounger to imbibe some salty air and take a dip in the steamy open-air pool and hot tub almost feels like a chore. You'll definitely need to leave the fluffy comfort of your robe behind to eat, though. Dining in the flagstoned Tapestry Restaurant, which has a modern British menu, with an entire menu devoted to delicious vegetarian dishes, is a fancy affair. Katie Walker
Climping, West Sussex. One hour 30 mins by train from London Victoria to nearby Littlehampton.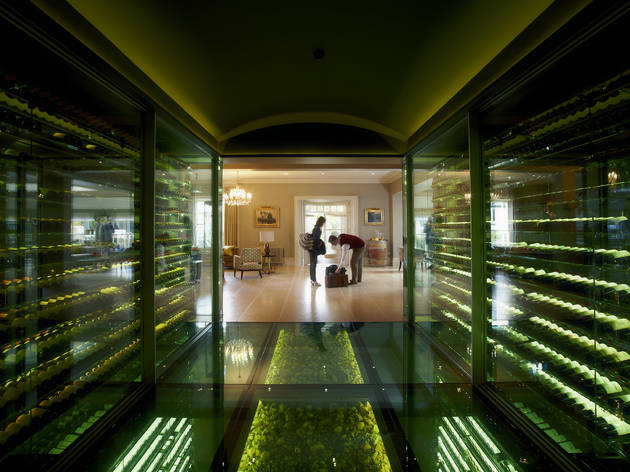 Located a few miles from the M4 outside Newbury, like a zen-exuding pit stop for stressed-out motorway drivers, The Vineyard is a slick operation staffed by a friendly, welcoming team. It's owned by businessman Sir Peter Michael, a passionate wine lover and art collector, and while there's no actual vineyard here, there's no shortage of booze, as his own California winery is well-represented in a quirky, adventurous wine cellar. If you fancy unwinding with a wine flight and an immaculate five-course tasting menu – or you just love the idea of chowing down in the shadow of Impressionist landscapes – the formal dining room will tick all the boxes. In the spa, Bliss (yes, really) and her fellow therapists work minor miracles with sore joints and knotty shoulders. The bedrooms are comfy and spacious, and the gargantuan breakfast is worth any amount of motorway congestion on its own. If there's another massage to ease indigestion, you may need it. Phil de Semlyen
Newbury, Berkshire. 50 minutes by train from London Paddington.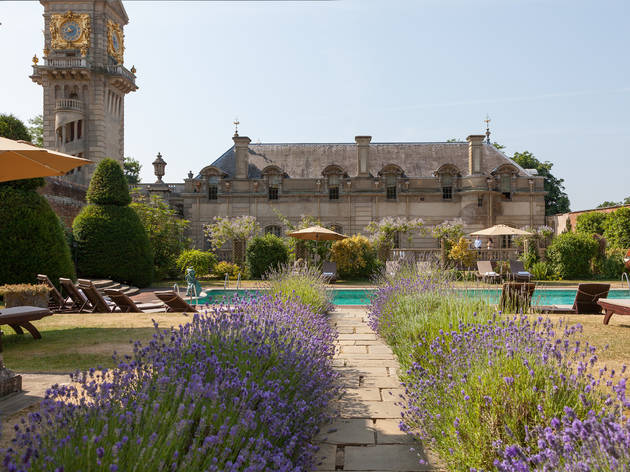 Not many spas feature a swimming pool that helped bring down a government – but then again there aren't many places like Cliveden. Founded in the seventeenth century and rebuilt in the nineteenth by the same guy that designed the Houses of Parliament and the real-life Downton Abbey, it's now a stunning country house hotel with National Trust-run grounds – the kind of place you'd normally visit with an audio guide. Inside the spa (refurbished in 2017) there's a high-tech UV sauna, a warren of treatment rooms for luxurious rubs and scrubs (with scents named after the mistresses of the house) and alfresco hot tubs with a view of the Victorian clock tower. And, of course, there's the open-air pool where John Profumo met Christine Keeler in 1961, kickstarting one of the twentieth century's juiciest political scandals. As Profumo could have told you, a weekend at Cliveden doesn't come cheap. But I've never been anywhere quite like it. James Manning
Taplow, Berkshire. 40 minutes by train from London Paddington to nearby High Wycombe.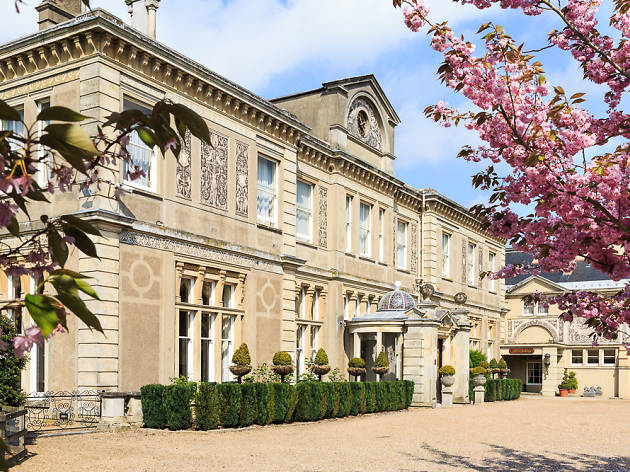 A massive stone manor house set in 110 acres of Essex countryside, you'll feel like royalty when you roll up to Down Hall Hotel. Eden Spa, a dinky building tacked on to the left, is slightly less imposing – but inside there's a luxurious blue-tiled hydrotherapy pool, plus sauna, steam room and 'relaxation area' (think: loungers and many, many magazines). Get the 55-minute hot stone massage – the sensation will give you that tingly feeling of stepping into a bath at the perfect temperature. The hotel is cosy with a chintzy country house vibe. Head to The Grill Room for a comforting steak then retire to your room to lounge about in a fluffy white robe. The suites have balconies, and waking up to views of the vast grounds is pretty special. Kitty Drake
Hatfield Heath, Essex. 40 minutes by train from London Liverpool Street to nearby Sawbridgeworth.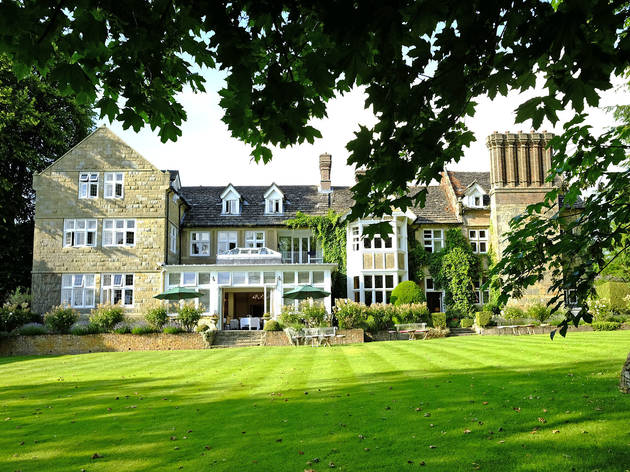 Located a short taxi ride from Haywards Heath station, which itself is just a 50 minute journey from London, is the rather lovely Ockenden Manor. It's a quiet cluster of buildings, including a 16th century manor and a modern spa building which offers eight treatment rooms, a gym and fitness studio, walk-through rainforest shower, Isopod flotation tanks and more. The spa is spread out over many zones and at the centre is an indoor pool, from which braver swimmers can venture into the smaller outdoor pool. If you need to warm up, there are sauna and steam rooms, outdoor hot tubs and indoor spa baths. For anyone staying overnight, the accompanying 28 room hotel is a joy. Rooms are spacious, full of mod cons and all leading on to a shared balcony. The restaurant and bar are located in the manor (naturally), where there's a wealth of cosy, old-fashioned charm. Pheasant, duck and venison (from the nearby Balcombe Estate) were on the menu when we visited, and were served by friendly and helpful staff. Oliver Keens
Cuckfield, West Sussex. 45 minutes by train from London Victoria to nearby Haywards Heath.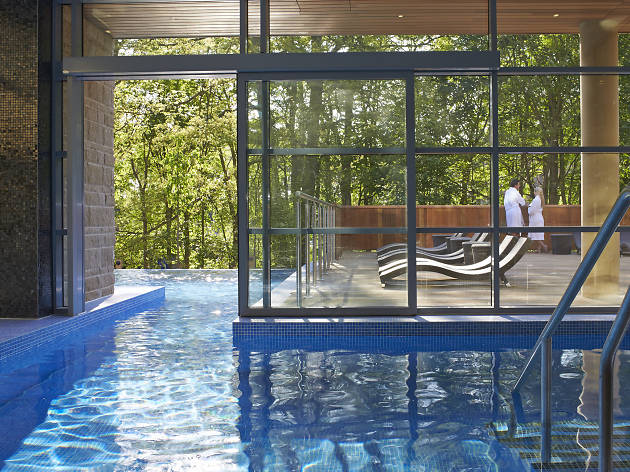 The first thing you need to know about Aqua Sana Woburn Forest spa is that it's in a Center Parcs. And while that means guests miss out on having manicured grounds to wander around, like at other country retreats, it also means this is probably one of the only spa breaks in the country with four water slides (a very good thing!). The spa itself is just as exciting and action-packed. Spread out over two floors, it features six spa areas, each with their own saunas, steam rooms and sensory experiences. Highlights include the invigorating salt sauna, the refreshing and fragrant herbal-infusion rooms, and the mineral and gem area – it features a crystal steam room – but there must be upwards of 20 rooms to visit here.
There's also a vast array of treatment options (I opted for a scrub/massage combination that left me relaxed and smooth as a seal) and, unlike at other spas, places to eat. You'll find loads of your favourite chains on Centre Parcs high street. With a welcoming beginner-friendly vibe and huge amounts to experience, this is a spa that's perfect for people who are easily bored, or for big groups of friends with different tastes. Book it for your next hen. Kate Lloyd
Bedford, Bedfordshire. 50 minutes by train from London Kings Cross.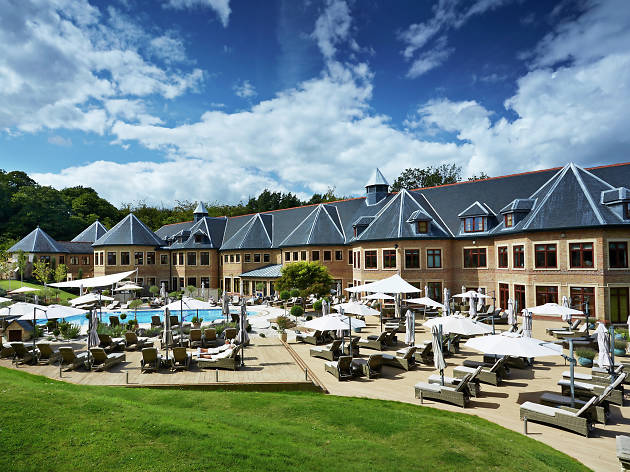 Luxurious without being pretentious and just 45 minutes from London, Pennyhill is the perfect place to escape the city. The vast Surrey spa is decked out with a sauna, herbal steam rooms and eight pools including one with calming underwater music if you want to feel really zen. With so many facilities to explore, the spa can happily cater for everyone – from couples to big groups – and there are even separate facilities for men and women. Unwind with a luxe treatment in one of 21 rooms, where they offer the works – massages, manicures, wraps, facials, scrubs, reflexology. All that relaxing is hungry work – keep it casual and dine in your robe in the spa café, treat yourself to a more upmarket meal at The Brasserie or push the boat out at the Michelin star restaurant The Latymer. Oh, and the hotel is also the official training base for the England rugby team, so you might even spot a sporting star in the changing rooms. Isabelle Aron
Bagshot, Surrey. One hour 20 minutes by train from London Waterloo.
Show more
In the mood for more pampering?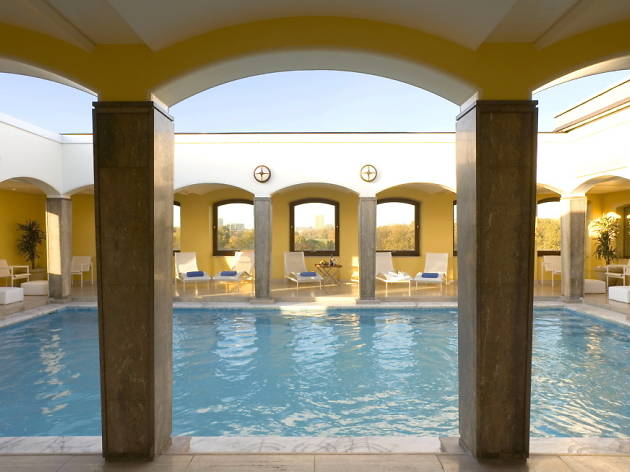 London is vibrant, varied, exciting, seductive, sprawling... and just a little bit exhausting. At some point, you're probably going to need to pause to unwind.
Snap up exclusive discounts in London
Time Out's handpicked deals — hurry, they won't be around for long...