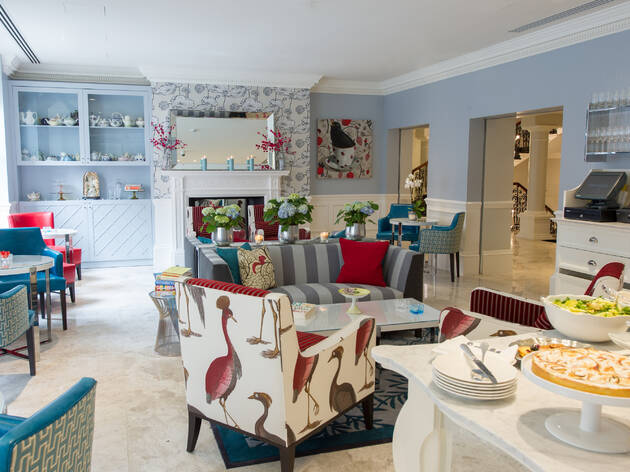 1/4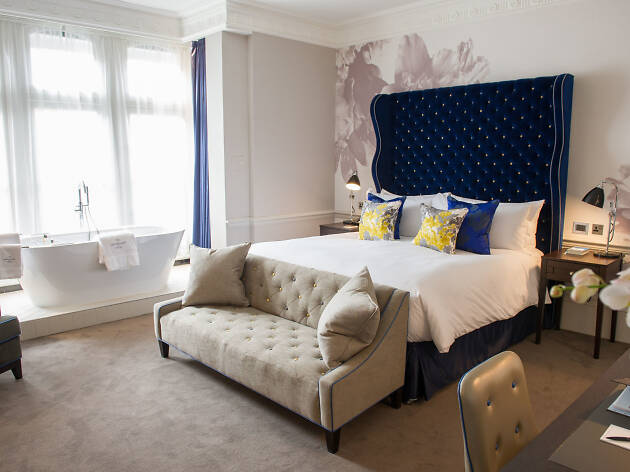 2/4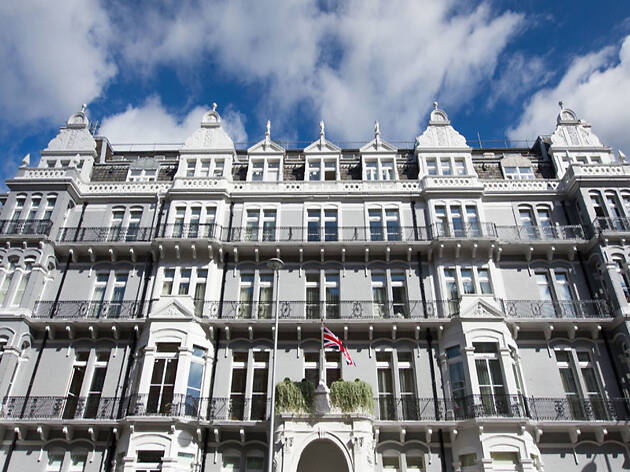 3/4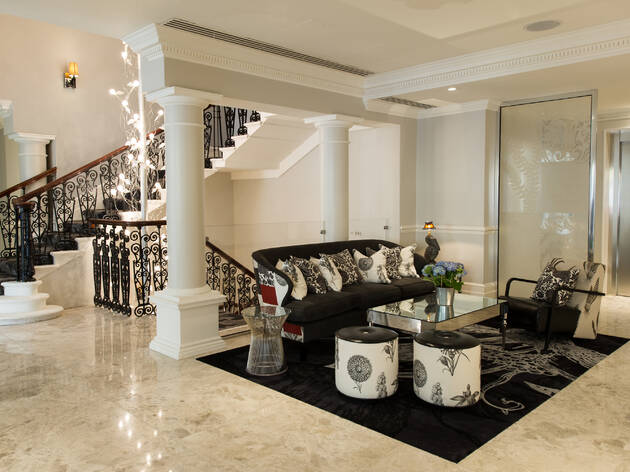 4/4
Time Out says
A decadent, five-star boutique hotel in South Kensington that's a perfect fit for this posh part of town
If this little South Kensington-based hotel were a person, it'd probably be a smart, quirky and well-dressed gentleman that knows exactly how to charm your pants off and get you into bed. In this instance, we're talking about a blissful, king-sized pool of comfiness with velvet headboards interior design lovers would die for. The plush and tastefully decorated rooms are pretty smooth alright, with even slicker amenities that range from L'Occitane toiletries to an excellent en suite bathroom. Plus, it was blissfully quiet at night: we couldn't have asked for a better place to sleep.
Then there's the bonus of The Ampersand being in arguably the best bit of west London. South Kensington tube station is across the street, literally. Brilliant restaurants, cafés and bars are a dime a dozen. As for culture, you're minutes away from the 'Museum Mile' of the National History Museum, the Science Museum and the V&A, as well as the Royal Albert Hall, which has inspired the hotel's botanical, music and astronomy-themed interiors.
That said, you can do no wrong being cooped up indoors. The hotel staff are friendly and don't mind you snooping around the stylish, refurbed nineteenth-century building, which happens to includes a library, a games room (which looked more like a library, but hey ho), the Drawing Rooms (which is actually a café), and a gym, which thankfully, is a gym.
If you don't venture out for food, the on-site restaurant, Apero, is a sweet mix of casual fine dining that serves up beautiful Mediterranean dishes and excellent cocktails. You might be better off eating here for dinner than breakfast as we found it painfully slow for a Monday morning. Or just come a little later – you don't have to check out until 12pm, which is a wonderful thing: especially for the chance to stay a little bit longer in a hotel that, for the most part, is pretty close to perfect.
Details
Address:
10 Harrington Road
London
SW7 3ER

Price:
£192.00 to £330.00 per night
Contact:
Do you own this business?
Rating Breakdown
5 star:

3

4 star:

1

3 star:

0

2 star:

0

1 star:

1
Didn't stay at the hotel but afternoon tea was an awfully negative experience. Visited as part of joint birthday celebrations with me and two other friends, we were very excited as it all looked lovely. However we waited an hour and 15 minutes to receive our food, weren't asked if everything was okay until the end of the afternoon tea. The table next to ours complained about waiting 40 minutes and received free champagne, we didn't even get an apology for ours. Part of the experience is the brownie/mousse dish suspended above dry ice, initially we were impressed by this but then realised when we went to eat it that it was actually sat in the dry ice and was now saturated in the liquid, making it very unsafe to eat. We only noticed this when we saw other table's desserts and saw that theirs were elevated above the ice, when we expressed concerns about this to the waitress, she was extremely dismissive and not apologetic at all that we could have ingested dry ice, regardless of whether it was melted or not. After waiting 30 minutes for the food to be replaced, we then decided just to get the bill as we had other places to be and didn't want to be late, we then had to wait a further 20 minutes for the bill, expecting some sort of compensation for the bad service and issues with the food, but the bill was in full with a 12.5% service charge added on. As we were not prepared to pay this after being treated so clearly differently from other tables, a further three bills were given to us with little change, increasing rudeness from the staff and another 15 minutes wait in-between each bill. After asking to speak to the manager, another waiter was sent out again with very little apology, making us feel very undervalued and that the staff weren't treating the situation with the severity it deserved, we finally spoke to a manager who more or less said that this was the final bill they would give us and what could they do to "make us happy" (air quotes were actually used in person) leaving us feeling deflated with no option other than to pay the money and leave as we were running late for our next activity.
Overall the experience left us feeling patronised and treated with very little respect. As we were a group of young people in our early 20s, the explanation seems to be that because of our age, we weren't valued as much as the other consumers and they clearly expected us to be happy to pay full price rather than cause an issue. All this shows is that they clearly don't perceive younger consumers to be of value to them or that they should be treated with respect as that is the impression we left with, suffice to say we won't be returning.
Haven't stayed at this hotel, but did have an absolutely lovely afternoon tea here! It's not cheap (£39.50 per person with Champagne), but the quality of both the food and the service is extremely high. We were seated straight away in the beautifully bright Drawing Rooms and served chilled Moet immediately before a very impressive tower of delicate sandwiches, cakes, pastries and macarons arrived, along with a pot of tea. Everything was beautifully done and so delicious that we scoffed the lot! Not once did we feel rushed or that we were outstaying our welcome, which is just as well given that we were too full to move for a while… A really great alternative to the more well-known afternoon tea destinations in London and good value considering the quality.